From HD Wetting we have Alisha bound to the bed in her panties. She is desperate to pee and has a very full bladder. Alisha is beside her and she starts to tickle Sosha she is going hard and as we all know Sosha is very ticklish. The tickling continues and Sosha squirms and laughs and it gets to much for her and she can't stop her bladder sending out a squirt of piss. The piss shoots out and soaks into her knickers creating a nice dark patch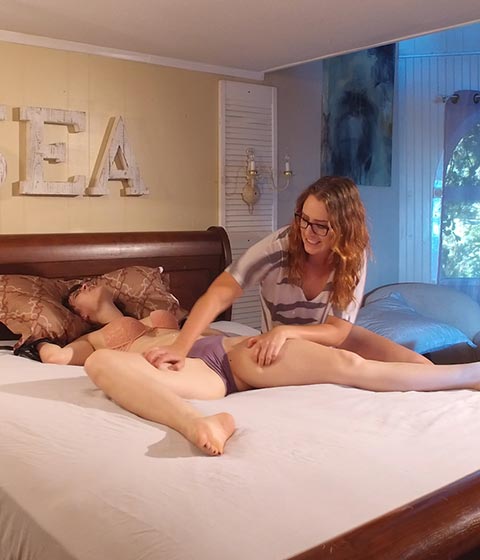 Sosha has let out the first squirt of piss but this hasn't stopes Alisha tickling. She keeps it up and then Sosha starts to pee. Her piss is gushing into her panties and soaking into the bed underneath. Sosha moves from tickling her and places her hand over Soshass panties and she starts to feel the warm pee. She is pressing harder and her hands are getting soaked as Sosha wets her panties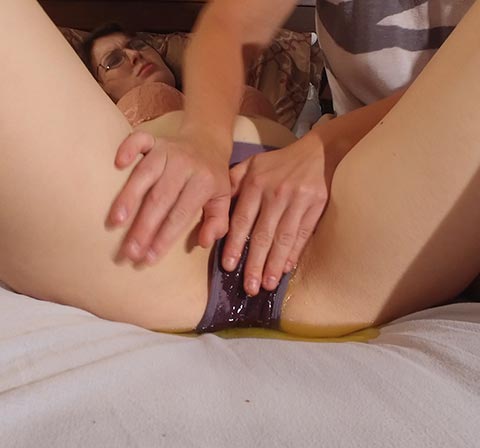 Sosha is pissing herself in bed and Alisha is loving the warm pee on her hand. Sosha finishes pissing in her panties and she is in a puddle of piss in the bed and very turned on. Alisha plays with the wet panties and then pulls them down exposing Sosha's wet and pissy vagina. She starts to licks Sosha's pissy pussy untill Sosha is cumming what a beautiful lesbian bed panty Pee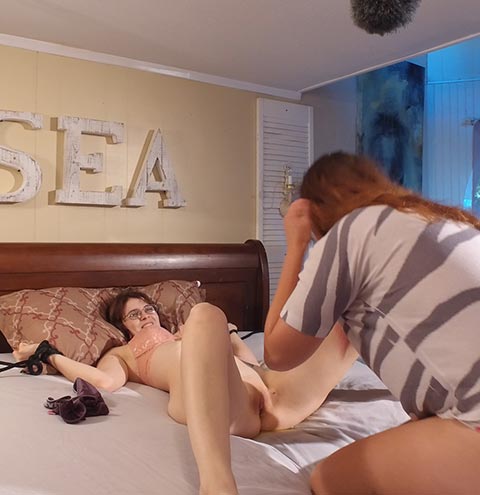 See Sosha Pissing her Panties In Bed Here


Filed under: Bed Wetting and HD Wetting and Knicker Wetting and Lesbians Peeing and Panty Pee and Peeing and Pissing and Pissing In Bed and Pissing Pictures
Posted on 08.30.17
Comments: 2 Comments


Tags: Alisha HD Wetting, bound pissing, HD Wetting, Knicker Wetting, Lesbians Peeing, Panty Pee, Panty Peeing, Sosha HD Wetting, Tickle Pee, wetting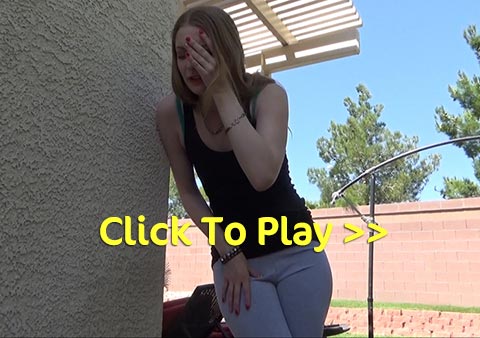 From Ineed2pee we have the lovely Adel aka Ela Darling in this female desperation and wetting movie. We will have had some of these desperation and wetting scenes previously as photos but today we get to see the desperate action in film. We start off with Ela she is in grey legging and has just got home, she is desperate to pee. She goes to open the door and it is locked, she doesn't have the key and as she clamps her legs together she calls to try to get into the house. She is getting more and more desperate to pee. She has to get in now. She struggles some more and then she pees in her leggings and we cut to her in the kitchen in her pee soaked leggings there is a lovely pee patch in the grey fabric.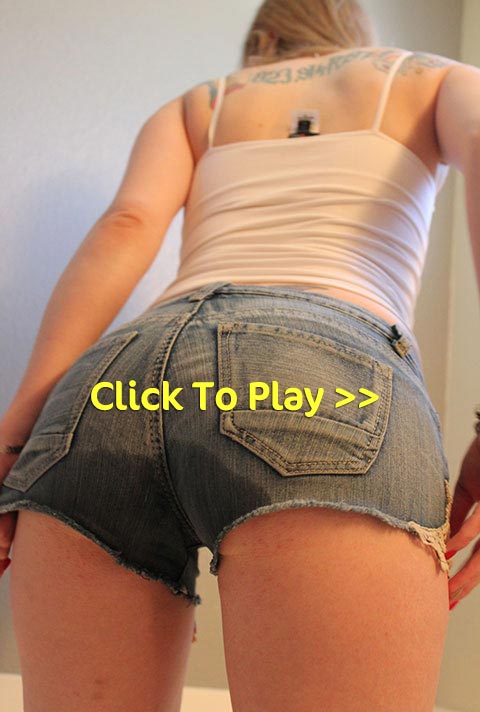 The next scene we have, Ela is in tight short shorts and desperate to pee. She is really desperate and clamping her legs together wow she is so desperate she is about to explode. Her bladder is bulging and then she starts to tell us how desperate she is. She keeps squirming as she is talking and she starts to tease us that we love seeing her desperate to pee. She hold on some more and pulls the denim tightly against her pussy in one last attempt to hold on. She ends up peeing in her shorts and we join her in the bath as she is talking dirty to us in her piss soaked panties.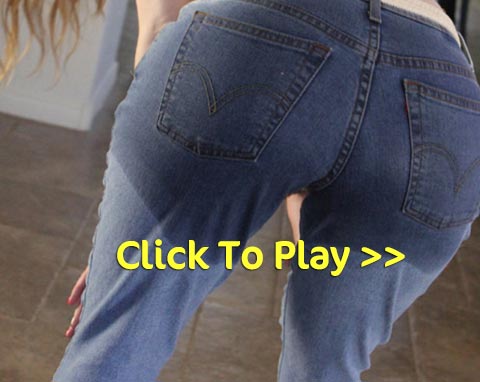 For the last female desperation scene we have her bound on the floor in her jeans. She is so desperate to pee but there is no one around to untie her. She struggles and then she just can't hold on and she pisses in her jeans and ends up in a warm pee puddle. These are really wonderful desperation scenes from Ineed2pee and I'm sorry that there is no actual pee shots where the pee is exploding out but the full movies have this and I think todays is very sexy as we get to imagine the damp pee patches spreading

See Ela Darling Desperate And Peeing Here


Filed under: Desperation and Female Desperation and Ineed2pee and Jeans Peeing and Jeans Pissing and Movies and Peeing and Pissing and Pissing In Leggings and Pissing In Shorts and Pissing In Tights and Pissing Movies and Pissing Videos
Posted on 08.27.17
Comments: None


Tags: denim shorts, Desperate To Pee, Ela Darling Ineed2pee, Female Desperation, Ineed2pee, Jeans Pee, Jeans Peeing, Pissing In Leggings, Pissing In Shorts, Pissing Leggings, Pissing Movie, shorts peeing, Shorts Pissing, wetting
From Wetting Her Panties we have the very sexy Bonnie. This is the first time that we have had this hottie but I don't think it will be that last time we see her peeing her panties. She is in her bedroom and standing by the bed she has lifted her dress up and is showing us her red panties. She really looks sexy teasing us as she sways desperate to pee with her panties on show. Looking at her she looks like she has a little bulging bladder too. She stands there a little longer and then she starts to pee in her panties.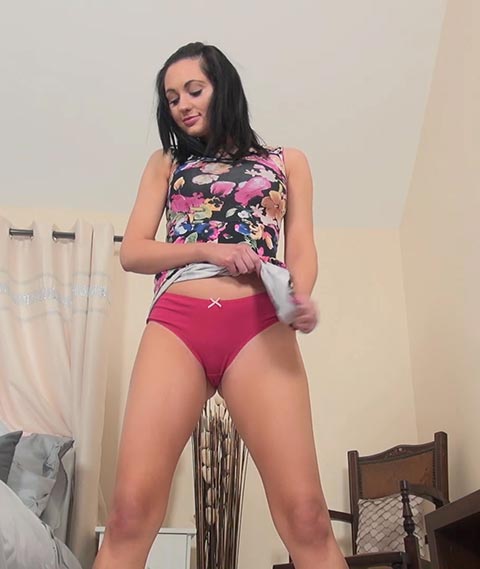 Bonnie is standing in her bedroom and has just started to pee in her panties. The red colour of the cotton starts to shine a little as the first drips of pee flow through and then the little dribble of pee starts to get stronger and her crotch is getting damp. We can see the dark pee patch clearly now and the stream off pee is flowing through the fabric. What a wonderful sight this is as she pees in her panties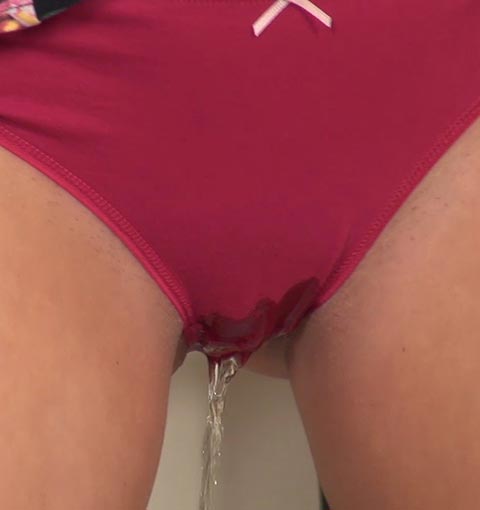 She keeps on pissing and her stream of piss increases this is a really good panty piss and when she finishes and the pee drips slow down there is no mistaking that she has had a panty pee. She starts to take the wet panties off and we can just make out the top of her pissy pussy. She is really teasing us today. She then pulls the wet knickers down and holds them out. We now get a fleeting glance up her skirt of her pissy pussy a super sexy panty pee with Bonnie from Wetting Her Panties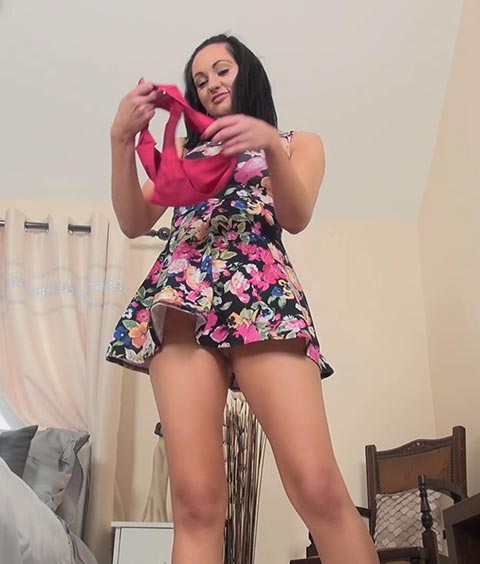 See Bonnie Peeing Her Pantries Click Here

Visit Wetting Her Panties Click Here


Filed under: Babes Peeing and Dress Peeing and Knicker Wetting and Panty Pee and Peeing and Pissing and Pissing Pictures and wettingherpanties
Posted on 08.24.17
Comments: 3 Comments


Tags: Bonnie Wetting Her Panties, Knicker Wetting, Panty Pee, Panty Peeing, Panty pissing, Pissing In Skirt, Skirt Peeing, wetting, wettingherpanties
From Piss Japan we have a wonderful outdoor pissing with two Asian hotties. Piss japan has had some great outdoor pissing scenes in the past and if you have missed some of them check out Outdoor Wetting And Peeing Piss Japan, Asians Playing With Piss, Asian Spread Wide And Pissing and Out And About Pissing From Piss Japan. Today we join the two Asian hotties as they are hanging out on a rock wall. They having a great time and then they need to pee, they stand and pull their panties down together they look like they are having a great time.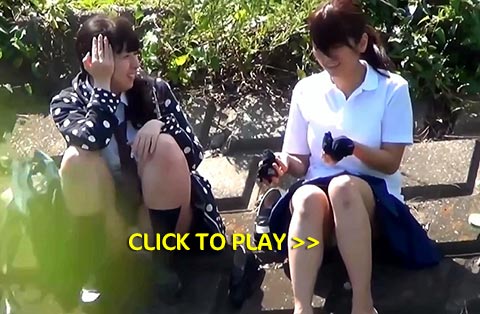 We are getting a great voyeur shot as they are about to pee together. One of them slaps the others naked ass and then they sit back on the rock wall with no panties and their skirts are hiked up. We get to see there lovely hairy pussy as they are spread wide. Sitting back like this they start to pee and as soon as the piss stream sprays out it looks like a little waterfall.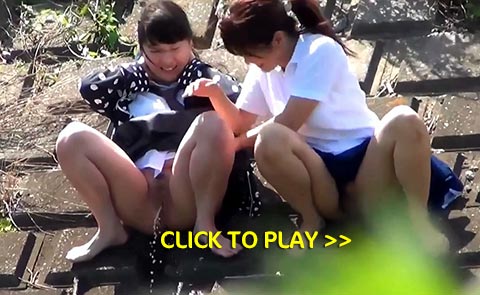 These two lovely Japanese are squirting piss like a waterfall. The piss streams are making a wonderful arc as they spray out, up and then come crashing on the rocks. They are having so much fun pissing together. When there pee streams subside they stand up pull their panties up and off they go with their day. A fun Japanese piss from Piss Japan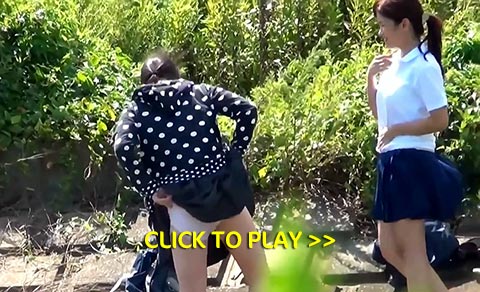 See The Two Asians Pissing Click Here


Filed under: Asian Pissing and Hairy Pussy Pissing and Japanese Pissing and Japanese Pissing Movies and Movies and Outdoor Pissing and Pee Asian and Peeing and Pissing and Pissing Movies and Pissing Outdoor and Pissing Videos and PissJapanTv and Public Pissing and Voyeur Peeing
Posted on 08.18.17
Comments: 1 Comment


Tags: Asian Peeing, Asian Pissing, Hairy Pussy Pissing, Japanese Peeing, Pee Asian, Piss Japan Movie, Pissing Movie, Pissing Movies, Public Peeing, Voyeur Peeing, Voyeur Pissing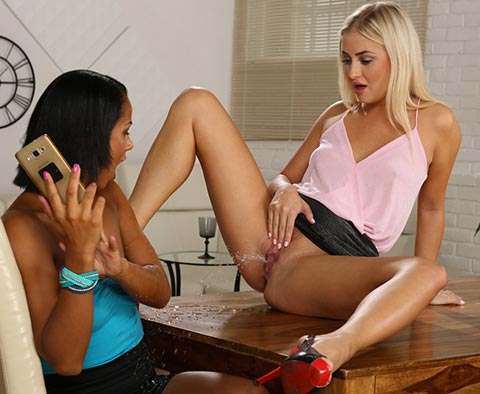 From Vipissy we have a wonderful wet lesbian piss from Vipissy. Today we have both the pissing pictures and a short movie of this lesbian pee from Vipissy. Cayla & Isabella Chrystin star in this scene and we join them as Isabella Chrystin is on the phone and Cayla walks in horny. She tries to distract Isabella Chrystin but she is having none of it. With nothing else to do Cayla gets on the table lifts her skirt to show her pussy and then starts to pee. Her piss is spraying out of her pussy and soaking Isabella Chrystins top. This has got her attention and she is gives up on the phone call to enjoy being sprayed in piss.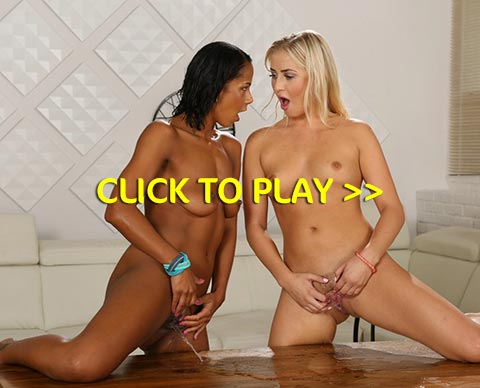 Cayla finishes pissing over Isabella Chrystin and then she lays down and Isabella starts to give her head. They are both so turned on and Isabella Chrystin squats beside Cayla and then releases her piss all over her. Her top and skirt are soaked and her skin is shining in wet warmth. She has piss dripping down off her body and they strip off their piss soaked clothes till they are both nude and wet with piss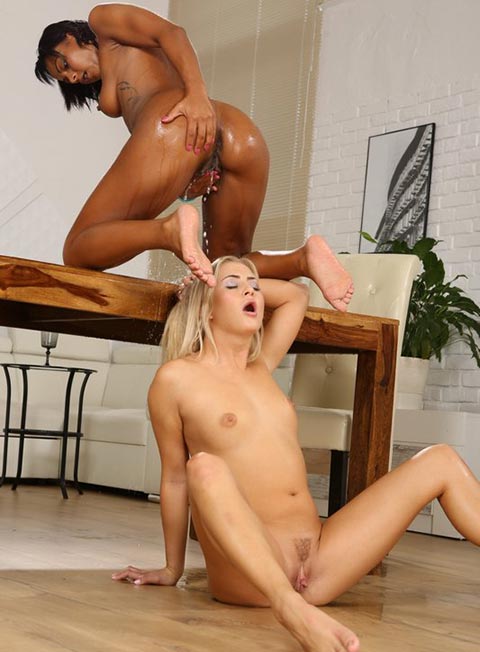 The fun hasn't finished yet Isabella Chrystin lies back and Cayla is over her in a sixty nine position when she starts to piss giving Isabella a face full of pee, she is loving it and is soaked. It is then her turn to soak Cayla in piss, they are so wet and horny it is great. They finish off pissing on the table together the piss streams are beautiful as they hit the table. This has to be one of the best and wettest Vipissy updates that we have had in a while these two really do enjoy the pee play.

See Cayla And Isabella Chrystin Pissing


Filed under: Babes Peeing and Drinking Piss and Lesbians Peeing and Movies and Peeing and Pissed On and Pissing and Pissing Movies and Pissing Videos and ViPissy
Posted on 08.15.17
Comments: None


Tags: Cayla Vipissy, Isabella Chrystin Vipissy, Lesbians Peeing, Piss Drinking, Pissing Movie, ViPissy, Vipissy Movie, Vipissy Pictures
From HD Wetting we have the lovely Alisha and Sosha. These two really do love playing with each other and if you have missed some of their lesbian antics check out Lesbian Cheerleaders Peeing in Bed, Lesbian Panty Pissing Threesome, Sosha Pissing on Alisha and Alisha And Sosha In Wet Pee Play today we have Alisha bound to the bed in her panties with Sosha in her underwear teasing the busting Alisha. She starts to tickle Alisha and she starts to squirm. She is getting very close to losing control. Sosha doesn't let up and keeps tickling Alisha till she starts to pee in her panties.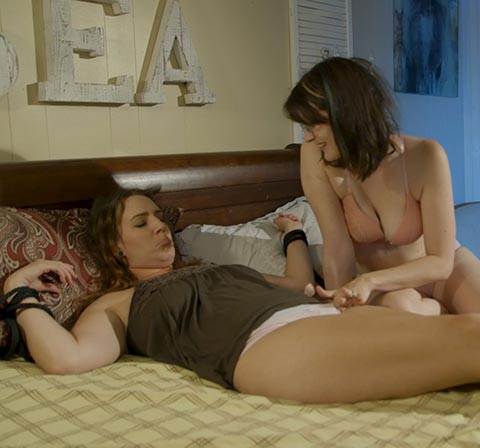 Alisha is bound in her panties tied in bed and has started to pee in her panties. She has pee flowing out and soaking under her into the bed and she is now in her soaked panties and lying in her own puddle of pee in the bed. Watching this is making Sosha horny and also wanting a pee so she straddles Sosha still in her panties and then starts to pee on her. Sosha is pissing her panties and her pee is splashing all over the piss soaked Sosha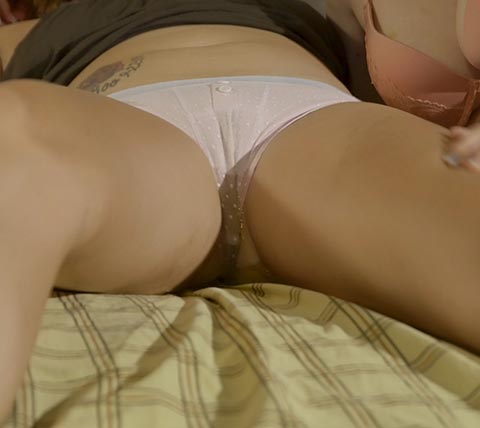 The pee is pooling on Alisha's belly and then joining the rest of piss under her in the piss puddle. Sosha panties are dripping wet when she finishes panty pissing and she is so horny she pulls Alisha's panties down and starts to lick her wet pissy pussy till she is cumming. Alisha is soaked in piss and satisfied a wonderful double pantie peeing lesbian scene from HD Wetting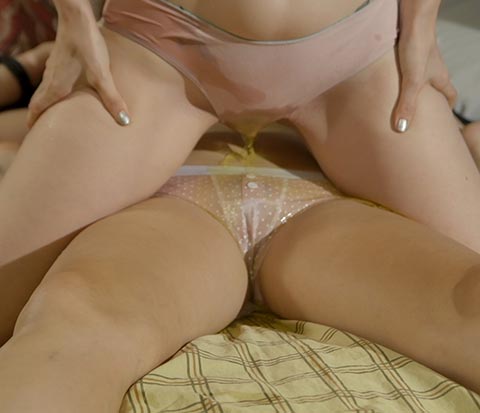 See The Lesbian Double Panty Pee Here


Filed under: Bed Wetting and HD Wetting and Knicker Wetting and Lesbians Peeing and Panty Pee and Peeing and Pissing and Pissing In Bed and Pissing Pictures
Posted on 08.12.17
Comments: 2 Comments


Tags: Alisha HD Wetting, HD Wetting, Knicker Wetting, Lesbians Peeing, Panty Pee, Panty Peeing, Pissing Panty, Sosha HD Wetting, wetting