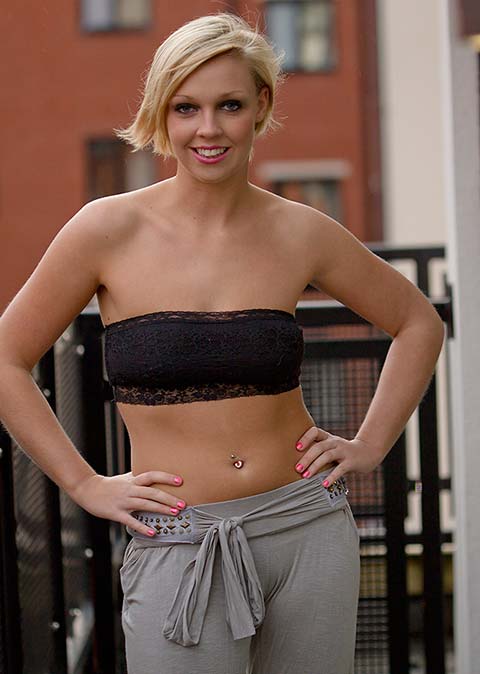 From Wetting Her Panties we have the lovely Scarlet Lovatt I am pretty sure that this is the first time that we have had her here. She is outdoors in a crop top and some work out pants. This location that Wetting Her Panties use for their pants and panty wetting shots seems quite exposed we have had photos from here in Leggings And Panty Peeing and Faye Peeing In Her Pants Outdoors it would be great to be living or working with a view to this balcony there would be some wonderful sights of hotties peeing themselves.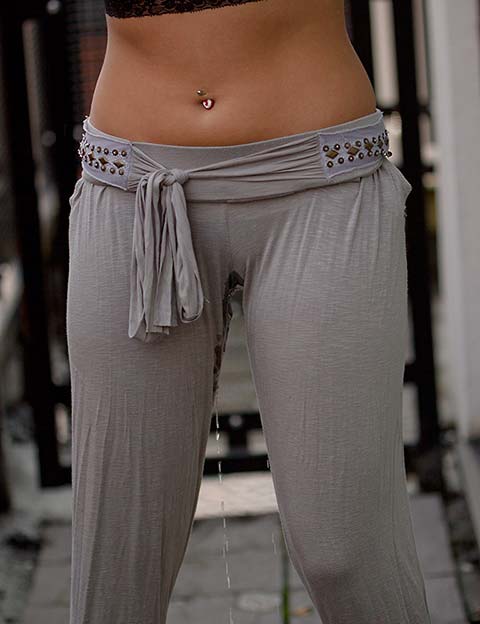 Scarlet Lovatt Is standing on the balcony and her pants are tightly encasing her crotch. She shifts her legs a little wider and starts to pee, this is such a natural look, outdoors with legs apart and peeing the only difference is she is peeing in pants and is not naked. As her pee flows into her pants they soak up the wetness right away and start to cling to her legs. Peeing in cotton pants really does look wonderful, not only does the fabric soak up the pee but the shine that appears is wonderful.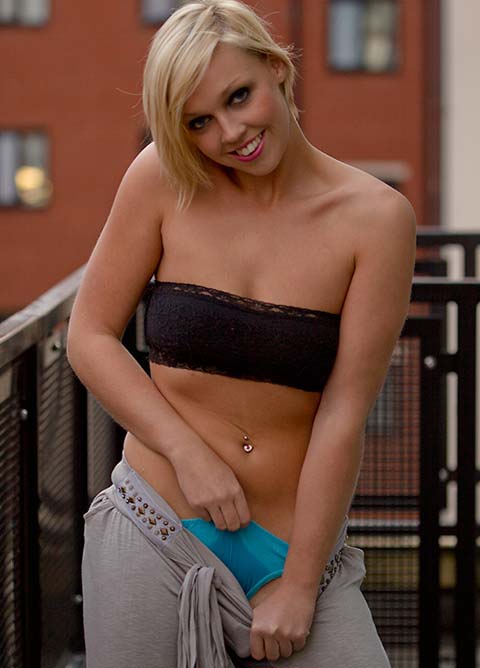 Scarlet Lovatt Keeps on peeing and her pants are going darker and darker. Her piss is running down her legs and then she turns around and we get to see a great shot of her bottom as she bends forward and through the piss soaked fabric we can even make out her piss soaked panties underneath such a sexy look. She finishes pants peeing turns back around and shows us her piss soaked knickers too. A great pants wetting with Scarlet Lovatt from Wetting Her Panties.

See Scarlet Lovatt Peeing In Her Pants


Filed under: Babes Peeing and Outdoor Pissing and Peeing and Pissing and Pissing In Pants and wettingherpanties
Posted on 09.28.13
Comments: 3 Comments


Tags: pants peeing, Peeing Pants, Pissing In Pants, Scarlet Lovatt Wetting Her Panties, Wet Panties, wetting, wettingherpanties
It's been a while since we have had a Wet In Public movie and I've been kind of missing them. I do love seeing a good outdoor wetting. Today we have Irina, I think this is the first time we have had this hottie wetting her jeans in public at PissBlog but over at Wet In Public she has made lots and lots of public peeing movies. If you have missed some of the previous movies we have had from Wet In Public check out, Three Wet In Public Movies, Pants Peeing In Public Wet In Public, Public Jeans Pissing From Wet In Pubic, and Jeans Peeing On A Public Street. Today Irina is in her tight light blue jeans and desperate to pee, she has been walking around the streets stopping and then grabbing her crotch and now we join her as she is walking up the stairs.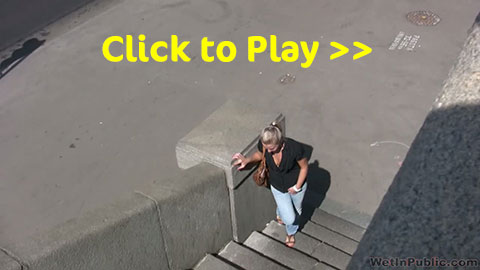 Irina is desperate to pee she has her hand in her crotch as she starts to walk up the stairs she stops clenches her legs together, looks around and then starts to walk again she is desperate to pee she really looks like she is going to pop. Irina walks faster and then stops with her crotch facing the camera and then with no waiting she starts to pee in her jeans. As soon as she starts to pee the denim goes dark and her pee stain spreads out this is a perfect jeans pee there is piss exploding everywhere.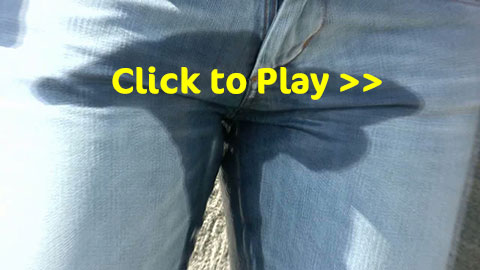 Irina is peeing in her jeans in public she has piss exploding into the denim and it is running down her legs leaving a great dark pee patch as it goes, there are cars driving behind as she is peeing but she is sort of hidden for now she keeps peeing and her feet are wet with piss too. She finishes peeing in her jeans and then continues her walk up the stairs, she looks much happier now that she has relieved herself even if it was into her jeans. Just watch as she walks up the stairs her bottom is swaying and we get such a tempting sight of her piss soaked jeans encasing her sexy ass too. She gets to the top of the stairs and there is someone walking down how they do not see that Irina has pissed in her jeans. A super jeans peeing movie from Wet In Public.

See Irina Peeing In Her Jeans here


Filed under: Jeans Peeing and Jeans Pissing and Movies and Peeing and Pissing and Pissing In Pants and Pissing Movies and Pissing Outdoor and Pissing Videos and Public Pissing and Wet In Public
Posted on 09.25.13
Comments: 2 Comments


Tags: Irina Wet In public, Jeans Pee, Jeans Peeing, Peeing Pants, Pissing In Pants, Pissing Movie, Public Peeing, Wet In Public, wetinpublic, wetting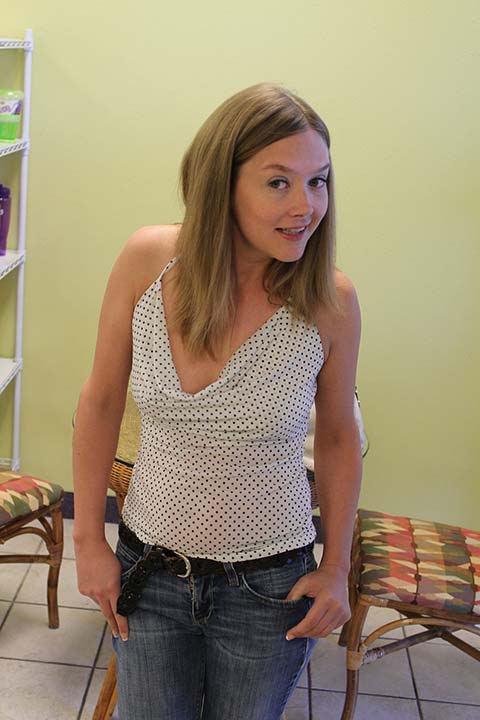 Today from Ineed2pee we have three great picture sets taken from the female desperation movies at Ineed2pee. Ineed2pee really is on hot female desperation and wetting website with so many different scenarios and we start off today with Star Nine. This is a great fantasy female desperation from Ineed2pee. Star Nine comes into your workplace and is so desperate to pee you can see that she is already starting to do the pee pee dance so you tell her the bathroom is occupied. She starts to grab her crotch and then is getting more and more desperate she is so desperate to pee that she can't stop bouncing. She sees you watching her and can see that her being so desperate to pee is turning you on. She keeps on grabbing her crotch but now has decided that she is turning you on so much t she will give you a female desperation squirmy show. She hold on and on getting more and more desperate enjoying watching you get more and more turned on. She can't hold on any longer and with you watching she starts to pee in her jeans. Her pee soaked the fabric and splashes on the ground and when she has finishes peeing in her jeans she stands there and tells you to pleasure yourself to her wet jeans & soaked white panties. A super-hot female desperation and wetting. See Star Nine Desperate and peeing here.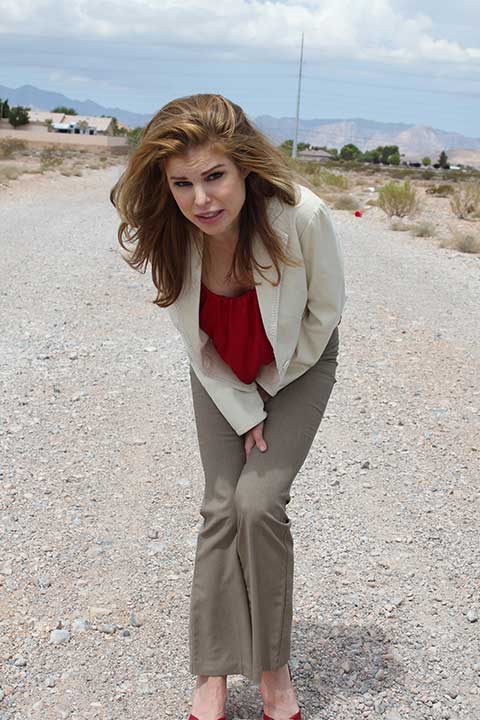 Next up we have the lovely Candle Boxx the story goes that Candle Boxx is wasted & passedout in her car when a cop comes to see what the deal is & run her plates! Candle is super desperate to pee after waking, grabbing her crotch tightly as she crosses her legs & squirming outta control. Super close-up of her crotch as the first drips of pee flow through her pants & cascade down her tight pants. Great behind the scenes where she gets naked at end. See Candle desperate and peeing here.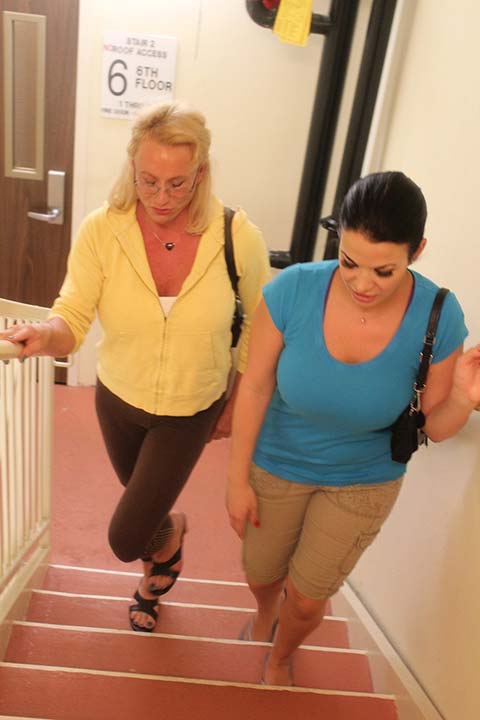 Last up from Ineed2pee we have Kenna Valentina & her mom we had a whole post dedicated to her last time but today it is something different. The story from Ineed2pee goes like this "Sexy dark haired Kenna Valentina is with her mother, struggling up the stairway trying not to pee their pants because the stupid elevator is broken in the building. Kenna is doing the pee pee dance, pretty much wetting her capri pants and panties. She gasps as her pee starts slowing and soaking her pants but she can't stop it! Her mom is trying her best to be supportive. Kenna pisses her pants completely and they need to walk through the hallways with wet pants. Mom stumbles into the bathroom & rips her spandex pants off just in time to piss loudly into the toilet!" See Kenna and mom peeing here.


Filed under: Desperation and Female Desperation and Ineed2pee and Jeans Peeing and Jeans Pissing and Peeing and Pissing and Pissing In Pants
Posted on 09.22.13
Comments: 4 Comments


Tags: Candle Box Ineed2pee, Desperate To Pee, Female Desperation, Ineed2pee, Ineed2pee Kenna, Jeans Pee, Jeans Peeing, Pissing In Pants, Star Ineed2pee
From Pisshunters we have a great caught pissing with a surprise tampon change at the end. I thinks this is the first Pisshunters peeing movie where we have had at pissblog with a tampon change. The brunette walks into the Pisshunters shot with her friend she seems in a hurry, I bet she is busting to pee. She hasn't even stopped walking and she is trying to pull up her dress. She pulls down her pantyhose and then squats down spreading her legs wide open giving us a great shot of her pussy.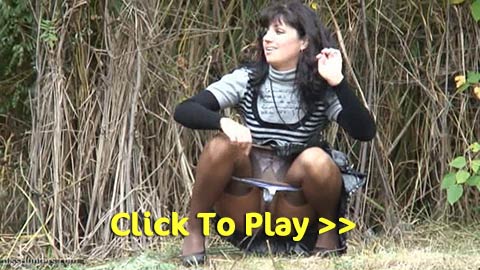 She has squatted down with her legs spread, she is desperate to pee there is no waiting and she starts to pee, it's like a little fountain as it squirts out of her pussy. She is giving us such a great view of her pissing pussy the Pisshunters cameras have been positioned perfectly. She keeps on peeing and the more she empty's herself the more relived she looks. At this angle we also get to see the tampon string.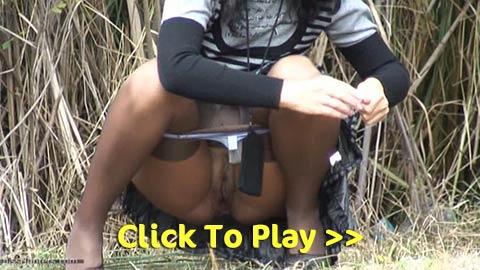 She is still peeing but it looks like she wants to pull her tampon out she keeps talking to her friend and her piss keeps on flowing she is still pissing and then she pulls her tampon out. Her pee stream finishes and then she gets a new tampon and inserts it in her pussy she pulls her panties and pantyhose up and smiles as she walks off. An interesting Pisshunters caught pissing movie.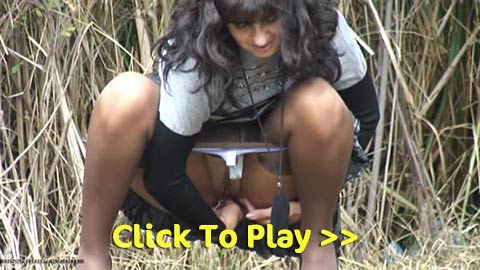 See The Brunette caught Pissing Here


Filed under: Caught Pissing and Movies and Outdoor Pissing and Peeing and PissHunters and Pissing and Pissing Movies and Pissing Outdoor and Pissing Videos and Voyeur Peeing
Posted on 09.18.13
Comments: 1 Comment


Tags: Caught Pissing, Piss Hunters, PissHunters, Pissing Movie, Pissing Outdoors, Tampon String, Voyeur Peeing, Voyeur Pissing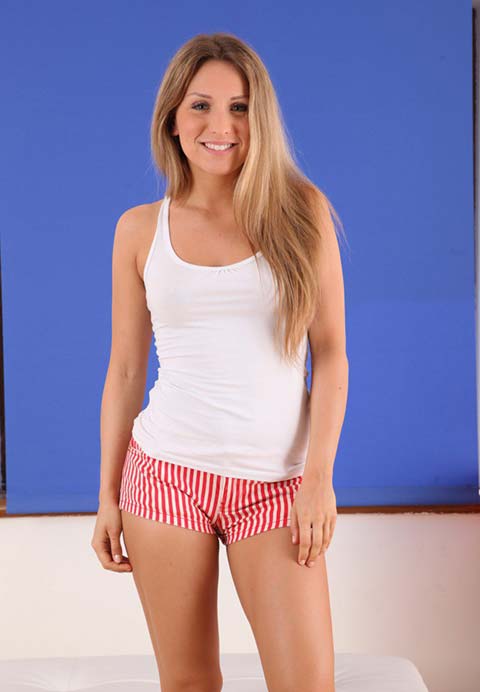 From Wet and Pissy we have the lovely Whitney. We have had some really sexy peeing photos from Wet and Pissy and todays are no different. We join Whitney as she standing in her tight striped shorts, she smiles at the camera and then starts to pull her shorts down. She pulls them down halfway and we get a wonderful shot of her shaved vagina with sexy pussy lips. What an awesome shot, her pussy looks good enough to lick and suck till the pee flows but no, she lifts her pussy lips up and starts to pee.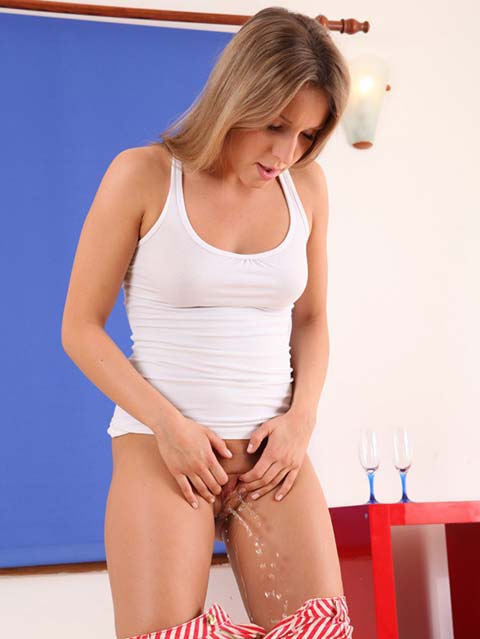 Whitney has pulled her pussy lips up and we are getting a wonderful close up shot of her pussy and she starts to pee. Her pee flows out of her vagina like a fountain and starts to splash into the crotch of her shorts, she even has pee running down her legs, this is wonderful from wet and pissy. Whitney keeps peeing her piss is soaking the fabric of her shorts making them all warm and soggy her piss stream grows and breaks into two, she now has pee splashing all over her legs what a mess she is making of herself. She finishes peeing sits in her piss puddle what a look imagine walking into the room to find her waiting for you sitting in her piss puddle…  See Whitney peeing here.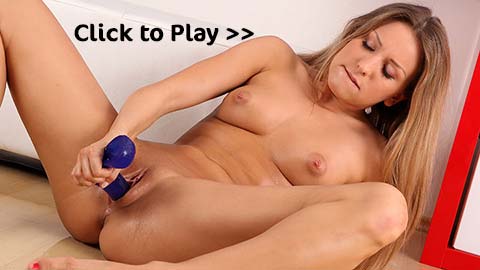 To finish off we have the one minute trailer movie with Whitney. The photos of her peeing on her shorts were just the start, the full peeing movie is 25 minutes, she gets very messy with her pee and ends up soaked from head to foot it is once again a hot peeing movie from Wet and Pissy. Watch the pissing movie with Whitney here


Filed under: Babes Peeing and Movies and Peeing and Pissing and Pissing Movies and Pissing Videos and Wet And Pissy
Posted on 09.15.13
Comments: 5 Comments


Tags: blonde peeing, Piss Movie, Pissing In Shorts, Pissing Movie, Pissing Pussy, Shorts Pissing, Wet And Pissy, Whitney Wet And Pissy