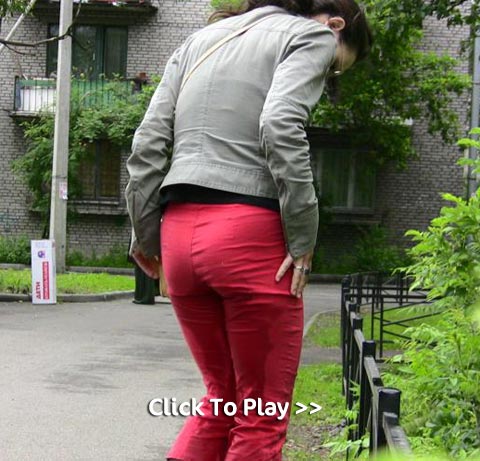 From Wet In Public we have these three great public wetting movies. I do love Wet In Public there is something so sexy watching a lady peeing in her pants on the street where everyone can see. The first movie has this lovely lady in her tight red pants her bum looks so sexy as she is walking and you can tell she needs to pee. She holds her bottom what a great sight, she keeps walking and I bet she is getting more and more desperate to pee. She really was desperate to pee as she is walking she starts peeing in her pants. Peeing in pants walking I didn't expect that it is something that really is sexy. She has started to pee while walking and now she sits down so no one can see that she is peeing. She gets up her pants are soaked in piss there is no hiding this and then she starts walking again. She walks past a mother with a pram and gets fully caught a great public pants wetting movie.
The next Wet In Public movie we have stars a hottie in tight denim shorts, he walks down the street and across the road she really is one good looking lady. She gets to the park and is desperate to pee she jambs her hand into her crotch trying to hold on. She has stoped the flow and starts walking again she walks down some steps stops and starts to pee. Her denim shorts instantly get a damp patch in her crotch what starts as a trickle turns into a river as she starts to pee more, you can see the pee stain grow in her denims shorts. She stops peeing  walks up one step and starts to flood her shorts again the fabric goes shiny and you can see her pee river flowing down her legs this really is a great peeing in shorts movie. She has finished peeing and now walks down the path everyone will be able to see she has peed in her shots a wonderful shorts peeing movie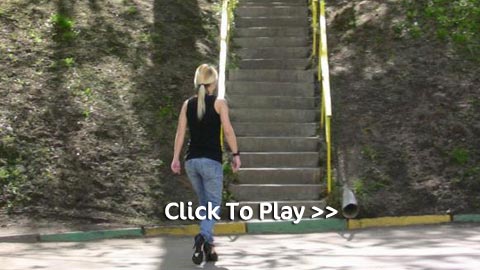 The Last Wet In Public movie has a different blond in her jeans. Wet In Public really do have some hot public peeing models. This hottie is walking down the street you can see she is full and in need of the toilet. She stops, jambs her hands into her crotch she really need to pee badly. She keeps walking and starts to walk up the stairs it looks like she just cant hold on any longer she stops and then she starts peeing in her jeans. Jeans peeing in public, the poor lady, just look at the lovely dark denim where the pee is soaking into her jeans. She is peeing in her jeans and two people start to walk down the stairs there is no way that they are not seeing that she has been peeing in her jeans just look at their faces. She finishes peeing in her jeans and has been caught once she now walks up the stairs she has the perfect pissed in jeans wet patch I'm betting she will be caught again.
See Wet In Public Movie 1, 2, 3
Visit Wet In Public Click Here
Related posts:

Filed under: Babes Peeing and Jeans Peeing and Jeans Pissing and Movies and Outdoor Pissing and Peeing and Pissing and Pissing In Leggings and Pissing In Pants and Pissing In Shorts and Pissing Movies and Pissing Outdoor and Public Pissing and Wet In Public
Posted on 03.23.12
Comments: 5 Comments


Tags: Jeans Pee, Jeans Peeing, Outdoor Pissing, pants peeing, Pissing In Pants, Pissing In Public, Pissing Movie, Pissing Movies, Pissing Outdoors, Shorts Pissing, Wet In Public, wetting