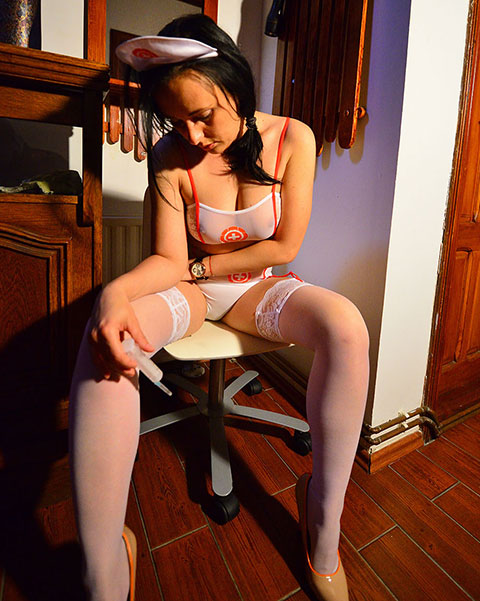 From Real Wetting We Have sexy nurse Monica. We have had this hot wetter previously in Monica Pole dancing And Panty Pissing where she was dressed as a stripper and pissed her panties for us. Today Monica is dressed up as a sexy nurse and is desperate to pee. Her tight top is see-through and we get to see her lovely breasts. She has white panties and stockings on. She is sitting on the chair and has her legs crossed. She is trying to hold her pee in.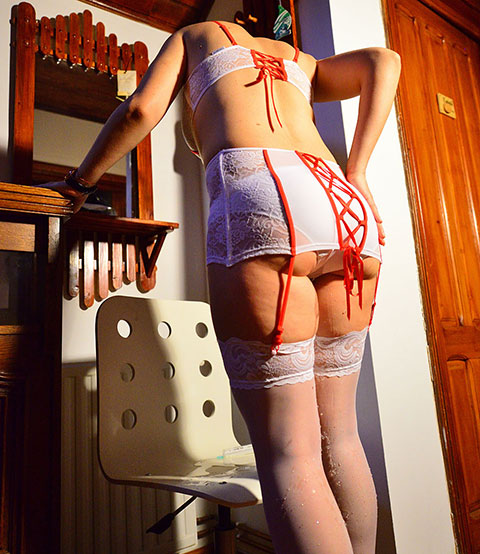 She tries to hold on a little longer but is to desperate and starts to pee in her panties while sitting. The peeing pictures don't show this greatly but in the video we get a great shot of pee flooding out of her panties. She stands up and her pee is flooding out and running down her legs she really is looking sexy and wet.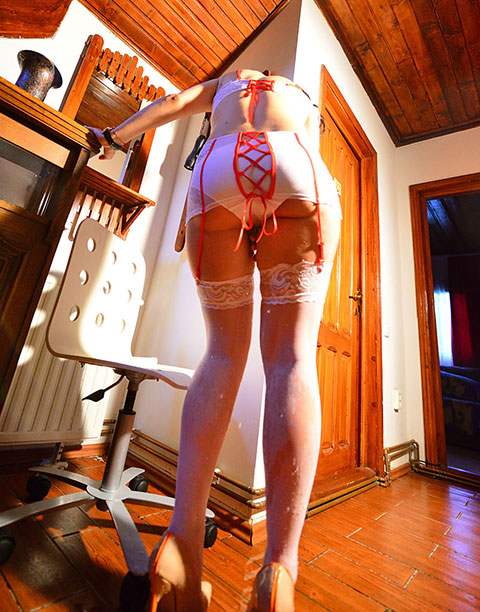 Monica is peeing in her nurses uniform, her panties are soaked her breasts are jiggling around. Her panties are getting lovely pee rivers running down her legs she really is looking sexy. She finishes pissing herself and then looks down at her piss soaked panties they are dripping. She then sits back down on the piss soaked seat. A Super wetting from Real Wetting.
See Monica Peeing Herself Here

Filed under: Audreys Wetting Site and Babes Peeing and Knicker Wetting and Panty Pee and Pantyhose Pissing and Peeing and Pissing and Pissing Pictures and Real Wetting
Posted on 08.31.18
Comments: 1 Comment


Tags: Audrey's Wetting Site, Knicker Wetting, Monica Real Wetting, Panty Pee, Panty Peeing, pantyhose peeing, Pantyhose Pissing, Peeing Pictures, Real Wetting, Uniform pee, wetting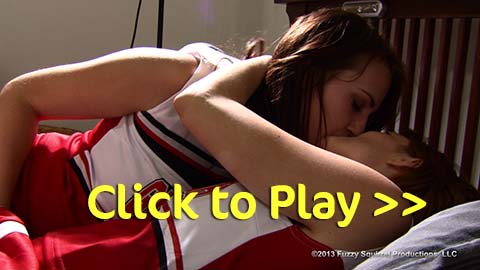 From HD Wetting we have a great lesbian cheerleader wetting movie starring Sosha and Alisha. They have come home from cheerleading practice and are horny. They get in bed still in their uniforms and start to make out. They are kissing passionately and then Alisha needs to pee, she has been holding on all through practice waiting for this moment. She lifts her skirt to expose her grey panties and we can see her bladder is bulging she really needs to pee.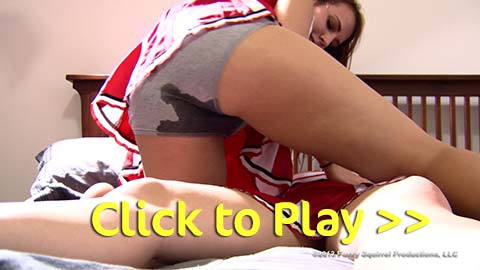 She has lifted her skirt and with her panties on show she moves so she is above Sosha. They are both so horny and then Alisha starts to pee into her panties all over Sosha. The grey of her panties goes dark and the warm pee soaks into the fabric. Sosha's cheerleading skirt is getting soaked. Alisha moves so she is now kneeling over Sosha and she is still pissing what a wonderful sight.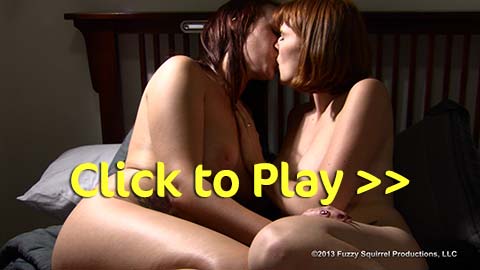 Alisha finishes peeing on Sosha and is so turned on. Sosha is pissy wet and the bed under her is damp too. They starts to inspect their wet uniforms and then strip them off showing us there pissy bodies. Now there is no stopping them, they are so horny after their piss play that they start to kiss and make out again. A super lesbian cheerleader panty peeing movie.

See Alisha And Sosha Cheerleader Panty Pee


Filed under: Dress Peeing and HD Wetting and Knicker Wetting and Lesbians Peeing and Movies and Peeing and Pissing and Pissing In Bed and Pissing In Skirt and Pissing Movies and Pissing Videos
Posted on 10.19.16
Comments: None


Tags: Alisha HD Wetting, Cheerleader Peeing, HD Wetting, HD Wetting Movie, Lesbians Peeing, Pissing In Bed, Pissing In Skirt, Skirt Peeing, Sosha HD Wetting, Uniform pee
From HD Wetting we have the lovely Sosha and sexy Alisha back for some more lesbian pee play. We start off with Sosha dressed as a nurse and Nikko on the bed it is Sosha's last appointment of the day and she has been busting to pee for ages. As she is listing to Nikko she is getting more and more desperate she crosses her legs trying to hold her pee in but is to desperate and loses control peeing in her white stockings. As she is peeing the piss streams down her stockings making the pee stain so vivid she looks so sexy a pissy wet mess. Nikko is not happy her nurse has pissed herself she tells Sosha that she will tell her superior. Sosha standing in her piss soaked pantyhose and pleads for her not to. Nikko has one demand that Sosha in her piss soaked nurses uniform give her head till she cums. A super stocking wetting and lesbian licking movie. See Sosha Piss Herself Here.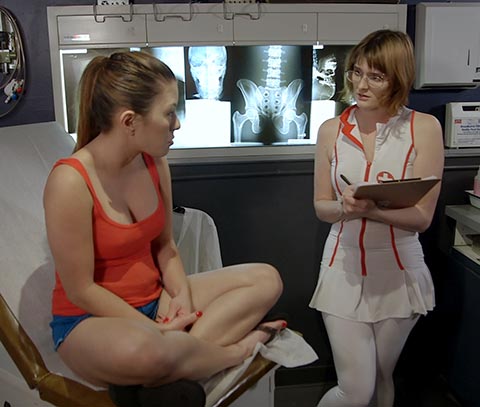 Next up we have Sosha bound and in her underwear Nikko has a spanking implement and proceeds to spank her. Sosha is so desperate that the shock as she is getting spanked is to much and she loses control and pees in her panties. As Sosha is peeing the piss is running down her legs and soaking onto the floor. Nikko pleased with herself and now horny unties Sosha and licks her out till she cums. See Sosha bound and pissing here.
Last up we have Nikko bound naked and desperate to pee we can see her bulging bladder and then Sosha starts to tease her. Sosha is tickling and prodding Sosha's bladder taking great pleasure in tormenting the desperate Nikko. Nikko is trying as hard as she can to hold on but her bladder is to full and she loses control and starts  pissing. She has pee running down her legs and her feet are getting wetter and wetter .A great bound nude pissing. See Nikko Piss Here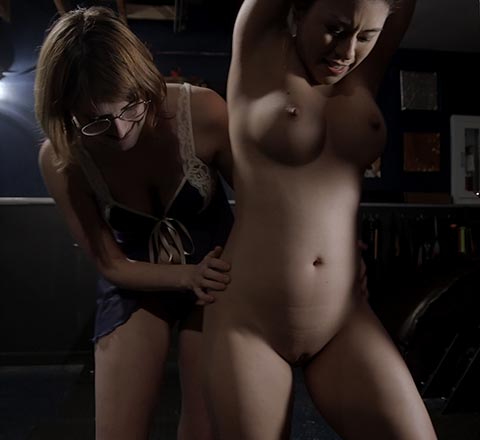 Filed under: HD Wetting and Knicker Wetting and Lesbians Peeing and Panty Pee and Pantyhose Pissing and Peeing and Pissing and Pissing In Leggings and Pissing In Tights
Posted on 03.15.16
Comments: None


Tags: bound pissing, HD Wetting, Knicker Wetting, Lesbians Peeing, Nikko HD Wetting, Nude Peeing, Panty Pee, Panty Peeing, Sosha HD Wetting, Uniform pee
HD Wetting brings us the lovely Alisha and Nikko. These two are great fun to watch together. We starts off with Nikko the story goes " She has a problem, she is unable to become sexually aroused, she visits the doctor in the hope of finding a solution after explaing her predicament to the nurse, Alisha, who comes up with an idea. Alisha takes her clothes off, stripping down to just her panties, and starts making out with Nikko. While making out Alisha pees through her white panties and all over Nikko's lap. This has the desired effect, Nikko is getting extremely turned on. Now that she has succeeded in making Nikko very horny, Alisha pulls off Nikko's wet pants and goes down on her. It isn't long before Nikko has a loud orgasm. See Nikko pleasured and pissed on here.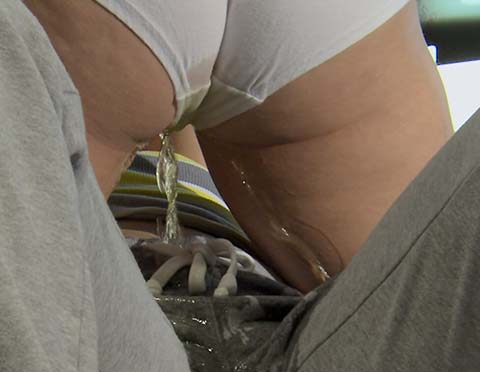 Next up it is time for Nikko's once a year appointment with the gynaecologist, something she truly despises. Already uncomfortable at the aspect of having her girly bits poked and prodded, she grows even more concerned when the nurse states that this is the first time she has ever done this. Nikko changes her mind about the exam, but the nurse, Alisha, isn't backing down. With a full bladder, and a nurse making a bee-line straight towards her nether regions, Nikko does the first think she can think of to repel the approaching intrusion. She releases a powerful stream of piss all over, making a mess out of the exam room. See Nikko Pissing Here.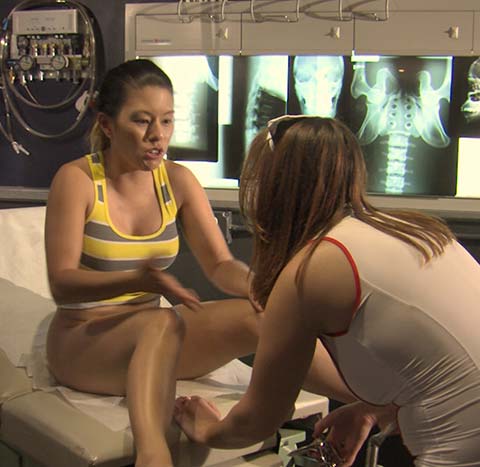 Last up Nikko is tied up and naked with Alisha giving her head from behind. Nikko is getting closer and closer to cumming but she needs to pee. She lets Alisha know that she needs to stop so she can have a pee but Alisha doesn't stop and Nikko starts to piss she luckily misses Alisha but soaks the chair and floor. See Nikko Peeing Here.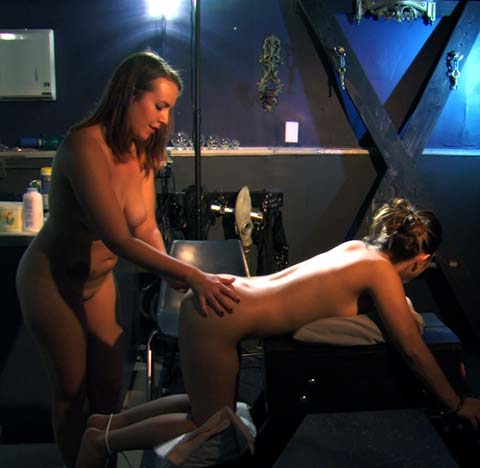 Filed under: HD Wetting and Knicker Wetting and Lesbians Peeing and Panty Pee and Peeing and Pissed On and Pissing
Posted on 09.26.15
Comments: None


Tags: Alisha HD Wetting, HD Wetting, Knicker Wetting, Lesbians Peeing, Nikko HD Wetting, Panty Pee, Panty Peeing, Uniform pee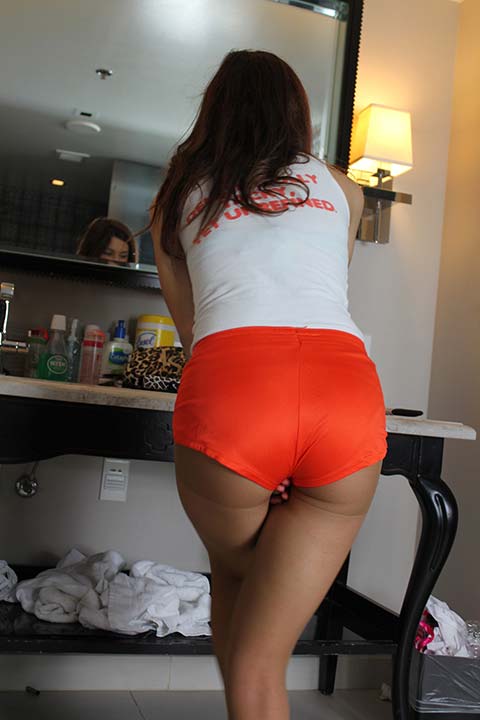 From Ineed2pee we have the wonderful Nikki Next. She joined us before in Female Desperation And Wetting Ineedpee and was great, today I think she is even better. Nikki is dressed in a hooters outfit and looking very desperate to pee. Ineed2pee have had some great female desperation and wetting scenes in Hooters uniforms and if you have missed some check out the ineed2pee category here. Nikki Next is desperate to pee she has her hand jammed between her legs trying to hold on. The more desperate she is getting the higher her shorts are riding up.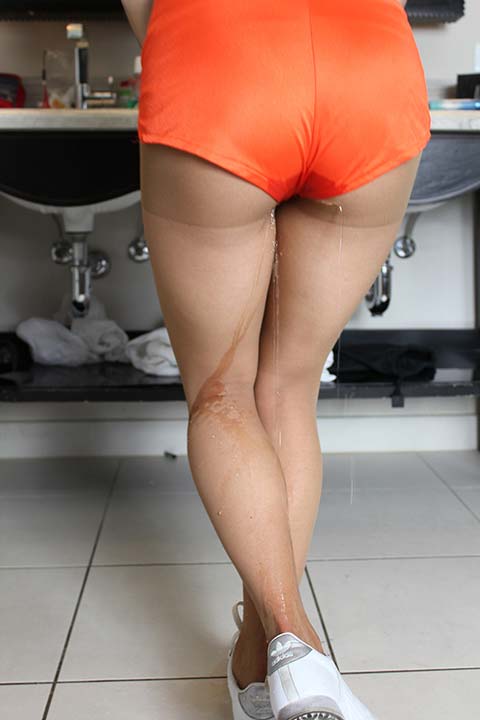 The story from Ineed2pee about this scene with Nikki Next goes like this "The update you've been waiting for! It's 18 year old cutie Nikki Next, a real amateur brunette with slim legs & the cutest butt bounce as she does her pee pee dance! Awesome crotch & butt grabbing & she's really holding it the best she can. You can tell how badly she really had to go by how much urine splashes out & all over into her white tennis sneakers too. You can see how much went in when she empties it all out. I will definitely be trying my hardest to cross paths with Nikki again this summer in August at Fetishcon & filling her full of water, tea, coffee, beer, etc "let's hope that ineed2pee catch up with her again soon.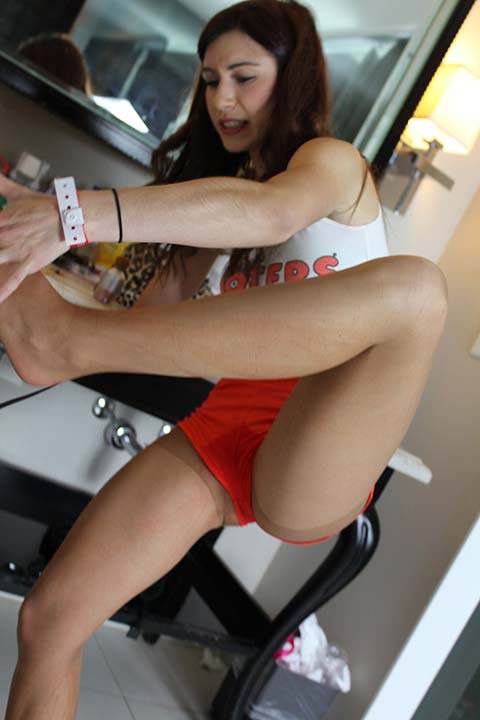 She is so desperate that her bladder is about to burst you can see the real desperation that ineed2pee is known for. With her legs still crossed she starts to pee in her shorts, her pee is running down her legs making sparkling rivers in her pantyhose and then soaking her shoes. Her hooters shorts are dark at the crotch and just look at her calves they are absolutely soaked. She finishes peeing in her shorts and then empty's her sneakers and tries to dry her crotch with a hair dryer. Super sexy real female desperation from Ineed2pee.


Filed under: Babes Peeing and Desperation and Female Desperation and Ineed2pee and Pantyhose Pissing and Peeing and Pissing and Pissing In Shorts
Posted on 06.01.15
Comments: 4 Comments


Tags: Desperate To Pee, Female Desperation, Ineed2pee, Nikki Next Ineed2pee, pantyhose peeing, Shorts Pissing, Uniform pee
Piss Japan brings us this wonderful pissing school girl set. We have had some great hidden camera pissing from them before in Peeing Asians Caught, Hot Japanese Pissing and Asian Pissing From Piss Japan Tv here are so many Japanese pissing movies but it is so hard to get them out of japan and if we do they are always censored Piss Japan brings us hot pissing and uncensored too.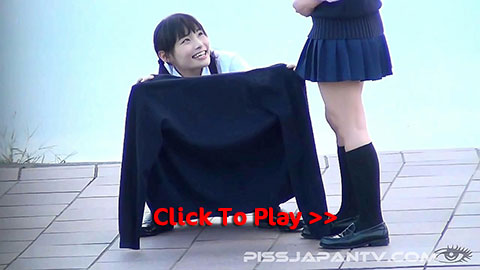 Todays Japanese is a pissing feast lovely Japanese ladies dressed as schoolgirls. They are out in the park playing. The story from Piss Japan goes "In a nearby park, there are always some school girls who are around. , I know if I follow them long enough, good things will "flow." Some girls are shy, some are playful, but what they all have in common is a need to pee. One group of girls pulls out a blindfold in order to release; whatever makes them go, works for me.

It is a great pissing set I just love the different pissing scenarios that they get themselves into. Sexy Asian ladies pissing in the park what else could we want?

See The Japanese Schoolgirls Pissing Here


Filed under: Asian Pissing and Caught Pissing and Japanese Pissing and Movies and Outdoor Pissing and Pee Asian and Peeing and Pissing and Pissing Movies and Pissing Outdoor and Pissing Videos and PissJapanTv and Public Pissing and Voyeur Peeing
Posted on 01.04.15
Comments: 5 Comments


Tags: Asian Pissing, Caught Peeing, Caught Pissing, Japanese Peeing, Outdoor Pissing, Pee Asian, school girl, school girl peeing, Uniform pee