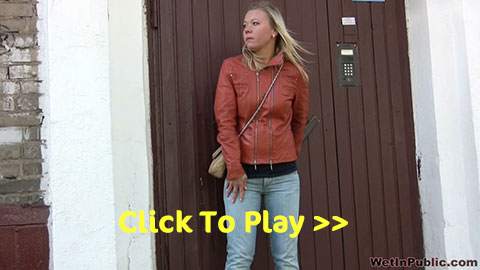 From Wet In public we have the lovely Irina. We have had Irina previously in Jeans Peeing In Public With Irina and of course if you have missed some of the wonderful Wet In Public movies that we have had here check out, Pants Peeing In Public Wet In Public, Public Jeans Peeing From Wet In Public, Peeing Her Jeans In Public Movie, and Public Jeans Pissing From Wet In Pubic. Today Irina is in her tight jeans but she looks really nervous. I guess peeing her jeans in public could be stressful and very embarrassing if she is seen by someone she knows. She stands in the doorway crosses her legs, uncrosses them and then she starts to pee.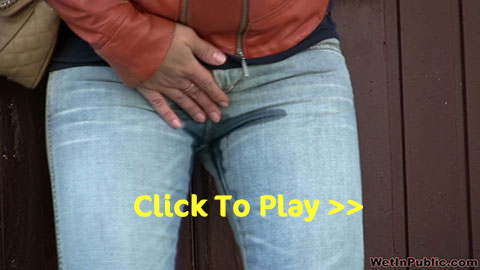 Irina is on the street and she has started to pee in her jeans. As she is peeing her pee patch starts to soak into her jeans and the denim being light is giving us a great view as her dark pee spreads across the front of her jeans. Irina looks like she doesn't like the feeling of her warm pee soaking into her jeans and running down her legs. She seems to be trying to stop her pee exploding to much maybe she wants to try to hide her wet pee patch.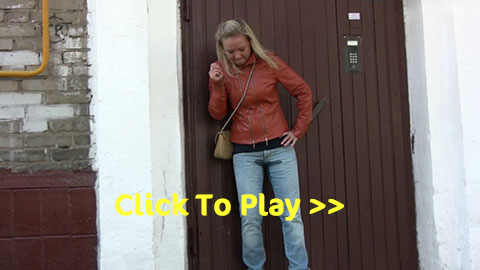 Irina is peeing in her jeans, she seems to be very shy and nervous today and really doesn't want to pee to much. She presses her hand into her crotch and then it looks like her piss stream has stopped you can make out faint pee marks down the inside of her jeans, she must have been getting pee running down her legs and soaking into her shoes. I guess they will be squishy now. She has finished peeing and her jeans have a lovey pee patch in the front, her shoes and socks look like they are soaked to. Irina starts to walk and when we see her from behind she is lucky she has no noticeable pee patch. She walks down the street and as she sees two men walking towards her, she quickly changes directions and that is where we leave her.
See Irina Peeing In her Jeans Here
Visit Wet In Public Click Here