From Got2Pee we have three outdoor peeing movies staring Alex Black. Alex Black is a lovely busty model and she really can piss. We start off with her in tight jeans and desperate to pee she feels her bladder looks around and then pulls her jeans and panties down and starts to piss. What a lovely sight. She has presented her pissing pussy for us and it is spraying beautifully. She has piss dribbles running down her bottom and this then turns into another piss stream. She finishes pissing and i bet when she has pulled her panties up they are soaking in piss. See Alex black Pissing Outdoors here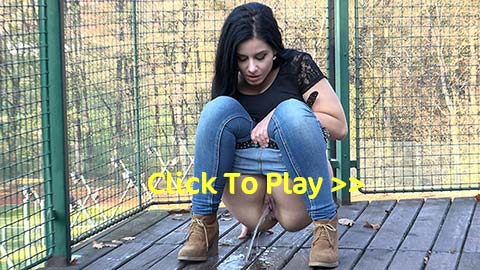 Next up she is out in the sun wearing a loose top and short skirt. I really do wish she was braless it would have been wonderful seeing her desperate to pee with her breasts bouncing around. She pulls up her skirt and squats down and starts to piss. Her piss explodes out of her pussy and her piss puddle gets bigger and bigger she really has a big bladder capacity. She finishes pissing and what a big piss puddle. See Alex pissing Here

Lastly we have her walking down the road, she is in a tight blue top and short skirt she really needs to pee. She feels her bulging belly and then squats down and starts to piss her pee stream is strong and shoots out of her pussy splashing all over the ground. Her piss even splashes her suede shoes. This is a great close up of her pissing pussy. See Alex Black Pissing On The Road Here


Filed under: Babes Peeing and Got2Pee and Movies and Outdoor Pissing and Peeing and Pissing and Pissing Movies and Pissing Outdoor and Pissing Videos and Public Pissing
Posted on 03.22.16
Comments: 1 Comment


Tags: Alex Black Got2Pee, Got2pee Movie, Outdoor Pissing, Peeing Movies, Pissing In Public, Pissing Movie, Pissing Outdoors, Public Pissing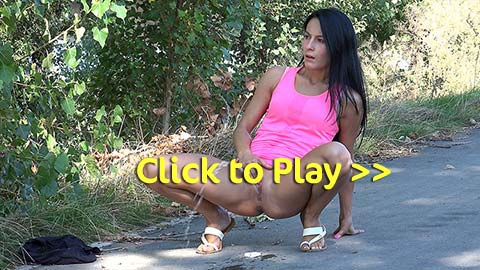 For today we have something new, movies from Got2Pee. Got2pee is a website that reminds me of project pee and sneaky pee and is shot in HD and has lovely hotties. Let me know if you would like to see more from this website. We start off with a brunette who is desperate to pee she is running down the path in tight shorts and is holding her bladder. She stops when she is out of sight pulls her shorts off and then let's spray with a wonderful big piss stream. She has piss splashing all over the ground and when she finishes pissing we get to see how far she pee. See the brunette pissing here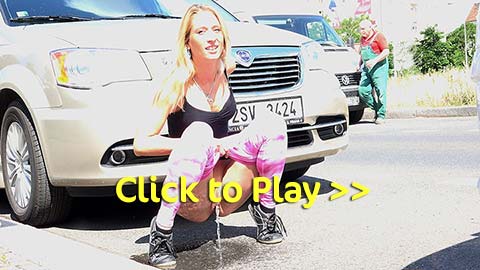 Next up we have a blonde lady on a public street, she is spandex leggings and is waddling from desperation. She stops between a parked car and ready's herself to pee. There are cars driving by and people walking around a true public pee. She drops her leggings and pisses on the road she makes a great piss puddle and her pussy is gleaming with piss when she finishes. A great public piss. See the blonde Pissing Here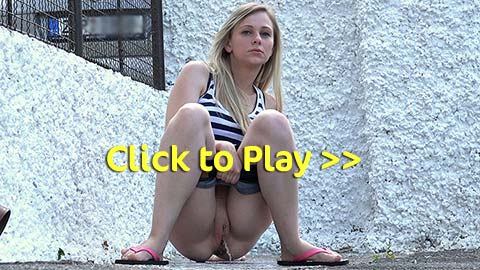 Last up we have a pale blond chick. She is in tight denim shorts and a stripy top. She finds a secluded spot and pulls down her shorts and starts to pee on the ground. She has piss flowing from her pussy but her pee is also running over her bum. The shot of her shaved pissing pussy is great and then when she finishes she pulls up panties up over her piss soaked ass. See The Pale Blonde pissing Here


Filed under: Caught Pissing and Got2Pee and Movies and Outdoor Pissing and Peeing and Pissing and Pissing Movies and Pissing Outdoor and Pissing Videos and Public Pissing and Street Piss
Posted on 01.12.16
Comments: 2 Comments


Tags: blonde peeing, brunette pissing, Got2pee Movie, Outdoor Pissing, Pissing Movie, Public Peeing, Public Pissing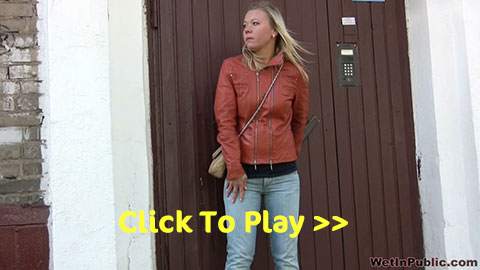 From Wet In public we have the lovely Irina. We have had Irina previously in Jeans Peeing In Public With Irina and of course if you have missed some of the wonderful Wet In Public movies that we have had here check out, Pants Peeing In Public Wet In Public, Public Jeans Peeing From Wet In Public, Peeing Her Jeans In Public Movie, and Public Jeans Pissing From Wet In Pubic. Today Irina is in her tight jeans but she looks really nervous. I guess peeing her jeans in public could be stressful and very embarrassing if she is seen by someone she knows. She stands in the doorway crosses her legs, uncrosses them and then she starts to pee.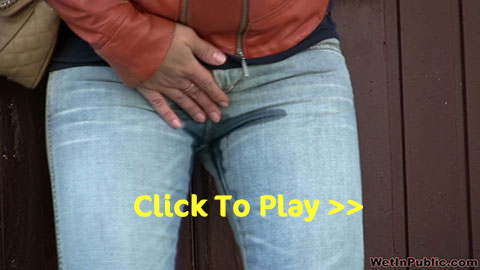 Irina is on the street and she has started to pee in her jeans. As she is peeing her pee patch starts to soak into her jeans and the denim being light is giving us a great view as her dark pee spreads across the front of her jeans. Irina looks like she doesn't like the feeling of her warm pee soaking into her jeans and running down her legs. She seems to be trying to stop her pee exploding to much maybe she wants to try to hide her wet pee patch.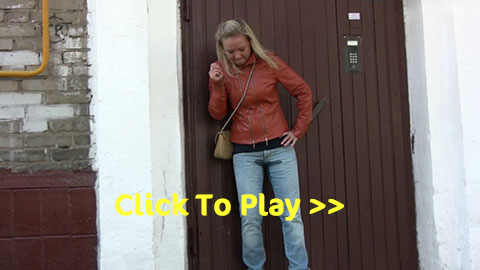 Irina is peeing in her jeans, she seems to be very shy and nervous today and really doesn't want to pee to much. She presses her hand into her crotch and then it looks like her piss stream has stopped you can make out faint pee marks down the inside of her jeans, she must have been getting pee running down her legs and soaking into her shoes. I guess they will be squishy now. She has finished peeing and her jeans have a lovey pee patch in the front, her shoes and socks look like they are soaked to. Irina starts to walk and when we see her from behind she is lucky she has no noticeable pee patch. She walks down the street and as she sees two men walking towards her, she quickly changes directions and that is where we leave her.

See Irina Peeing In her Jeans Here


Filed under: Jeans Peeing and Jeans Pissing and Movies and Outdoor Pissing and Peeing and Pissing and Pissing In Pants and Pissing Movies and Pissing Outdoor and Pissing Videos and Public Pissing and Wet In Public
Posted on 11.13.13
Comments: 5 Comments


Tags: Irina Wet In public, Jeans Pee, Jeans Peeing, Pissing Movie, Public Peeing, Public Pissing, Wet In Public, wetinpublic
From Wet In Public We have this great park bench shorts peeing. She is sitting on the park bench in her white shorts she really is lovely and her shorts are so tight against the pussy. She has opened her legs and we get to see the first wonderful drops of pee as it explodes into her shorts. I do love Wet In Public there is always something so sexy watching a hot lady peeing in public., with Wet In Public we get the added bonus that they are peeing in public in their clothes.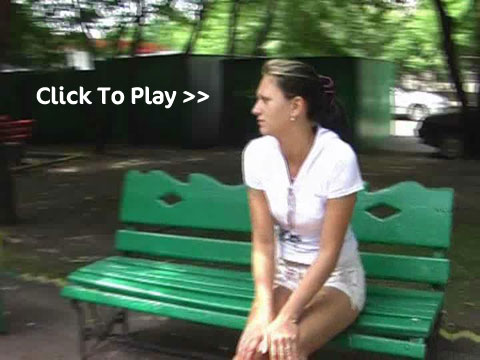 This Wet In Public hottie is peeing in her shorts on the park bench and with every second her shorts are getting more and more soaked. She keeps peeing the fabric grabs her pussy tighter and tighter. She can't be wearing panties under her shorts and that is a small shame. She keeps on peeing and the sound of her piss splashing on the ground must be wonderful, just look at her piss soaked crotch that really does look so inviting. Just imagine the wonderful warm feeling she must be having and if you got to touch it, it would be so wet and soft. Another wonderful Wet In Public peeing movie.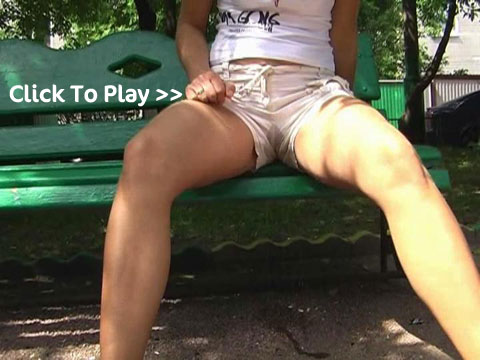 Watch The Shorts Peeing Movie Here


Filed under: Movies and Outdoor Pissing and Peeing and Pissing and Pissing In Shorts and Pissing Movies and Pissing Outdoor and Pissing Videos and Public Pissing and Wet In Public
Posted on 04.14.11
Comments: 2 Comments


Tags: Pissing Movie, Public Pissing, Shorts Pissing, Wet In Public, wetting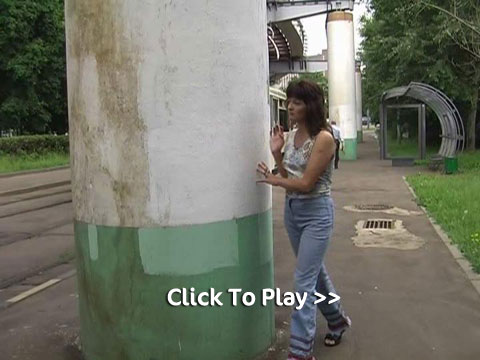 From Wet In Public we have this jeans pissing movie. This is one great jeans peeing movie it reminds me of the extreme public piss movies. We are near a tam stop and Elena walks into shot in her jeans. She stops and leans against a post with her legs crossed she needs to pee but is waiting and then it is obvious why. There was a guy walking she can't have wanted to show him her pissing in her jeans.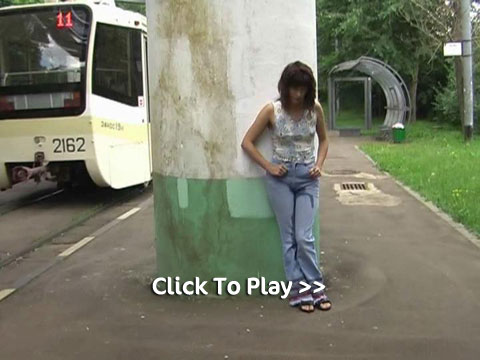 Elena is ready and as the next tram is going by she starts to pee in her jeans and what starts as a small flow turns into a jeans soaking mess. The tram stops and she is still soaking her jeans and then as the tram leaves a lady walks by while she is in full flow. If you saw a chick pissing in her jeans in public I bet you would stop but not this chick she just keeps going.  While the chick is still the pissing in her jeans you can see the chick that has busted the jeans peeing looking back and wondering what is happening.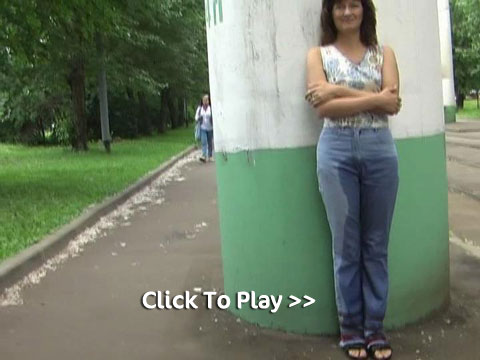 The jeans are well soaked now and there is no mistaking that she has pissed in her jeans. I would have to say that this is the best or second best jeans wetting movie from Wet In Public we have had. The other one has to be Public Jeans Pissing From Wet In Pubic I just can't decide, She finishes peeing in her jeans and starts to walk she doesn't get far though and as another tram goes past she quickly makes it to another post this is not going well for her, everyone is seeing that she has peed in her jeans in public. As we leave the public jeans movie another person walks by.

Watch This Public Jeans Pissing Here

Visit Wet In Public Click Here





Filed under: Jeans Peeing and Jeans Pissing and Movies and Outdoor Pissing and Peeing and Pissing and Pissing Movies and Pissing Outdoor and Pissing Videos and Public Pissing and Wet In Public
Posted on 03.11.11
Comments: None


Tags: Jeans Peeing, Outdoor Pissing, Pissing Movie, Public Pissing, Wet In Public, wetting