Here we have the lovely Selena from Ineed2pee. Selena has been tied up and is desperate to pee there is no way that she can get out of her ropes and she is getting more and more desperate by the second. I think this female desperation movie has to be one of her best ineed2pee has had lately. She is in a cheerleaders outfit and her breasts are nearly falling out as she is squirming and bouncing this is one great cheerleader's costume.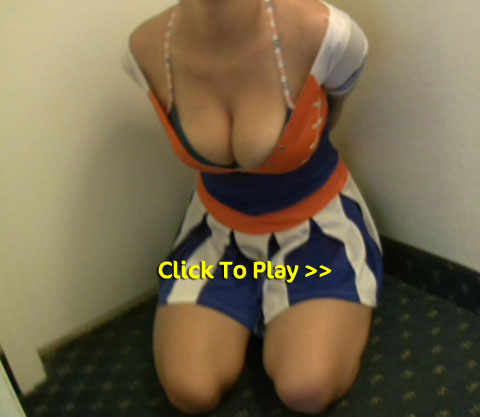 She is getting more and more desperate and when she walks you get to see her blue panties her cheerleader uniform is just to short. What a great sight Selena desperate to pee with her blue panties on show is as she struggles to the bathroom and then sits on the floor. it looks like she is trying to open the door with her mouth bit that doesn't work. She really is about to burst her bladder must be in such pain.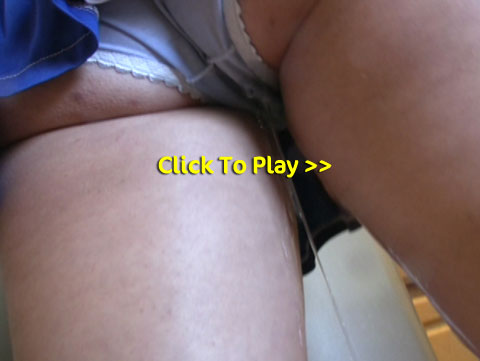 Poor desperate Selena all she wants to do is pee but the only way that will happen is if she pees in her panties. She gets up off the floor and slowly walks back down the hallway. I wish her breasts would fall out and I think you can see a little nipple but they stay firmly in place despite the amount of cleavage that is on show. She really is having trouble walking now and it's great to watch, she is going to lose control soon. She makes it to the kitchen and is showing her blue panties again that cheerleaders uniform is just to short and then it happens she loses control. She is not happy look, at her pee running through her panties and down her legs what a mess.Ineed2pee does female desperation so well and this female desperation movie with Selena is no different. If you missed the Female Desperation Movie With Crash and love female desperation it is a must watch ineed2pee movie too.
Watch Selena Bound And Desperate To Pee Here
Related posts:

Filed under: Desperation and Female Desperation and Ineed2pee and Knicker Wetting and Movies and Panty Pee and Peeing and Pissing and Pissing In Skirt and Pissing Movies
Posted on 09.17.10
Comments: 8 Comments


Tags: Desperate To Pee, Female Desperation, Ineed2pee, ineed2pee Selena S, Knicker Wetting, Panty Peeing, Pissing Movie, Uniform pee