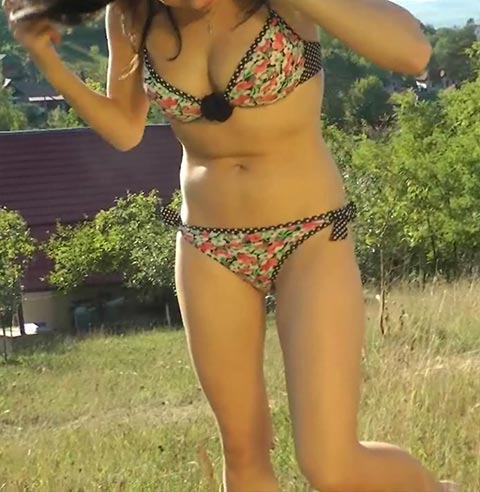 From Real Wetting we have the very sexy Antonia. I do love Antonia from Real Wetting, she is a natural and so sexy when she is wet. We have had some great posts with her in the past and if you have missed some of them check out Antonia Pissing In Her Shorts, Antonia Pissing In Her Jeans, Antonia Skirt And Pantyhose Pissing and Panty Peeing With Antonia From Real Wetting. Today she is out in the grass in a bikini and she is lying on her blanket enjoying the sun and warmth. She is lying there and she starts to need to pee. The toilets are so far away that she that she can't be bothered so she holds on. She is getting more and more desperate to pee so she ends up sitting in the sun crossing her legs trying to hold on. She stays like this enjoying the feeling of being desperate and then she stands up her bladder is getting a little painful.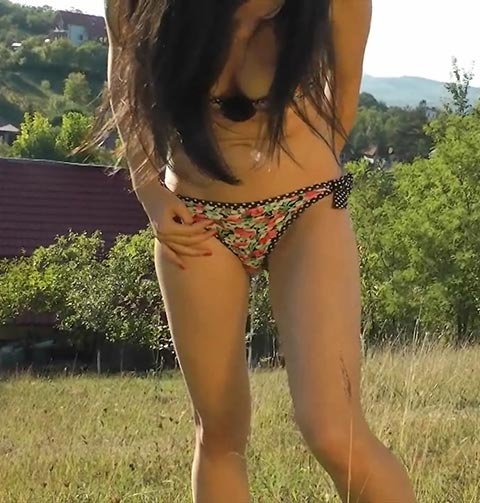 Her bladder is now bursting, she really needs to pee. She is standing in her bikini and looks around, there is no one to be seen. She walks a little bit away from her blanket and presses her legs together she is really enjoying the desperate feeling now. As she is standing there her bladder gets to the point where it can't hold on and she starts to pee herself.

As she is standing in the grass she has started to pee in her bikini. Antonia has pee running into her bikini and the crotch of them is sagging with the weight and speed of her piss flow. There is pee splashing in the grass and she has pee running down her legs too. She turns around still peeing and we get a better view as she is peeing in her bikini. Just look at the lovely pee stream as it glistens in the sun it is such a sexy sight. We can see the pee drops clinging to her legs when she finishes and then in her piss soaked bikini she goes back to her blanket, lies down and suns herself some more. A wonderful Bikini wetting from real wetting with Antonia

See Antonia peeing Her Bikini Here


Filed under: Audreys Wetting Site and Desperation and Female Desperation and Outdoor Pissing and Peeing and Pissing and Pissing Pictures and Real Wetting
Posted on 11.29.16
Comments: 1 Comment


Tags: Antonia Real Wetting, Audreys Wetting Site, Bikini Peeing, Desperate To Pee, Female Desperation, Pissing Outdoors, Real Wetting, wetting
1 Comment »
Let us be in no doubt with this: Antonia is most certainly one of the most attractive girls of Real Wetting by a country mile. She has the perfect figure, with a gorgeous bum, to which I'd happily grab. She is also really into despiration wetting, isn't she? That goes a long way because I look for that sort of thing.
I know taste differs, but you simply can't resist Antonia from Real Wetting. She's more or less perfection in a nutshell. I'd love to see her dressed as Harley Quinn if you ask me.

Comment by Pip — November 29, 2016 @ 10:21 pm
RSS feed for comments on this post.
Leave a comment