From Real Wetting we have the lovely Antonia in a panty pee scene. We have had some wonderful sets from Antonia and this is not the first panty pee that we have had with her she has had some great ones in the past. Check out Antonia From Real Wetting Peeing In Her Panties and Antonia Peeing Her Panties In The Tree If you want to see all the desperation and peeing posts we have had with Antonia Click Here. Today she is at a friend's house and desperate to pee, she doesn't want to go to the bathroom so decides to have some fun.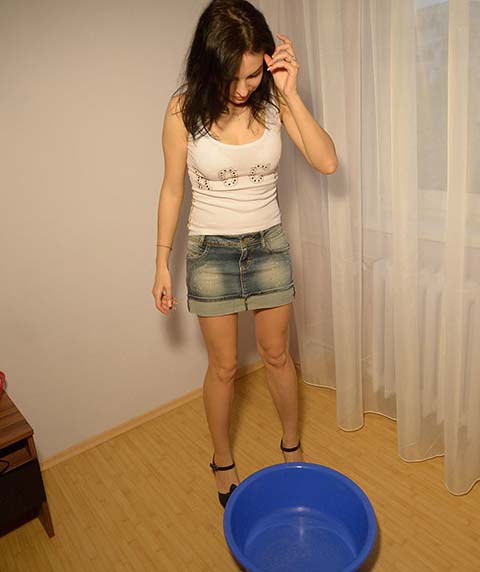 Antonia is desperate to pee at her friend's house. She finds a plastic bowl and lifts up her skirt to show her tight panties. She stands there and starts to pee into her panties. Her knickers starts to go dark and then her piss starts to gush out and splash into the plastic bowl.
Antonia is pissing in her panties over the plastic bowl, her piss stream is getting stronger and stronger and her panties are getting more and more soaked in piss. Her piss is splashing from the bowel and onto her legs, what a lovely panty pee this is. She finishes pissing in her panties and the wet fabric is clinging tightly to her crotch. She turns around and we get to see her piss soaked panties clinging tightly to her bottom. This is a great knicker wetting from Real Wetting.
See Antonia Peeing Her Panties Here