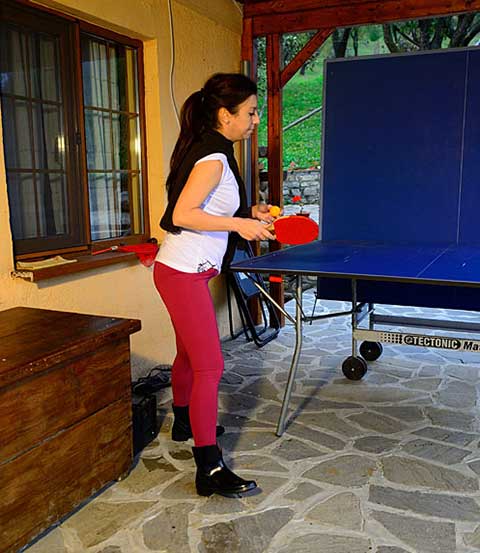 From Real Wetting we have the wonderful Dee. Dee really is one of my favourite wetters around, there is something so sexy about her when she is dripping in pee. If you have missed some of her previous wetting endeavours check out Waitress Desperate And Pissing Herself, Dee From Real Wetting Jeans Pee and Dee Peeing In Lycra Pants Today she is playing ping pong by herself she has a full bladder and you can see how it is poking over her leggings. She is getting more and more desperate with every movement and she starts to clench her legs a little she really needs to pee.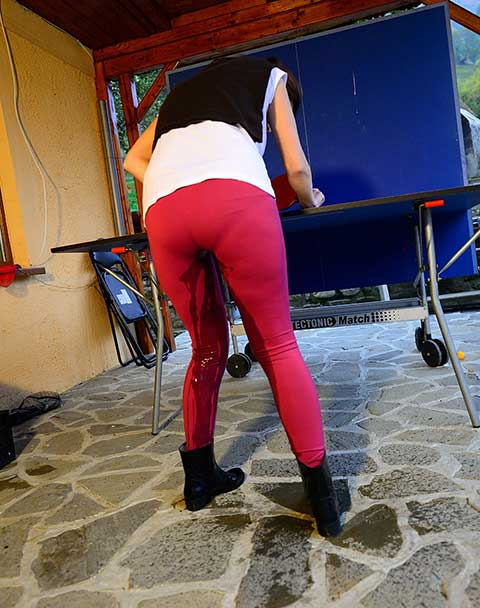 She hits the ball again and then stops, this is getting too much. As she is standing there she starts to pee in her leggings. The first drips soak into the fabric and the damp patch goes dark. Her piss flow starts to increase and she has pee running down her legs and pooling at her feet. The red leggings are making her piss really stand out well. There are streams running down her legs, she must be loving the wonderful warmth as she soaks herself.
She is soaking her leggings, she has peed so much that when she finishes there are still pee drips dripping. She is soaked, her shoes are soaked and the piss puddle around her is wonderful. Dee stands there in her piss soaked legging and what a wonderful sight. She is wet and warm in pee. Dee pulls her piss soaked leggings down and we get to see her blue panties and then she pees a little more into her panties they look lovely shiny with fresh pee. What a wonderful sight a piss soaked Dee is.
See Dee Peeing In Here Leggings Here