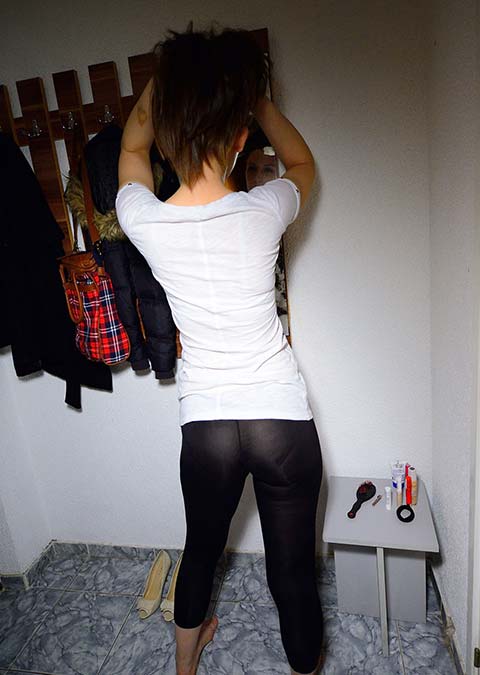 From Real Wetting we have the lovely Claudia. This is the first time we have had Claudia here and she has only appeared at Real wetting a couple of times, she makes a great wetter so let's hope we get more of her. She is in her leggings and getting ready to go out, she is putting makeup on and is feeling a little desperate to pee. She wants to finish what she is doing and up she plays with her hair she is getting more and more desperate to pee.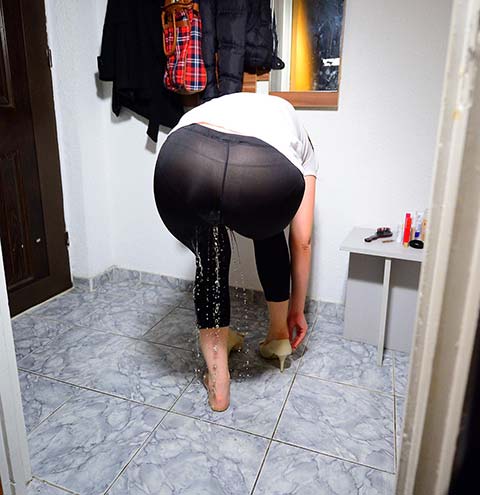 She keeps holding on and then when she crouches down to play with her show her bladder explodes and she starts to pee in her shiny tights. This is one explosion to her piss it is just flooding through the shiny fabric and is splashing on the ground not only are her legging getting soaked but her shoes are too.

Claudia Is pissing in her shiny tights and they are so soaked in piss that they have got even more shiny than they were. This is a wonderful wetting from Real Wetting Claudia finishes peeing and stands up. You can see her piss soaked panties showing underneath her tights. She then pulls her pissy tights down to give us a wonderful view of her piss soaked panties to. Just look at her panties clinging to her crotch what a wonderful sight.

See Claudia Desperate And Pissing Here


Filed under: Audreys Wetting Site and Peeing and Pissing and Pissing In Leggings and Pissing In Tights and Real Wetting
Posted on 07.28.14
Comments: 3 Comments


Tags: Audrey's Wetting Site, Claudia Real Wetting, Pissing In Tights, Pissing Leggings, Real Wetting, Tights Peeing, Tights Pissing
3 Comments »
Nice, stunning girl.

Comment by Pip — July 31, 2014 @ 12:10 am

id eat her asshole

Comment by Anonymous — July 31, 2014 @ 5:04 pm

I, d love to drink her pee then lick her clean x

Comment by Tom in tights — September 30, 2014 @ 5:55 pm
RSS feed for comments on this post.
Leave a comment