From Real Wetting we have the lovely Antonia and Dee. We start off with Antonia and what a great wetting lady she is. We have had some great sets from her in the past check out Antonia Peeing In Her Denim Shorts, Antonia Peeing In Her Denim Skirt and Antonia From Real Wetting Peeing In Her Panties. Today she is in her green shorts and lycra pantyhose, she is desperate to pee. She has just got home and found her roommate occupying the toilet. She is trying to hold on and she has her legs crossed tightly but she is to desperate to pee and while her legs are still crossed she starts to pee in her shorts. Her piss explodes out and starts to run down her pantyhose encased legs, her piss is flooding out, her shorts have a lovely big dark pee patch and her legs are soaked and shining. This is on big pee she really was desperate to pee she keeps going and going until she is empty and standing in her piss dripping shorts and wet and warm pantyhose, she will have even peed in her boots. A wonderful shorts wetting with Antonia. See Antonia peeing in her shorts here.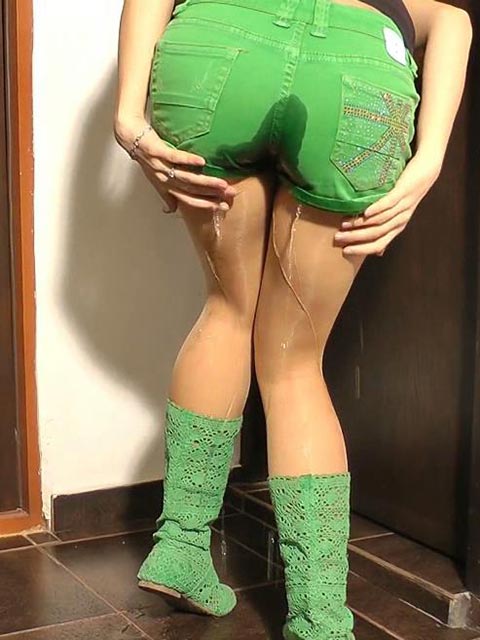 Next up from Real Wetting we have the wonderful Dee, she is in her sweat pants and out in the hills. She needs to pee and as we know by now she loves to pee her pants. It is quite rare that we see sweat pants being peed in and as she is desperate and standing with her hands in her crotch she looks wonderful. She holds on as long as she can and then she starts to pee in her sweat pants, the material goes instantly dark and it is soaking up so much of her pee. As she is peeing in her pants her pee is running down her legs, the material is so warm and wet and it starts to cling to her legs, just look at the lovely soaked fabric. Dee finishes peeing in her sweat pants and then pulls them down to show her piss soaked panties, when she shows her wet panties she has a pissy camel toe too. A great pants wetting with Dee. See Dee peeing in her sweat pants here.
Last up is a repost of a Real Wetting m movie staring Dee, it was posted a long time but it is super-hot and I felt it deserved to be brought back to the front page. Dee is in the waiting room and desperate to pee she holds on as long as she can but she is to desperate and starts to pee. Her pantyhose are ripped open her pee is flowing through her white panties running down her pantyhose covered legs her soaked skirt and splashing on the floor it really is one spectacular wetting movie. See Dee Desperate And Peeing Here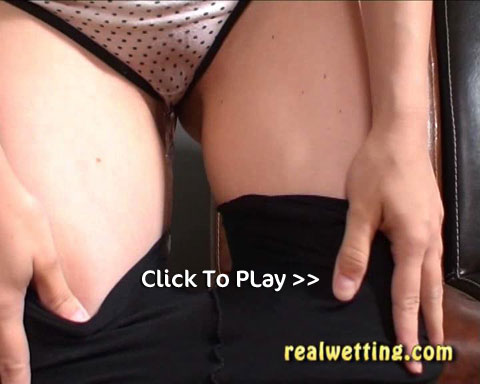 Filed under: Audreys Wetting Site and Outdoor Pissing and Peeing and Pissing and Pissing In Pants and Pissing In Shorts and Pissing In Skirt and Real Wetting
Posted on 07.15.13
Comments: 2 Comments


Tags: Antonia Real Wetting, Audrey's Wetting Site, Dee Real Wetting, Outdoor Pissing, pants peeing, pantyhose peeing, Real Wetting, Shorts Pissing, Skirt Peeing, wetting
2 Comments »
Antonia is fit. I want more Antonia please. Dee is OK but she's not as good as Antonia.

Comment by Pip — July 15, 2013 @ 7:16 pm

Yes, Antonia is so hot but the other girl is also good enough for sure. A pity that there's no sound in the film.

Comment by Francois — July 16, 2013 @ 9:02 pm
RSS feed for comments on this post.
Leave a comment