From HD Wetting we have the lovely Alisha and Sosha. These two lesbian peeing hotties have given us some great scenes in the past. If you have missed some of their previous work check out Sosha Pissing on Alisha – Pissing And Kissing From HD Wetting – Alisha And Sosha In Wet Pee Play and Peeing On Alisha's Lap. Today we start off with Alisha bound to the tree and very desperate to pee. Sosha is dressed in a sexy red outfit and starts to tease Alisha. She is tickling Alisha and making her squirm. It is wonderful to see how desperate Alisha is.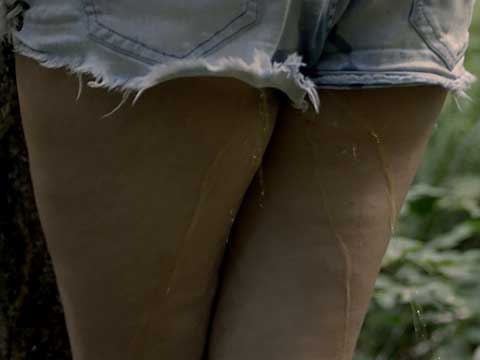 Alisha keeps on being tickled by Sosha and is getting more and more desperate to pee. She then presses on her bladder Alisha tries to hang on but the pressure is to much and she starts to pee in her shorts the crotch goes dark and she has pee running down her legs. She finishes peeing and is one dripping mess as Sosha pulls her piss soaked shorts and panties down. Sosha then starts to lick Alisha's piss and then gives her head until she is cumming. Sosha frees Alisha and is now horny. It is time for Sosha to be locked to the tree. Sosha is now in the same predicament that Alisha was.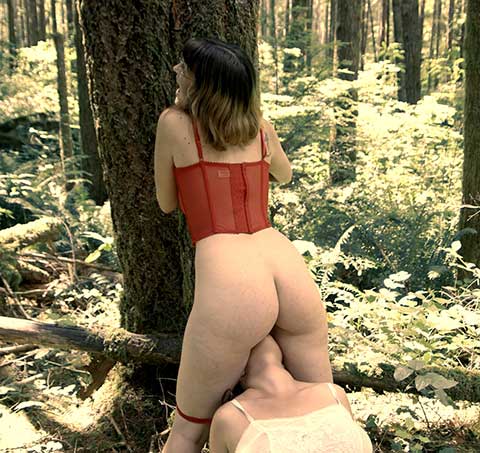 Sosha is bound to the tree and getting more and more desperate to pee. Alisha starts to tickle her and is pressing her bladder hard. Sosha is struggling to hold on and then it happens she starts to pee in her red panties. Her panties are filling with pee and she has piss running down her legs onto the forest floor. She finishes peeing in her panties and Alisha rips her pissy panties down and sitting in Sosha's piss starts to lick Sosha out. Sosha is loving this and cums on Alisha's mouth a wonderful double bondage lesbian pee.
See Sosha And Alisha Peeing Here