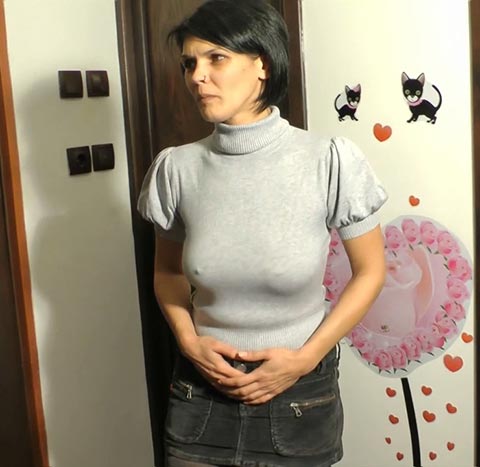 Bianca from Real Wetting is in a denim Skirt and thick pantyhose. She has come home and is desperate to pee. She has a very tight grey top on and it looks like she has no bra on as her big breast are showing off her nipples. She walks to the toilet door and goes to open it but it is locked. She really needs to pee and as she was getting closer to the toilet her bladder was getting ready to spray her piss. She has to clamp harder to hold it in and now she starts to pace around the door really needing to piss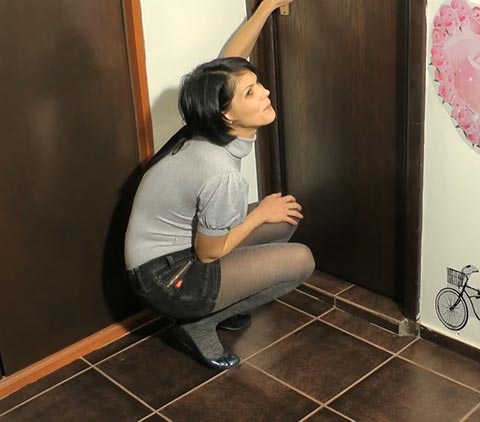 She is so busting to pee she crouches down trying to keep her pee in. She is going to explode and as she stands up she lets out a little dribble of pee. It soaks into her pantyhose and then she lets out another squirt of piss into her pantyhose she is not going to be able to hold on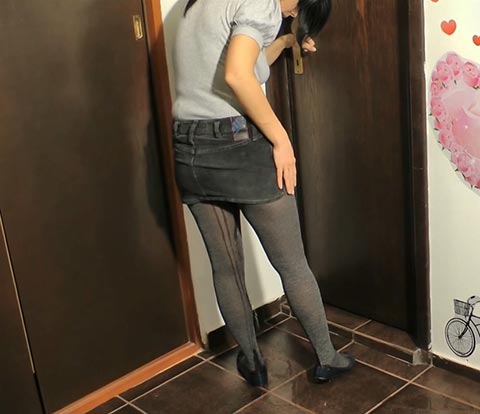 Bianca has started to piss herself but she is trying to stop the flow. She is not able to stop it and as she is standing by the toilet door she lets out more pee into her pantyhose. She can't hold on, her bladder gives in and she starts to piss into her stockings and pantyhose. There is piss streaming out between her legs and splashing on the ground. The pantyhose are dripping but she is lucky there is not much piss on her Skirt. When she finishes pissing herself she pulls her skirt up and we can see her pissy wet pantyhose
See Bianca Desperate And Pissing Her Skirt and Pantyhose Here

Filed under: Audreys Wetting Site and Desperation and Dress Peeing and Female Desperation and Pantyhose Pissing and Peeing and Pissing and Pissing In Skirt and Pissing In Tights and Pissing Pictures and Real Wetting
Posted on 10.11.17
Comments: None


Tags: Audreys Wetting Site, Bianca Real Wetting, Desperate To Pee, Female Desperation, pantyhose peeing, Pissing In Skirt, Real Wetting, Skirt Peeing, Stockings Pee, wetting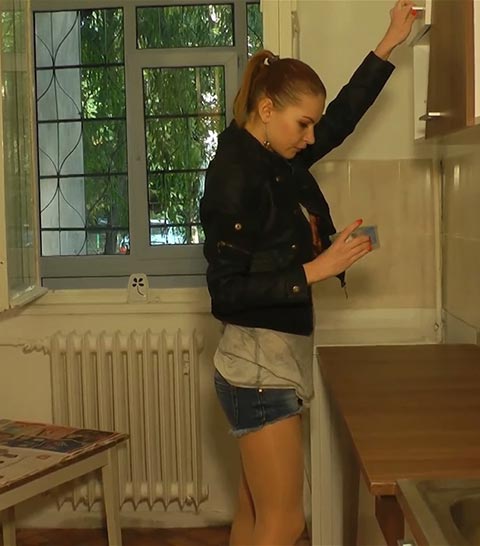 From Real Wetting We have a great shorts wetting with the sexy Dominika. She is in denim shorts with pantyhose underneath and is also wearing a leather jacket. If you have missed some of Dominika's previous wetting endeavours checkout Dominika Peeing In Denim Overalls, Dominika Peeing In Her Jeans, Peeing In Her Bikini From Real Wetting, and Dominika Peeing in her Green Jeans. Today she has a full bladder and is in the kitchen. She has a hole in her pantyhose and starts to stitch it. She is really enjoying the feeling of her full bladder, The pressure is increasing and as she is sewing she is getting turned on.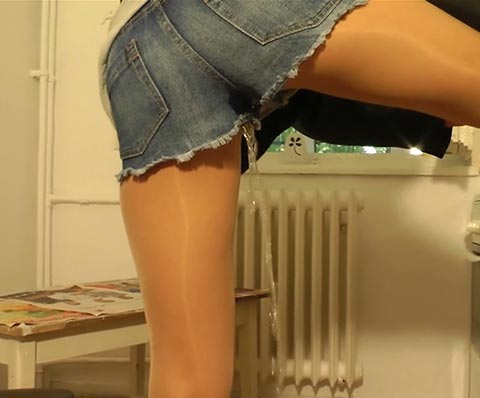 Sexy Dominika Has her legs raised and her denim shorts are cutting into her bladder. The pressure is increasing and as she is sewing. She lets out a little pee spurt just enough to wet her pantyhose and the crotch of her shorts. The warmth is wonderful and she releases another little spurt of pee. The denim is getting wetter and she is feeling more and more turned on.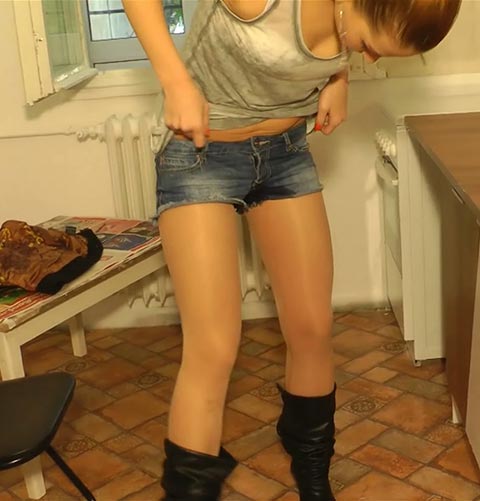 She has her legs still raised and she has started to piss in her shorts. The denim is going dark and when she releases more pee the hiss of piss in her shorts is wonderful. The denim is starting to get the wonderful shine it does when it is saturated in piss. Piss is exploding out and starts to run down her pantyhose covered legs. There are pee rivers running down the nylon fabric and her piss is even running into her boots. What a wonderfully wet shorts piss. When she finishes pissing in her shorts she is one wet pissy mess.
See sexy Dominika Pissing In Her Shorts Here

Filed under: Audreys Wetting Site and Babes Peeing and Pantyhose Pissing and Peeing and Pissing and Pissing In Shorts and Pissing In Tights and Pissing Pictures and Real Wetting
Posted on 09.26.17
Comments: 1 Comment


Tags: Audreys Wetting Site, Dominika Real Wetting, pantyhose peeing, Pantyhose Pissing, Real Wetting, Shorts Pissing, Stockings Pee, wetting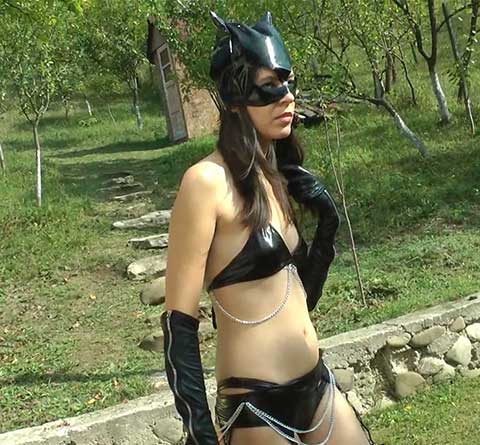 From Real Wetting we have the very sexy Debbie. We have had this hottie at Piss Blog before and If you have missed her check out Peeing In Vintage Panties Debbie Peeing In Her Panties Bound And Peeing In Panties and Debbie Pissing In Denim Shorts. Today we have her dressed as Cat Woman and looking very sexy. She has vinyl panties a vinyl bra and a mask. She is in for some domination play and is going outside to set up. She gets outside and realises that she forgot to go to the toilet. This may be a problem. She stops walking and places what she is carrying onto the grass and as she bends down she gets a wave where she nearly pees herself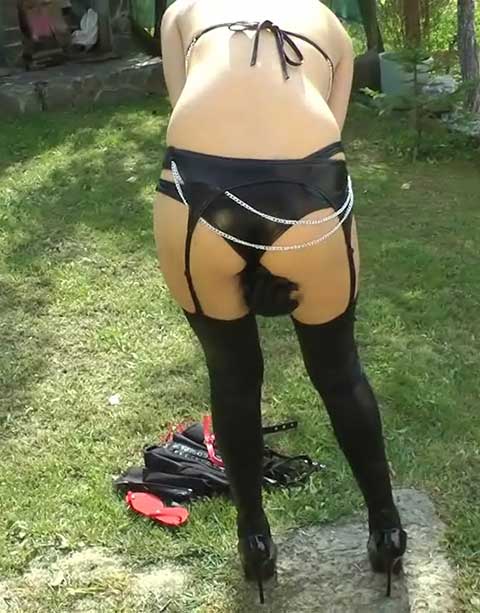 She is crouching down and jambs her hands against her crotch. She doesn't want to pee herself. She stays like this for a little, stands up but she is having bladder problems. She jambs her hand in her crotch to stop the flow again. She really should have gone to the toilet when she had the chance. She bends down again and it is to much, a little spurt of pee drips out this is it she can't hold on.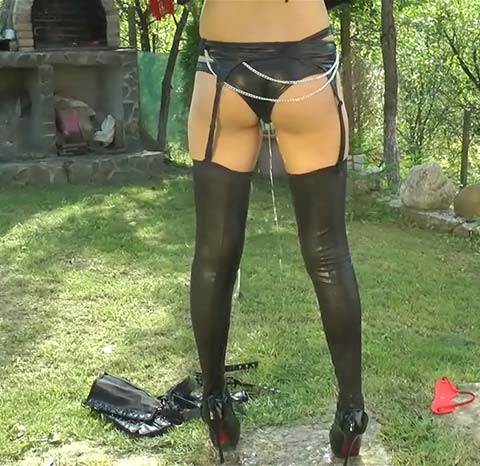 She has released a little pee and now she can't stop it. She starts to pee harder and her bladder is loving it, it relaxes more and her pee stream explodes into her vinyl panties.Iit is gushing out and is splashing in the grass around her. There are pee rivers running down her legs and her heels are even getting soaked in pee. I do love seeing a sexy lady pissing herself. When she finishes peeing herself she stands there and realises that she is lucky, her outfit has repelled the pee there was no chance that the material; would soak it up and make her a soggy mess. A super sexy outdoor wetting with Debbie.

See Debbie Desperate And Peeing Here


Filed under: Audreys Wetting Site and Desperation and Female Desperation and Knicker Wetting and Panty Pee and Peeing and Pissing and Pissing Pictures and Real Wetting
Posted on 09.08.17
Comments: 1 Comment


Tags: Audreys Wetting Site, Cosplay Pissing, Debbie Real Wetting, Desperate To Pee, Female Desperation, Knicker Wetting, Panty Pee, Panty Peeing, Real Wetting, wetting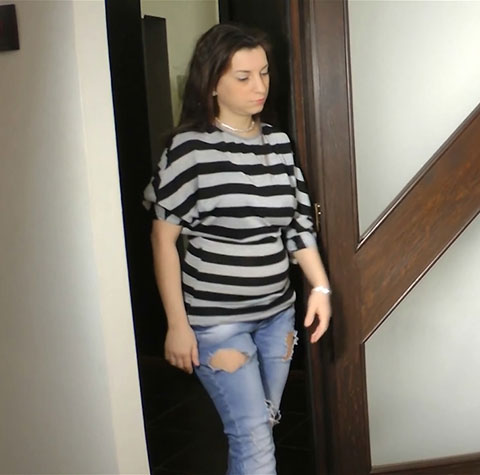 From Real Wetting we have the wonderful Dee. There is something so sexy about Dee pissing, she seems to love being soaked in piss and she has such a big bladder too. If you have missed some of her wonderful wettings check out Dee Peeing In Her Shorts, Waitress Desperate And Pissing Herself, Dee Peeing In Lycra Pants, and Dee Female Desperation In Leggings Today she is in her jeans and has just got home. She is drunk and tired and when she makes it to the bedroom she collapses on the bed. She is so drunk that she doesn't feel the pressure in her bladder and as she is lying there she lets out a little pee.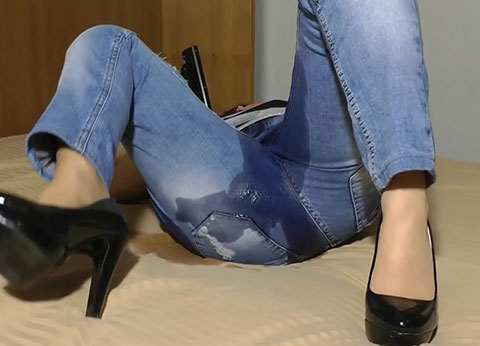 Dee is drunk and on the bed, she has started to pee herself and there is a little pee patch growing in her jeans. She moves a little and a big gush of piss shoots out soaking her jeans until they are shining in piss. She manages to stop the flow and then it starts again. A lovely wet wave of piss hits her wet denim crotch again. It is a wonderful sight.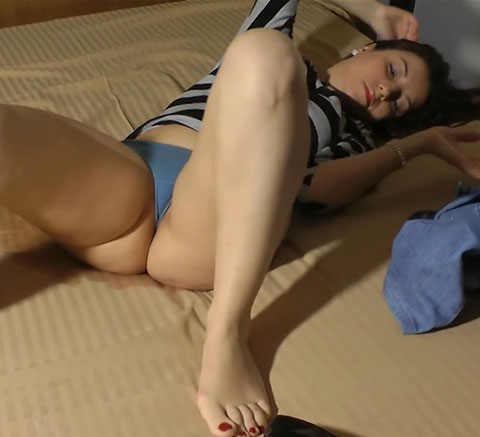 Dee is on the bed in her piss soaked jeans, she has figured out that she has peed herself and has a big wet piss patch beneath her. She starts to pull her jeans off and then pulls her piss soaked pantyhose down with them. As she is pulling her jeans off we get to see her piss soaked panties clinging to her crotch, she has a very pissy pussy. She pull her jeans off and then in her piss soaked panties goes to sleep A super sexy jeans wetting in bed


Filed under: Audreys Wetting Site and Bed Wetting and Jeans Peeing and Jeans Pissing and Knicker Wetting and Panty Pee and Peeing and Pissing and Pissing In Bed and Pissing In Pants and Pissing Pictures and Real Wetting
Posted on 08.03.17
Comments: 1 Comment


Tags: Audreys Wetting Site, Bed Wetting, Bedwetting, Dee Real Wetting, drunk pee, Jeans Pee, Jeans Peeing, pants peeing, Panty Pee, Panty Peeing, Pissing In Bed, Real Wetting, wetting, Wetting The Bed