This is a little different from Pisshunters. We have had all sorts of locations and different ways for chicks to piss in the past and here is something new. There are two chicks that have been caught pissing on the Pisshunters hidden piss cam. Instead of pulling down her panties one of these pissing chicks is just pulling her G string to the side as she pees. We get a wonderful shot of her pee stream as it splashes into the dirt and then she pulls the G string further to the side. Her piss by now must have soaked into the fabric.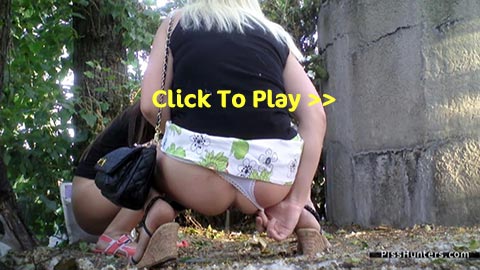 She keeps on pissing with her panties pulled to the side and it all seems to be going well but she movies a little and her pee starts to run all over her bottom. There are now rivers of piss going everywhere it is even dripping off on of her but cheeks. She finishes peeing and quickly stands up she puts her G string back in place and walks off. It is a shame the camera didn't pan up as I bet she would have wet piss patches when she pulled her dress back down as her bottom was soaked.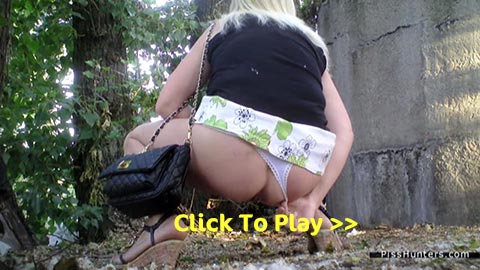 See The Pisshunters Movie Here


Filed under: Caught Pissing and Movies and Outdoor Pissing and Peeing and PissHunters and Pissing and Pissing Movies and Pissing Outdoor and Pissing Videos and Voyeur Peeing
Posted on 11.30.13
Comments: 2 Comments


Tags: Caught Pissing, PissHunters, Pissing Movie, Voyeur Peeing, Voyeur Pissing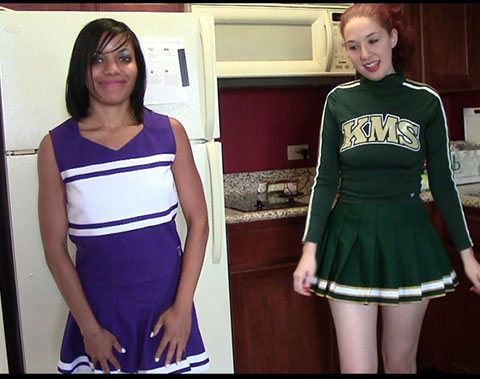 From Ineed2pee we have three female desperation and wetting photosets. We start off with Cheerleaders Monica Jade & Tara Tied. I do love a good cheerleader desperation and wetting and Ineed2pee have given us a couple in the past. Check out Cheerleader Peeing In Her Panties for another cheerleader peeing in her panties. Today Monica and Tara are desperate to pee and looking so sexy in there cheerleader outfits. The story from Ineed2pee goes "Cheerleaders Monica Jade & Tara Tied arrive back home super desperate to pee but her brother is taking a shower & the girls are about to burst. Both college age, they're crossing their legs & doing the pee pee bounce but Tara gasps as she feels herself lose control & hops onto the sink to piss through her panties. Monica is laughing but she can't hold it any longer & sprays hot PISS all over her feet & floor". This is a wonderful female desperation cheerleader double wetting. See the cheerleaders desperate to pee here.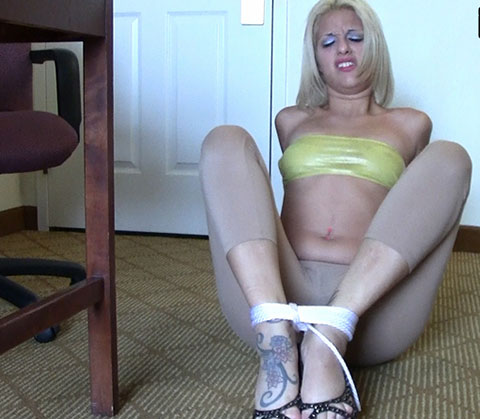 Next up we have Briella Jaden. This is a fantasy female desperation. The story at Ineed2pee goes "Briella Jaden awakes from being zonked out & robbed & uses all her last remaining energy trying to get out of her ropes binding her. It's so hard to jump around the room as it jiggles her full bursting bladder even worse! She tries to get to the bathroom but can't get her skin tight pants off & she starts pissing her pants, dark streaks all the way down showing her visible panty lines as well. It is a great female desperation. See Briella Jaden desperate and peeing here.

Last up we have the wonderful Star Nine. The story at Ineed2pee goes like this. "Blond Star Nine is manning the BBQ outside while her friends get beer but her bladder is about to burst! She needs to pee so badly she can't even stand up straight & is cupping her bladder, wearing her brown legging pants showing VPL & brown leather boots. She can't hold it & starts pissing her pants; super nice long stream & the look of relief on her face is just priceless. Nice behind the scenes as well" see Star desperate and peeing here.


Filed under: Desperation and Female Desperation and Ineed2pee and Peeing and Pissing and Pissing In Leggings
Posted on 11.26.13
Comments: 5 Comments


Tags: Briella Jaden Ineed2pee, Desperate To Pee, Female Desperation, Ineed2pee, Monica Jade Ineed2pee, pants peeing, Star Ineed2pee, Tara Tied Ineed2pee
The last post with Miss Hybrid went down so well that it is time for another. We were so lucky to have her come and visit PissBlog and to think she is such a naughty lady is wonderful. We start off today with her in her pantyhose outdoors, she really is one stunning lady, just look at her with her tight dress and black pantyhose. She lifts up her pantyhose and spreads her legs and we get to hope that in this gallery that she is going to start to pee in her pantyhose but unfortunately we don't get the golden fluid cascading through the nylon stockings instead she pulls them down and starts to pee. Sexy outdoor peeing which you can see here.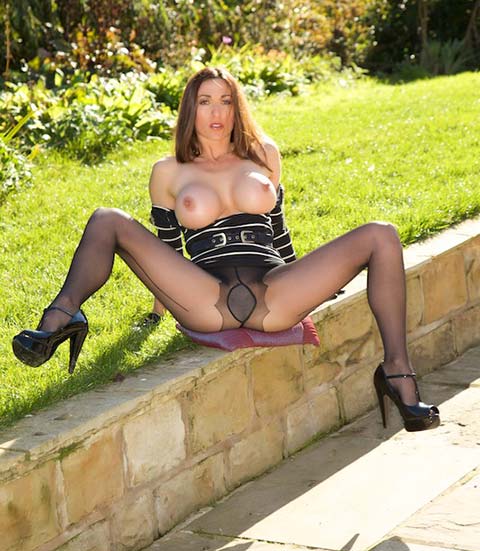 Next up from Miss Hybrid we have her peeing in the sea. The story for this shoot goes "Here I am cavorting on a stunning sunny beach, 1000's of miles from home, making the sea a little more salty. I drove 20km on a track to get to this quiet place. Late in the day I drove back to the hotel, washed the sand off and out before going to eat, in a local restaurant. I sat next to a couple, who had bizarrely been to the very same beach, the same day. Not only that, the photographs the husband had taken of me, showed that they were the couple who came and watched, from a short distance, while I was cavorting. Oh and the other thing, they only live 2 miles from me in England!" Just imagine how sexy it would have been to be the couple watching as Miss Hybrid plays and then pissed in the water watching as her pee splashed into the water and ran down her legs. See her pee in the sea here.

Last up we have her pissing on the stairs. Miss Hybrid is in latex on the stairs she poses and then lifts up her latex dress and starts to piss. Her piss is flowing out of her pussy and splashing on the stairs. Imagine the wonderful sounds that there would be in his pissing scene. See the stairs being pissed on here.


Filed under: Miss Hybrid and Outdoor Pissing and Peeing and Pissing and Pissing In Skirt
Posted on 11.22.13
Comments: 11 Comments


Tags: Beach Pee, Miss Hybrid, Outdoor Pissing, Peeing At The Beach, Pissing On Stairs, Pissing Outdoors, Pissing Pussy, shaved pussy peeing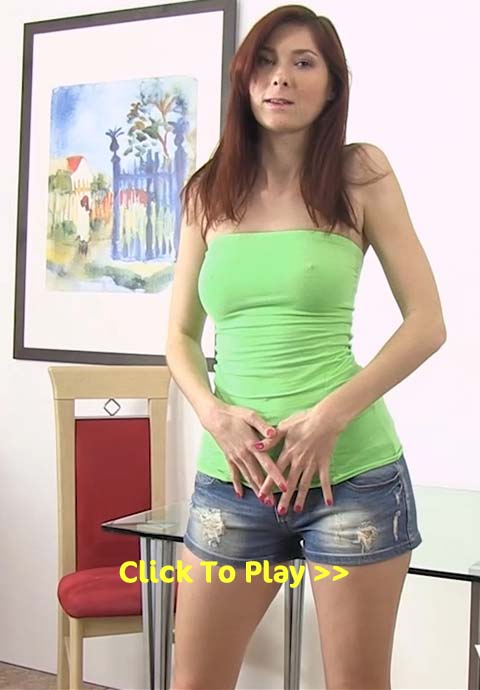 From Wet and Pissy we have the very sexy Kattie Gold, it's not often that we get to see a redhead peeing so today is a little treat. Wet and Pissy have given us some great pissing movies and absolutely stunning pictures in the past. If you have missed them check out Peeing In Leggings And On The Floor, Christy Charming Peeing From Wet And Pissy, Richie Peeing In Her Shorts, and Whitney Conroy Making A Piss Movie, Today's Wet and Pissy movie treat is 6 minutes long and shows us Kattie Gold with all her golden fluid.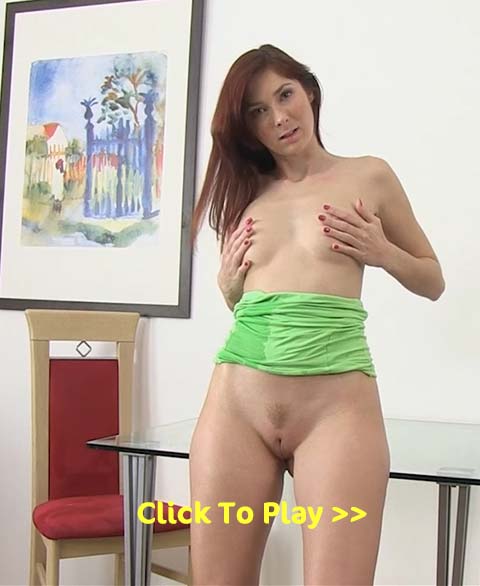 This has been written about the piss movie at Wet And Pissy "Kattie Gold is in her green tank top and denim shorts and is feeling really sexy. She rubs her crotch through her shorts then lowers them to show off her curvy ass. She immediately pisses through her crotch and lets her piss drizzle down her legs. Removing her shorts completely, Kattie pisses some more and shows off the puddle on the floor! She sits back on the glass table and teases her pussy with her fingers then fires more warm pee into a vase. She really goes for it, fingering her pussy then lets us film her piss again from underneath the glass table. This is so hot! Kattie rolls around in her own piss, covering every inch of her body in golden nectar then fucks a vibrator getting herself so horny that she releases one final stream of piss and this time it's absolutely massive!"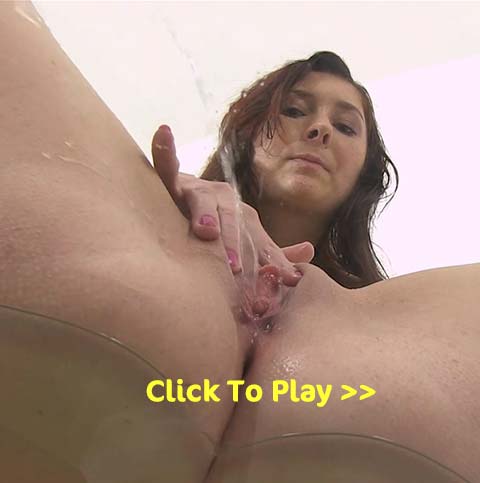 Filed under: Babes Peeing and Drinking Piss and Movies and Peeing and Pissing and Pissing Movies and Pissing Videos and Self Pissing and Wet And Pissy
Posted on 11.19.13
Comments: 6 Comments


Tags: Kattie Gold Wet And Pissy, Peeing Movies, Pissing Movie, Pissing Movies, Pissing Pussy, Red Head Pissing, Wet And Pissy
From Wetting Her Panties we have Petula she is in her shorts and desperate to pee. We have had some wonderful shorts and shorty knicker peeing scenes from Wetting Her Panties in the past. If you have missed some of them check out Peeing In Her Shorts From Desperation, Wetting Her Panties Nicki Peeing Shorts, Natalia X Peeing In French Knickers, and Panty Peeing Pictures From Wetting Her Panties. Today Petula is in her shorts on the couch and desperate to pee, she has her hand jammed between her legs and is holding on tightly. I just love the look on her face she really does look desperate to pee and very uncomfortable with her full bladder.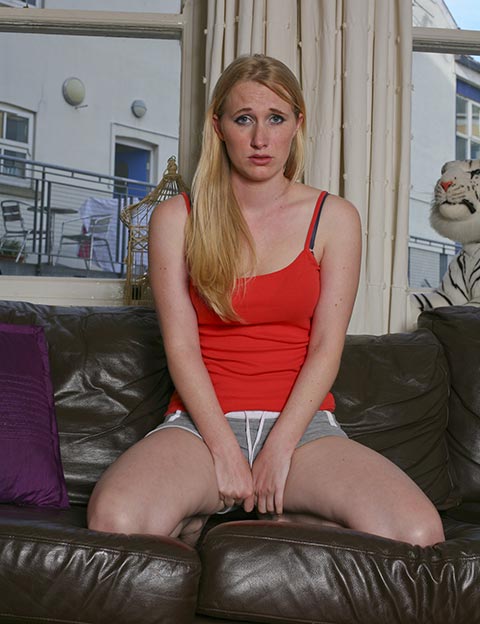 Petula is desperate to pee, she is on the couch she turns and faces us and then starts to pee. Her pee trickles into her shorts and starts to run onto the couch. We can see her green knickers underneath and her crotch goes dark a sexy sight peeing her shorts on the couch. She can't stop peeing and to save the couch from being fully soaked she squats on the floor. Her piss is squirting up her legs her tight panties must be creating a slight seal but her shorts are going darker and darker as her pee flows through.

She finishes peeing in her shorts and her crotch is soaked, she is still on the floor and sits in her pee puddle. Her bare feet are in her piss too. I'm sure that she is loving the warmth of her pee between her toes. She sits for a while in her wonderful warm pee puddle enjoying the dampness. What a sexy look on her face, she really does look the bad girl who has had a accident. She stands up and pulls her piss soaked shorts down to show her pee soaked knickers including a wonderful pissy cameltoe. A super sexy shorts peeing from Wetting Her Panties.

See Petula peeing in her shorts Here

Visit Wetting Her Panties Click Here


Filed under: Babes Peeing and Desperation and Female Desperation and Peeing and Pissing and Pissing In Shorts and wettingherpanties
Posted on 11.16.13
Comments: 3 Comments


Tags: Desperate To Pee, Desperation, Female Desperation, Petula WettingHerPanties, Pissing In Shorts, shorts peeing, Shorts Pissing, wetting, wettingherpanties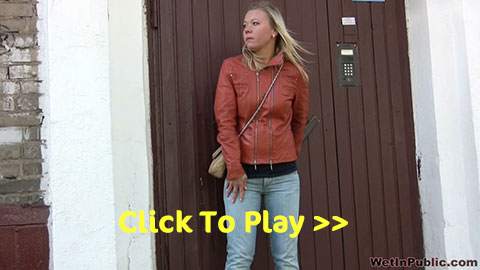 From Wet In public we have the lovely Irina. We have had Irina previously in Jeans Peeing In Public With Irina and of course if you have missed some of the wonderful Wet In Public movies that we have had here check out, Pants Peeing In Public Wet In Public, Public Jeans Peeing From Wet In Public, Peeing Her Jeans In Public Movie, and Public Jeans Pissing From Wet In Pubic. Today Irina is in her tight jeans but she looks really nervous. I guess peeing her jeans in public could be stressful and very embarrassing if she is seen by someone she knows. She stands in the doorway crosses her legs, uncrosses them and then she starts to pee.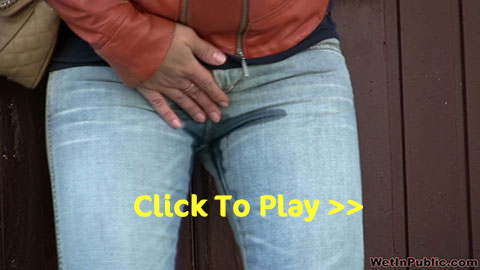 Irina is on the street and she has started to pee in her jeans. As she is peeing her pee patch starts to soak into her jeans and the denim being light is giving us a great view as her dark pee spreads across the front of her jeans. Irina looks like she doesn't like the feeling of her warm pee soaking into her jeans and running down her legs. She seems to be trying to stop her pee exploding to much maybe she wants to try to hide her wet pee patch.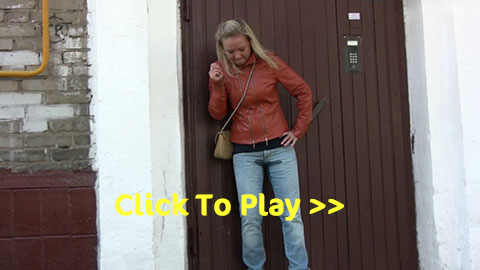 Irina is peeing in her jeans, she seems to be very shy and nervous today and really doesn't want to pee to much. She presses her hand into her crotch and then it looks like her piss stream has stopped you can make out faint pee marks down the inside of her jeans, she must have been getting pee running down her legs and soaking into her shoes. I guess they will be squishy now. She has finished peeing and her jeans have a lovey pee patch in the front, her shoes and socks look like they are soaked to. Irina starts to walk and when we see her from behind she is lucky she has no noticeable pee patch. She walks down the street and as she sees two men walking towards her, she quickly changes directions and that is where we leave her.

See Irina Peeing In her Jeans Here


Filed under: Jeans Peeing and Jeans Pissing and Movies and Outdoor Pissing and Peeing and Pissing and Pissing In Pants and Pissing Movies and Pissing Outdoor and Pissing Videos and Public Pissing and Wet In Public
Posted on 11.13.13
Comments: 5 Comments


Tags: Irina Wet In public, Jeans Pee, Jeans Peeing, Pissing Movie, Public Peeing, Public Pissing, Wet In Public, wetinpublic
Today from Real Wetting we have the lovely Bianca, Dominika and  Valerie. Real Wetting really does have some great female desperation and wetting hotties. We start off with Bianca she gets home and is desperate to pee. She is dressed in tight khaki pants you can see that they are pressing tightly against her bladder, she closes the door and takes of her jacket. She is so desperate to pee that she grabs her crotch but she is to late and a little spurt of pee escapes. She is not going to make it to the toilet and as she is standing she starts to pee in her pants, her pants are light enough that we get to see as her piss soaks into the fabric and runs down her legs. There are little pee rivers soaking her pants and her pee is running down her legs and soaking into her shoes, what a mess. She is pissing her pants soaking her shoes and making a lovely warm pee puddle around and super sexy pants peeing with Bianca. See Bianca Peeing In Her Pants Here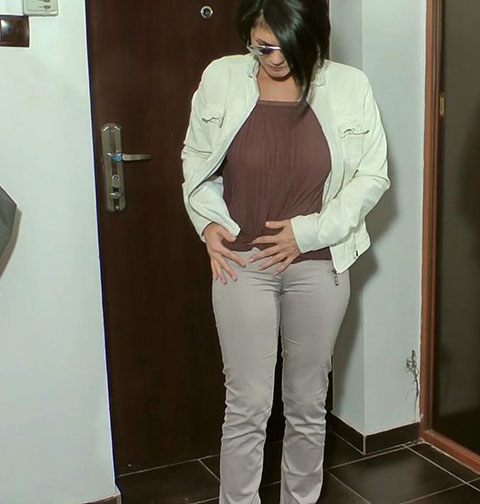 Next up we have Dominika. Dominika is watching TV and needs to pee she can't be bothered to go to the toilet so she stands up and starts to pee in her grey leggings. Her leggings are so tight that her pee is soaking into the fabric making them cling even tighter to her legs. She keeps peeing and her pee starts forming a puddle at her feet, her bare feet are soaking in her pee puddle and when she lifts one up you can see the pee dripping off her toes., She finishes peeing in her leggings and pulls the piss soaked fabric down to look at her piss soaked panties she then pulls her leggings back up and goes back to watching TV. Such a wonderful lady pissing in her leggings and then wearing them. See Dominika peeing in her leggings here.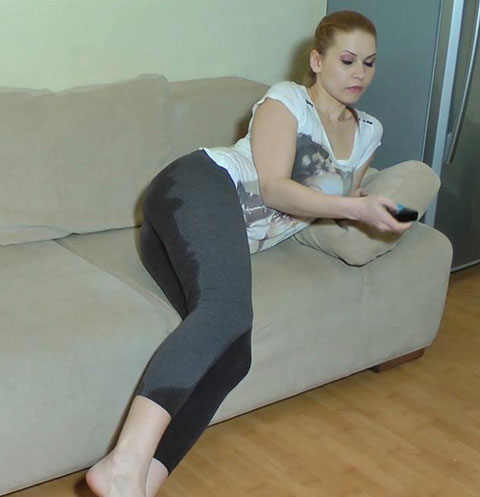 Last up we have Valerie doing a workout in her sweat pants she is desperate to pee but she wants to finish her reps before relieving herself. She keeps on going but as she is doing some squats she can't hold on and starts to pee in her sweat pants. Her pee flows through the fabric and splashes on the floor just think of the wonderful sound it would be making as it hit the floor. She finishes peeing in her sweat pants and pulls them down to show her piss soaked panties too. A super-hot sweat pants pee from Real Wetting. See Valerie Pants peeing here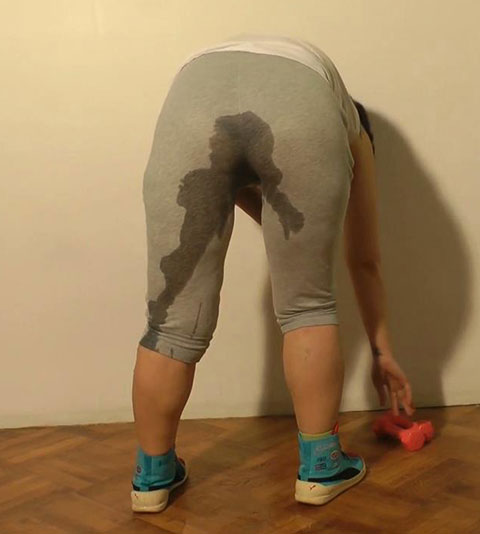 Filed under: Audreys Wetting Site and Desperation and Female Desperation and Peeing and Pissing and Pissing In Leggings and Pissing In Pants and Real Wetting
Posted on 11.10.13
Comments: 3 Comments


Tags: Audrey's Wetting Site, Bianca Real Wetting, Desperate To Pee, Dominika Real Wetting, Female Desperation, pants peeing, Pissing In Leggings, Pissing In Pants, Real Wetting, Sweat Pants Pee, Tracksuit Pants Peeing, Valerie Real Wetting