From Wetting Her Panties we have Petula she is in her shorts and desperate to pee. We have had some wonderful shorts and shorty knicker peeing scenes from Wetting Her Panties in the past. If you have missed some of them check out Peeing In Her Shorts From Desperation, Wetting Her Panties Nicki Peeing Shorts, Natalia X Peeing In French Knickers, and Panty Peeing Pictures From Wetting Her Panties. Today Petula is in her shorts on the couch and desperate to pee, she has her hand jammed between her legs and is holding on tightly. I just love the look on her face she really does look desperate to pee and very uncomfortable with her full bladder.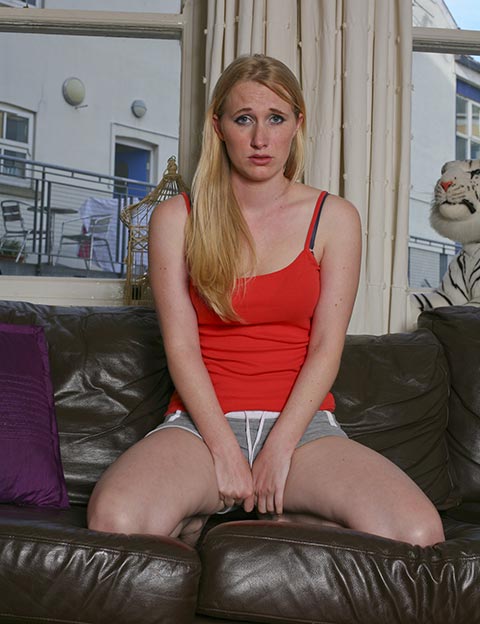 Petula is desperate to pee, she is on the couch she turns and faces us and then starts to pee. Her pee trickles into her shorts and starts to run onto the couch. We can see her green knickers underneath and her crotch goes dark a sexy sight peeing her shorts on the couch. She can't stop peeing and to save the couch from being fully soaked she squats on the floor. Her piss is squirting up her legs her tight panties must be creating a slight seal but her shorts are going darker and darker as her pee flows through.
She finishes peeing in her shorts and her crotch is soaked, she is still on the floor and sits in her pee puddle. Her bare feet are in her piss too. I'm sure that she is loving the warmth of her pee between her toes. She sits for a while in her wonderful warm pee puddle enjoying the dampness. What a sexy look on her face, she really does look the bad girl who has had a accident. She stands up and pulls her piss soaked shorts down to show her pee soaked knickers including a wonderful pissy cameltoe. A super sexy shorts peeing from Wetting Her Panties.
See Petula peeing in her shorts Here

Visit Wetting Her Panties Click Here