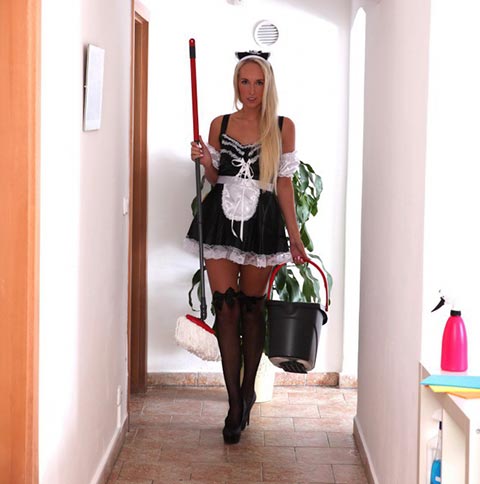 From Wet And Pissy we have these wonderful photos with Jenny Simons dressed and a maid. We have had some wonderful peeing pictures and videos from Wet and Pissy. If you have missed them check out Peeing On Her Shorts From Wet And Pissy, Peeing In Leggings And On The Floor, Christy Charming Peeing From Wet And Pissy,  and Whitney Conroy Making A Piss Movie. Today we have the very sexy Jenny Simons, she is dressed in a maid's uniform and looking lovely.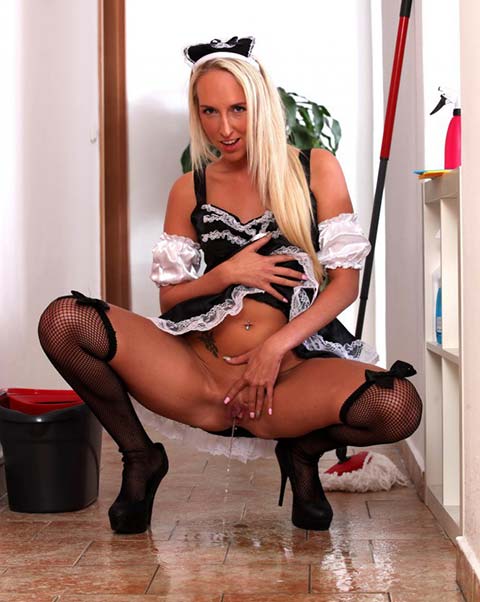 Jenny Simons is walking down the hall she is dressed as a maid and carrying her mop and bucket she stops and lifts up her maids uniform and we get too see that she has no panties on and is showing her very nice shaved pussy. She lifts her leg up, opens her puissy lips and starts to pee. Her pee squirts out and starts to splash on the floor she keeps on peeing and we get a great close shot of her pissing pussy she then squats down on the floor and keeps on pissing. She really is making a wonderful piss puddle. She finishes pissing on the floor and then gets out her mop and starts to mop her piss up.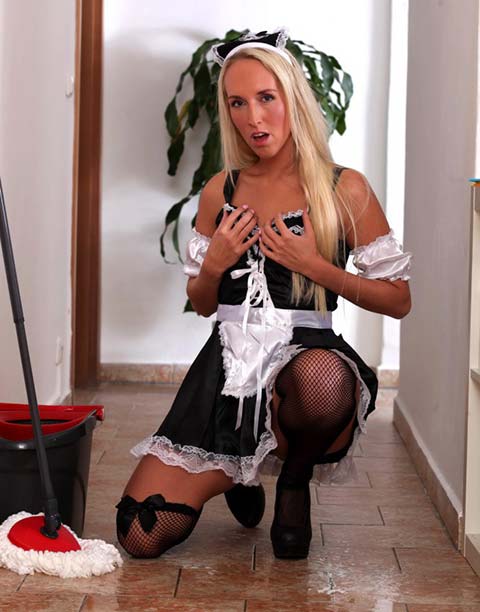 At wet and Pissy this is what was written about these pissing pictures A Wet and Pissy members request, Jenny the maid is in the hallway ready to mop the floor when she realises she hasn't got any water! She comes up with the idea to use her own piss so pees onto the floor. Mopping up her own piss, Jenny decides it would be fun to roll around in it and gets turned on that she has to tease her pussy with her fingers. She strips down to just her stockings and uses the mop handle as a sex toy, rubbing her clit up against it before fucking the pole. Jenny gets herself off and releases even more piss for you to see!
See Jenny Dressed As A Maid And Pissing