From Wetting Her Panties we have the wonderful Honour May peeing in her jeans. This is the first time we have had this hottie here at PissBlog and I really do hope you enjoy her jeans peeing fun. We join her in the yard wearing tight jeans and desperate to pee. She has her hands jammed into her crotch really trying to hold on. The waistband of her jeans is cutting into her bladder making her so desperate to pee. She starts to jiggle and do a pee pee dance. She is getting super desperate and having real difficultly trying to hold on. She jambs her hand harder between her legs desperately trying to hold her pee in.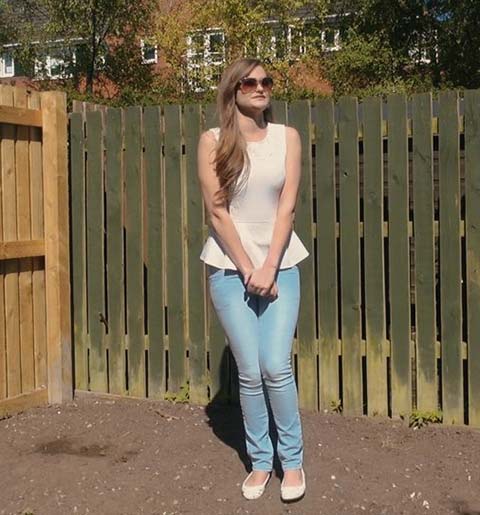 She is hopping around and doing the pee pee dance and then she just can't hold on any longer and she starts to pee. The first spurts of pee shoot into her jeans and the denim starts to go a little dark the denim is soaking her pee up and then she starts to pee a little more. Her jeans start to show that she is peeing herself, the pee slowly starts to run down her legs and then there are rivers of piss soaking her jeans this is a wonderful sight and she is peeing herself outside.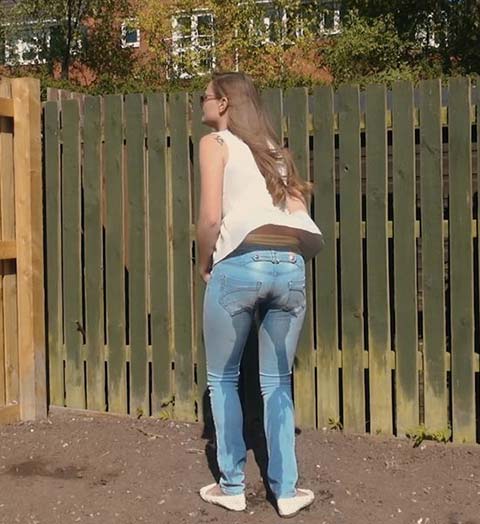 She is fully pissing her jeans she has pee soaking into her shoes and there is a great big piss puddle beneath her. What a wonderful sight. She turns around and we can see her pissy wet crotch and as she finishes peeing herself she stands there dripping. She undoes her fly and pulls her jeans down a little and we get to see her piss soaked yellow panties with a pee camel toe. A super sexy jeans peeing from Honour May of Wetting Her Panties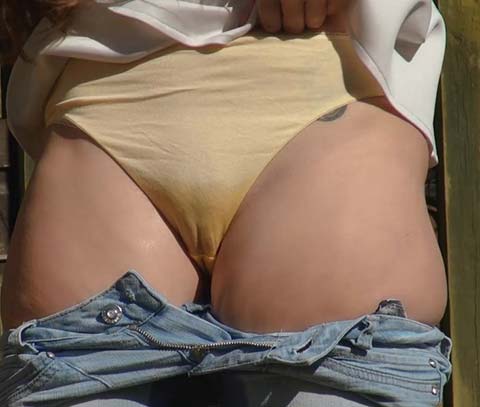 See Honour May Peeing Her Jeans Click Here


Filed under: Babes Peeing and Desperation and Female Desperation and Jeans Peeing and Jeans Pissing and Peeing and Pissing and Pissing In Pants and wettingherpanties
Posted on 09.11.17
Comments: 1 Comment


Tags: Desperate To Pee, Female Desperation, Honour May Wetting Her Panties, Jeans Pee, Jeans Peeing, Pissing In Pants, wetting, wettingherpanties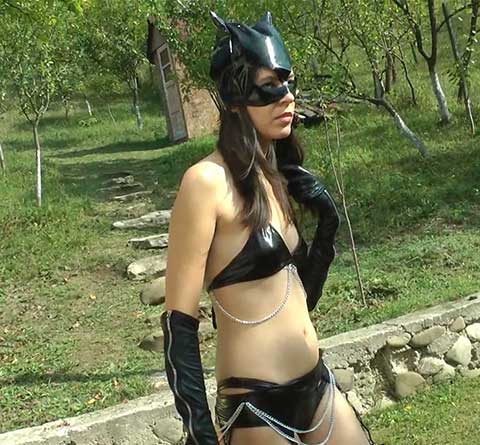 From Real Wetting we have the very sexy Debbie. We have had this hottie at Piss Blog before and If you have missed her check out Peeing In Vintage Panties Debbie Peeing In Her Panties Bound And Peeing In Panties and Debbie Pissing In Denim Shorts. Today we have her dressed as Cat Woman and looking very sexy. She has vinyl panties a vinyl bra and a mask. She is in for some domination play and is going outside to set up. She gets outside and realises that she forgot to go to the toilet. This may be a problem. She stops walking and places what she is carrying onto the grass and as she bends down she gets a wave where she nearly pees herself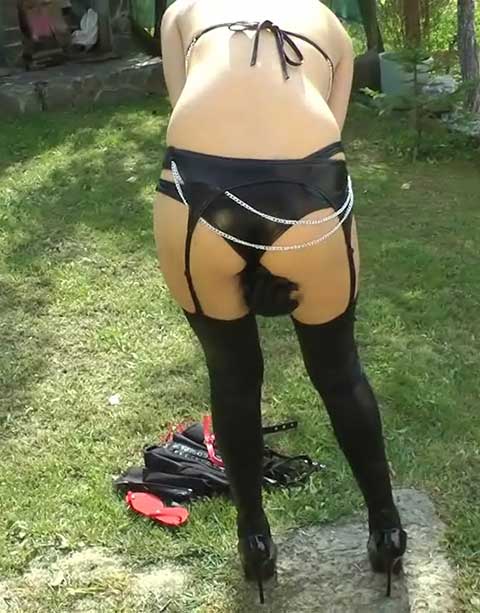 She is crouching down and jambs her hands against her crotch. She doesn't want to pee herself. She stays like this for a little, stands up but she is having bladder problems. She jambs her hand in her crotch to stop the flow again. She really should have gone to the toilet when she had the chance. She bends down again and it is to much, a little spurt of pee drips out this is it she can't hold on.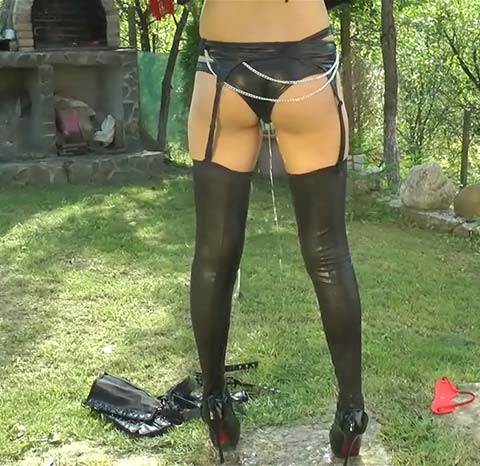 She has released a little pee and now she can't stop it. She starts to pee harder and her bladder is loving it, it relaxes more and her pee stream explodes into her vinyl panties.Iit is gushing out and is splashing in the grass around her. There are pee rivers running down her legs and her heels are even getting soaked in pee. I do love seeing a sexy lady pissing herself. When she finishes peeing herself she stands there and realises that she is lucky, her outfit has repelled the pee there was no chance that the material; would soak it up and make her a soggy mess. A super sexy outdoor wetting with Debbie.

See Debbie Desperate And Peeing Here


Filed under: Audreys Wetting Site and Desperation and Female Desperation and Knicker Wetting and Panty Pee and Peeing and Pissing and Real Wetting
Posted on 09.08.17
Comments: 1 Comment


Tags: Audreys Wetting Site, Cosplay Pissing, Debbie Real Wetting, Desperate To Pee, Female Desperation, Knicker Wetting, Panty Pee, Panty Peeing, Real Wetting, wetting
From Piss Japan we have some more hot Asian chicks Pissing. If you have missed some of these lovely ladies spreading there pussys and pissing for us in the past check out Japanese Ladies Spreading Pussy And Pissing, Asian Spread Wide And Pissing, Asians Playing With Piss, Asians Outdoors And Pissing, and Japanese Schoolgirls Pissing. Today we have these two hotties out in the park they are walking around and then they really need to pee. They start to look for a hidden spot to piss and find a perfect spot to pee. They are hidden away with no knowledge that we are spying on them.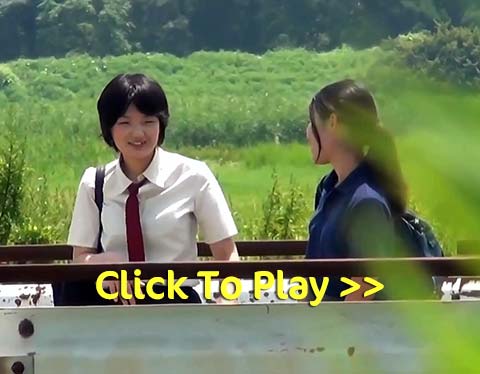 They squat down together and then pull down their panties, they don't know that we are watching on this hidden piss cam. The panties come down and they have their lovely hairy pussys on show. They are really spreading there pussies wide and then they aim their pussies high and starts to pee. As they start to piss the piss explodes like it is coming out of a hose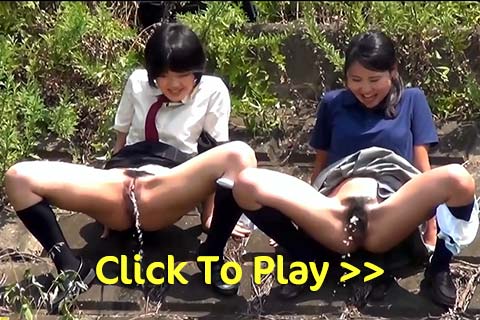 They have their pussys spread wide and the piss is shooting out and making a lovely arc ah it sprays up in the air and splashes back down. There is something beautiful watching the piss stream as it catches the sun and sparkles. They finish pissing and pull there panties up, there will still be little pee drops on their pussy hair and they panties may have some pee drips in them. A great Asian outdoor piss from Piss Japan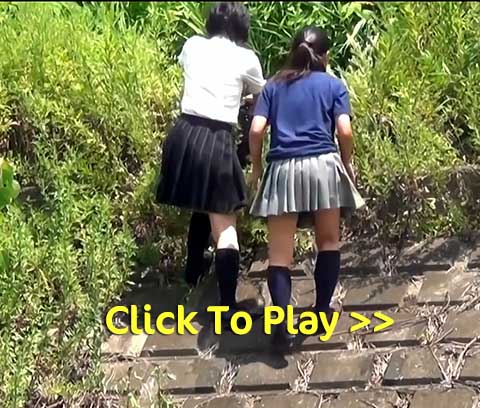 Filed under: Asian Pissing and Caught Pissing and Hairy Pussy Pissing and Japanese Pissing and Movies and Outdoor Pissing and Pee Asian and Peeing and Pissing and Pissing Movies and Pissing Outdoor
Posted on 09.05.17
Comments: None


Tags: Asian Peeing, Asian Pissing, Japanese Peeing, Outdoor Pissing, Pee Asian, Peeing Movies, Piss Japan Movie, Pissing Movie, Pissing Movies, Pissing Outdoor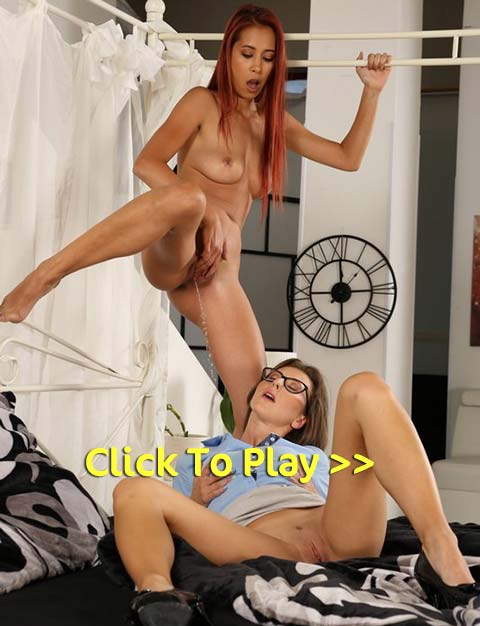 From Vipissy we have the wonderful Paula Shy and Emylia Argan. We have had Paula at Pissblog before and she is one wonderful lesbian pisser. If you have missed some of her previous updates check out Sexy Lesbian Peeing From Vipissy, Vipissy Pissing Movies, Lesbian Pissing Threesome Vipissy, Paula Shy And Kitty Jane Lesbian Peeing and Vipissy Peeing Lesbians. Today Paula is with Emylia and we join them as Emylia walks in and sees Paula on the bed sleeping . Emylia has a bulging bladder and she has a great idea she lifts up her business skirt revealing her shaved pussy and then aims her pussy and Paula and starts to pee. She is pissing all over Paula Shy as she is sleeping. Paula wakes up and looks happy she is loving the warm piss spray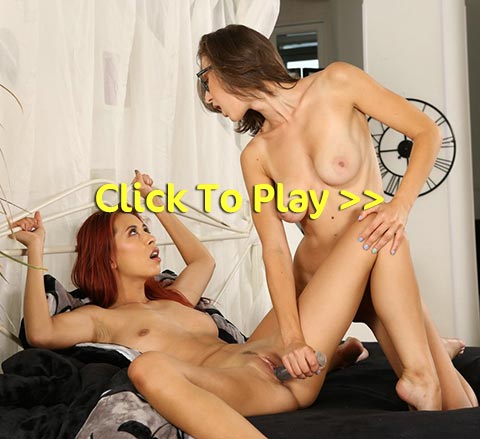 Emylia finishes pissing on Paula and now it is Paula's turn for a pee Emylia still in her business skirt and shirt lies down on the bed and Paula starts to pee. She is spraying Emylia in piss and her blue shirt is soaked and clinging to her. She is soaked in piss and so is the bed. When Paula finishes pissing on her she has Paula lie on the pissy bed and starts to lick her pussy and is gulping down the girl juice and all the piss drips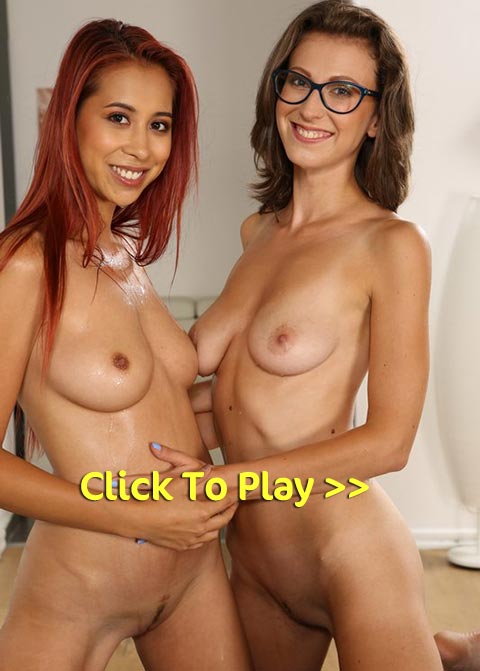 Paula cums on Emylias face and then Paula pisses on her again. She is getting a great workout and Paula is in heaven. She is so turned on and then she starts to get pumped by a dildo. She is riding it hard, this is one wet and wild lesbian pee. When they finish there pissy party they are both shining from all the wet piss. A super sexy lesbian piss from Vipissy

See Paula and Emylia Pissing Here


Filed under: Babes Peeing and Drinking Piss and Lesbians Peeing and Movies and Peeing and Pissed On and Pissing and Pissing Movies and ViPissy
Posted on 09.02.17
Comments: None


Tags: Emylia Argan Vipissy, Lesbians Peeing, Paula Shy Vipissy, Piss Drinking, Pissing Movie, Pissing Movies, Pissing Pussy, ViPissy, Vipissy Movie
From HD Wetting we have Alisha bound to the bed in her panties. She is desperate to pee and has a very full bladder. Alisha is beside her and she starts to tickle Sosha she is going hard and as we all know Sosha is very ticklish. The tickling continues and Sosha squirms and laughs and it gets to much for her and she can't stop her bladder sending out a squirt of piss. The piss shoots out and soaks into her knickers creating a nice dark patch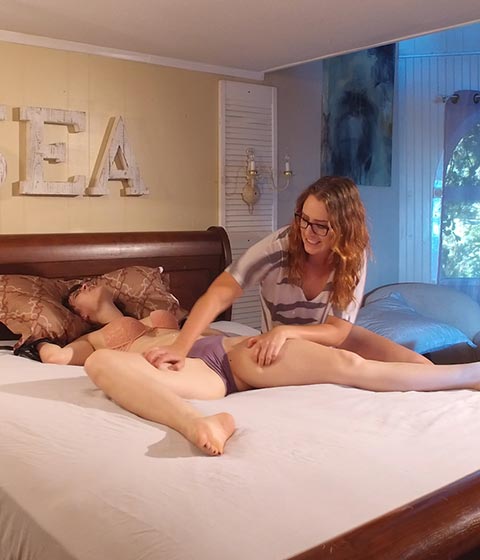 Sosha has let out the first squirt of piss but this hasn't stopes Alisha tickling. She keeps it up and then Sosha starts to pee. Her piss is gushing into her panties and soaking into the bed underneath. Sosha moves from tickling her and places her hand over Soshass panties and she starts to feel the warm pee. She is pressing harder and her hands are getting soaked as Sosha wets her panties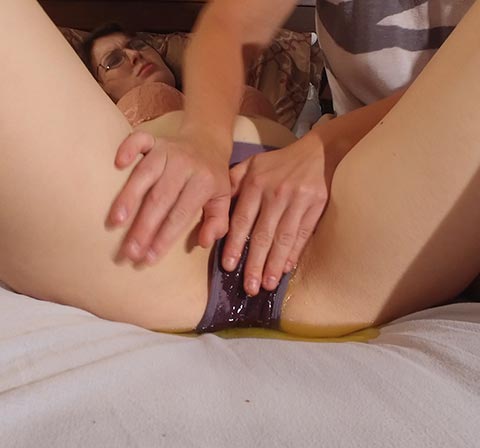 Sosha is pissing herself in bed and Alisha is loving the warm pee on her hand. Sosha finishes pissing in her panties and she is in a puddle of piss in the bed and very turned on. Alisha plays with the wet panties and then pulls them down exposing Sosha's wet and pissy vagina. She starts to licks Sosha's pissy pussy untill Sosha is cumming what a beautiful lesbian bed panty Pee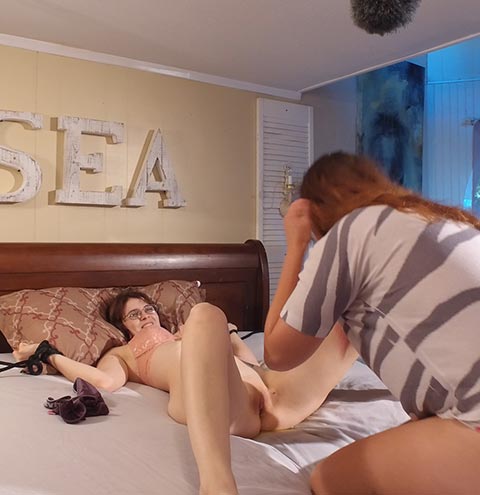 See Sosha Pissing her Panties In Bed Here


Filed under: Bed Wetting and HD Wetting and Knicker Wetting and Lesbians Peeing and Panty Pee and Peeing and Pissing and Pissing In Bed
Posted on 08.30.17
Comments: 2 Comments


Tags: Alisha HD Wetting, bound pissing, HD Wetting, Knicker Wetting, Lesbians Peeing, Panty Pee, Panty Peeing, Sosha HD Wetting, Tickle Pee, wetting