Ineed2pee brings us some wonderful female desperation and wetting for today We start off with new model Nixon as the story from Ineed2pee goes "she has a really cool timeless pinup look to her. She's from German decent & had a very very full bladder before we started! She has a coy way of talking to the camera like you could be right there & conveyed her pee desperation in a fun and slightly exaggerated way! Lots of different positions & sexy talking before she loses bladder control! Perfect wetting with lots of glistening of the denim as she pees herself… making it super shiny. It all goes into her high PVC patent heels too & makes a huge puddle on the floor. Great jeans wetting video & cute behind the scenes where you get to meet the new girl!" See Nixon desperate and peeing here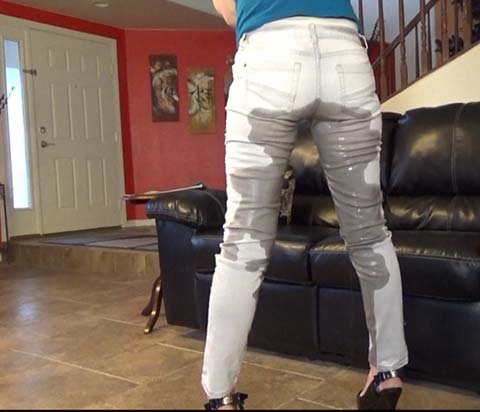 Next up we have the lovely Whitney she is in tight jeans and locked out and boy is she desperate to pee. We have lots of crotch grabbing and she then does the pee pee dance till she can't hold on and loses control and starts to pee in her jeans. As she is peeing she has piss flowing down her legs and even soaking her shoes. When she finishes pissing herself she shows off her piss soaked panties too. A great female desperation and wetting from here. See Whitney desperate and peeing in her jeans here

Last up we have a older preview movie with the wonderful Kenna. She starts off locked out in jeans and is so desperate to pee. She jiggles around and her wonderful breasts are bouncing till she just can't hold on and pisses in her jeans. We then have her dressed as wonder woman and we have had the desperation and wetting photos for this before in Wonder Women Desperate And Peeing. It is great to watch her struggle till her bladder gets the better of her and she pees herself. See Kenna Desperate And Peeing Here


Filed under: Desperation and Diaper Pissing and Ineed2pee and Jeans Peeing and Jeans Pissing and Movies and Peeing and Pissing and Pissing In Pants and Pissing Movies and Pissing Videos
Posted on 03.28.16
Comments: 1 Comment


Tags: Desperate To Pee, Female Desperation, Ineed2pee, Ineed2pee Kenna, Ineed2pee Whitney, Jeans Pee, Jeans Peeing, Nixon Ineed2pee, pants peeing, Pissing Movie, wetting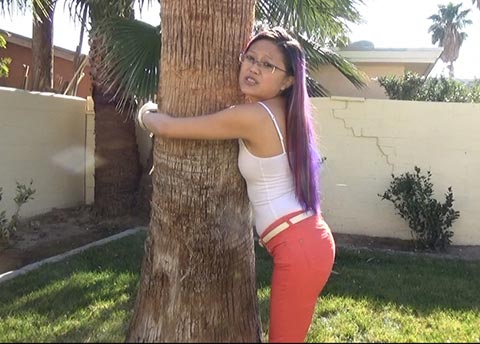 From Ineed2pee we have three great female desperation and wetting scenes Ineed2pee really is the master of desperation and today is no different. We start of with new model Lil Mina. The story from Ineed2pee goes like this. Lil Mina definitely had no pee shyness or issues wetting through her super tight orange pants while tied up! It's not the easiest first scene to do but she really really had to pee as you can see, and her tiny 95lb body can only hold so much. It can actually hold quite a lot from what we can see as we watch it! there's so much pee coming out & dripping off her pants cuffs and it just keeps coming & coming, It's even funnier when I start tickling her and found out she's really ticklish!! Great female desperation and wetting. See Lil Mina Desperate and Wetting here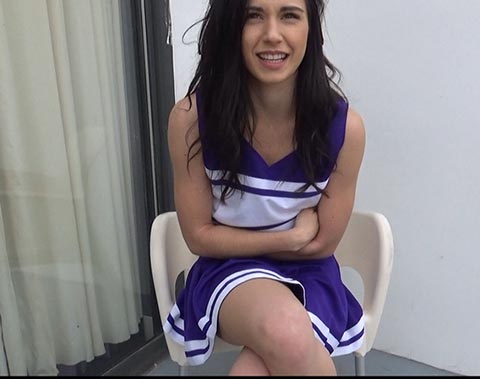 Next up we have the wonderful Nikki Next. She is dressed as a cheerleader and desperate to pee. She is on the balcony and is locked out. She gets more and more desperate to pee and we get to see her squirming and doing the pee pee dance. She grabs her crotch trying to hold on but she is to desperate to pee and pees in her white panties. She finishes of with white panties soaked in piss. See Nikki Next panty peeing here
Last up we have the lovely Sunny. If you have missed some of her previous female desperation and wetting scenes check out Female Desperation And Wetting with Sunny Desperation And Wetting Ineed2pee and Desperation And Wetting From Ineed2pee. Today she is late for a interview. She is desperate to pee but there was no time to relieve herself. She is so desperate that everything she is doing is making her want to pee and she just can't hold on and pees in her leggings soaking herself and also the floor. See Sunny Desperate and peeing here

Filed under: Desperation and Female Desperation and Ineed2pee and Knicker Wetting and Panty Pee and Peeing and Pissing and Pissing In Pants and Pissing In Skirt and Pissing In Tights
Posted on 02.15.16
Comments: 1 Comment


Tags: Cheerleader Peeing, Desperate To Pee, Female Desperation, Ineed2pee, Knicker Wetting, Lil Mina Ineed2pee, Nikki Next Ineed2pee, Panty Pee, Panty Peeing, Pissing In Pants, Pissing In Skirt, Sunny Ineed2pee, wetting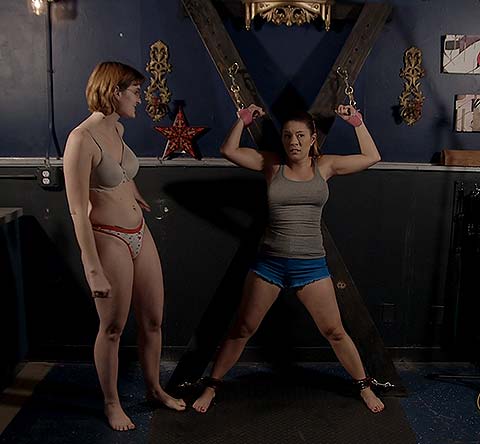 HD Wetting brings us the Lovely Sosha and Sexy Nikko. It is nice to see Nikko with Sosha as we are going to be in for some fun. We have had Nikko and Alisha before and their lesbian peeing has been fun. If you have missed some of them check out the HD Wetting Category Here. We start off with Nikko bound, she is in shorts and a tight top and Sosha is in her underwear. Nikko is bound and desperate to pee, we all know how Sosha loves to torment. As Nikko is tied, Sosha starts to tickle here. Nikko is getting more and more desperate and then loses control and starts to pee in her shorts. Her golden piss is ruining down her legs and splashing on the floor. Sosha thinks this is great watching Nikko pissing herself. The sight is turning her on. She strips Nikko's piss soaked shorts off and licks Nikko's pissy pussy till She cums. See Nikko Pissing Her Shorts Here.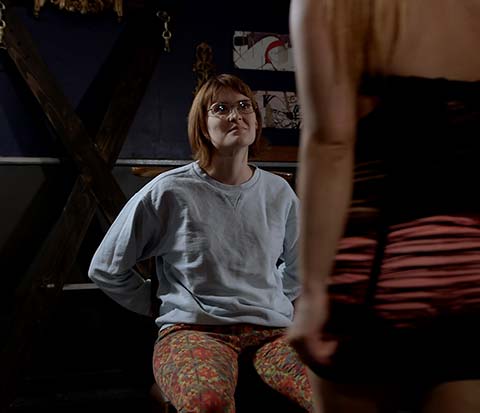 Next Up we have Sosha tied to the chair and Nikko who is in a sexy outfit. Nikko starts to play with Sosha making her horny. Nikko sits over Sosha and starts to pee in  her short shorts her pee soaks into the fabric and there is a nice dark patch as it grows, it then flows onto Sosha soaking into her tights. I bet Sosha is now so horny that she is nearly cumming Nikko finishes pissing and instead of masturbating Sosha she walks away leaving her a horny mess. See Nikko Pee on Sosha Here.

Last up we have Sosha and Nikko ate the doctors Nikko  is telling the nurse Sosha that every time she cums she pees. This is new to Sosha so she has Nikko lie back and starts to rub her through her pants Nikko gets closer and closer to cumming and then she does and she is peeing too. This is a great pants pissing. Nikko is pissing through her pants she has piss splashing on the floor and soaking around her bum she finishes pissing her pants and her pee puddle is huge. Super pants pissing. See Nikko Piss Her Pants Here


Filed under: HD Wetting and Peeing and Pissed On and Pissing and Pissing In Pants and Pissing In Shorts
Posted on 02.08.16
Comments: None


Tags: bound pissing, Desperate To Pee, Female Desperation, HD Wetting, Nikko HD Wetting, pants peeing, Pissing In Shorts, shorts peeing, Shorts Pissing, Sosha HD Wetting
From Ineed2pee we have the lovely Sarah B she is new at Ineed2pee and also new to pee in in her jeans. It is great when we get the first wetting scene from a new model and today Sarah B is looking wonderful in her tight jeans with boots over them and a tight crop top. She is so desperate to pee too.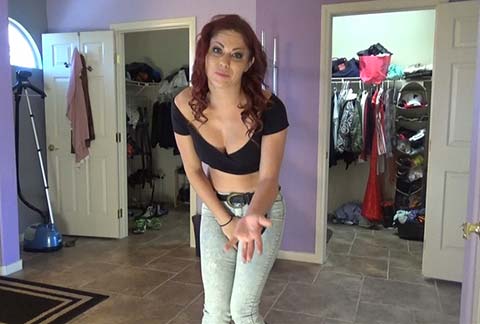 The story from Ineed2pee goes like this "She's brand new & never wet her pants on camera before. Well she's never really wet herself since she was really young but there was no hesitation of mental block at all as she wet herself, unlike some girls who can't go either in their pants or with the camera pointed at them. The pee looks nice & shiny cascading down the light denim & making streaks on the fabric boots. A LOT of the pee went into her boots but the inside is also fabric so it soaked it all up on the sides unfortunately. She makes her perfect amount of noise as she starts wetting though… and before. It really conveys the desperation well. "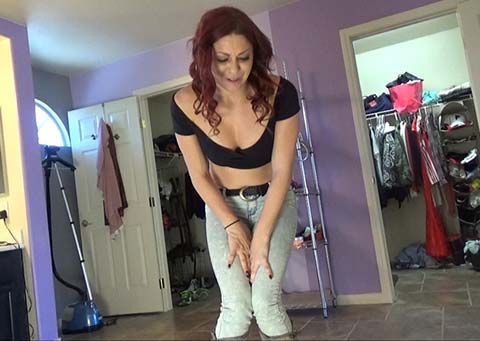 Sarah B is great, her female desperation is real and wonderful and being in skin tight jeans makes it even better. When she grabs her crotch she really is trying to hold on and when she is just to desperate and loses control peeing herself well the piss rivers down her legs are beautiful.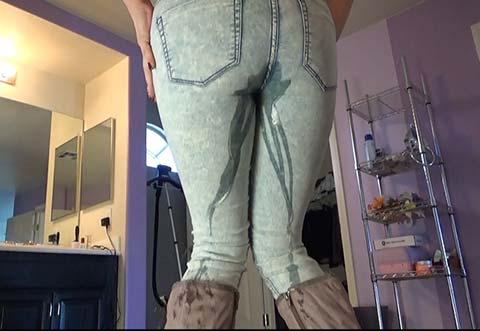 See Sarah B Desperate And Peeing Here

Filed under: Desperation and Female Desperation and Ineed2pee and Jeans Peeing and Jeans Pissing and Peeing and Pissing and Pissing In Pants
Posted on 01.22.16
Comments: 1 Comment


Tags: Desperate To Pee, Female Desperation, Ineed2pee, Jeans Pee, Jeans Peeing, pants peeing, Pissing In Pants, Sarah B Ineed2pee, wetting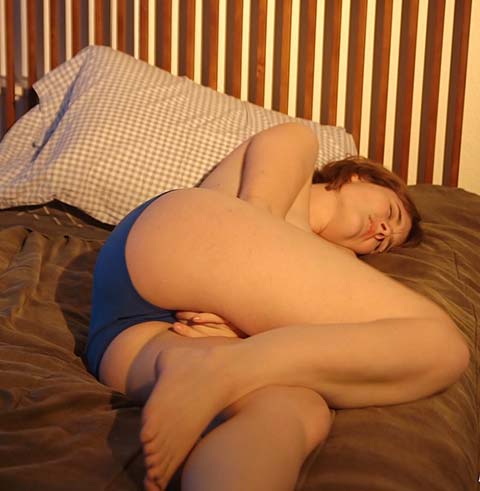 Happy New Year to All. From HD Wetting we have the wonderful Sosha. We have had so many wonderful wettings with her and you can see them all here in Sosha HD Wetting Today we starts off with a bed wetting and masturbation. I do find that we don't have enough bed wetting so when one comes along it is great to see. Sosha is on the bed and topless. She is in blue panties and rubbing herself. Her bladder is nice and full and this is turning her on more and more, she keeps on playing with herself and then starts to pee. She is peeing in her panties and her piss is soaking into the bed too. She keeps on pissing and rubbing herself. She is in a wonderful warm piss puddle and then she cums. She finishes relaxed and soaked in her pee. See Sosha Bed Panty Pee Here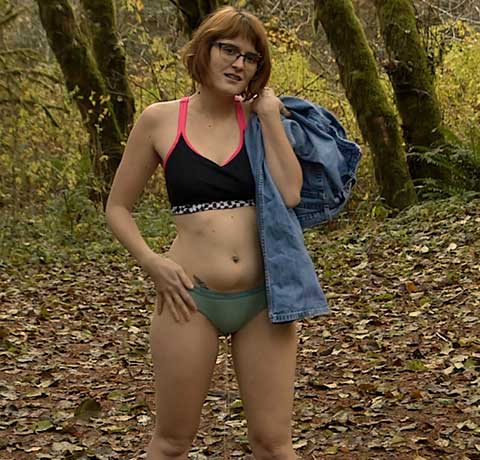 Next up we have a forest panty piss, Sosha is hanging out in the forestshe strips till she is in her bra and panties. As she stands in the forest in her underwear she starts to pee her piss flows through her panties and splashes onto the forest floor. She looks so natural panty peeing in the forest. She finishes pissing in her panties and puts her jeans and top back on and walks off. Not only did she piss herself now she has wet panties on and no one knows. See Sosha Panty Pissing In The Forest Here

Last up we have a desperate Sosha in her jeans in the woods. The story goes "Sosha is out for a leisurely afternoon stroll along a secluded forest road. From her behaviour, we can tell that she is desperate to pee. She is walking funny, crossing her legs, and holding herself. There is no bathroom in sight, and she is so desperate that she can't hold on another minute. We get to watch as she has an embarrassing wetting accident in her jeans. First, it is just a little leak, but it quickly becomes a huge flood. The video then cuts back to a full shot and we can see Sosha's reaction. She is horrified that she just wet her pants. See Sosha Peeing her Jeans Here


Filed under: Desperation and Female Desperation and HD Wetting and Jeans Peeing and Jeans Pissing and Knicker Wetting and Outdoor Pissing and Panty Pee and Peeing and Pissing and Pissing In Bed and Pissing In Pants and Pissing Outdoor
Posted on 01.01.16
Comments: 1 Comment


Tags: Bedwetting, Desperate To Pee, Female Desperation, Jeans Pee, Jeans Peeing, Knicker Wetting, Outdoor Pissing, Panty Pee, Panty Peeing, Sosha HD Wetting, wetting, Wetting The Bed