From HD Diapers we have the very sexy Alisha. We have had her in diapers with Niko in the past in Wet Diaper Lesbian Piss Play but today she is all alone in the lounge with a full bladder. She has tight leggings over the diapers and stats to pose for us, she plays around a little more and then pulls her leggings down to show her white diapers.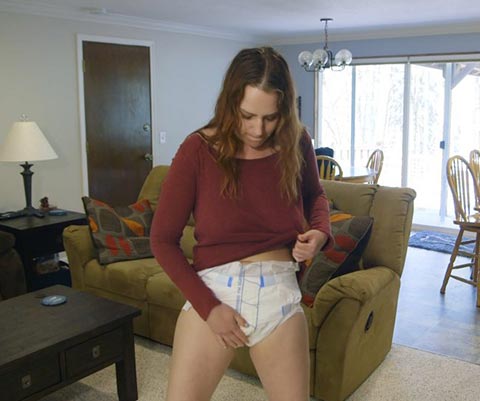 The story from HD Wetting goes like this "Under her dark blue leggings, Alisha has a secret- She is wearing a thick, tabbed, adult diaper.  We join Alisha in her living room.  She is wearing a long sleeved shirt and dark blue leggings.  Under her leggings, she tells us, she is wearing a diaper.  The camera zooms in for a close up as she pushes on the diaper, showing how thick the padding is under her tight leggings. To prove that she is actually wearing a diaper, she takes off the leggings, revealing the tabbed diaper underneath.  Once her leggings are off, she intentionally pees in the diaper.  We can clearly see in the video as the diaper fills up, changing colour as she pees herself. After she is done peeing in her diaper, she shows it off a bit for the camera.  Then, she takes it off, holding up so that we can appreciate just how soaking wet it is.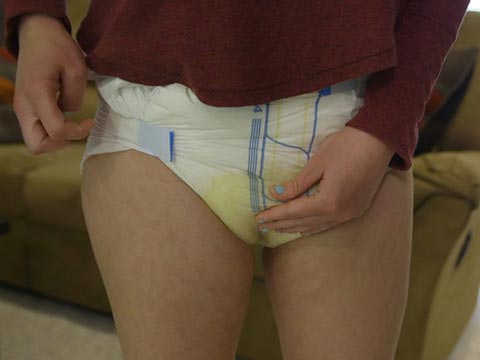 She stands there and starts to pee, her pee slowly flows into the diaper and as it does it starts to puff out. Her Diaper is filling in warm pee and starting to go yellow. She keeps on peeing and her diaper is getting more and more squishy. When she finishes peeing in her diaper she pushes it against her pussy and I bet the warmth is making her horny. She stands and undoes it and we get to see her pissy pussy too. A nice diaper pee from HD Wetting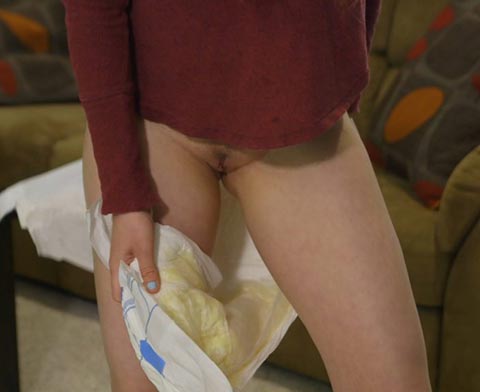 See Alisha Pee In Her Diaper Here


Filed under: Diaper Pissing and HD Diapers and Peeing and Pissing and Pissing Pictures
Posted on 07.03.17
Comments: 2 Comments


Tags: Alisha HD Diapers, Diaper Wetting, HD Diapers
2 Comments »
love taking odff a diaper to find a bald cunt

Comment by pissdrinker — September 15, 2018 @ 6:07 am

mmmmmmmmmmm me too, no t-ts and hairless p-ssy

Comment by lilgirlz — December 5, 2018 @ 8:54 am
RSS feed for comments on this post.
Leave a comment