From Vipissy we have some more wonderful lesbian peeing. If people would like to see couple peeing from the site let me know in the comments and I will post some. We have had some great lesbian peeing from Vipissy in the past and if you have missed some of them check out Megan Rain And Gina Gerson From Vipissy, Paula Shy And Kitty Jane Lesbian, Three Lesbians Peeing Vipissy and Lesbian Pissing Threesome Vipissy. Today we have Sweet Cat And Puppy. We starts off with Sweet Cat sleeping and being played with by Puppy.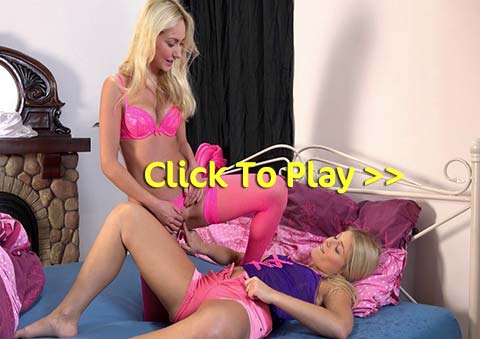 The story from Vipissy Goes Like this" Puppy loves the weekend and she's always anxious to make the most of it with Sweet Cat. Cat is exhausted after a long week, but lucky for her, Puppy is always looking to make her feel appreciated. Puppy elicits Cat to stray into a wet dream that wakes her in a happy mood. Puppy likes what she sees, and is happy to give Cat more than a set of wet shorts, kneeling on one knee and spraying Cat down. Puppy shakes every bit of sleepiness away from Cat, helps strips her down, and then waits for Cat to make it rain for her. Before busting into Cat with a golden shaft, Puppy waits for her to piss on all fours. Pushing things is part of Puppy's character. She finds herself on one knee and with her other leg stretched over a pillow, releasing a nice stream into Cat's hands. As Cat's drive peaks, she sits on the bed rail, overcome with her uncontrollable need to piss again. Her output matches her excitement, putting out excellently. After Cat drops back for one more piss, the girls wrap their wet day up rolling their hair over their wet bed."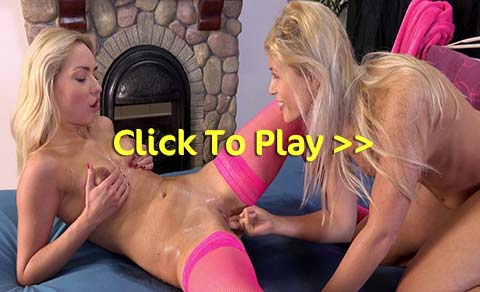 Once again we have a great lesbian peeing movie that starts off with some shorts peeing and then we get it all. Piss drinking pissy licking pee soaked hair and lots of pissy orgasms. Vipissy really is the best lesbian peeing site out there and if you want to see more peeing movies and piss pictures from them check out the Vipissy Category here.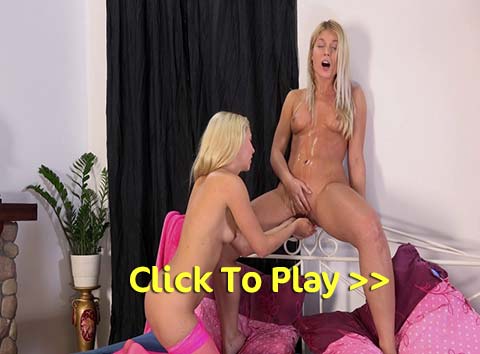 See The Blonde Lesbians Peeing Here


Filed under: Babes Peeing and Drinking Piss and Lesbians Peeing and Movies and Peeing and Pissing and Pissing In Bed and Pissing Movies and Pissing Videos and ViPissy
Posted on 01.28.16
Comments: 1 Comment


Tags: Lesbians Peeing, Piss Drinking, Pissing Movie, Puppy Vipissy, soaked in piss, Sweet Cat Vipissy, ViPissy, Vipissy Movie
From Ineed2pee we have the lovely Sarah B she is new at Ineed2pee and also new to pee in in her jeans. It is great when we get the first wetting scene from a new model and today Sarah B is looking wonderful in her tight jeans with boots over them and a tight crop top. She is so desperate to pee too.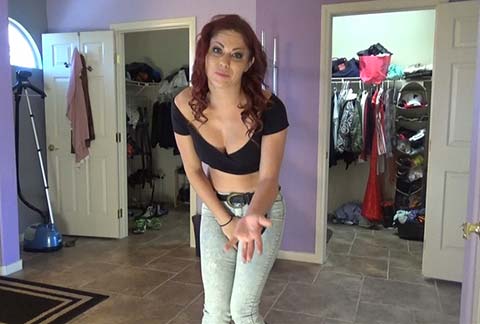 The story from Ineed2pee goes like this "She's brand new & never wet her pants on camera before. Well she's never really wet herself since she was really young but there was no hesitation of mental block at all as she wet herself, unlike some girls who can't go either in their pants or with the camera pointed at them. The pee looks nice & shiny cascading down the light denim & making streaks on the fabric boots. A LOT of the pee went into her boots but the inside is also fabric so it soaked it all up on the sides unfortunately. She makes her perfect amount of noise as she starts wetting though… and before. It really conveys the desperation well. "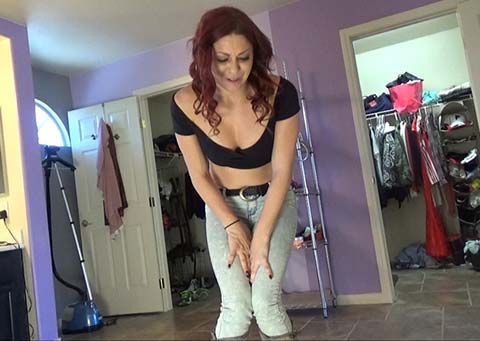 Sarah B is great, her female desperation is real and wonderful and being in skin tight jeans makes it even better. When she grabs her crotch she really is trying to hold on and when she is just to desperate and loses control peeing herself well the piss rivers down her legs are beautiful.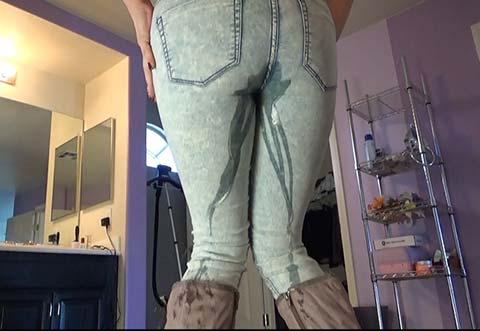 See Sarah B Desperate And Peeing Here

Filed under: Desperation and Female Desperation and Ineed2pee and Jeans Peeing and Jeans Pissing and Peeing and Pissing and Pissing In Pants
Posted on 01.22.16
Comments: 1 Comment


Tags: Desperate To Pee, Female Desperation, Ineed2pee, Jeans Pee, Jeans Peeing, pants peeing, Pissing In Pants, Sarah B Ineed2pee, wetting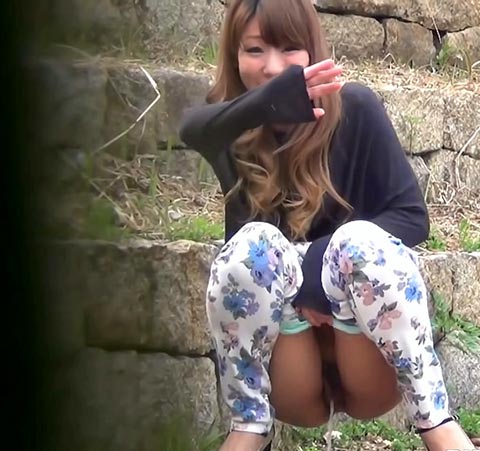 From Piss Japan we have some great voyeur peeing scenes with Japanese hotties. We have had some great peeing scenes from Piss Japan in the past and if you have missed them check out Japanese Pissing In The Bath House, Japanese peeing In The Bath House, Bathhouse Pissing Piss Japan, Sexy Japaneese Peeing Piss Japan and Japanese Schoolgirls Pissing. Today we start off with a hot Japanese lady that has been spotted by the piss japan hidden cameras. As she desperately try's to find a place to pee we follow and then when she has no choice she squats and pisses only to be filmed. She sees the camera and tries to hide her face but we get a great shot of her pissing pussy. We even get to watch as she runs away after peeing. Great voyeur action. See The first Voyeur peeing Movie from Piss Japan Here.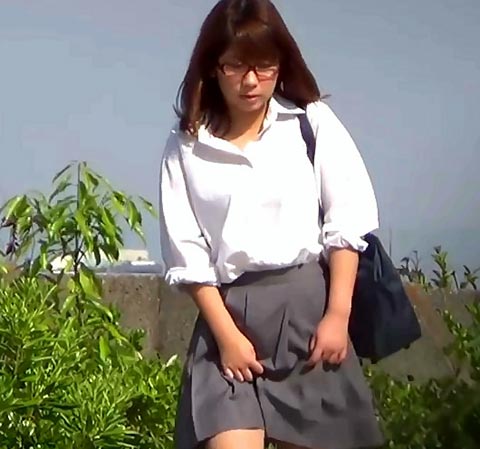 Next up we get two Japanese ladies caught on the piss japan pee cam. We are outdoors watching as one is in the fields and needs to piss. She finds what she thinks is a secluded spot only to be squatting down when the hidden cam finds her. She tries to hide herself while still pissing but we get a great view of her pissing pussy. The next voyeur peeing scene has a Japanese lady in a skirt she squats behind a tree only for the piss cam to catch her in mid-stream. See the second Voyeur pee Movie from Piss Japan Here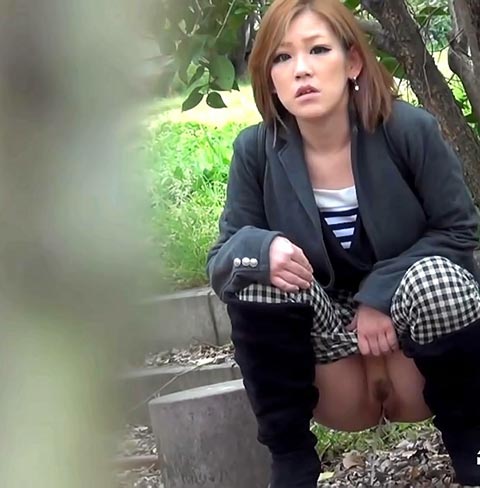 Last up it is more voyeur peeing. We are out and about and the piss japan camera finds a very desperate lady. We follow her till she squats down and get a wonderful view of her pissing pussy. After she finishes pissing for the hidden camera we find another lovely Japanese lady and follow her till she squats and starts to pee. She only notices the hidden cam when she has started to pee and there is nothing for her to do. Super sexy voyeur peeing once again. See the third voyeur peeing movie Here


Filed under: Asian Pissing and Caught Pissing and Japanese Pissing and Movies and Outdoor Pissing and Pee Asian and Peeing and PissHunters and Pissing and Pissing Movies and Pissing Outdoor and Pissing Videos and PissJapanTv and Voyeur Peeing
Posted on 01.18.16
Comments: 6 Comments


Tags: Asian Peeing, Asian Pissing, Caught Peeing, Caught Pissing, Japanese Peeing, Outdoor Pissing, Pee Asian, Peeing Voyeur, Pissing Movie, Voyeur Peeing, Voyeur Pissing
From Wetting Her Panties we have the lovely Kayla Louise. We have had this panty peeing hottie previously in Kayla Louise Panty Peeing Kayla Peeing In Her Yellow Panties Knicker Wetting With Wettingherpanties Kayla and Kayla Desperate And Peeing In Her Panties. Today she is in light blue underwear and a tight white singlet with no bra on. She is desperate to pee, she is holding her crotch and squirming around such a sexy sight. She grabs her crotch one last time but she can't hold on she is just to desperate to pee.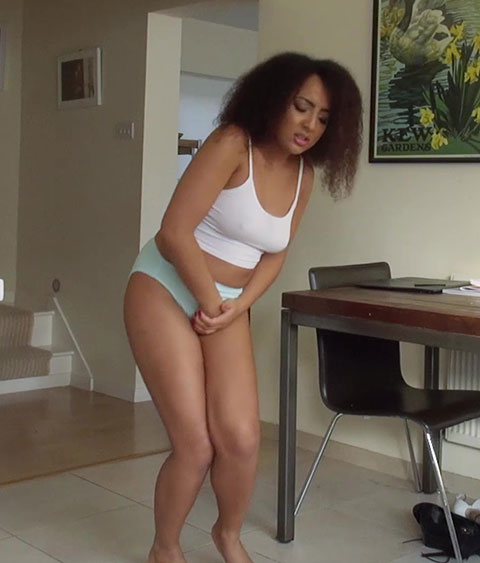 She is standing in the kitchen with her panties pulled tightly against her pussy and she starts to pee. The first drips of pee flow out and then the big stream starts. As she is pissing her panties are getting saturated she keeps on going she really was desperate and full

Her pee is flowing through her panties and splashing on the floor, the sides of her legs have pee drips running down them, this is a great panty pee. She finishes peeing and her panties are soaked. She looks down at her piss soaked panties and we get to see that they are nearly see through as they are clinging to her pissy pussy. A super sexy female desperation and panty peeing scene from Wetting Her Panties.

See Kayla Peeing Her Panties Here


Filed under: Knicker Wetting and Panty Pee and Peeing and Pissing and wettingherpanties
Posted on 01.15.16
Comments: 1 Comment


Tags: Desperate To Pee, Female Desperation, Kayla Wettingherpanties, Knicker Wetting, Panty Pee, Panty Peeing, wetting, wettingherpanties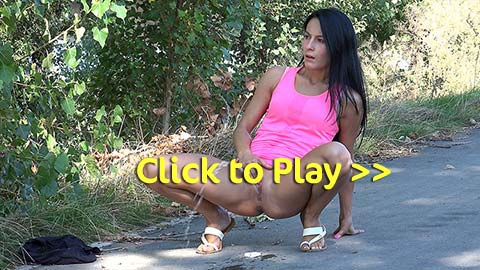 For today we have something new, movies from Got2Pee. Got2pee is a website that reminds me of project pee and sneaky pee and is shot in HD and has lovely hotties. Let me know if you would like to see more from this website. We start off with a brunette who is desperate to pee she is running down the path in tight shorts and is holding her bladder. She stops when she is out of sight pulls her shorts off and then let's spray with a wonderful big piss stream. She has piss splashing all over the ground and when she finishes pissing we get to see how far she pee. See the brunette pissing here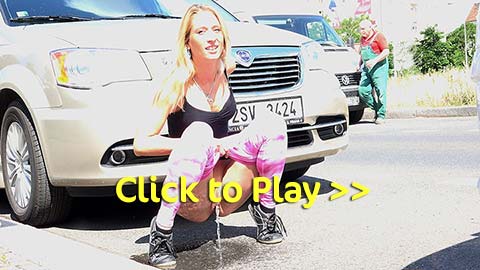 Next up we have a blonde lady on a public street, she is spandex leggings and is waddling from desperation. She stops between a parked car and ready's herself to pee. There are cars driving by and people walking around a true public pee. She drops her leggings and pisses on the road she makes a great piss puddle and her pussy is gleaming with piss when she finishes. A great public piss. See the blonde Pissing Here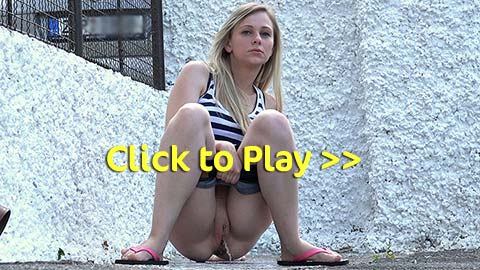 Last up we have a pale blond chick. She is in tight denim shorts and a stripy top. She finds a secluded spot and pulls down her shorts and starts to pee on the ground. She has piss flowing from her pussy but her pee is also running over her bum. The shot of her shaved pissing pussy is great and then when she finishes she pulls up panties up over her piss soaked ass. See The Pale Blonde pissing Here


Filed under: Caught Pissing and Got2Pee and Movies and Outdoor Pissing and Peeing and Pissing and Pissing Movies and Pissing Outdoor and Pissing Videos and Public Pissing and Street Piss
Posted on 01.12.16
Comments: 2 Comments


Tags: blonde peeing, brunette pissing, Got2pee Movie, Outdoor Pissing, Pissing Movie, Public Peeing, Public Pissing
I haven't come across any piss stories of late so we haven't had any posted for a long time. While this is a repost from 2008 there will be many who have not read it before, enjoy.

As I got out of the car, I sprinted to the house. When I reached the front step and extended my hand to turn the knob, I almost ran right into the door. It was locked. I knocked. I pounded. I stood, legs crossed and half doubled over in pain. If I didn't get to a bathroom soon, I was going to pee my pants. I rummaged around inside my purse trying to find my house key. I felt tears forming as the panic set in. I couldn't find it. I turned it upside down and dumped everything out right there on the front step. It wasn't anywhere to be found. I bit my lip as I looked around. No cars were in the neighbors driveways. I looked up and down the street, no cars. No one walking their dog. No kids riding their bicycles. I looked over to the corner of our yard where the big Oak tree was. I couldn't believe what I was contemplating.

As my bladder overflowed, I felt a small trickle down my leg and knew I didn't really have a choice. It was either go behind the tree or pee my ppanties. A little wet spot was one thing, but soaking wet panties was quite another. "Ok, here goes," I thought to myself. I bent over to collect my things and put them back into my backpack. The pressure of bending over caused a little more pee to escape. I clamped my thighs together and began hobbling across the yard. Once I reached the Oak tree, I moved behind it and checked all directions. The coast was clear. I lifted up my skirt and pulled my panties to the side. I squatted down and with watchful eyes, emptied my exploding bladder on to the grass. I could hear the loud hissing sound as I pissed all over the ground. A large puddle was forming, and I could feel some splashing up onto my ankles. The relief was so great that I felt light headed. I couldn't believe how bad I had to go and wondered when it was going to stop. I actually started to smile a bit when I realized how long I had been squatting there. Once the powerful stream subsided and turned to a trickle, I began to shake my bottom back and forth trying to shake off any last drops. I pulled my panties back over and stood up, smoothing out my skirt. I noticed how wet they were from the first two accidents and adding to it, the wetness left from my pissing behind the tree. I walked across the yard as I thought about what I had just done. At first I felt disgusted by what I had done, but what choice did I have? Pee my pants? As I thought about that, I realized how much I enjoyed the feeling of having wet panties. "What is wrong with me?" I thought. I could feel my face get warm and my heart began to pound a little. "What the hell? Why am I getting turned on now?" I asked myself. Suddenly, I remembered that my roommate had said she was working late tonight, which explains why the door was locked.

"Shit. How am I going to get in now?" I wondered. I looked around and decided to try my neighbor, John, across the street. We had given him a key a few months ago in case of emergency. I quickly walked across the street and knocked on his door. A moment later, he opened the door, smiling. I asked him if he still had our key because I was locked out. He said yes and invited me in while he looked for it. He went into the kitchen and I could hear him rummaging around in one of the drawers. "Would you like something to drink Emma? Your face is all red, you look like you've been outside for hours." "Water would be good, thanks!" I answered, wondering why I was still blushing. When John came in and handed me the glass of water, I noticed he had a big bulge in the front of his pants. He must have seen me looking because he just stood there watching me while I hid behind my glass of water. I didn't want him to stare at me, so I continued to drink the water so I could hide behind the glass. "You WERE thirsty! Would you like another?" he asked. I cleared my throat and looked down at the floor. I played with my sock so I didn't have to make eye contact with him and told him yes, I would like more to drink. I was so relieved when he walked out of the room, but that didn't last long. He returned in what seemed like only seconds with another glass of water. He stood directly in front of me as I sat on the couch and drank my water. I could see through the glass that the bulge I thought I had seen was not only there, but was now very prominent.

"Like what you see?" he asked. I almost choked and water came spewing out of my mouth. "Hmmm, that's the second time in five minutes I've seen you squirt water out of your body like that." My heart pounded in my chest and my head spun. "Oh my God. Did he just say what I think he said? Oh my GOD. Did he see me?" My mind raced with these thoughts and I began to panic. I looked up at him and he was grinning from ear to ear. "Don't worry, I won't tell anyone." I felt a wave of relief wash over me. It was short lived, however, because John dropped his hand down to the bulge in his pants. My heart started pounding again. "I won't tell anyone, IF you do something for me," he grinned, rubbing his cock through his shorts. I figured he was hinting at a blow job. I was not normally one to shy away from an opportunity like this, but it just seemed strange. He was my neighbor! Instead, he said "I want to watch you piss, Emma." "WHAT?" I croaked out. "That's right. I want to watch you squat down and piss for me. And as you piss noisily, I am going to stroke my big fat cock." While contemplating the situation, my mind wandered to my pee soaked panties and I noticed a new dampness that wasn't there before. I realized that the thought of pissing in front of someone was making my pussy wet. "OK. I'll do it," I said. He held out his hand and I took it. Instead of leading me into the bathroom, he brought me into his kitchen. He patted the counter and said "Up". I jumped up and sat on the counter. "No, no, no. I want you to squat for me. Up on your feet, my little pee girl," he instructed. I did what I was told and he brought over a martini glass, placing it directly under my pussy. He stood back and pulled his cock out of his pants. It was purple and dripping wet. I could see how turned on this was making him, so I decided to enjoy it. I pulled up my skirt and pulled my panties down just a bit. I felt my face burn as he saw the wet panties. He let out a soft groan and began fucking his cock into his hand. I opened up my cunt lips and bit my lip. I began to push and within a few seconds, I was pissing for him. I was squatting on my neighbors counter pissing into a martini glass and he was masturbating his monster cock to the sight of it.

"How did I get here?" I asked myself. Then, I realized that I didn't care. I actually liked pissing for him. In fact, I LOVED it. I loved that he was watching me urinate. I love that he called me his little pee girl, and I wanted to do it more. When I noticed that the martini glass was overflowing on to the counter, I stopped short and decided to take the lead with this new game. I hopped off the counter and squatted right there on his kitchen floor. A yellow puddle began to form on the floor. Again, I stopped. His eyes were as big as saucers now as he realized what my plan was. I walked into the living room and he followed – cock in hand. I squatted down right in the middle of his living room and pissed on his carpet. When I was satisfied, I stood up and walked down the hall. As I walked, I pissed. I left a tinkle trail down his hall and went into the dining room. I pulled out one of the chairs and sat. I leaned back and spread my legs and pussy open. I pushed hard, and this time, a golden arch sprayed out of my pussy. I looked over at him and he was jacking his cock frantically. I could see giant drops of precum flying from his cock. I stood up, looked at my dining room pee stain and realized I was almost empty. "Any preferences?" I asked him. He lay down under me and said "Yeah, right here," and pointed to his cock. I stood over him and spread my pussy open. "Ready John? Ready for your little pee girl to piss right onto your cock?" I asked him. He didn't reply, just stared at my pussy and pumped his cock. "One, two…..THREE!" I began pissing all over my neighbours cock. The moment he felt my hot liquid hit his cock, he shot off. Some landed on my leg, some actually reached my pussy and the rest just went up into the air and landed in various spots. "Now it's my turn," he said. I found that the thought of getting pissed on was also tremendously exciting and wanted more than anything to be on the receiving end. I got on my knees and knelt before him, arching my back. Within just a few seconds I felt his HOT piss splashing all over my tits. He aimed it at my pussy, my stomach, my tits, my legs, and my hair. By the time he was done, I was absolutely soaked. My clit was pounding and I needed some relief. I brought my hand to my pussy and began rubbing myself. "Up here" John said and pointed to the dining room table. I got on the table and he instructed me to get on my hands and knees and turn around. I did as I was told and without warning, he began ramming his fingers into my sopping wet pussy hole. I looked down and saw that little droplets of his piss were dripping off my body onto the table. I felt my pussy stretch open as he added two more fingers to his assault. "You like that, you little piss slut?" he asked. I couldn't even talk. My head was spinning. I was covered in piss and begging for my cunt to be pounded. I nearly passed out when I came and collapsed when I was finished. When he finally pulled his hand out of my pussy, I felt empty. But, I loved it. I loved the whole experience.

I gathered my things, thanked John for giving me the key and headed back home. I went into the bedroom to start getting cleaned up, but as I walked past the mirror, the reflection caught my attention. My hair was wet and stringy, my eye makeup was smeared and my lipstick had been all but rubbed off. I looked beautiful. I continued to the bathroom and turned the shower on, smiling to myself, as I began replaying the afternoon's events in my mind. It's funny how some days do not end up anything like you had expected them to.


Filed under: Piss Stories
Posted on 01.08.16
Comments: None


Tags: pee story, pissing story