From Wetting Her Panties we have the wonderful Natalia. Natalia is a great star at Wetting Her Panties and in the past we have had some wonderful posts with her. If you have missed some of her previous wettings check out  Natalia Desperate And Pissing Her Knickers Topless Panty Peeing With Natalia X Peeing In Her Purple Knickers and Natalia X Peeing In Her Panties. Today Natalie is in her panties and so desperate to pee, she is holding her crotch and telling us that she is so busting she looks so sexy this desperate.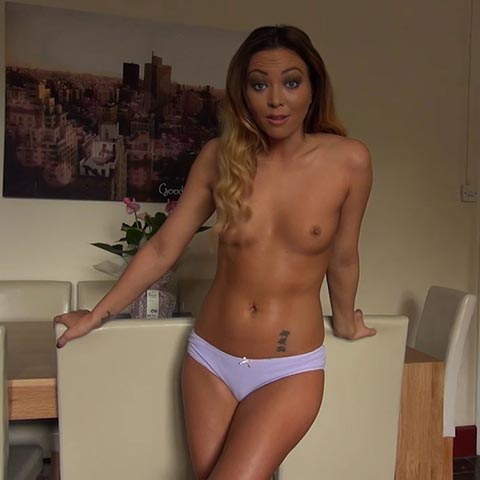 She grabs her crotch again and then as her hand is removed we can see that she is starting to pee in her panties. The crotch gets a little dark patch and then the pee patch grows till her piss is splashing through the saturated fabric and splashing onto the ground, we even get to look up at her piss dripping panties it is as if she is peeing in her panties over us.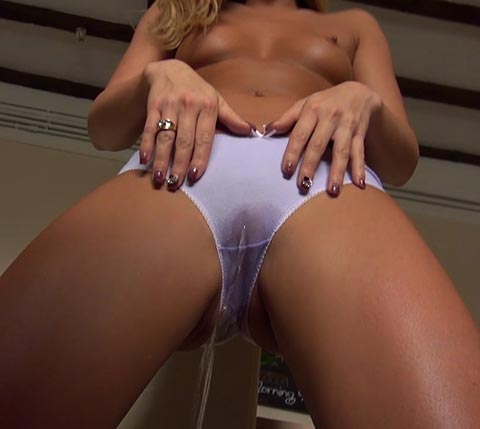 Natalia is soaking her panties in piss she turns around and we get to see her lovely little bottom with piss cascading between her legs. I love the look of her tanned legs with all the little pee rivers running down. This is a wonderful panty pissing from the knicker wetting masters Wetting Her Panties.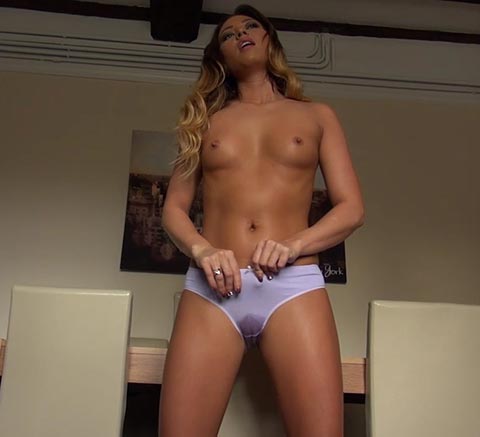 See Natalia Pissing Her Panties Here


Filed under: Babes Peeing and Desperation and Female Desperation and Knicker Wetting and Panty Pee and Peeing and Pissing and wettingherpanties
Posted on 01.30.15
Comments: 5 Comments


Tags: Desperate To Pee, Female Desperation, Knicker Wetting, Natalia X, Panty Pee, Panty Peeing, Topless Panty Pee, wetting, wettingherpanties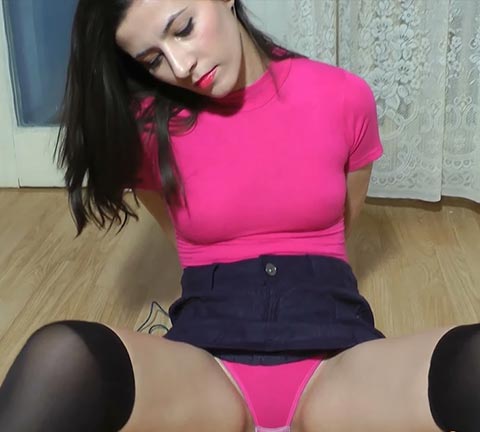 From Real Wetting we have the wonderful Debbie. We have had Debbie once before where she pees in her shorts in Debbie Pissing In Denim Shorts. Today she is in the floor and her hands are tied behind her back. She is in a short skirt and tight top with no bra she is squirming on the floor getting more and more desperate to pee. She looks so sexy as her skirt rides up to show her panties tight against her pussy.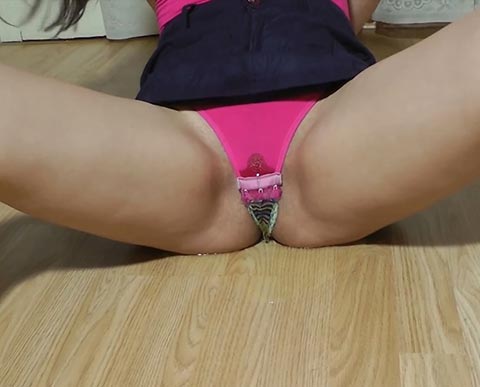 She has her skirt up and showing off her panties she is so desperate to pee and then it happens, the first spirts of pee soak into her panties. They are so tight against her pussy that her pee sprays out and starts to pool around her bottom. I do love seeing a hot chick sitting in a warm puddle of piss.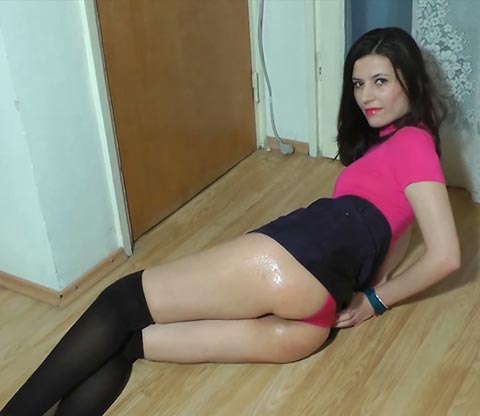 Debbie keeps on pissing in her panties and her pee puddle gets bigger and bigger, she is getting soaked. She finishes knicker wetting and her panties are just dripping she keeps trying to get out of her bounds but all this does is make sure that she gets more soaked in piss, she really is a wet and wonderful woman.

See Debbie Peeing Her Panties Here


Filed under: Babes Peeing and Knicker Wetting and Panty Pee and Peeing and Pissing and Pissing In Skirt and Real Wetting
Posted on 01.27.15
Comments: 3 Comments


Tags: Audrey's Wetting Site, bound pissing, Debbie Real Wetting, Knicker Wetting, Panty Pee, Panty Peeing, Real Wetting, Skirt Peeing
From Wet and Pissy we have three great picture sets Wet and pissy really is a great solo female wet wonderland. We starts with Nataly Wet and Pissy has written this about the scene "Nataly looks like an innocent school girl. After she pees through her skirt, she makes us believe she is a naughty school girl. Once she rests on the sofa, the real Nataly reveals herself – pulling up her skirt and lifting up her feet in the air to pee. She's not wearing any panties and her feet are fitted with a pair of high heel shoes. Nataly goes all the way, right away. She pumps out a series of squirts, wetting her face, her blouse, and her leg as she exhales excitedly. There's no limit to what she can do when it comes to peeing. She pees on the see-through chair from a standing position and then from a sitting position, directing her aim upwards against the back of the chair. She gives us more of this spontaneous behaviour, lifting her feet up into the air as she remains seated. Nataly pees two more times for us with her legs up in the air and one last time standing over a three tiered glass fountain." Super sexy and super wet see Nataly pissing Here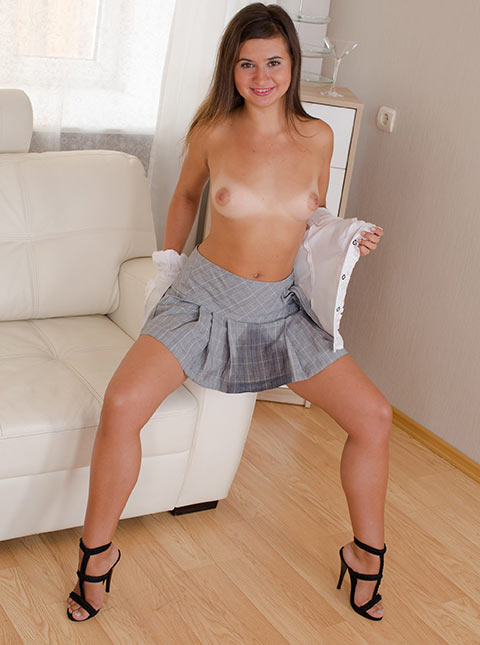 Next up we have Kira Queen. The story goes "Kira recently made her debut on Wet and Puffy and she was so popular we had to get her in for a watersports scene with Wet and Pissy. She decided to wear sexy white lingerie to contrast her jet black hair along with white sheer pantyhose. Kira pissed through her pantyhose and played with her golden juices using her feet. Soon, her sheer pantyhose became even more see through from the delicious piss. Pulling them down, she laid back and peed all over her stomach before catching her juices in a jug while releasing yet another piss. She decided to taste her yellow liquid before pouring it all over her big tits. Kira was so turned on that she had to finish herself off with a glass dildo." See Kira Queen Pissing Here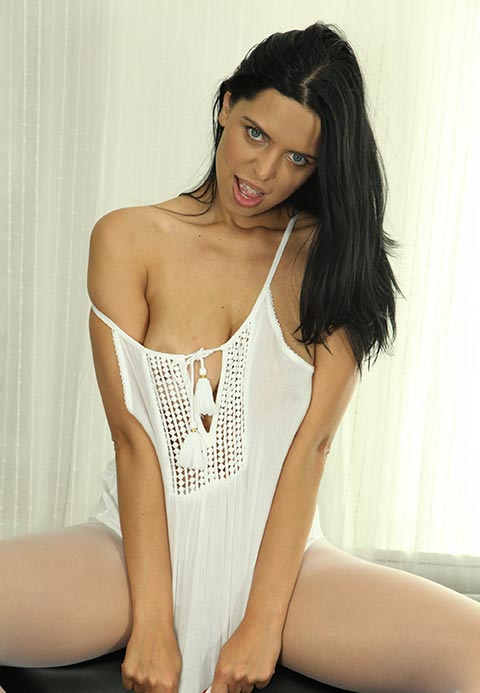 Last for today from Wet And Pissy we have Lara. "Lara is a hot babe with legs that go on for miles and she looks simply divine in denim hotpants and a little blouse. She pees through her hotpants on the sofa before taking off her skimpy outfit and catching another stream of piss in a glass bowl. She enjoys dipping her feet into her golden liquid and tastes he juices as she licks her toes. Lara even puts on socks to soak up her piss before squeezing it out over her slender body. Using a speculum, she gapes her pussy wide and pisses into a glass, tasting her goodness and finishes herself off by toying her pussy with a sex toy." See Lara pissing here.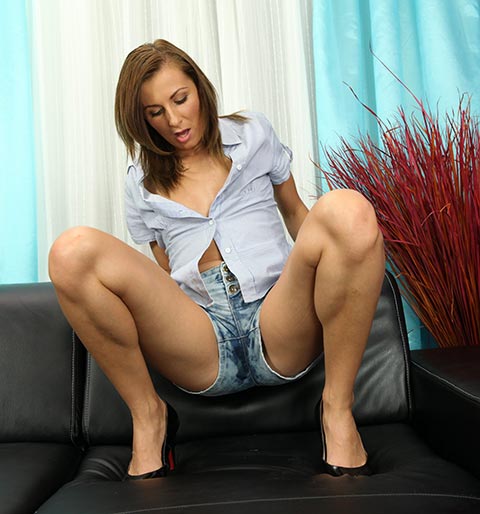 Visit Wet And Pissy Click Here


Filed under: Babes Peeing and Drinking Piss and Peeing and Pissing and Self Pissing and Wet And Pissy
Posted on 01.24.15
Comments: 2 Comments


Tags: Kira Queen Wet And Pissy, Lara Braun Wet And Pissy, Nataly Wet And Pissy, Piss Drinking, Pissing On Herself, Wet And Pissy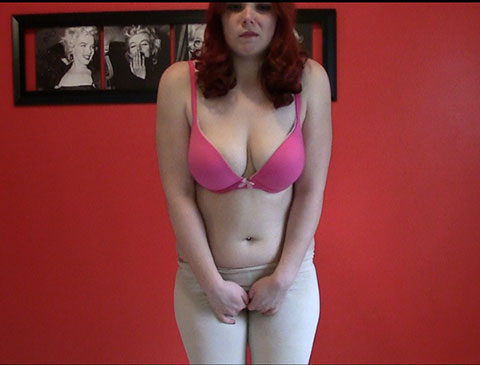 From Ineed2pee we have three great female desperation and wetting sets. We starts off with the lovely Tori Bell. The story goes "Tori Bell is your curvy hot webcam girl of choice but she doesn't know about your wetting fetish until now! You see her squirming to use the bathroom & subtly grabbing her crotch so you decide to offer her more "tip" money to NOT use the bathroom. Well she likes the tips but she's getting more & more desperate to pee as the minutes go on. You enjoy seeing her grabbing her crotch tightly & pulling up her thin spandex legging pants into her crotch area. She's wearing sexy pink panties that you can see through her leggings, visible panty line! You can't wait til she loses bladder control so you finally offer her a nice big tip for her to just let go and pee in her pants! She makes a huge pee puddle on her bare feet & the white tiles. The urine shows up really nicely on the spandex material" It is a great wetting scene. See Tori Bell peeing her spandex here.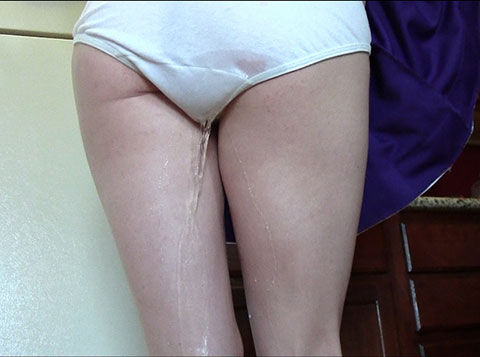 Next up we have Lauren Kiley. Lauren is desperate to pee and dressed in her cheerleader uniform. She lives next door and has locked herself out she asks to use the bathroom bit it is occupied. She stands in your kitchen squirming and grabbing her crotch till she just can't hold on and starts to pee in her panties. Her pee flows down her legs and even soaks into her shoes this is a wonderful panty pee. See Lauren Kiley Knicker Wetting Here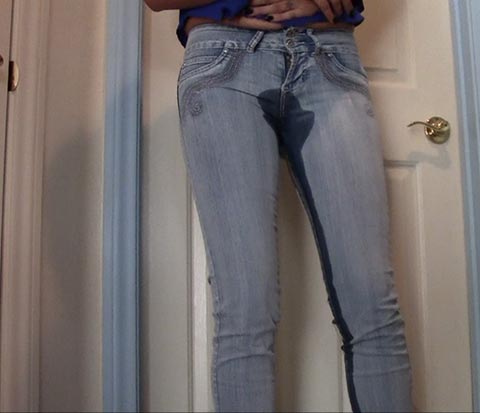 Last up we have Envii she is dam desperate to pee but is holding on as long as she can she is squirming and holding her crotch it is a wonderful sight to see her desperate in her skin tight jeans. She just can't hold on and starts to pee. Her pee stream flows down her legs and the skin tight denim shows off what a wet mess she has made of herself. See Envii Desperate and jeans peeing here.


Filed under: Desperation and Female Desperation and Ineed2pee and Jeans Peeing and Jeans Pissing and Knicker Wetting and Panty Pee and Peeing and Pissing and Pissing In Leggings and Pissing In Pants
Posted on 01.20.15
Comments: 7 Comments


Tags: Cheerleader Peeing, Desperate To Pee, Envii Ineed2pee, Female Desperation, Ineed2pee, Ineed2pee Tori, Jeans Pee, Jeans Peeing, Knicker Wetting, Lauren Kiley Ineed2pee, Panty Pee, Panty Peeing, Pissing In Leggings, Pissing Leggings, wetting
A Quick Lesbian Pee Story

It was Sabrina's 24th birthday, many years ago, and since she's my best friend, I'm on board. She broke up with her long-term boyfriend shortly before, and accordingly she was in a bad mood. We went out that night and she drank quite a bit. I didn't notice that during the evening, but when we finally went to the car late, she almost couldn't walk anymore. At the time I still thought she may just be tired and sleepy.

I drove us, and didn't drink a lot myself. I usually don't drink much, but it was her birthday, so I was a little tipsy. We were in my car, and Sabrina had brought something to drink "for the ride" – champagne, I think. Anyway, I'm driving her home, it's late, almost no cars on the road. I still know it had rained and the streets were pretty wet and shiny. Strange, the things you remember.

Sabrina's sitting next to me and I'm driving. She's rather quiet and I think she might have fallen asleep until I hear a strange noise. I turn to look and almost drive the car off the road. She's in the passenger seat and masturbates. Okay, I need to phrase this differently, else nobody will understand how crass it was: Sabrina is sitting there, her short skirt pulled up and is shoving the bottle up her cunt. Gotta say it like that.

I'm speechless and need to regain my self-control, and then look for somewhere to park. At first I didn't know what to say and everything I could think of was that I needed to get somewhere nobody could see us. Sure, at night, in the city, it's dark anyway, can't be that hard, can it? So I'm driving down a side street and look for a parking lot while Sabrina's fucking herself with the bottle and doesn't seem to notice me anymore.

When we come to a stop, she doesn't notice that either, that's how far gone she was. And what do I do? At first I want to yell at her, shake her, try to somehow, well, discretely, get her to stop. But all I'm doing is stare at her. It's dark, I can barely see anything. Just a streetlight somewhere shining on the bottle, which slides faster and faster into her cunt. I've never seen her like this. Actually, I've never seen her naked at all. She's all shaved and I can make out her labia as they wrap themselves around the neck of the bottle. She's moaning and mumbling something and presses the bottle deeper and harder inside herself. I remember thinking something like that's gotta hurt, but it didn't look like it.

I'm like hypnotized and she's squirming in her seat until she's sliding further down and pulls the bottle out again. I thought she finally stopped when I heard a faint prattle. At first I think it started raining again, but then I realize: Sabrina's pissing in my car. She's spread her legs wide and I can see a thick stream running out of her cunt. And what am I doing? I'm getting all funny like, feeling something I've never felt before, like I can now be whatever I want to be, do what I always wanted to do. So I'm reaching between her legs and feel her warm pee on my hand. My friend's pissing on me, peeing on my hand, and I love it. I'm rubbing her wet pussy as the stream subsides. I'm bending over her crotch where she's smelling strongly and start rubbing her labia with my hand. She's moaning and whispers my name. "Anna…"

I freeze. All this time I thought she forgot about me. But she knew I was there, she knew it was me reaching between her legs. "Just you wait," I thought. "Enjoy it!" Because the time had come for harder measures. I bend far across her and see the bottle laying on the floor. She must've let it fall. I reach for it and pick it up, it's all slippery and wet after being bathed in pussy slime and pee, and seems to be a little full still. I lick across the neck and taste Sabrina, almost as strong as she smells. Then I squeeze the bottle in the dark between her butt cheeks below her pussy and start to push.

No clue why I thought I could get it in like that, but Sabrina seemed relaxed enough and I wanted to show her, after she's played with me like that. So I pushed harder and harder and Sabrina held her breath, but pressed against it until I felt the tip of the bottle slide inside her. I started fucking her with it slowly and rub her clit along with it and she started moaning louder and louder. I remember being surprised, as I thought having a bottle in her ass would hurt more than it would feel good, but she was really getting into it. So I got harder and faster and fucked with the bottle into her asshole while I rubbed her clit. Then I bent down further and started licking her cunt while I continued to fuck her. It didn't last long, because soon after that I felt her shake all over her body and scream suddenly, when a warm stream hit my mouth. She had an incredible orgasm and squirted the rest of her pee into my face. I didn't know something like that was possible.

Sabrina collapsed moaning after that, the bottle still firmly in her anus. I pull it out slowly and sit back up, looking at her. She seemed satisfied. "Happy birthday," I thought.

When we reached her apartment, I almost had to carry her to the door. Inside, she fell on her pink leather sofa and didn't move a muscle. Normally I would've gone home then, but since the events in the car I wasn't normal anymore. So I think, since we had already begun to let it all out, I might as well do so myself. I dim the light and take off my panties, before climbing on the sofa with Sabrina and spread my legs across her face. Unlike her I don't shave "down there" – well, legs and so I do, but not the pussy – and my bush is poised right above her face.

I know she must've noticed, or at least smelled that I was there, but she's not moving. So I grab her long black hair and pull her head closer to my pussy. She's wimpering a little from pain, but doesn't struggle. "Lick me," I whisper and move her mouth to my labia. She starts moving her tongue a little along them and caress the clit, but doesn't seem to be fully there anymore.

That's when it got to me for the first time. "You little dirty sow," I whisper. "You little pig pissed on me while I fucked your arsehole. You like that, yes? You like being dirty?" I pull her hair back and hiss at her. "Open your mouth, cunt sow." Sabrina opens her eyees surprised and looks up at me, but actually opens her mouth.

I'm still surprised and excited myself when I think about what happened then. As I was typing this, I kept having to play with myself, but before I could continue here, I had to give it to myself first.

So Sabrina was opening her mouth, and as horny and wild as I had become I keep grinning at her sheepishly and suddenly can't do it right anymore, but suddenly something like electricity ran through my body, and I just let it out. I feel it pressing out of me and close my eyes at first. Then I'm looking down, where a broad stream from my wet piss cunt hits Sabrina straight in the face. It just keeps running out of me and her face, her hair, the sofa, her dress, everything gets soaking wet. And really, she's swallowing. The little pig swallows what I squirt into her face. It makes me so horny that I kept rubbing my clit like crazy and come almost instantly.

I pull her head into my crotch and press my cunt hard onto her face, so she'll remember, who treated her like this, so she could soak in my smell, my taste and smear my juice all over her. She doesn't seem to notice much of that anymore, and as I let go of her, she sinks down onto the sofa and starts snoring. Just fell asleep, wet as she is. I take my panties, leave the apartment quietly and drive home. Whatever was happening to me, I felt my life wouldn't be as it was before.


Filed under: Piss Stories
Posted on 01.16.15
Comments: 1 Comment


Tags: pee story, pissing story