From HD Wetting we have Ryan and Alisha. I am loving these two they have great chemistry and one can tell that they turn each other on.  Check out Lesbian Peeing Ryan And Alisha to see there wonderful lesbian pee antics. Today Alisha is on the bed asleep in her panties and a top. Ryan is awake and thinks it would be fun to test the hand in the water trick. We know that Alisha will wet herself  from this as she has had this done by Sosha in Alisha Peeing In The Bed where she really did not enjoy it.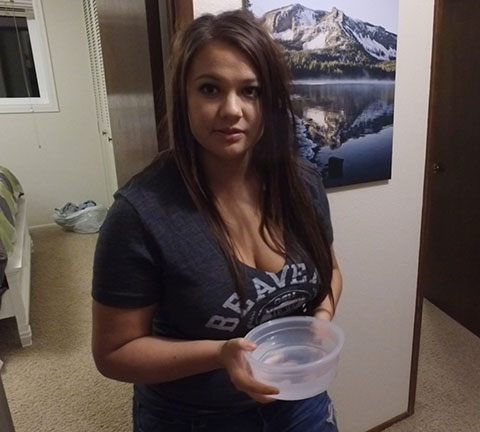 Ryann is holding a bowl of water and looking very pleased with herself, she walks into the room and as Alisha is sleeping she places Alisha's hand into the warm water she stands and waits. Alisha keeps on sleeping but starts to squirm a little she must be starting to dream how her bladder is bursting. She squirms a little more and then the grey of her panties gets a little dark patch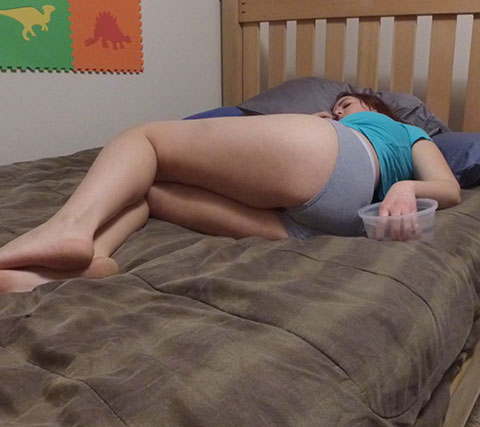 Alisha has started to pee in her panties, we can imagine that she is dreaming that she was busting to pee and has walked into the bathroom, pulled her panties down and started to piss in the toilet. Unfortunately for Alisha it is not happening like that, she is lying in her bed and peeing in her panties. As she is pissing the light grey fabric is getting darker and darker and now there is a pool of pee growing around her. She wakes up and finds that she is in wet panties and has Ryan watching her. She realises that she has peed in her panties and opens her legs and sees the mess she has made. Her pussy is encased in wet sopping panties. It is a pity that in this position Ryan doesn't place her hand in the sopping panties and masturbate here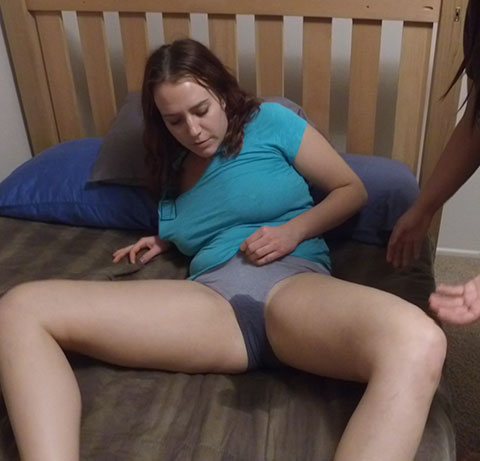 See Alisa Peeing Her Panties In Bed


Filed under: Bed Wetting and HD Wetting and Knicker Wetting and Panty Pee and Peeing and Pissing and Pissing Pictures
Posted on 03.03.17
Comments: 4 Comments


Tags: Alisha HD Wetting, Bedwetting, HD Wetting, Knicker Wetting, Panty Pee, Panty Peeing, Pissing In Bed, Ryann Rain HD Wetting, wetting, Wetting The Bed
From HD Wetting we have the wonderful Ryann and sexy Alisha. When we had the first introduction with Ryann in Two New Models Peeing At HD Wetting. I was really hoping that we would see more of this hottie and here we have her playing with Alisha, I'm sure Sosha will want to get into her at some stage too. We start off with Alisha and Ryann topless on the bed. They starts kissing and their breasts are mashed together. Ryann rubs Alisha's panty encased crotch and then Alisha tells her that she needs to pee and she wants to pee through her panties and soak Ryann in piss.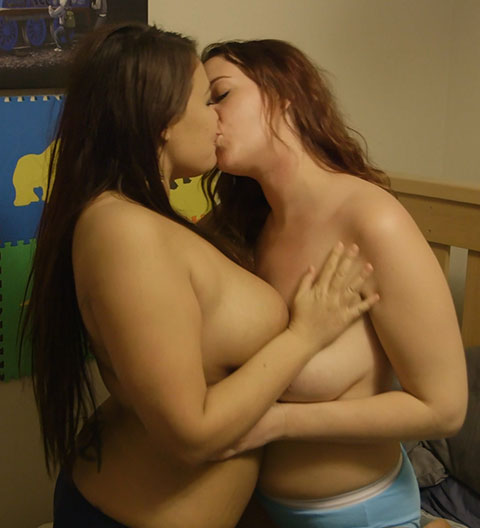 Ryan seems a little surprised but you can see that she is really turned on with the idea of Alisha pissing in her panties and having the hot piss splash all over her body. She lies down and Alisha sits over her Ryann starts to play with Alisha's breasts and then Alisha stands up, she is thin tight blue panties. As she is standing above Ryann she starts to pee.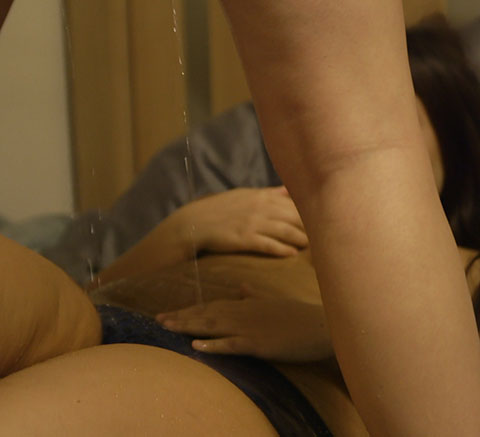 Alisha is peeing in her panties over Ryann, the light blue cotton is going dark and there is piss cascading through and splashing on Ryann's belly, it is running down and soaking her panties too. Ryann is lying there and looking like she is in heaven. She is touching her breasts as the warm piss soaks in around her. Alisha finishes pissing in her panties and then lies down with Ryan and starts to kiss her breasts and finger her. Alisha is fingering Ryann while she is still in her piss soaked panties. Ryann ends up cumming on Alisha and then she takes her piss soaked panties down and we get to see Ryann's pissy pussy. This is a wonderful panty pissing lesbian scene and I can't wait till we have Ryan pissing all over Alisha and making her cum too.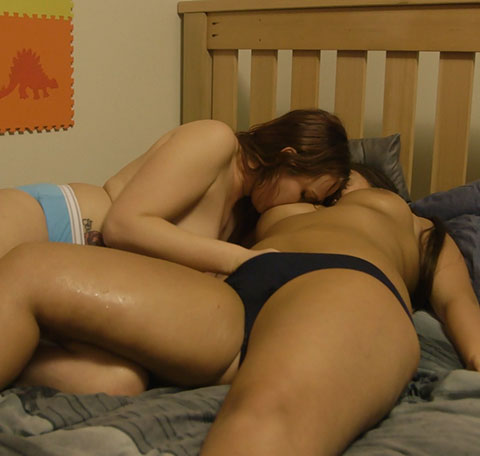 See Alisha Peeing On Ryann Click Here


Filed under: Babes Peeing and HD Wetting and Knicker Wetting and Lesbians Peeing and Panty Pee and Peeing and Pissing and Pissing Pictures
Posted on 02.13.17
Comments: 2 Comments


Tags: Alisha HD Wetting, HD Wetting, Knicker Wetting, Lesbians Peeing, Panty Pee, Panty Peeing, Ryann Rain HD Wetting, Topless Panty Pee, wetting
From HD Wetting we have three sets of pictures with two new models peeing. It is always nice to see new faces and of course new ladies soaked in pee. We start off today with Ryan the story from HD Wetting goes like this "As she arrives home, Ryann Rain is already desperate to pee.  She explodes through the front door, tossing her keys aside, and runs straight towards the bathroom.  Just then, the phone starts to ring and she freezes.  Even though she is desperate to pee, this could be an important call.  She decides to answer it. Squeezing her legs together to help hold in her pee, she briskly walks to the phone and answers it- It turns out it is just her mother, calling to chat.  Unfortunately for Ryann, ending a conversation with her mom isn't easy.  Despite her best efforts to get off the phone, she seems unable to bring the conversation to a close.  Instead, she stands in the living room, crossing her legs, extremely desperate to pee. The conversation drags on and on.  Ryann is more desperate than ever to bring the conversation to a close so that she may use the bathroom.  Just then, the unthinkable happens- A large squirt accidentally escapes, wetting her jeans.  Still desperate, she presses her legs together as hard as she can, determined not to leak anymore.  As all this is happening, she is trying to pretend like everything is alright, continuing the conversation with her mother. Despite leaking, she is more desperate than ever to pee.  It isn't long before she can't hold back any longer.  Still on the phone, she succumbs to the waves of desperation emanating from her bladder.  Completely helpless to stop it, she pees in her jeans, completely soaking them.  Multiple streams erupt through the denim and run down her legs as a large wet stop spreads out and down from her crotch.  A look of horror appears on her face as she wets her pants, still pretending as if everything is fine on the phone. Finally, she is able to get off the phone, but only after it is much too late.  Having completely peed herself, she slowly walks away from the phone to go clean up.  As she walks away from the camera, we get a better look at just how wet her jeans got and are able to more fully appreciate just how desperate to pee she must have been." A great wetting from HD Wetting and I do hope we see more of this cute wetter in the future See Ryann Peeing Her Jeans Here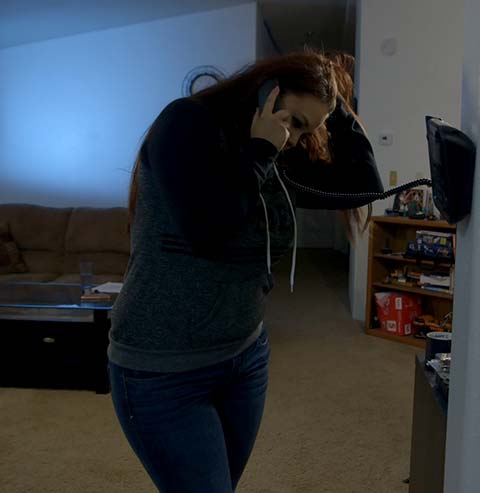 Next up we have Melissa. The story from HD Wetting goes like this "Not a professional model, Melissa truly loves wetting her pants.  A fan of HD Wetting, she was excited for a chance to be featured on the site in her own videos. For this video, we bought Melissa a large coffee, then spent a long while driving to a secluded forest location.  By the time we got there, Melissa was absolutely bursting.  Still, she had to wait.  We had to get the camera set up and a microphone on her before she could pee. Even though she loves wetting, until now it had only been something she had done on her own.  This was the very first time that she has intentionally wet her pants in front of someone else, let alone on video.  Luckily, she was truly desperate to pee, so letting it all go came easily. The camera went in for a close up as she peed and you can see every exquisite detail.  The wet patch on her faded jeans is clearly visible as it spreads down her legs.  It is obvious how shy and embarrassed she is, but also from the giant smile on her face we can see just how much she loved it." A great outdoor wetting and I love the fact she has no bra on and we can see her hard nipples poking through. She has the look that we will be seeing some kinky peeing fun with her in the future. See Melissa Peeing Her Jeans Here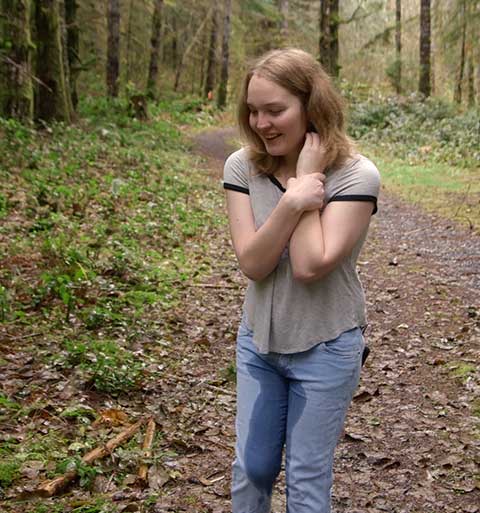 Last up we have Ryann's first wetting the story from HD Wetting goes like this "This is the very first wetting video we every shot with Ryann Rain.  Never before has she peed herself while being filmed.  As a result, she is more than a little bit embarrassed throughout the video. At the start of the video, we find Ryann in her living room.  She is wearing a black shirt and white leggings.  Talking directly to the camera, she discusses how badly she needs to pee, and contemplates if she really wants to pee in her leggings, or perhaps go to the bathroom instead.  The whole while she is considering this, she grows more and more desperate. Suddenly she gasps and looks down.  It seems her bladder has made the decision for her.  She is leaking into her leggings.  The camera zooms in for a close up and Ryann pees.  Her white leggings grow transparent as they become soaked, pee running down both her legs.  It feels so good to her that she can't help but get turned on. After she is done peeing she is so horny, she can't stop touching herself.  Even though she is embarrassed and her leggings are soaked, she masturbates right there, in the middle of her living room, as our camera records.  After a couple minutes she climaxes and the video comes to a close." I do love seeing a piss soaked chick masturbating till she cums. See Ryann's first wetting Here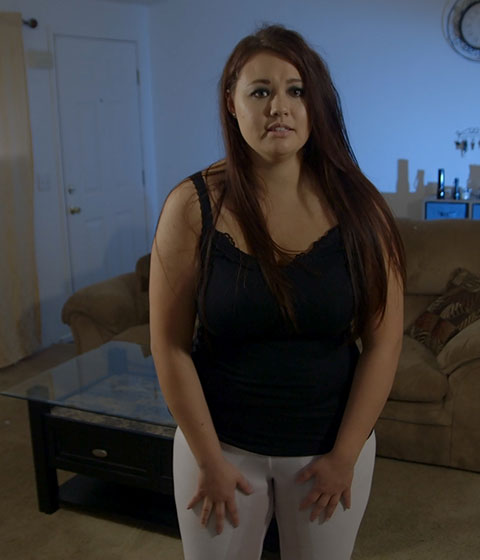 See Ryann Pee And Masturbate Here


Filed under: HD Wetting and Jeans Peeing and Jeans Pissing and Outdoor Pissing and Peeing and Pissing and Pissing In Leggings and Pissing In Pants and Pissing Pictures
Posted on 12.10.16
Comments: 6 Comments


Tags: HD Wetting, Jeans Pee, Jeans Peeing, Melissa HD Wetting, pants peeing, Peeing Pants, Pissing In Leggings, Pissing Leggings, Ryann Rain HD Wetting, wetting