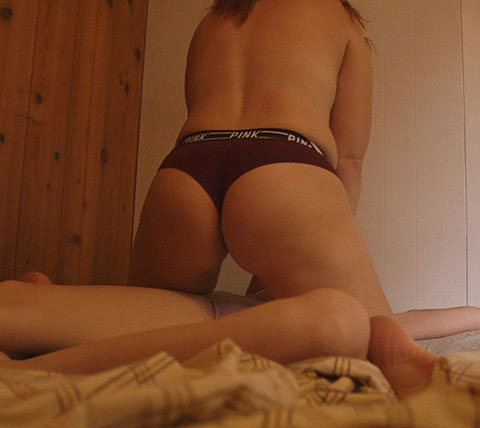 From HD Wetting we have the wonderful Alisha and sexy Sosha from HD Wetting. These two really have been getting hotter and hotter together lately. I feel in the beginning when they started doing lesbian pissing scenes at HD Wetting they seemed shy and unenthusiastic but now they really do get into the lesbian pissing. Today they are in bed with full bladders in their panties. They start to kiss and strip their tops off Alisha starts to play with Soshas titties and then Sosha starts on Alisha's they keep on kissing and then in her panties Alisha straddles Sosha.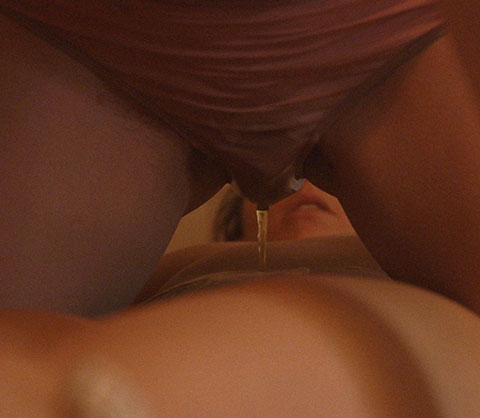 Alisha is above Sosha she is feeling so full and turned on and then she starts to pee into her panties. Alisha's ass looks so good in this shot all round and bouncy and then she is pissing in her panties and her pee is soaking into the cotton and splashing on Soshas belly. As Alisha is pissing her pee is pooling on Sosha and she looks like she is about to cum from the warmth.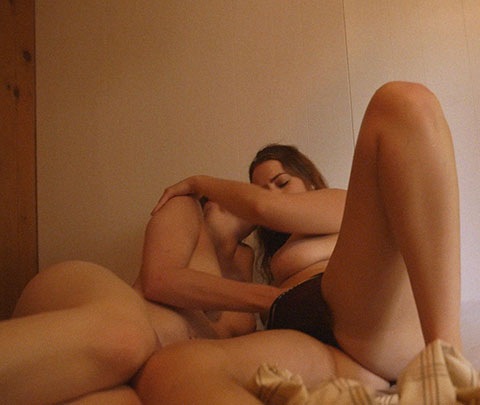 Sosha soaked in piss straddles Alisha and then in her piss soaked panties starts to pee too. Her panties are so full of piss they are sagging. Sosha is covering Alisha in her warm piss. She finishes pissing and then lies back for Alisha to lick her till her pissy pussy is cumming. She then jambs her hand down Alisha's panties and fingers her till she is cumming in her piss puddle too. A super sexy lesbian panty pissing

See The Lesbian Panty Pissing In Bed Here


Filed under: Bed Wetting and HD Wetting and Knicker Wetting and Lesbians Peeing and Panty Pee and Peeing and Pissed On and Pissing and Pissing In Bed and Pissing Pictures
Posted on 12.05.17
Comments: None


Tags: Alisha HD Wetting, HD Wetting, Knicker Wetting, Lesbians Peeing, Panty Pee, Panty Peeing, Peeing Pictures, Sosha HD Wetting, wetting
From Real Wetting we have the wonderful wetter Gemma. We have had her wetting for us in the past in some great scenes. If you have missed seeing her pee for us previously check out Gemma Peeing In Her White Pantyhose – Gemma Peeing In Her Tight Jeans – Gemma Skirt And Pantyhose Pissing and Gemma Pissing In Her Pants she really does love wetting and her bottom looks so good in tight soaked clothing. Today she is dressed in a dress in shear pantyhose she needs to chop some wood for the fire. Before she even picks up the axe she is so desperate to pee.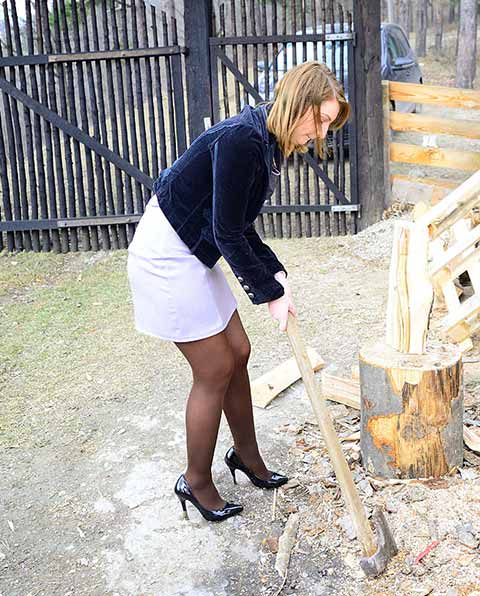 She bends down and her skirt tightens against her bottom, her bladder is getting squeezed and she needs to pee bad. Gemma she goes to pick the axe up and as she does she starts to lose control of her bladder and some pee stars to drip into her pantyhose. Her pee drips start to turn into a river and her piss starts to gush out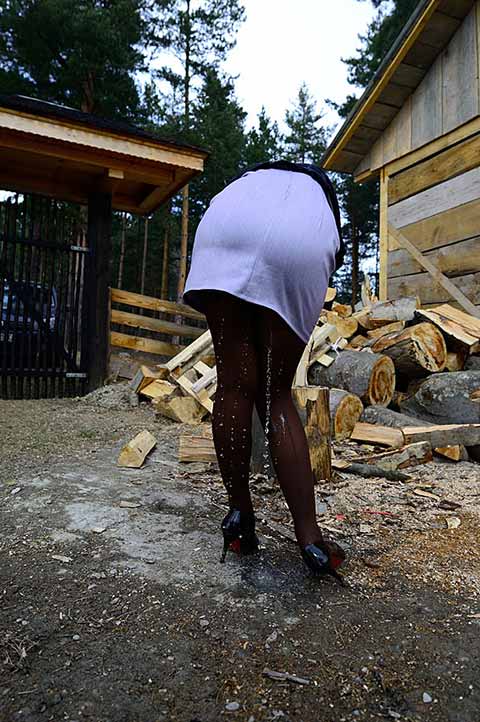 She is pissing in her dress and pantyhose and she has piss running down her legs and it is soaking into her shoes. This is one wet mess she is making. She keeps on peeing herself till her bladder is empty and then she stands up dripping piss. Gemma lifts her dress up and we can see her soaked pantyhose and then she pulls them down and we get to see her wet panties too. Another wonderful wetting from Gemma of Real Wetting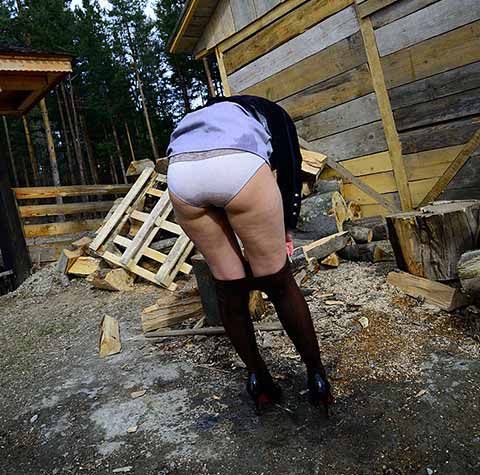 See Gemma peeing In Her Dress And Pantyhose Here

Filed under: Dress Peeing and Knicker Wetting and Outdoor Pissing and Panty Pee and Pantyhose Pissing and Peeing and Pissing and Pissing In Skirt and Pissing Pictures and Real Wetting
Posted on 11.23.17
Comments: 1 Comment


Tags: Gemma Real Wetting, Panty Pee, Panty Peeing, pantyhose peeing, Pantyhose Pissing, Peeing In Dress, Peeing Pictures, Pissing In Skirt, Real Wetting, Skirt Peeing, Stockings Pee
From Vipissy we have three great lesbian peeing sets. We start off with Anabelle and Bree Haze. The story from Vipissy goes like this "While doing some home improvements, Anabelle receives an unexpected visit from her girlfriend, Bree Haze. Bree is feeling very horny and starts to undress Anabelle, before she catches Anabelle's golden piss in a giant goblet. These girls share a taste of these juices, and pour it all over themselves. Getting even more turned on, the pair share some intimate pussy licking action and golden shower fun. Grabbing hold of a strap-on, Bree enjoys getting her pussy filled then they switch, finishing off with another taste of pee!" A great golden lesbian piss party. See Anabelle And Bree Haze peeing Here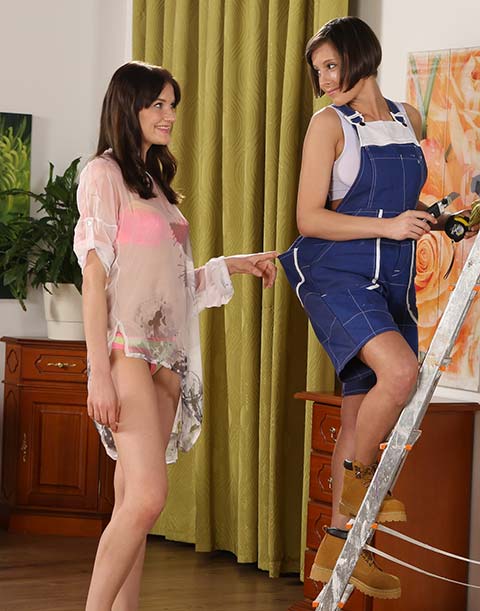 Next up we have Dafne and Naomi. The story from Vipissy goes like this "Hot blonde Naomi and her dark haired friend Daphne are in the bedroom and Naomi starts to massage her girlfriend's feet. Soon, she is pissing over Daphne's back and these two horny girls kiss. They swap positions and Daphne sprays her golden juices over Naomi's white tank top, turning it see-through. Pissing into a goblet, the pair taste their piss and after some pussy licking and fingering, they get out a black dildo and magic wand vibrator to tease each other with during even more piss play!" Two great lesbians licking and drinking piss. See Dafne and Naomi Peeing Here

Last up we have Barbe and Doroty. These two lesbians start of dry but then the lesbian pee action begins they lick each other's pussies and then drink piss. They get so turned on that out comes a double dildo which they play with together. After having orgasm after orgasm there is more pee to play with. A wonderful lesbian scene. See Barbe and Doroty Peeing Here


Filed under: Babes Peeing and Drinking Piss and Lesbians Peeing and Peeing and Pissed On and Pissing and ViPissy
Posted on 05.24.16
Comments: 1 Comment


Tags: Anabelle Vipissy, Barbe Vipissy, Bree Haze Vipissy, Dafne Vipissy, Doroty Vipissy, Lesbians Peeing, Naomi Vipissy, Peeing Pictures, Piss Drinking, ViPissy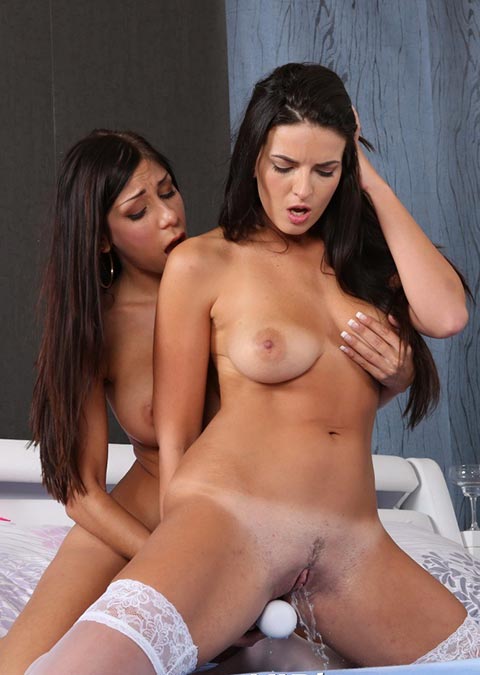 Vipissy brings us some wonderful lesbians playing and peeing. We starst off with Cynthia & Rachel Evans. The story from Vipissy goes like this. "Stunning dark haired Cynthia comes into the bedroom of Rachel Evans in a dressing gown and stockings. She is feeling really horny and starts to strip, to reveal her white lingerie. She wakes up Rachel and starts to play with her pussy before Rachel pisses into Cynthia's mouth. She enjoys every single drop and spits it over Rachel's big boobs. Soon both babes are naked and Cynthia gets the favour returned as her pussy is fingered and licked. Cynthia sprays her golden piss all over Rachel while she is being fingered and the bed is completely drenched in piss. They capture piss in a cocktail glass before they playfight with each other and the grand finale of this seductive scene includes Rachel toying her pussy with a magic wand vibrator!" See The lesbian peeing Pictures Here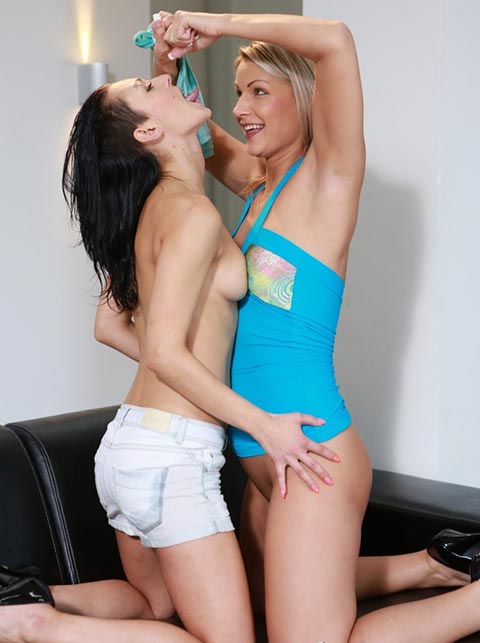 Next up we have Kara & Samantha Jolie. The story about their pissing endeavours goes like this "Gorgeous blonde Samantha surprises her friend as she is reading by pissing all over her head. This is a welcome surprise and brunette Kara really enjoys being showered in golden pee. These beautiful babes start to kiss and continue their piss play as Samantha laps up the piss from now naked Kara's pussy. Feeling even hornier, each girl enjoys some pussy licking and fingering fun before Samantha moves onto a glass dildo. She pisses all over it and sprays her friend with even more of her juices. Between these two watersports loving babes, they take turns in dildo play and finish off an exciting lesbian session by catching their pee in a goblet and tasting it! They both look very satisfied with their afternoon!" See These two hotties peeing here

Last up we have Aika Mai & Vanessa Twain. a great lesbian pee the story from Vipissy goes like the "Vanessa loves to surprise Aika, and leaving her prudent gifts is one of her favourite of doing so. Aika busily fondles her gift as Vanessa enters the room. Aika has no problem being the centre of Vanessa's affection, laying comfortably in bed as Vanessa fulfills her needs. Aika soaks in every rub, stroke, and lick that Vanessa provides to satiate that need. The pissing begins with Vanessa hanging from the canopy bed. She's confident in her act, but she's amenable to Aika's reciprocations. The bond between them is unmistakable as Aika lays onto Vanessa and raising her legs upwards as Vanessa tucks them underneath her own legs. After Aika straps on her gift, she shifts it aside for some more pissing. Aika continues to show just how much Vanessa's actions turn her on. Her body, at the mercy of Vanessa, quivers her leg frantically before she drops from the exhaustion. For the final act, the girls come together in the middle of the bed to piss simultaneously onto the bed and each other." See these two lesbians peeing here.


Filed under: Babes Peeing and Drinking Piss and Lesbians Peeing and Peeing and Pissed On and Pissing and ViPissy
Posted on 12.18.15
Comments: None


Tags: Aika Mai Vipissy, Cynthia Vipissy, Kara Vipissy, Lesbians Peeing, Peeing Pictures, Piss Drinking, Rachel Evans Vipissy, Samantha Jolie Vipissy, Vanessa Twain Vipissy, ViPissy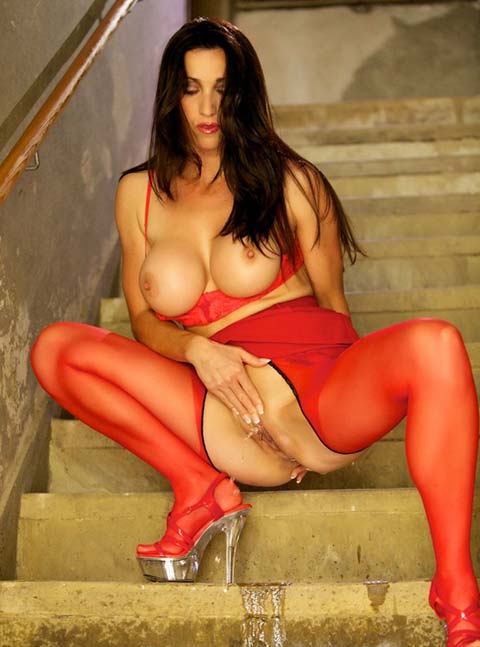 Its been a long time since we have a post featuring the sexy Miss Hybrid. Miss Hybrid Really is one sexy woman and to see her pee is just wonderful it is just a pity that peeing is a small focus to her wonderful website. First up we have her in her red lingerie on the stairs we have had the same location in Miss Hybrid Peeing Again. Today to start she poses and shows off her lovely shaved pussy, she stands there and starts to piss her piss stream is golden and her pussy has a wonderful sparkle as she is pissing. By the time she finishes peeing the stairs are soaked. See Miss Hybrid Peeing On The Stairs Here.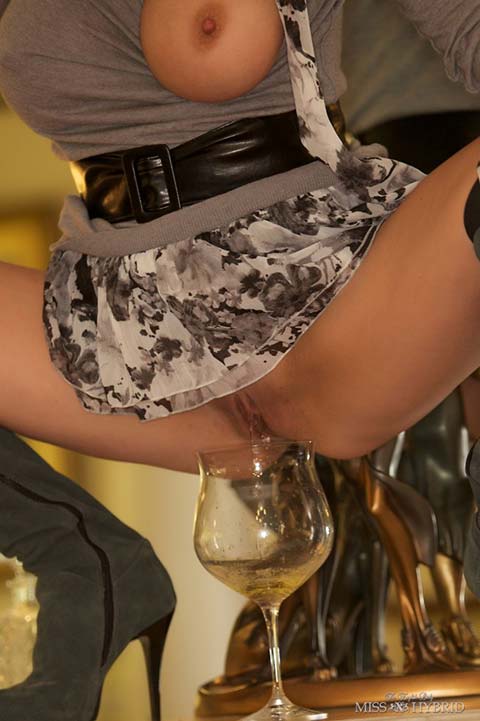 Next up we have her inside and posing in a short skirt, she bends over and flashes her panties she really is being cheeky. She strips her panties off and flashes her pussy and then when we are thirsty she squats over a glass and starts to pee. Her pee is lovely and golden and I bet some would love to drink her golden nectar. See Miss Hybrid Filling A Glass With Pee Here.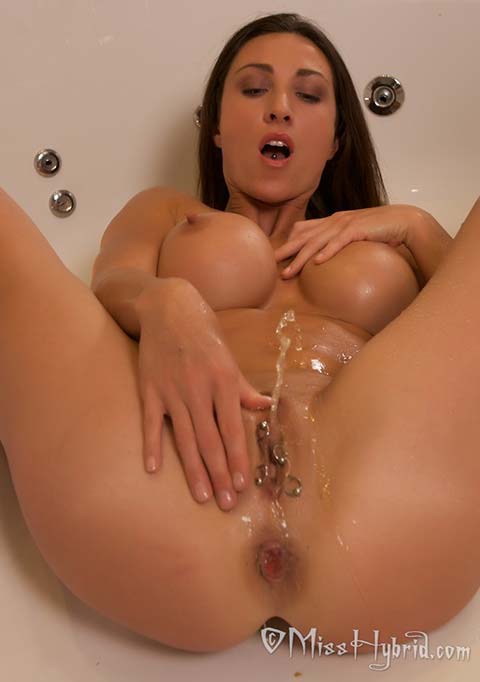 Last up we have Miss Hybrid in the bath and who wouldn't want to play with her in the bathroom she really does look so playful and her breasts are wonderful. After giving us a strip show she holds her crotch, squats down in the bath and releases her bladder. Her piss sprays out and splashes in the bath and on herself, her beautifully tanned body is glistening in her piss, what a wonderful position she is in. See Miss Hybrid Peeing In The Bath Here.
Visit Miss Hybrid's Website Here




Filed under: Miss Hybrid and Peeing and Pissing
Posted on 08.30.14
Comments: 6 Comments


Tags: Lingerie Pee, Miss Hybrid, Peeing Pictures, Pissing, Pissing In Bath, Pissing In Glass
From Peehunters we have a pissing movie and some peeing pictures. I think this is the first time we have had a Peehunter's post. We start off with the peeing movie starring a lovely hottie. She walks into the bathroom in a dress and has her hand holding in her crotch looking a little desperate to pee she even bounces a couple of times. She really does look sweet and innocent and then she looks at the camera and pulls up her dress, she is not wearing any panties and we get to see her shaved pussy. She pulls her dress off and is naked with lovely bouncing breasts. She climbs into the bath and is ready to pee.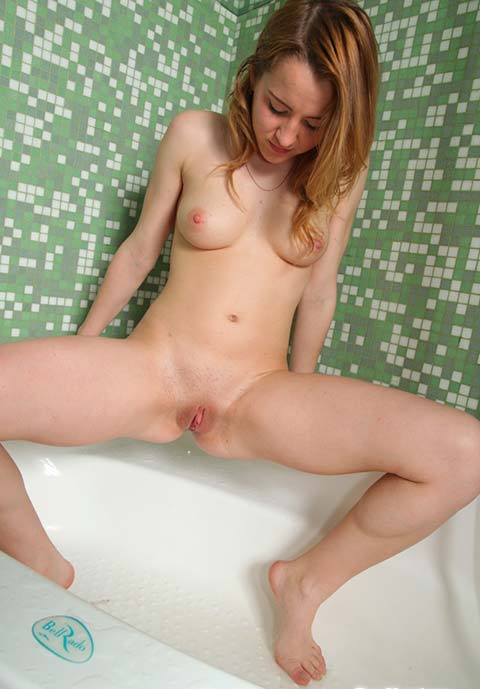 As she starts to pee in the bath and we have a wonderful close-up shot of her pussy peeing. Her pee stream starts off slow a few dribbles and then she opens her pussy we can see her pee hole and her pee starts to spray out such a sexy and messy bathtub pee i just love all the drips that are running down her legs. See the bath tub pee here.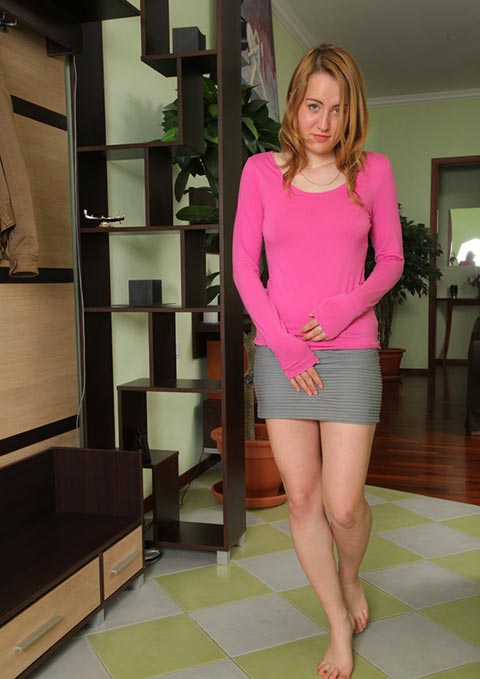 Next up we have the same peeing hottie this time she is in  a top and skirt and is desperate to pee she slowly strips off her dress and skirt till she is naked showing us her shaved pussy and lovely breasts she holds her crotch and then squats ready to pee. She opens her pussy and starts to pee on the floor, her pee is splashing on the ground making a wonderful puddle, she keeps on peeing and her pee is running down her bum crack too I do love a messy peeing. She finishes pissing on the floor and we get a last shot of her wet pissy pussy what a great sight. See the pissing on the floor pictures here.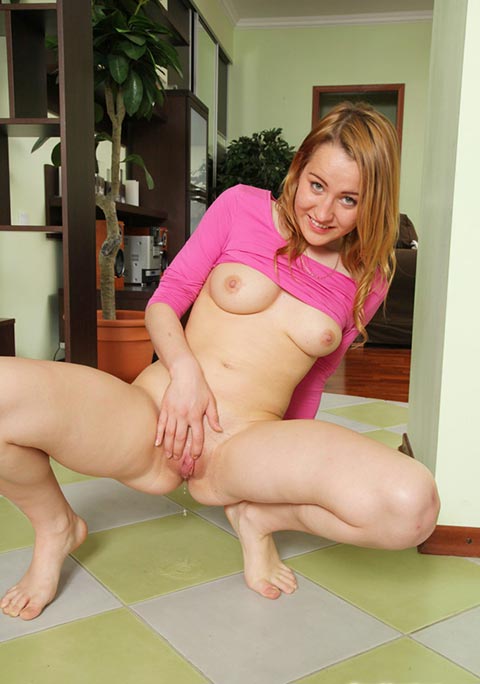 Filed under: Babes Peeing and Movies and Peehunters and Peeing and Pissing and Pissing Movies and Pissing Videos
Posted on 08.19.13
Comments: 4 Comments


Tags: Nude Peeing, Peeing Pictures, Piss Movie, Pissing Movie, Pissing Pussy