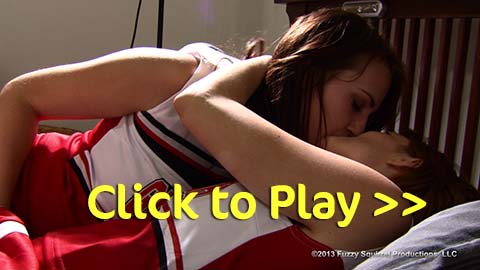 From HD Wetting we have a great lesbian cheerleader wetting movie starring Sosha and Alisha. They have come home from cheerleading practice and are horny. They get in bed still in their uniforms and start to make out. They are kissing passionately and then Alisha needs to pee, she has been holding on all through practice waiting for this moment. She lifts her skirt to expose her grey panties and we can see her bladder is bulging she really needs to pee.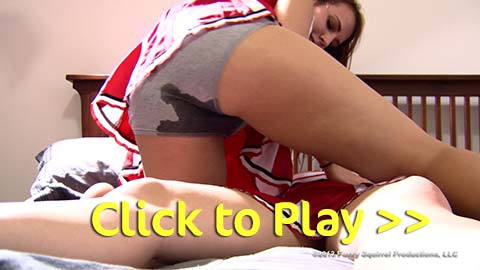 She has lifted her skirt and with her panties on show she moves so she is above Sosha. They are both so horny and then Alisha starts to pee into her panties all over Sosha. The grey of her panties goes dark and the warm pee soaks into the fabric. Sosha's cheerleading skirt is getting soaked. Alisha moves so she is now kneeling over Sosha and she is still pissing what a wonderful sight.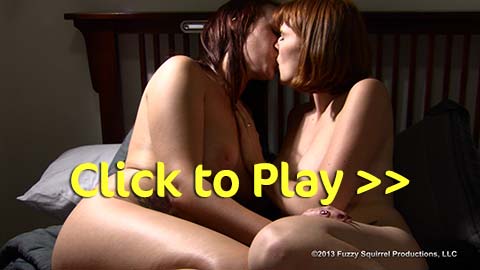 Alisha finishes peeing on Sosha and is so turned on. Sosha is pissy wet and the bed under her is damp too. They starts to inspect their wet uniforms and then strip them off showing us there pissy bodies. Now there is no stopping them, they are so horny after their piss play that they start to kiss and make out again. A super lesbian cheerleader panty peeing movie.

See Alisha And Sosha Cheerleader Panty Pee


Filed under: Dress Peeing and HD Wetting and Knicker Wetting and Lesbians Peeing and Movies and Peeing and Pissing and Pissing In Bed and Pissing In Skirt and Pissing Movies and Pissing Videos
Posted on 10.19.16
Comments: None


Tags: Alisha HD Wetting, Cheerleader Peeing, HD Wetting, HD Wetting Movie, Lesbians Peeing, Pissing In Bed, Pissing In Skirt, Skirt Peeing, Sosha HD Wetting, Uniform pee
From HD Wetting we have the lovely Sosha and Mary Jane. I really enjoyed seeing Mary Jane at HD Wetting with Sosha they had some great lesbian peeing scenes. She hasn't been around for a while and I hope that she hasn't moved on for good like it seems Mikki has. It would be great to see Mikki and Mary Jane peeing together but that is getting off track. We have had Sosha and Mary Jane before in Bed Wetting Lesbians And Jeans Peeing and the pictures from today's movie were posted in HD Wetting Lesbian Peeing. Today Mary Jane is in the bath and Sosha walks in. Just look at Mary Jane her nipples are already hard and she is rubbing her pussy what a sexy girl.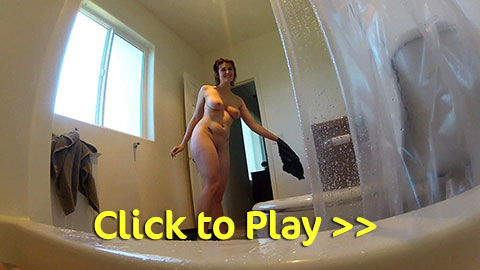 Mary Jane is horny Sosha walks over and starts to rub her pussy, she then strips off her clothes and naked she gets into the bathtub with the horny Mary Jane. We are getting great shots as they have a camera in the bath and we get to see Sosha's lovely round breasts too. Sosha starts to rub Mary Jane through her panties and we can see she is loving it, her nipples are getting harder and harder and then Sosha needs to pee.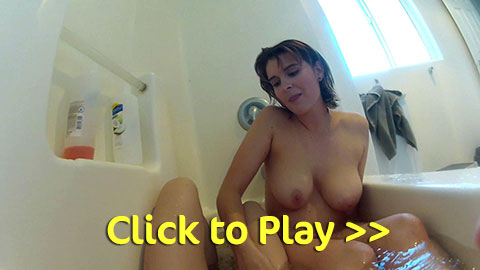 Sosha needs to pee so she gets out of the water and shows her shaved pussy and squats over Mary Jane this is what HD Wetting is missing at the moment hot lesbian piss scenes. Sosha squats and starts to pee, she is peeing over Mary Jane and into the bath water. When Sosha finishes peeing she gets back into the bath and then we get to see Mary Jane rub herself till she cums. Sexy lesbian peeing with two hot and horny ladies.

Filed under: HD Wetting and Lesbians Peeing and Movies and Peeing and Pissing and Pissing Movies and Pissing Videos
Posted on 02.05.15
Comments: 1 Comment


Tags: HD Wetting, HD Wetting Movie, Lesbians Peeing, Mary Jane HD Wetting, Pissing In Bath, Pissing Movie, Pissing Movies, Sosha HD Wetting
From HD Wetting we have the first Cheerleader peeing from HD Wetting. HD Wetting has been around a long time now and there are over 480 movies but this seems to be the first cheerleader peeing. There is something so sexy seeing a hottie in a cheerleader uniform, getting a flash of their panties and then to get to see them peeing in hither panties it's just wonderful. Alisha and everyone's favorite Sosha are in bed having fun but Alisha needs to pee bad we have been in this situation with HD Wetting before and these two really are getting more and more kinky.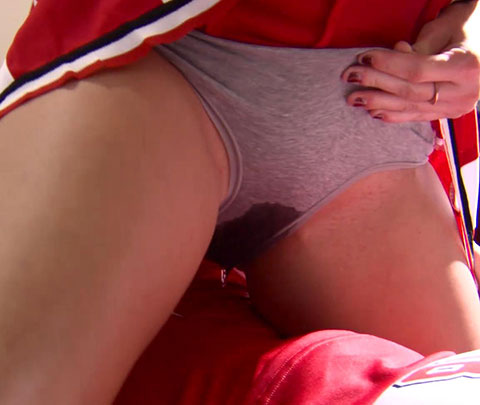 Alisha is making out with Sosha she is in her cheerleader's uniform and is desperate to pee, she lifts her uniform up to show her grey panties they are encasing her crotch tightly. Alisha needs to pee she kneels over Sosha and then starts to pee. Her panties instantly go dark and her pee gushes through the crotch of her panties and starts to splash on Sosha.  Sosha's cheerleader uniform is getting soaked you can see that it is making a big puddle on her, as Alisha keeps peeing the wet pee patch in her panties grows and grows this is super-hot a cheerleader peeing on another what a wonderful fantasy. See Alisha Peeing On Sosha Here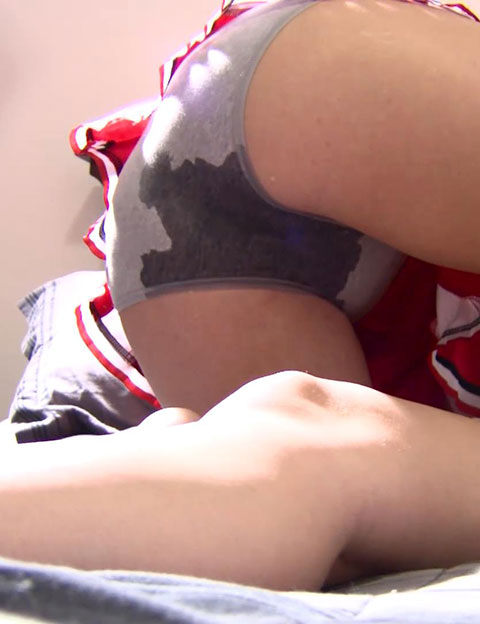 Last up to finish off I found that we had not had this short desperation and wetting movie starring the very Sext Mikki., It is a shame that Mikki seems to have moved on from HD Wetting as she and Alisha would have been great to see together. In this peeing movie Mikki is waiting at the bus stop and is desperate to pee she hold on and on but is to desperate and while we miss a lot of the desperation in this clip we get to see as Mikki pees in her pants. Her pee runs down her legs fully soaking her, people must have noticed what she is doing as she sits down trying to hide it.  It will be great if we get some public wettings from Alisha in the future but for today enjoy Mikki desperate and peeing in her pants in public.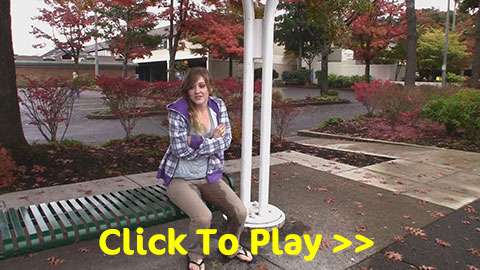 Watch Mikik Peeing In Her Pants


Filed under: Babes Peeing and HD Wetting and Knicker Wetting and Lesbians Peeing and Movies and Outdoor Pissing and Panty Pee and Peeing and Pissing and Pissing In Pants and Pissing Movies and Pissing Videos
Posted on 10.01.13
Comments: 5 Comments


Tags: Alisha HD Wetting, Cheerleader Peeing, HD Wetting, HD Wetting Movie, Knicker Wetting, Mikki HD Wetting, Panty Pee, Panty Peeing, Pissing Movie, Sosha HD Wetting, wetting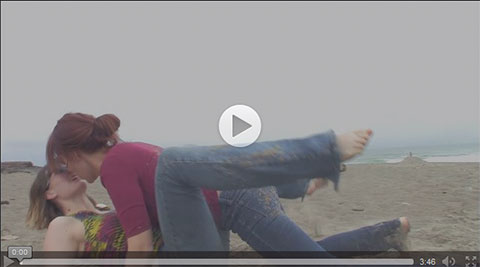 From HD Wetting we have a great preview movie and some lovely lesbian jeans wetting. We start off with the HD Wetting movie preview. After watching it I had to post it, it has shots from all the latest scenes we have had some of the screenshots from the scenes here already but they can never compare to the great wetting action that a HD Wetting movie can show. There is something wonderful about HD Wetting, Sosha and Alisha are just naturals we could see that Alisha was nervous in the beginning but with Sosha guidance she really is getting into it. I just love it when she pees she looks so hot in soaking clothes. Sosha is not everyone's cup of tea it seems from some of the comments here but she has great breasts and when she is licking pee off Alisha well wow. See the HD Wetting Trailer Movie Here.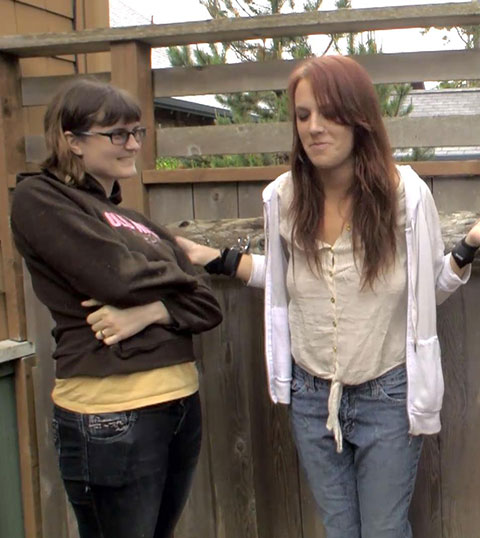 Next up we have some jeans peeing. Sosha has tied Alisha up, she is desperate to pee but as we know Sosha has a mean streak. Alisha gets more and more desperate to pee squirming around and desperately trying to hold on. This movie reminds me a little of when Sammy was ties up and tickled by Mikki till she peed in Sammy Tickled Till She Pees. Sosha is tickling Alisha and we get to see her breasts bounce around, the tickling gets to much and Alisha can't hold on and starts to pee in her jeans in front of Sosha. The denim goes dark as she releases her pee and as it runs down her legs the denim clings to her skin we even get the lovely pissed in jeans shine. Alisha finishes peeing in her jeans but that is not the end of this HD Wetting movie. Sosha pulls down Alisha's pissed in jeans and then starts to lick Alisha's wet vagina clean. A hot jeans peeing with lesbian head to finish. See Alisha tied and peeing in jeans here.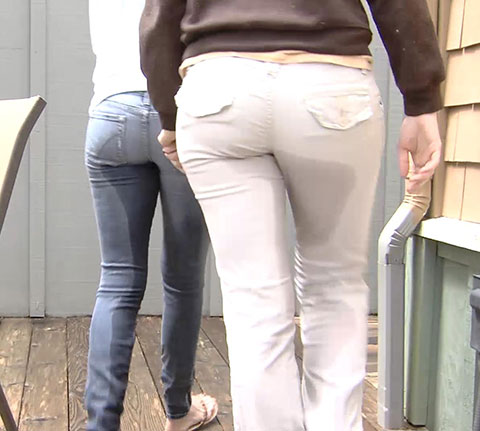 The last set of picture we have has Alisha and Sosha in jeans and pants they are outside kissing. They are going for it and then suddenly Alisha starts to pee her jeans. Her jeans get soaked and then as she stops peeing Sosha starts to pee too, her pee runs down her legs and now they are both in piss soaked jeans. A sexy wetting and as Alisha walks away just look at her wonderful piss soaked ass a very sexy sight. I do love pissed in jeans. See Alisha and Sosha peeing pants here.


Filed under: Babes Peeing and HD Wetting and Jeans Peeing and Jeans Pissing and Lesbians Peeing and Peeing and Pissing and Pissing In Pants and Pissing Movies and Pissing Videos
Posted on 08.22.13
Comments: 6 Comments


Tags: Alisha HD Wetting, bound pissing, HD Wetting, HD Wetting Movie, Jeans Pee, Jeans Peeing, Lesbians Peeing, pants peeing, Peeing Movies, Peeing Pants, Pissing Movie, Sosha HD Wetting