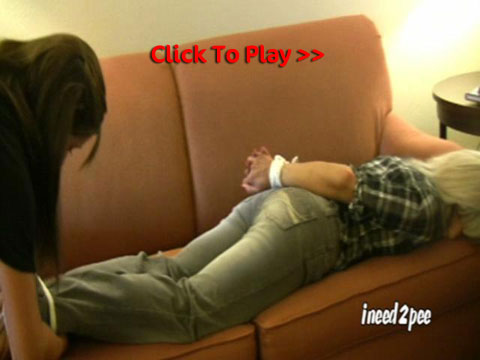 Here we have the lovely Bella from Ineed2pee. She has been bound by Vicki while she was asleep on the couch. It seems that Bella has been kissing Vicki's boy friend and this is here revenge. Bella wakes up and finds herself bound. She needs to pee and is not happy at this predicament. Vicki sounds so happy and you can see the first signs of Bella's desperation, she really needs to pee. Bella really is a great ineed2pee model she looks so sexy in her tight jeans and watching her squirming from desperation is wonderful.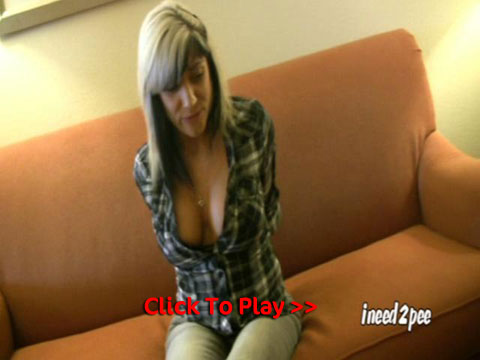 She manages to get off the couch and start to hop to the bathroom. Female desperation like this is what makes ineed2pee so great and watching Bella hop to the toilet bounds one has to wonder, is she is dripping from the added pressure as she is hopping? She finally gets to the bathroom but her hands are still tied what's a poor desperate girl what will she do.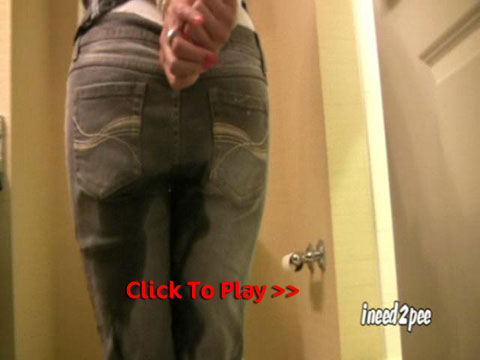 She really is not happy now you can see her desperation on her face she struggles to get her jeans down with her hand still tied. They just won't budge. Female desperation tight jeans and being bound the outcome is going to be wonderful. Bella just can't hold her bursting bladder any longer. She starts to pee in her jeans and then you see her piss patch she really is pissing her jeans till they are soaked. Vicki's revenge has worked Bella is peeing in her jeans.
Watch Bella Bound And Desperate To Pee
Related posts:

Filed under: Desperation and Female Desperation and Ineed2pee and Jeans Peeing and Jeans Pissing and Movies and Peeing and Pissing and Pissing In Pants and Pissing Movies
Posted on 10.09.10
Comments: 2 Comments


Tags: Bella Ineed2pee, Desperate To Pee, Female Desperation, Ineed2pee, Jeans Peeing, Pissing Movie, wetting