From Real Wetting we have the wonderful wetter Gemma. We have had her wetting for us in the past in some great scenes. If you have missed seeing her pee for us previously check out Gemma Peeing In Her White Pantyhose – Gemma Peeing In Her Tight Jeans – Gemma Skirt And Pantyhose Pissing and Gemma Pissing In Her Pants she really does love wetting and her bottom looks so good in tight soaked clothing. Today she is dressed in a dress in shear pantyhose she needs to chop some wood for the fire. Before she even picks up the axe she is so desperate to pee.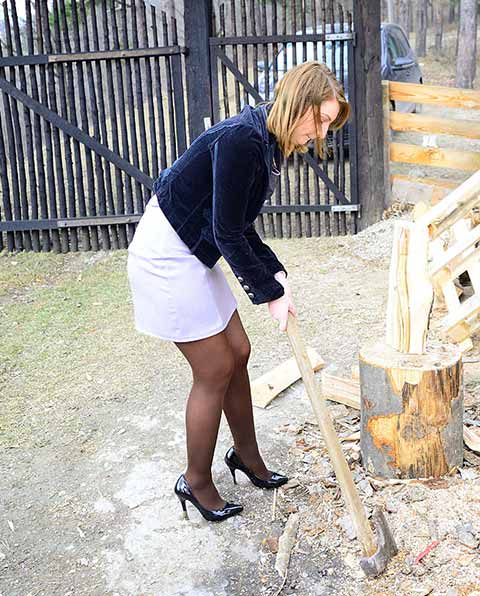 She bends down and her skirt tightens against her bottom, her bladder is getting squeezed and she needs to pee bad. Gemma she goes to pick the axe up and as she does she starts to lose control of her bladder and some pee stars to drip into her pantyhose. Her pee drips start to turn into a river and her piss starts to gush out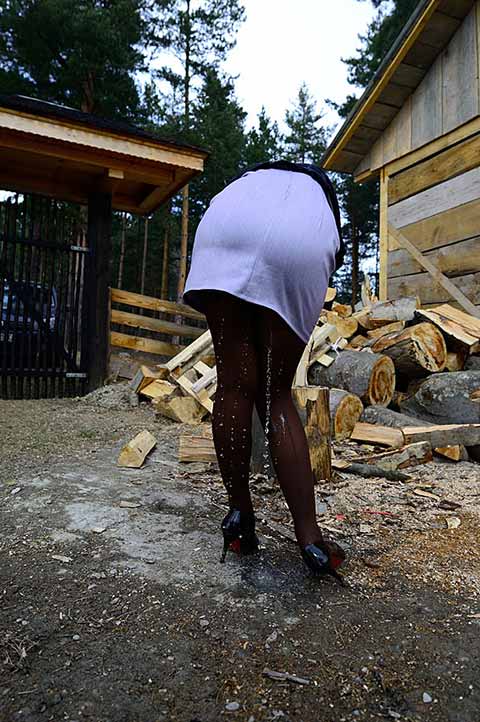 She is pissing in her dress and pantyhose and she has piss running down her legs and it is soaking into her shoes. This is one wet mess she is making. She keeps on peeing herself till her bladder is empty and then she stands up dripping piss. Gemma lifts her dress up and we can see her soaked pantyhose and then she pulls them down and we get to see her wet panties too. Another wonderful wetting from Gemma of Real Wetting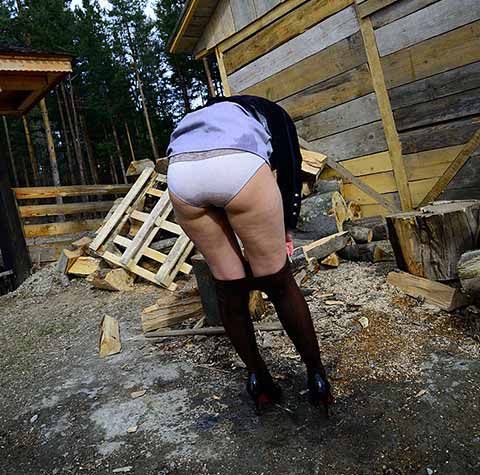 See Gemma peeing In Her Dress And Pantyhose Here

Filed under: Dress Peeing and Knicker Wetting and Outdoor Pissing and Panty Pee and Pantyhose Pissing and Peeing and Pissing and Pissing In Skirt and Pissing Pictures and Real Wetting
Posted on 11.23.17
Comments: 1 Comment


Tags: Gemma Real Wetting, Panty Pee, Panty Peeing, pantyhose peeing, Pantyhose Pissing, Peeing In Dress, Peeing Pictures, Pissing In Skirt, Real Wetting, Skirt Peeing, Stockings Pee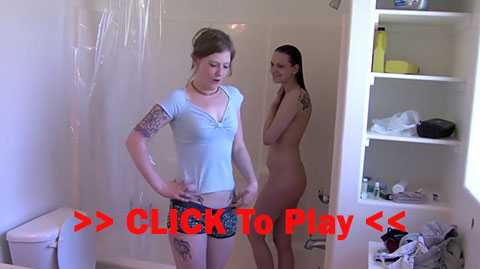 From HD Wetting we have the sexy Mikki and Page. Mikki was one of the first peeing stars at HD Wetting and we have had some great lesbian peeing movies with her and Sammy in the past. If you have missed them check out HD Wetting Lesbian Peeing – Lesbian Panty Peeing From HD Wetting – Sammy Tickled Till She Pees and Sammy Desperate And Pissing Her Panties Mikki left HD wetting and then returned for a while making some very sexy lesbian peeing videos again and today we have her with Paige. We join them as Paige is having a shower and Sammy comes into the bathroom and is desperate to pee. She is in shorts and a tight t-shirt and starts to flirt with Paige in the shower.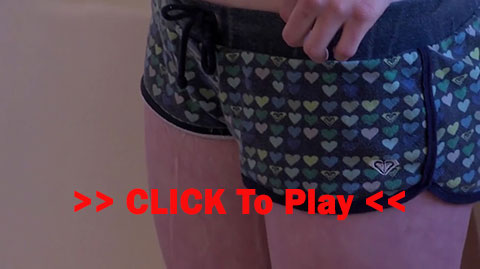 Mikki opens the shower curtain waiting to get in but Paige has a demand and that is that Sammy has to pee in her shorts before she can enter. Mikki is very desperate and is bouncing around trying to hold on her small breasts bouncing up and down an then with reluctance she stands still and starts to pee in her shorts. There is pee flowing through the shorts and pee is running down her legs. When she finishes peeing she spins around and we cans see her legs glistening in piss.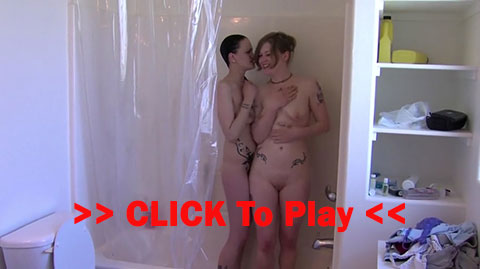 She has finishes pissing in her shorts her clothes off and gets into the shower where they starts to make out together. These two hotties are wonderful and they really do love playing with each other. They finish showering and we get to see Mikki nude and dripping. It is a shame that these two have moved on as they had some great lesbian peeing scenes. If you enjoy this and want to see more check out HD Wetting as there are lots with Mikki Page and Sammy

See Mikki Pissing Her Shorts Here


Filed under: Babes Peeing and Desperation and HD Wetting and Lesbians Peeing and Movies and Peeing and Pissing and Pissing In Shorts and Pissing Movies and Pissing Videos
Posted on 11.10.17
Comments: None


Tags: Desperate To Pee, Female Desperation, HD Wetting, HD Wetting Movie, Lesbian Pissing Video, Mikki HD Wetting, Paige HD Wetting, Pissing In Shorts, Pissing Movie, shorts peeing, Shorts Pissing, wetting
From Ineed2pee we have the wonderful Nikki Next. Nikki is such a lovely and bubley wetter and now we get to see her in a pee video. We start off with her desperate to pee outdoors in tight pants. For this peeing scene this is what was written with the desperation and wetting movie. "Nikki is always a joy to work with. I'm going to share a personal secret with you. When I first met her, she was down to shoot all my other stuff but was POSITIVE she could not pee her pants… she thought it was weird, had never done anything like that before and was sure she'd have a problem with getting camera shy and actually wetting on camera…. well guess what?? After doing 2 wetting scenes, we realized she was great at it and surprised herself! She rarely shoots for anyone but always enjoys shooting for ineed2pee and always tells me when she's in town because she thinks it's so fun to pee her pants!"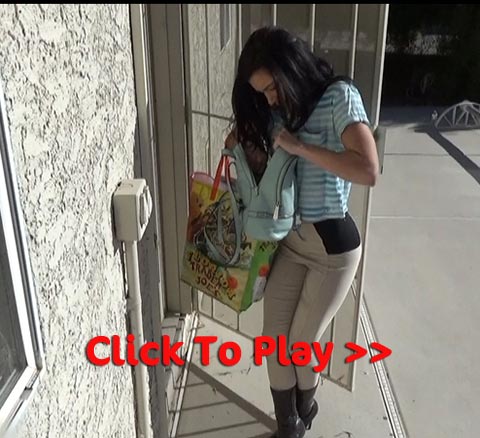 After watching her desperate and wet in tight pants we join her at the restaurant Nikki Nexxt is your super sexy and adorable desperate waitress today & you get a nice front & back shot of her teetering and squirming in her skintight jeans to try and keep them dry at work instead of losing all bladder control and humiliating herself by pissing her jeans!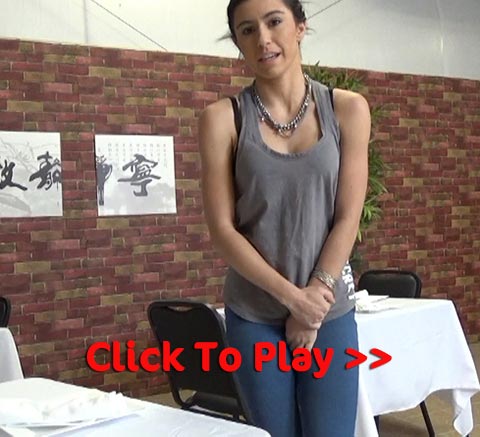 Last up we join her and it is our chance for you to connect with Nikki Next as herself as she tells you some tantilizing wetting stories from her past! In real life, she's actually quite shy and reserved and, as always, super adorable in her demeanour and how she conveys her desperation, almost shyly with embarrassment!. Super sexy female desperation and wetting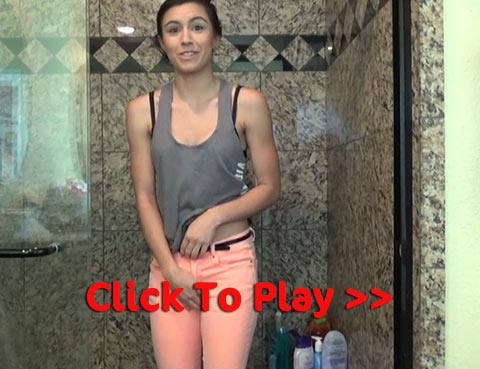 Filed under: Babes Peeing and Desperation and Female Desperation and Ineed2pee and Jeans Peeing and Jeans Pissing and Movies and Peeing and Pissing and Pissing In Leggings and Pissing In Pants and Pissing Movies and Pissing Videos
Posted on 11.07.17
Comments: 1 Comment


Tags: Desperate To Pee, Desperation Movie, Female Desperation, Ineed2pee, Ineed2pee Movie, Jeans Pee, Jeans Peeing, Nikki Next Ineed2pee, pants peeing, Peeing Movies, Pissing In Pants, Pissing Leggings, Pissing Movie, Pissing Movies, wetting