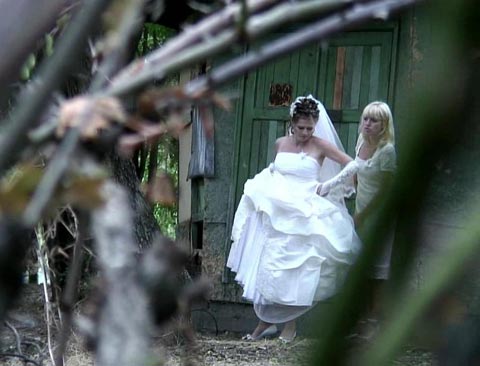 Here we have a great Pisshunters movie and what a catch for the voyeur cameras. A bride in her wedding dress pissing outdoors. This caught pissing bride has what i guess one of the bridesmaids to help her hold the wedding dress up as she is looking for a place to pee. She finally finds one and a guy I guess a groomsmen then helps the bridesmaid to hold up the other side of the wedding dress up as this poor desperate bride squats. She must have no qualms about being seen peeing and she has the help of the groomsman if she did you would think she would have another bridesmaid to help her pee.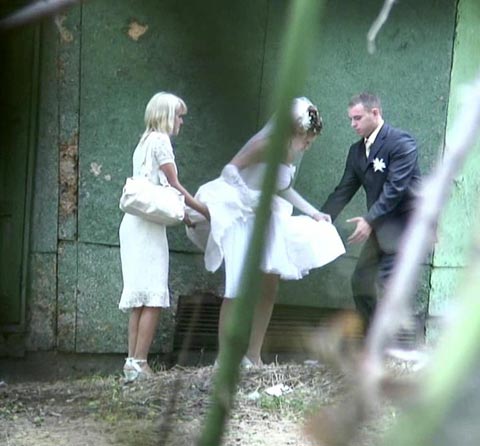 She looks so pretty in her wedding dress as she squats down for her much needed piss and it is great that the Pisshunters voyeur cameras have caught this wedding day piss movie.   She manages to get her panties down herself and she really is squatting low to the ground I guess so she doesn't get any pee stains on her wedding dress. she then finishes off there is no wiping so her white panties will be soaking up her pee, she may have a pee stain after all. On the original sized movie of this at Pisshunters 1280 x 720 it does look like her panties go darker. After the bride is all fixed up the bridesmaid goes off for a pee herself. Unfortunately the Pisshunter voyeur cameras dont catch this.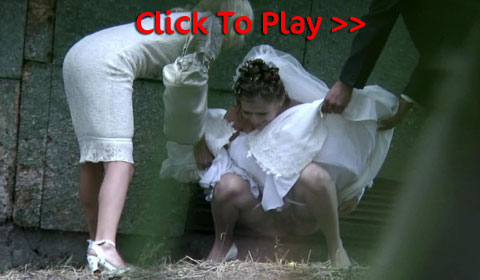 Watch The bride Peeing movie Here

Read A Pisshunters Website Review Click Here


Filed under: Caught Pissing and Movies and Outdoor Pissing and Peeing and PissHunters and Pissing and Pissing Movies and Voyeur Peeing
Posted on 03.09.10
Comments: 2 Comments


Tags: Caught Pissing, Piss Hunters, PissHunters, Pissing Movie, Voyeur Pissing
Now this has to be one of the sexiest Needapee movies with Rebekah Dee. Rebekah Dee peeing on herself, well I guess it is not that simple. Rebekah has called this piss movie Back Fire Pee and wow it is sexy. Rebecca  lies on her back lifts her legs in the air and moves them so her pussy is facing her she then starts to pee. Her piss starts off a little slow and it is running down to her breasts under her top but then you start to see a little spray of pee till it is spraying out like a pee fountain. I was a little disappointed that the piss stream did not go straight but to the side. It would have been great to see Rebekah's own pee splashing her in her face. I wonder if she would have opened her mouth.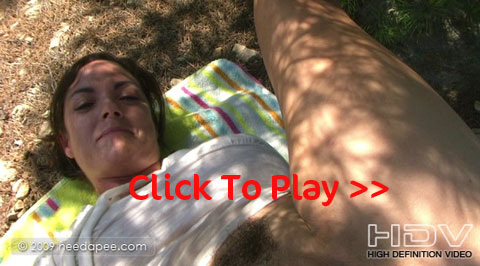 At Needapee Rebekah Dee wrote this about the Back fire pee movie "As I love to keep you guys happy I was only to pleased to oblige with this request to see me pee in a new position. As it is a beautiful summer's day I venture out to one of my favourite spots for public peeing. Laying on my back with legs spread in the air I squirt a fountain of pee that back-fires onto my tits – soaking my top in the process. I have to admit I rather enjoyed the whole experience too!"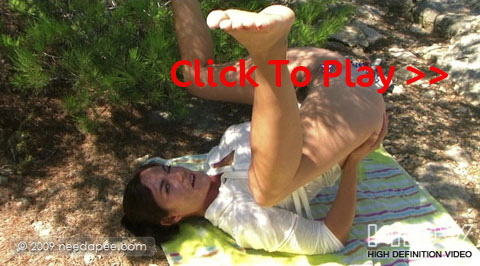 This really is a great Needapee piss movie and be aware that the one you watch here is a lot lower quality that the original 6:9 Widescreen  movie in the members area. If you want to see the quality you get Click Here for a screen shot of this Needapee piss movie in all its glory. Also it is shorter than what you get at Needapee.
Watch this Needapee Piss Movie Click Here
Visit Needapee Rebekah Dees Amateur Piss Site
Click Here

Filed under: Babes Peeing and Movies and Needapee and Outdoor Pissing and Peeing and Pissing and Pissing Movies and Pissing Outdoor and Rebekah Dee and Self Pissing
Posted on 02.25.10
Comments: 7 Comments


Tags: Needapee, Pissing Movie, Pissing On Herself, Pissing Outdoors, Rebekah Dee
From wet in public comes this sexy blonde pants peeing movie. She is out walking in the street and looks so sexy in her white pants. But looking at how she is walking you can see that she is a little desperate to pee. There are no toilets around what is she to do its not like she can squat in the street. She then makes up her mind she stops sits on the railing and she is peeing in her pants in public. It is not a great big stream of pee but it is enough I bet her bladder feels much better now and she will have the lovely warm feeling in her pants She really is lovely sitting there in her pissed in pant. She is lucky too no one seems to have seen what she has done how embarrassing it would have been for her if someone had caught her pissing in her pants. When she gets up and starts walking we can see the great big wet pee patch and I bet if she is not careful others will, be able to tell that she has pissed her pants.

Watch this blonde peeing her pants in public
Click Here


Filed under: Movies and Outdoor Pissing and Peeing and Pissing and Pissing In Pants and Wet In Public
Posted on 02.22.10
Comments: None


Tags: Outdoor Pissing, pants peeing, Peeing Pants, Public Pants Pee, wetinpublic
Needapee with Rebekah Dee has some great new pissing movies with the ever lovely Tiffany. As you must know by now I just love it when tiffany makes an appearance on needapee she is just so sexy and when they both get together it is just a great watch as you can see in this female desperation and pissing movie from Needapee that has been posted before. This movie I have staring the lovely tiffany is not a new Needapee movie with Tiffany but one of the first that was made for Needapee. There are now 159 movies at Needapee for download and this movie is Needapee movie no 22 Tiffany – Hotel Wall Pee. And it is one hot public peeing movie
Tiffany is walking along she looks around and thinks it's a great place to pee she stops moves her panties aside, lifts her skirt and releases a lovely pee stream in public. The sound as her pee hits the ground is great and you wouldn't be able to miss hearing it if you were around. Tiffany looks so sexy  pissing in public I really do enjoy watching her in all her pissing glory.
The story of this Needapee movie as told by Rebekah Dee goes like this "Tiffany is perhaps the bravest public exhibitionist that I know, perhaps even more so than myself as demonstrated here as she brazenly hitches here skirt up in front of a hotel and takes a piss. There are people above on their balconies and she is almost caught by a cyclist!"

Watch This Needapee Movie Starring Tiffany Click Here


Filed under: Movies and Needapee and Outdoor Pissing and Peeing and Pissing and Pissing Movies and Pissing Outdoor and Public Pissing
Posted on 01.16.10
Comments: None


Tags: Needapee, Pissing In Public, Pissing Movie, Pissing Outdoors, Tiffany Needapee
After the lesbian pissing story I thought we should have a lesbian pissing movie
Here we have to hot British babes outdoors and pissing in the grass they have such great piss streams and I bet one of them got their panties wet with piss. After they have finished their pissing outdoors they retreat back indoors for some hot lesbian action.

Watch this Lesbian Pissing Movie Here


Filed under: Babes Peeing and Lesbians Peeing and Movies and Outdoor Pissing and Peeing and Pissing and Pissing Movies and Pissing Outdoor
Posted on 12.09.09
Comments: 2 Comments

Well Tiffany is back at Needapee and looking hotter than ever. As you all know I just love Tiffany peeing with Rebekah Dee and I'm so happy that she has returned I hope it is for a while and we get some hot Tiffany and Rebekah Dee desperation movies.
Here are some of the sexy screen caps of the latest Needapee movie with tiffany The story goes The pee adventures with Tiffany continue with this latest episode in which we retire to our sun loungers after a hard day's walking in the sun. With bladder full to the brim we decide that it'll be a fun idea to try and fill a plastic container with a hot steamy pee. I'm not sure who contributes the post but between us we manage to deposit around a pint which leads to the burning of just what to do with so much pee?
Now for the wonderful tiffany and Rebekah Dee female desperation movie re run. This first on is just great tiffany sounds so hot and desperate you cant ask for more
The second one has the lovely tiffany encouraging Rebekah Dee to piss out of the car tiffany and Needapee what more can you want

Filed under: Babes Peeing and Desperation and Female Desperation and Movies and Needapee and Outdoor Pissing and Peeing and Pissing and Pissing Movies and Pissing Outdoor and Rebekah Dee
Posted on 11.24.09
Comments: 1 Comment


Tags: Female Desperation, Needapee, Outdoor Pissing, Peeing Movies, Rebekah Dee