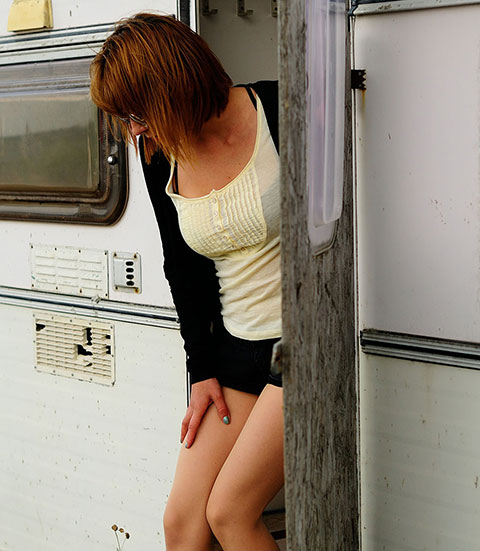 From Real Wetting we have the lovely Alice, It's been a long time since we had her staring and she has been missed she really is one sexy peeing lady. If you have missed some of her previous posts check out Female Desperation And Leather Pants Pee, Natalie And Alice Desperate and Wetting, Peeing In Her Bikini and Alice Peeing In Her Jeans Today she is out camping in a caravan she needs to pee and has her legs clamped together with her hand in her crotch she walks down the steps and standing outside she starts to pee.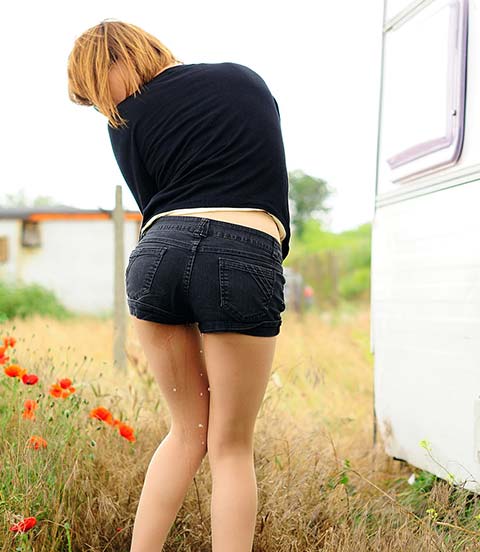 Alice is such a natural wetter and here we are outdoors with her dressed in her pantyhose and shorts and she has started to pee. Her piss flows down her legs and soaks into her dark shorts. It's a shame that her shorts are so dark and the lighting is not the best as we do not get to see the wet patch grow. She keeps peeing and her pantyhose are getting lovely piss streams such a sexy wetting lady.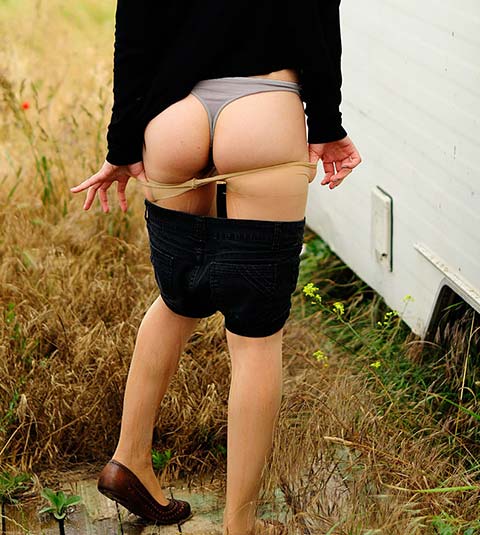 Alice is pissing in her shorts and pee is now gushing everywhere her legs encased by her pantyhose are soaked and I'm sure her shoes and feet are wet too. She finishes peeing and then pulls her piss soaked shorts and sopping pantyhose down so we get to see her piss soaked panties too. A super sexy shorts and pantyhose peeing from Real Wetting.

See Alice Peeing In Her Shorts





Filed under: Audreys Wetting Site and Babes Peeing and Outdoor Pissing and Pantyhose Pissing and Peeing and Pissing and Pissing In Shorts and Real Wetting
Posted on 04.18.14
Comments: 6 Comments


Tags: Alice Realwetting, Audrey's Wetting Site, pantyhose peeing, Pantyhose Pissing, Pissing In Shorts, Real Wetting, shorts peeing, Shorts Pissing
From Ineed2pee we have a mix for today. I have always felt that the Ineed2pee pictures really don't show the wonderful female desperation and interactions with the camera in the lead up to the wetting so today we have Ineed2poee trailer 29 as well as some wonderful wetting pictures. We starts off with Natalie Storm, she is one hot model and at Ineed2pee we have had her before in Peeing In Shiny Spandex Leggings where she fully floods her spandex leggings. Today she is in her jeans and desperate to pee, she has been holding on and on and her bladder is about to burst she stands there and starts to pee. Her pee explodes into her jeans and runs down her legs giving a great pee stain as it goes. She finishes peeing in her jeans and is standing there soaked and looking so sexy see Natalie peeing in her jeans HERE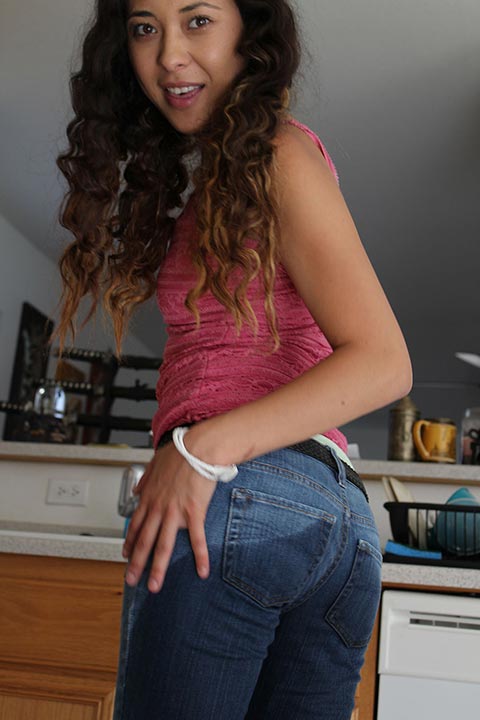 Next up we have Kenna Valentina. Kenna is dressed in her jogging pants. She has been bouncing around and the motions are making her more and more desperate to pee she stops and then tries to starts to walk again, she is just to desperate to pee and she starts to pee. There is a wonderful hiss as she loses control and then her pee flows into her jogging pants. This is one wonderful Ineed2pee jogging pants pee .I just love looking at Kenna's voluptuous ass as there is pee flowing around it. See Kenna peeing her jogging pants Here.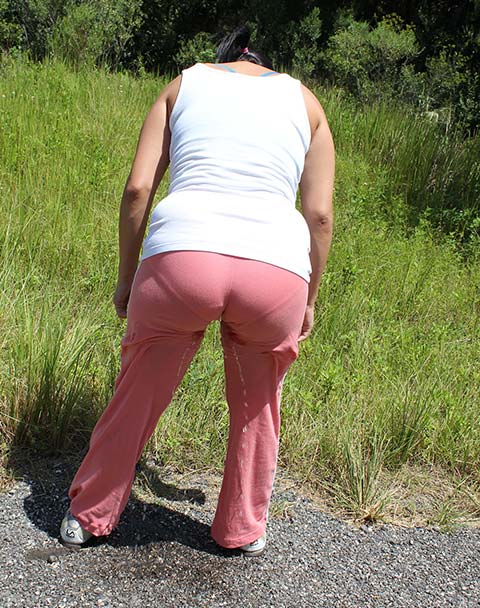 Last up we have the Ineed2pee movie trailer I know some of you hate seeing a trailer but this has wonderful female desperation, great interactions with the camera and wonderful wettings. Check it out and enjoy what Ineed2pee has to offer. See the Ineed2pee trailer Here.


Filed under: Desperation and Female Desperation and Ineed2pee and Jeans Peeing and Jeans Pissing and Movies and Outdoor Pissing and Peeing and Pissing and Pissing In Leggings
Posted on 04.09.14
Comments: 2 Comments


Tags: Desperate To Pee, Female Desperation, Ineed2pee, Ineed2pee Kenna, Jeans Pee, Knicker Wetting, Natalie Storm Ineed2pee, pants peeing, Pissing Movie, Tracksuit Pants Peeing, wetting
It has been a long time since we had a post with Miss Hybrid it has been such a shame as she is one sexy lady. If you missed the previous ones check out Miss Hybrid Pissing and Miss Hybrid Peeing Again. In today's set she is dressed in a jumper and some tight Jodhpurs. Miss Hybrid is outdoors and looing playful she poses and then lifts her jumper up to show us her wonderful breasts she really is one lovey lady.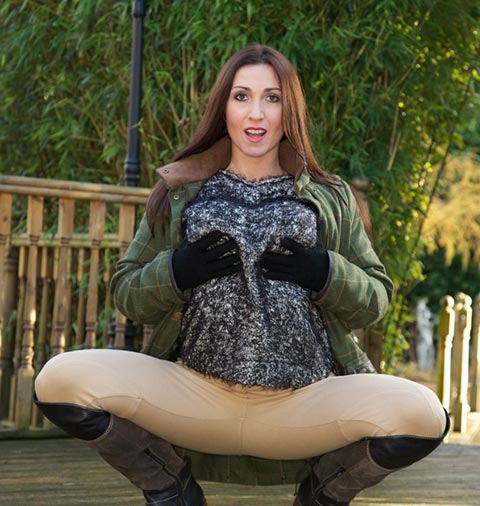 Miss Hybrid is squatting down her big breast is still on show and then she starts to pee in her pants. You can see that her bladder is bulging and her pee starts to slowly soak into the fabric. Just look at the big piss stream as she released her bladder the sound of her piss splashing on the ground would be wonderful.

She keeps pissing in her pants the fabric is getting more and more soaked and as she finishes peeing in her jodhpurs they are fully soaked and dripping. She stays squatting and shows off her dripping pants what a sight it would be to come across Miss Hybrid squatting in her piss soaked pants. She turns around and starts to piss again and then when she has fully emptied her bladder she poses in her piss soaked Jodhpurs. A wonderful pants peeing with Miss Hybrid


Filed under: Babes Peeing and Miss Hybrid and Outdoor Pissing and Peeing and Pissing and Pissing In Pants and Pissing Outdoor
Posted on 03.31.14
Comments: 4 Comments


Tags: Jodhpurs Pee, Miss Hybrid, Outdoor Pissing, pants peeing, Peeing Pants, Pissing In Pants, Riding Pants Pee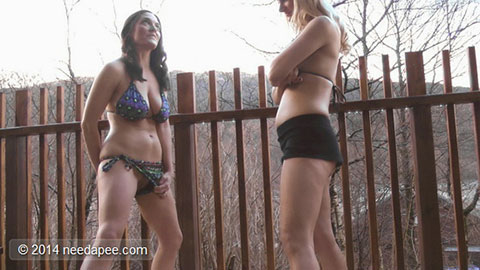 From Needapee we have the lovely Rebekah Dee. I do love seeing Rebekah Dee peeing she is such a gorgeous woman. We start off with a golden show with her and Nikki. The story goes "When Nikki and I soaked our first victim a few weeks back the scene generated a lot of feedback, you were gushing with praise with some reporting it to be their most favourite Needapee clip to date! That's some accolade so here in this latest scene we attempt to make it even better. We power dress in bikinis and punish (or should that be treat?) our latest victim! Oh what joyous fun, any other volunteers?" They really do have fun. See Rebekah Dee and Nikki peeing Here.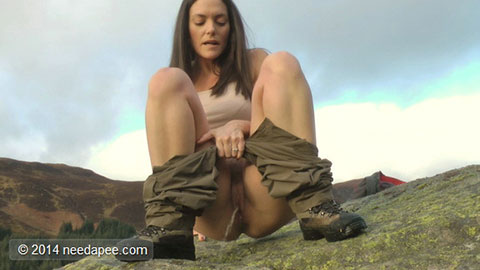 Next up we have a lovely outdoor pee in the highlands. The story goes "I can confirm that my suspicions are true, at high altitude you can pee farther and for longer! I discovered this for myself when I took to the Highlands recently for a trek. Overcome by the stunning beauty and breathtaking vistas I thought it wholly appropriate to put my theory to the test, you of course have the best birds eye view of the most important vista, featuring some nice close-up action… enjoy folks!" See Rebekah Dee peeing outdoors Here.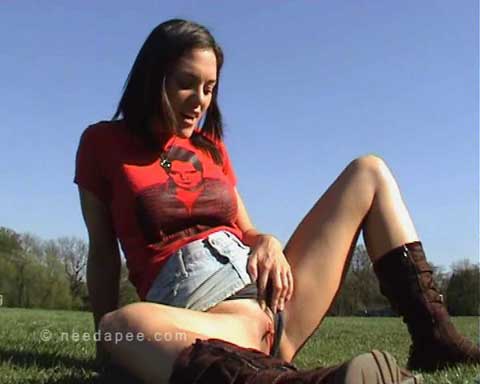 Last up we have one of my favourite peeing movies with Rebekah Dee. She is in the park and her bladder is full she hold on and when a train passes she releases and sprays her pee everywhere. We have had this movie before but today it is in the new player. See Rebekah peeing for the train Here


Filed under: Babes Peeing and Movies and Needapee and Outdoor Pissing and Peeing and Pissed On and Pissing and Pissing Movies and Pissing Outdoor and Pissing Videos and Rebekah Dee
Posted on 03.08.14
Comments: 4 Comments


Tags: Bikini Peeing, Needapee, Outdoor Pissing, Pissing Movie, Pissing Outdoors, Rebekah Dee
From Real Wetting we have the wonderful Sara. Sara is one of the great wetting models at Real Wetting and we have had some wonderful posts with her before, check out Sara Peeing In Her Pants, Jeans Peeing With Antonia And Sara, Sara Peeing In Her Jeans From Real Wetting and Sara Peeing In Her Dress & Pantyhose. Today Sara is in her shorts and outdoors and boy does she look sexy in her tight shorts and t-shirt she walks around in the grass and then she bends over and starts to pee.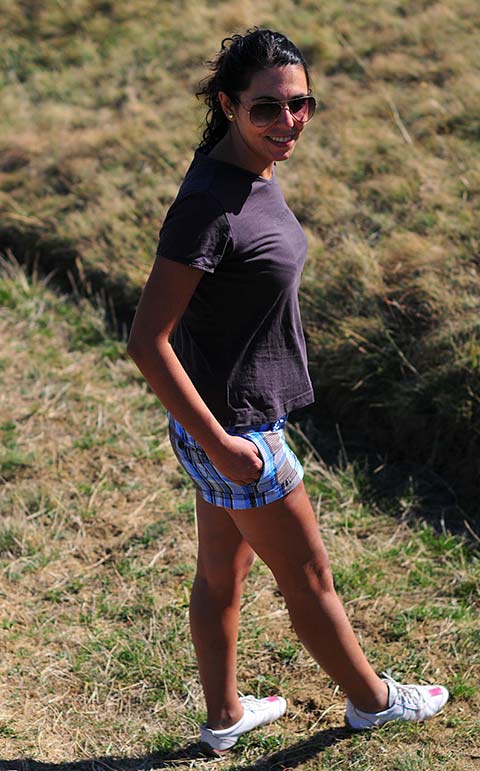 Sara has started to pee in her shorts outdoors she has her back to us and her pee is starting to run down her legs she has her hands there and as she starts top pee more her hands are getting splashed in her hot piss. Her pee stream is flowing through her shorts and the stream is getting stronger and stronger what a great sight it would be to be going for a walk along the hill and to come across Sara pissing herself.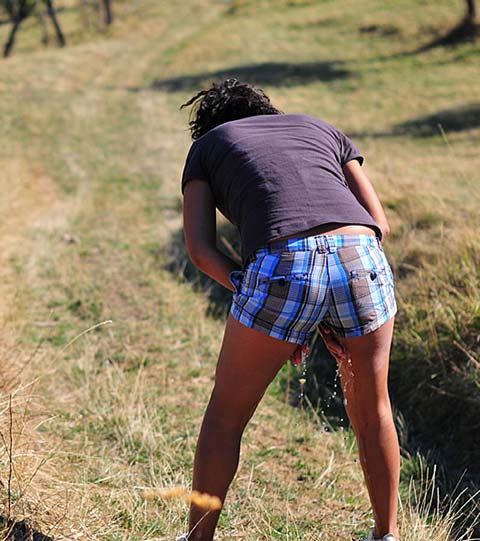 Sara finishes peeing in her shorts, her legs are soaked you can see the pee shine and lots and lots of her pee has flowed into her shoes too. She takes her piss soaked shoes off and we get to see her pee wet feet, this is a lovely outdoor shorts peeing with Sara.

See Sara Peeing In Her Shorts Here


Filed under: Babes Peeing and Outdoor Pissing and Peeing and Pissing and Pissing In Shorts and Pissing Outdoor and Real Wetting
Posted on 02.13.14
Comments: 1 Comment


Tags: Outdoor Pissing, Pissing In Shorts, Pissing Outdoors, Real Wetting, Sara Real Wetting, shorts peeing, Shorts Pissing, wetting
From Needapee we have three picture sets. It's been a long time since we have had some pissing from the very sexy Needapee. The first set has her peeing on the street. Written about this pee movie at Needapee "my season of summer outdoor pee fun continues with this scene shot only last week. Taking a stroll along river side walk on a fine Sunday afternoon I slipped off into a back street for a little pee fun. A few cars and cyclists were passing but I found an opportune moment to hitch up my skirt and let me pee flow when the coast appeared to be clear. I had the forethought to not wear any panties to make things easier, naturally!" See Rebekah Dee peeing on the street here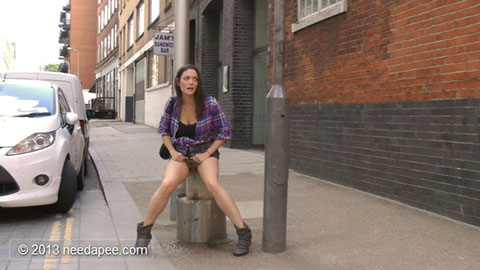 Next up we have her doing a sneaky pee by the pool. This is what was written about it "Only a few weeks ago the sun was shining and I was getting up to mischief whilst on holiday? One morning whilst strolling after breakfast I discovered the pool area, which was relatively quiet with only a few people catching some rays poolside. The temptation was too much and I had to take full advantage of the situation. Hanging off a sun lounger I pulled my panties to one side and let the pleasure sensation go!" See the sneaky pool pee here
Last up we have her sitting in a chair and pissing. At Needapee this is what was written about it "Call me old fashioned if you like but I still enjoying catching up with the latest news over a cup of tea and a newspaper each morning. When on holiday recently I was minding my own business on my balcony as I leafed through my paper. So was relaxed was I feeling that I thought it would be enjoyable to take a pee where I sat. It was a good idea until I realised that the balcony had no drainage and I was left in a pool of pee" See Rebekah Dee peeing here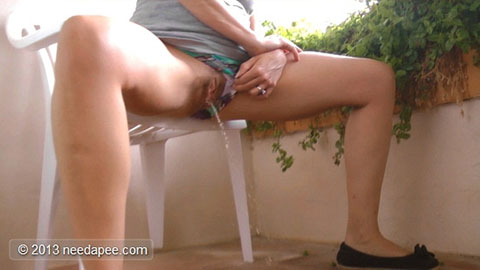 Filed under: Babes Peeing and Needapee and Outdoor Pissing and Peeing and Pissing and Pissing Outdoor and Public Pissing and Rebekah Dee and Street Piss
Posted on 01.26.14
Comments: 4 Comments


Tags: Needapee, Outdoor Pissing, Pissing Outdoor, Pissing Pussy, Rebekah Dee, Sneaky Pee, Street Pee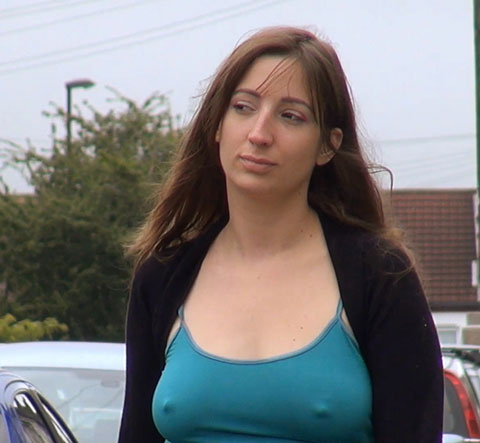 From Wetting Her Panties we have the lovely Pippa Piddleton. This is the first time that we have had her and we are in for a treat. We start by watching her walking down the street in her short and tight singlet. She isn't wearing a bra under her singlet and her nipples are hard as her breasts are bouncing around she really does look a lovey sight. She walks down the street and then starts to pee in her panties as she is walking.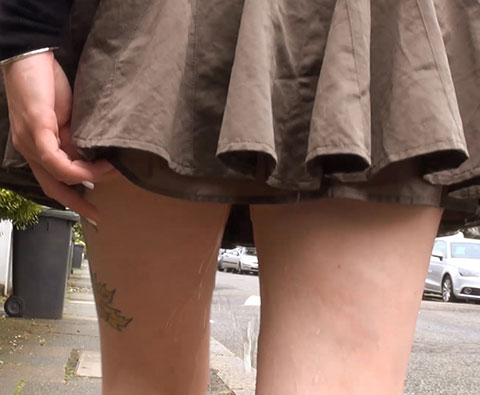 She is peeing in her panties as she is walking and her pee is dripping down her legs and making drips on the pavement she keeps peeing and walking and more and more pee flows through her panties and down her legs. She stops and lifts up her skirt to show us her piss soaked panties and all the pee drips that are on her legs this is one great sight her panties are so soaked.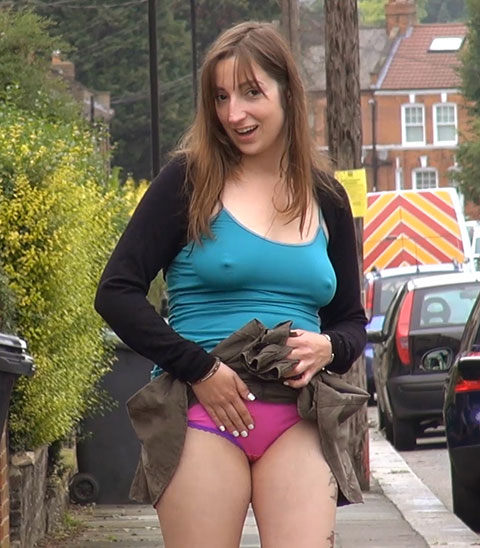 She has finishes peeing in her panties but she is still walking around in her piss soaked knickers she lifts her skirt and we get to see her pee soaked panties, cars are driving by but she really does have a playful side as she is flashing her pissed in panties for us to see a super outdoor panty pee with Pippa.

See The Outdoor Panty Pee Here

Visit Wetting Her Panties Click Here


Filed under: Knicker Wetting and Outdoor Pissing and Panty Pee and Peeing and Pissing and Pissing In Skirt and Pissing Outdoor and wettingherpanties
Posted on 01.14.14
Comments: 2 Comments


Tags: Knicker Wetting, Outdoor Pissing, Panty Pee, Panty Peeing, Pippa Piddleton Wetting Her Panties, Pissing In Skirt, Public Peeing, Skirt Peeing, wetting, wettingherpanties