Female desperation has never been done so well. This old ineed2pee trailer proves how good ineed2pee is at real desperation scenes. It starts with 2 ladies desperate to pee and trying to get inside. They are going fine till one starts to tickle the other the laughter starts and how much pee is squirted into her knickers?
The next scene is of poor Marla desperate and at the toilet door but it is locked. There is nothing for her to do but accept that the pee is starting to flow into her jeans Marla from ineed2pee has to be one of my favorite peeing stars
What a mean boss this poor office worker was so desperate to piss she squats down and starts peeing in her panties. There is also a scene where the lady looks so desperate that she is in actual pain we don't see how much piss flows out of her but i am guessing it was a lot.
Enjoy The Desperation Scenes From Ineed2pee


Filed under: Desperation and Female Desperation and Ineed2pee and Knicker Wetting and Outdoor Pissing and Peeing and Pissing and Pissing In Pants
Posted on 09.03.07
Comments: 5 Comments

One of the best videos I have seen in a long time. Rebekah pisses on the train platform. She is so desperate to piss that the pee starts squirting out till she is flooding her panties with the hot piss. This is a really messy video with piss running down her legs and the sound as the piss puddle at her feet grows is simply great.
At her site Needapee Rebekah wrote this about the video
"Already running late for an appointment, my day went from bad to worse when I arrived at the train station busting. British trains are notoriously late and so in painful desperation I pissed myself before tossing my soiled panties to the side and leaving them on the platform!"
All I can say is this pee movie is a 5 out of 5 for me. I just loved this piss movie it had it all desperation, uncontrolled peeing, knicker wetting and at the end she strips of the piss wet knickers and leaves them on the platform bravo Needapee Rebekah this is a stunning pee movie
Enjoy Peeing At The Train station


Filed under: Knicker Wetting and Needapee and Outdoor Pissing and Peeing and Pissing
Posted on 08.13.07
Comments: 1 Comment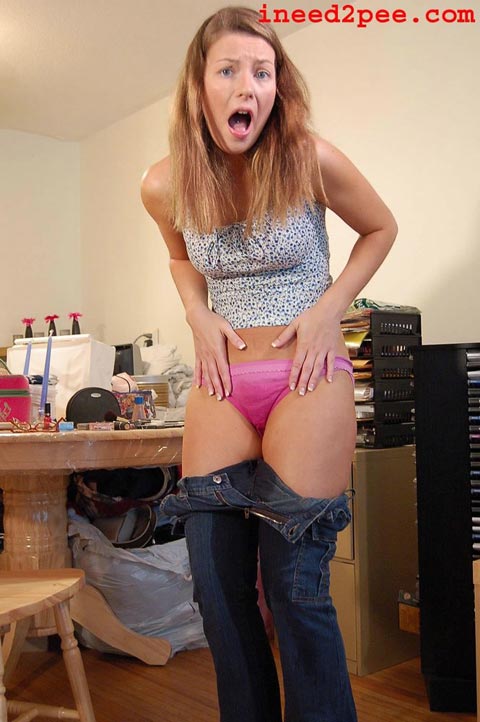 This is great two Ineed2pee models Candi And Marla desperate & peeing in their jeans and knickers female desperation is so hot (This is how the desperation story goes)
Candi makes extra money as a make up artist based out of her place. Today is a busy day for her, one client left already & Marla just arrived to get her make up done to attend a wedding & she's in a rush! Marla rushes in and acts like a Bitch towards Candi, hurrying her. Candi tries to hold on in her tight stretch jeans but her bladder is too full and some of it starts leaking out, making a nice wet spot in the front! Marla starts laughing at Candi too soon ……. See More Click Here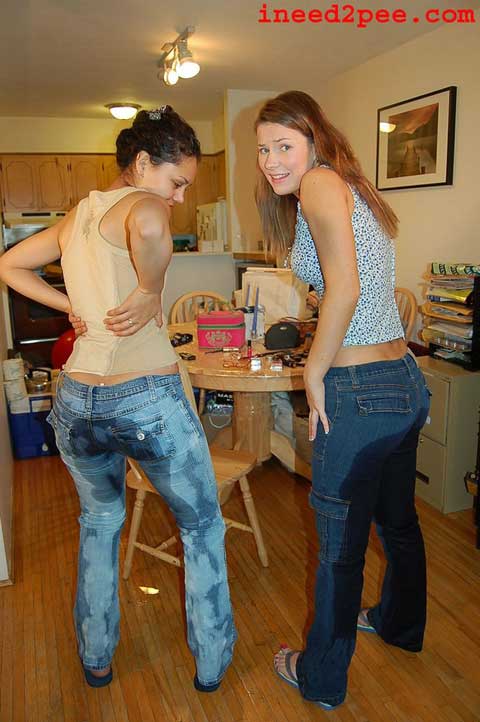 Filed under: Desperation and Ineed2pee and Knicker Wetting and Peeing and Pissing In Pants
Posted on 08.02.07
Comments: 1 Comment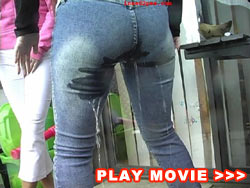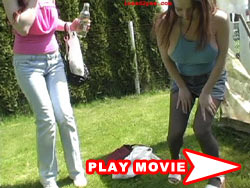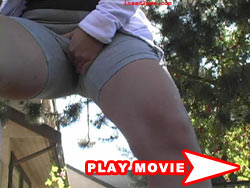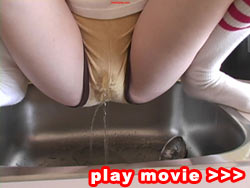 Here are 4 small movies from ineed2pee such wonderful desperation scenes and great pants jeans and panty pissing action that so many of us enjoy. This to me sums the piss action from this hot pee site "These chicks are so desperate to pee but they can't make it to the toilets in time! They try their best to hold it in but their pee starts spurting out. Watch them struggle before they piss their panties, pants & tight jeans. Sometimes they wet themselves in public too, how embarrassing!"
Enjoy These Ineed2pee Movies


Filed under: Desperation and Ineed2pee and Knicker Wetting and Peeing and Pissing In Pants and Pissing In Shorts
Posted on 07.23.07
Comments: None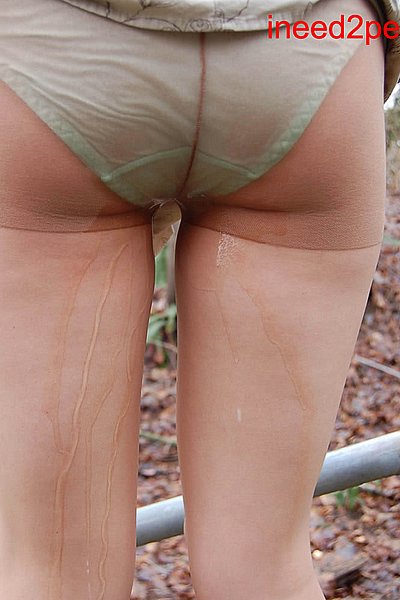 This Desperation peeing set from ineed2pee is hot!! The story from the ineed2pee website (You can visit by clicking here) goes like this
"Isn't it great to have a delightful co-worker like Janessa to walk home with, especially one that is so prone to forgetting to use the toilets before leaving the office! She looks very sexy in her blazer, pumps and long floral skirt today; you notice right away that she
is squirming like crazy and admits that she neglected to use the washroom earlier but can probably make it home. She needs to stop frequently to either cross her legs tight or grab her crotch through her skirt. You wonder what type of panties she is wearing underneath
but you won't have to wonder for very long…"
But all I can say is check out the piss running out of her crotch and down her legs.
That to me is just so hot.
Enjoy Janessa's Skirt And Panty Piss


Filed under: Desperation and Ineed2pee and Knicker Wetting and Peeing
Posted on 07.06.07
Comments: None