I love when ladies get so desperate to pee that they piss in their jeans. This set of pictures from ineed2pee has it all. Crotch grabbing the crossed legs, hopping and finally her friend tickles her till she cant hold her pee any more She is already desperate and the pee escapes and she wets her jeans. She really does flood them with piss they just glisten with the hot wet pee. Knicker wetting is also one of my favourite things but this time we don't see the pee flowing through the fabric pf the panties but we do see the after effects of her panties nice peach colour with a big damp patch of damp pee.


Enjoy The Jeans Pissing Accident


Filed under: Desperation and Female Desperation and Ineed2pee and Jeans Peeing and Knicker Wetting and Pissing
Posted on 10.04.07
Comments: None

This is desperation scene is really sexy. Candi is really desperate and wetting on the street with cars passing her. It reminds me of the old Japanese desperation and wetting movies the stream of pee that flows through her panties and onto the ground is stunning. This is really a hot movie right from the start we only join the action with this clip where Candi stops and you can see little drops of pee hit the pavement right up until she finishes wetting and is standing with her skirt over her very wet panties and stockings. The full movie at Ineed2pee is 10 minutes and it does not let you down. Once again Ineed2pee has got the right mix of female desperation and accidental wetting. The producers of I need to pee really have the desperate to pee scene done well. I was watching another desperation movie from the site today. It was Michelle in the scene called desperate to go. Well Michelle really was and the pee starts flowing uncontrollably out of her tight shorts just great.
This is the story from Ineed2pee that goes with the movie
You and the lovely Candi, yes, she's wearing a floral dress with a sweater, sheer nylon pantyhose and a nice cotton full back panty, and even better, she's super desperate to use the toilets so she needs to stop every few steps, bend over and cross her legs gently. She ducks into a very busy downtown alley and tries to look frantically for a place to pull down her panties & pantyhose but its too busy with cars & people going back & forth. Soon enough her overly full bladder can't take it anymore…
Enjoy Candi Desperate And Peeing
To See More From Ineed2pee Click The Banner Below


Filed under: Desperation and Female Desperation and Ineed2pee and Knicker Wetting and Outdoor Pissing and Peeing and Pissing and Public Pissing
Posted on 09.26.07
Comments: 5 Comments

Just a quick post today as a follow on from the last wet post. I noticed a while back I posted a pissing in pants set that I know is real so for those that missed this desperation and pants peeing action Click here to see it. I really do love the expression on Candi's face. I have to admit that she is one of my favorite desperation stars from Ineed2pee she really does have the sweet look and of course the wonderful pee pee dance when she is so desperate to go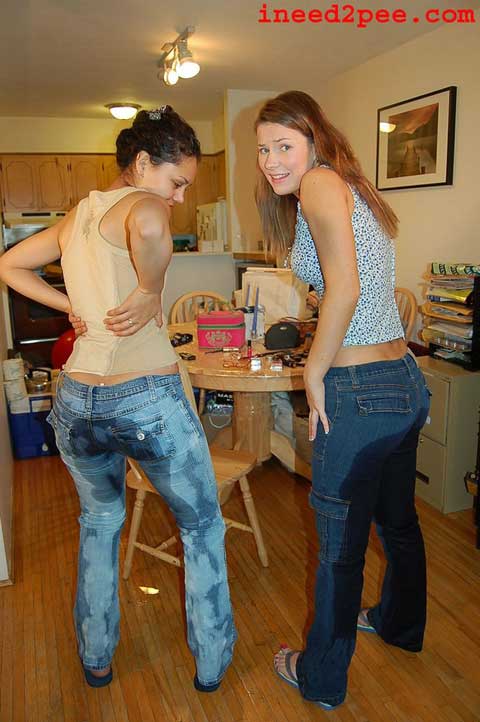 Filed under: Desperation and Ineed2pee and Knicker Wetting and Peeing and Pissing In Pants
Posted on 09.24.07
Comments: None

Female desperation has never been done so well. This old ineed2pee trailer proves how good ineed2pee is at real desperation scenes. It starts with 2 ladies desperate to pee and trying to get inside. They are going fine till one starts to tickle the other the laughter starts and how much pee is squirted into her knickers?
The next scene is of poor Marla desperate and at the toilet door but it is locked. There is nothing for her to do but accept that the pee is starting to flow into her jeans Marla from ineed2pee has to be one of my favorite peeing stars
What a mean boss this poor office worker was so desperate to piss she squats down and starts peeing in her panties. There is also a scene where the lady looks so desperate that she is in actual pain we don't see how much piss flows out of her but i am guessing it was a lot.
Enjoy The Desperation Scenes From Ineed2pee


Filed under: Desperation and Female Desperation and Ineed2pee and Knicker Wetting and Outdoor Pissing and Peeing and Pissing and Pissing In Pants
Posted on 09.03.07
Comments: 5 Comments

One of the best videos I have seen in a long time. Rebekah pisses on the train platform. She is so desperate to piss that the pee starts squirting out till she is flooding her panties with the hot piss. This is a really messy video with piss running down her legs and the sound as the piss puddle at her feet grows is simply great.
At her site Needapee Rebekah wrote this about the video
"Already running late for an appointment, my day went from bad to worse when I arrived at the train station busting. British trains are notoriously late and so in painful desperation I pissed myself before tossing my soiled panties to the side and leaving them on the platform!"
All I can say is this pee movie is a 5 out of 5 for me. I just loved this piss movie it had it all desperation, uncontrolled peeing, knicker wetting and at the end she strips of the piss wet knickers and leaves them on the platform bravo Needapee Rebekah this is a stunning pee movie
Enjoy Peeing At The Train station


Filed under: Knicker Wetting and Needapee and Outdoor Pissing and Peeing and Pissing
Posted on 08.13.07
Comments: 1 Comment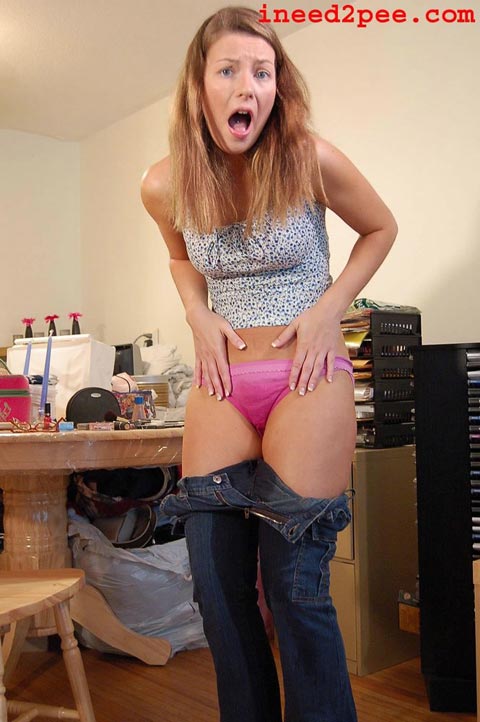 This is great two Ineed2pee models Candi And Marla desperate & peeing in their jeans and knickers female desperation is so hot (This is how the desperation story goes)
Candi makes extra money as a make up artist based out of her place. Today is a busy day for her, one client left already & Marla just arrived to get her make up done to attend a wedding & she's in a rush! Marla rushes in and acts like a Bitch towards Candi, hurrying her. Candi tries to hold on in her tight stretch jeans but her bladder is too full and some of it starts leaking out, making a nice wet spot in the front! Marla starts laughing at Candi too soon ……. See More Click Here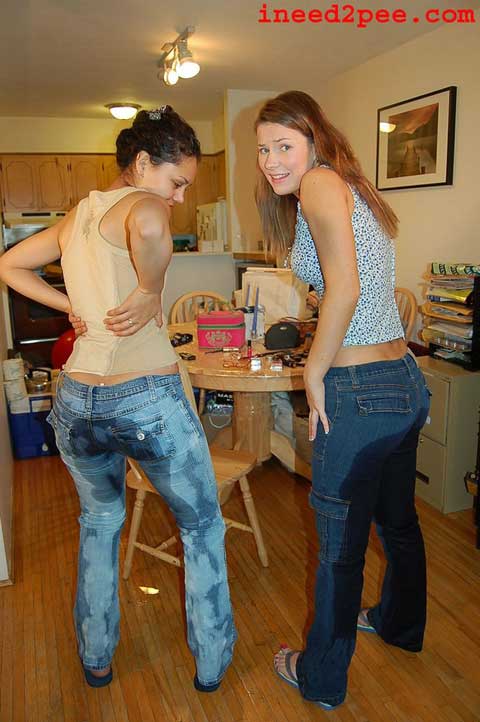 Filed under: Desperation and Ineed2pee and Knicker Wetting and Peeing and Pissing In Pants
Posted on 08.02.07
Comments: 1 Comment