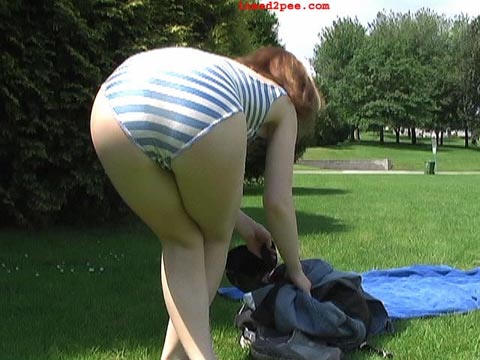 This is a sexy movie from ineed2pee. Alice is so desperate to pee that she pisses in her swimsuit. The hissing her hot pee makes as it comes out of her vagina is great. She actually looks like she has lost control and its not going to plan. This aspect is what makes ineed2pee such a great site the ladies really do get so desperate before they pee. I love seeing the pee unexpectedly escape and create little wet patches you don't quite know how the pee scene will turn out.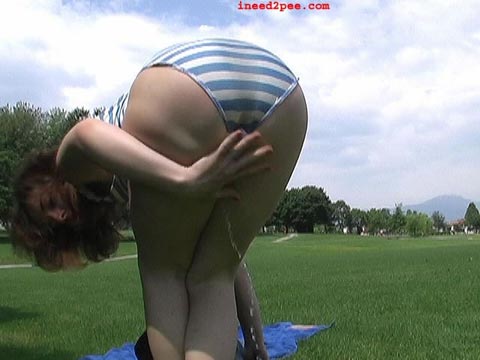 This is the story that was written about the video on the ineed2pee website
It's your first date with this lovely lady, Alice, whom you've communicated with via email on an online dating site. It's a very casual date, just a sunbathe at a public park close by, to chat & get to know each other. She looks amazing in her striped swimsuit as you make casual talk to get to know each other better. Alice seems very fidgety & shy; you realise after she casually asks where the bathrooms are that she must need to pee! You lie & tell her that you have no clue where the bathroom is, even though you know there are some behind the crop of trees close by, but they cannot be seen from where you are sitting. Alice is trying not to look embarrassed or desperate & wanting to make a good impression on you, since it's obvious she likes your company. Finally she suggests we go back to your place or her place not too far off. As she stands up to get her things, she's crossing her legs tightly & bouncing up & down. You're standing behind her gathering your things. You notice that her legs are shaking, crossing & uncrossing when all of a sudden a huge stream of pee pours out of her bathing suit!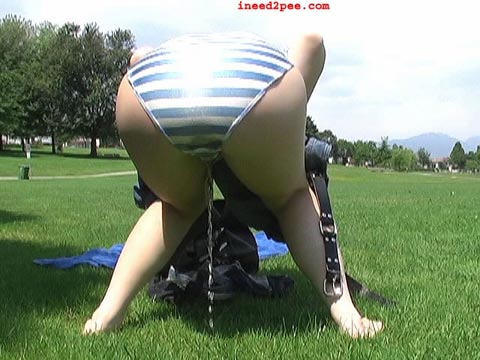 If only the ladies in my local park would get desperate enough to wet themselves in their swimsuits
Enjoy Alice Pissing In Her Swimsuit