So for those who haven't seen them I thought I would repost what must be a couple of my favorite peeing clips. The first one is Female Desperation And Pissing From Tiffany And Rebekah from over at Needapee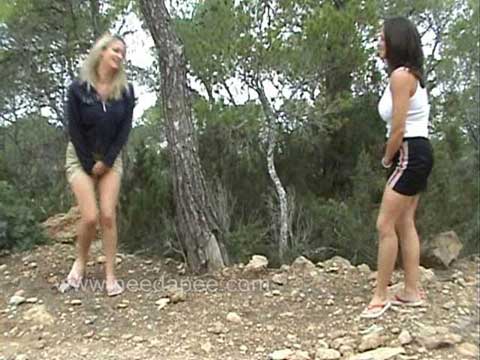 Tiffany is so desperate to pee she is hopping around and so desperate when she finally releases her piss it starts to spray out no acting just real Female desperation and pissing.
The movie is titled Rebekah & Tiffany – 2 Desperate Girls. And this is what is written at needapee about the video "I've had a number of requests to see two girls peeing together. So I thought it would be fun to combine this with a desperation theme. Here I am with Tiffany, we're busting and in the middle of nowhere on Ibiza. Watch our golden jets cross and play as we almost splash each other!
Click here to watch it and if you want to see more of Rebekah and tiffany pissing just click the banner
The second female desperation and pissing clip is from ineed2pee and is of Alice in this desperation and wetting clip Alice is so desperate to pee that she ends up peeing in her swimsuit. The sound of the pee flowing out of her swimsuit is a loud hiss so she was really suffering from female desperation and not just acting. I love real female desperation and ineed2pee seems to have a lot of real female desperation.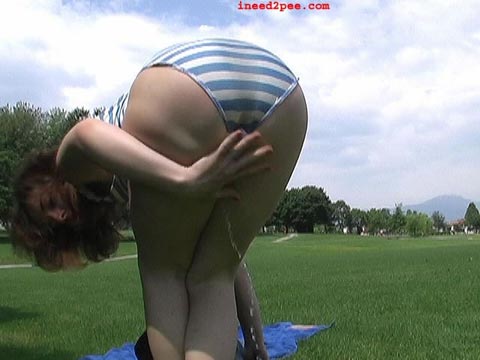 The story that accompanied the movie at ineed2pee is this
It's your first date with this lovely lady, Alice, whom you've communicated with via email on an online dating site. It's a very casual date, just a sunbathe at a public park close by, to chat & get to know each other. She looks amazing in her striped swimsuit as you make casual talk to get to know each other better. Alice seems very fidgety & shy; you realise after she casually asks where the bathrooms are that she must need to pee! You lie & tell her that you have no clue where the bathroom is, even though you know there are some behind the crop of trees close by, but they cannot be seen from where you are sitting. Alice is trying not to look embarrassed or desperate & wanting to make a good impression on you, since it's obvious she likes your company. Finally she suggests we go back to your place or her place not too far off. As she stands up to get her things, she's crossing her legs tightly & bouncing up & down. You're standing behind her gathering your things. You notice that her legs are shaking, crossing & uncrossing when all of a sudden a huge stream of pee pours out of her bathing suit!"
You can see the movie clicking here and if you want to see more female desperation and panty peeing you can just click the banner

Filed under: Desperation and Female Desperation and Ineed2pee and Knicker Wetting and Needapee and Outdoor Pissing and Peeing and Pissing and Swimsuit Peeing
Posted on 01.03.08
Comments: 3 Comments

3 Comments »
Wow. While watching this I had to pee hella bad and it made me pee myself in a similar way.

Comment by Lauren — June 16, 2010 @ 11:05 pm

Peeing pants videos

Comment by Anonymous — January 1, 2014 @ 2:28 am

I like to watch this videos rub my pussy and pee a little

Comment by Anonymous — January 1, 2014 @ 2:29 am
RSS feed for comments on this post.
Leave a comment