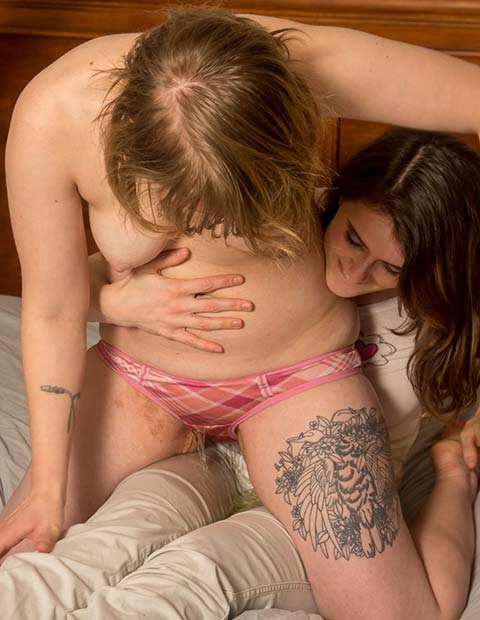 From HD Wetting we have new model Lyra. It's been a while since HD Wetting had a new model on the scene and Lyra looks like she is going to be fun. We start off with her and Sosha in the bed. Lyra is topless and in panties while Sosha is fully clothed. Lyra straddles Sosha and then she starts to pee in her panties. The pee explodes through the panties and starts to pool on Sosha's lap. The golden liquid grows and her panties are sopping, they kiss and when she finishes peeing her panties and they both look so turned on. See The Lesbian Panty Pee In Bed Here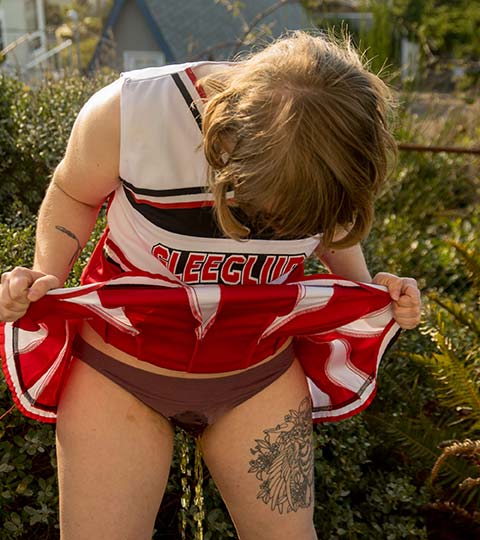 Next up Lyra is in a cheerleader uniform and desperate to pee. She has been holding for ages and then when her bladder is nearly bursting she lifts up her skirt and starts to pee. Her panties are instantly flooded and there is a great dark pee patch growing. Her pee stream gets stronger and piss is spraying everywhere. Her finishes peeing she stands there holding her skirt with her panties dripping. See Lyra Peeing In Her cheerleader Outfit Here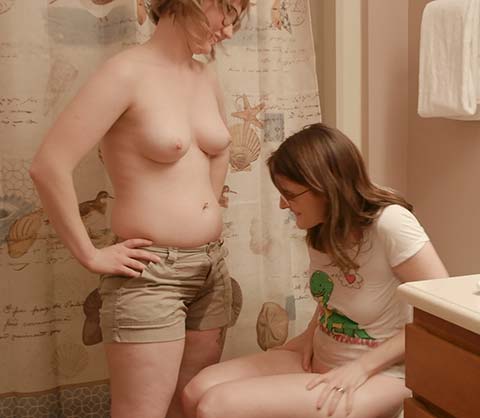 Last up we have Lyra and Sosha in the bathroom. Sosha is on the toilet when Lyra walks in. She needs to pee and is not going to wait, she straddles Sosha sitting on her lap and starts top pee in her shorts. She is soaking herself and also Sosha who is under her. The piss is splashing everywhere. When she finishes Sosha is so horny that she rips Lyras clothes off and they both starts to finger each other. See Lyra And Sosha Peeing Here


Filed under: Babes Peeing and HD Wetting and Knicker Wetting and Lesbians Peeing and Panty Pee and Peeing and Pissing and Pissing In Bed and Pissing In Shorts and Pissing In Skirt and Pissing Outdoor and Pissing Pictures
Posted on 02.26.18
Comments: 8 Comments


Tags: Cheerleader Peeing, Lesbians Peeing, Lyra HD Wetting, Panty Pee, Panty Peeing, Pissed On, Pissing In Shorts, Pissing In Skirt, Shorts Pissing, Skirt Peeing, Sosha HD Wetting, wetting
From Ineed2pee we have three wonderful female desperation and wetting sets. We start off with Jade Janzten and she is in blue pants and locked out. The Ineed2pee story goes like this "It was a blast filming with Miss Jade Janzten for her first ever wetting scene! She's wet her panties in real life, not on camera and in her next scene, she'll tell you her real life desperation stories! She'll hopefully be a regular here if she comes to visit Las Vegas or I go see her. She wasn't pee shy by any means & she has holding her bladder for a very long time as we find out in the Behind The Scenes Interview! I liked how she loses control a little bit and then manages to hold on for another few seconds before she starts wetting her skintight pants some more! Great bladder capacity for such a little body! She really shows she's just a cute girl next door who needs to pee!. A super sexy desperate pants pee. See Jade Janzten desperate pee here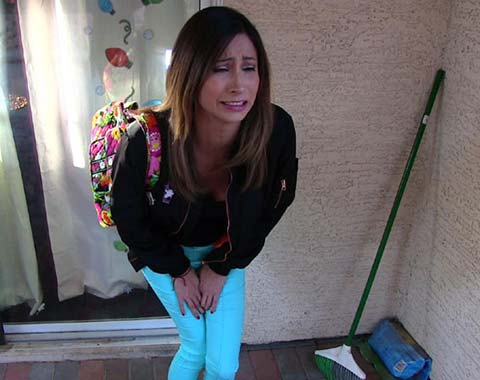 Next up we have the wonderful Nikki Next. The Ineed2pee story goes like this "Does girl next door Nikki ever get less sexier!? No! Here she is in VS cotton panties and a pair of tight overalls. She has to read this long ass desperation story while trying to hold it… you even see her finishing off the last of her gigantic jug of water with a sly smile! She's grabbing her crotch and her butt area, prancing about and trying to hold her full bladder… she can barely even stand up straight. She slyly tries to put her hands in her pockets to press on her crotch but it's not working. With a heavy sigh of relief, she loses control of her bladder and piss is pouring into her tan overalls, making HUGE streaks in the FRONT and back, down both legs and trickling off her cuffs onto the floor. It's seriously a gigantic pissy mess on the floor everywhere and it is inching towards me holding the camera!! Nikki looks super sexy as she tells you how good it felts to lose control and pee her pants, while peeling off her pissy soaked overalls to reveal her sexy light colored panties with pissy wet marks on the front. Her legs are still shiny from all the pee streaming down. It's great hearing her voice faltering as she's trying to hold herself & maintain her dry dignity" Super sexy once again she is one of the hottest desperation and wetting models Ineed2pee has. See Nikki Next desperate and peeing here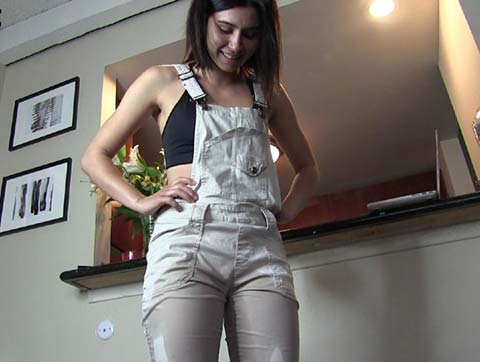 Last up we have Caroline Pierce. Her Ineed2pee story goes like this Sexy MILF pornstar Caroline Pierce is back on the site & even wetter than ever! She looks great since losing some weight and a definite hottie as usual. She waited way too long again to use the restrooms but she hobbles back & tells you that there was just a big bathroom flood & they're both out of order until they clean it up! She's not going to last very long at all (since it's a real desperation and we waited too long to shoot this one!) and she confesses that she's spurting hot piss into her panties already!! Oh no, it's the big wet flood! Very hilarious behind the scenes where she shows her silly side & tries to twerk all the pee off her skirt & butt cheeks. Super sexy real female desperation. See Caroline Pierce desperate and peeing here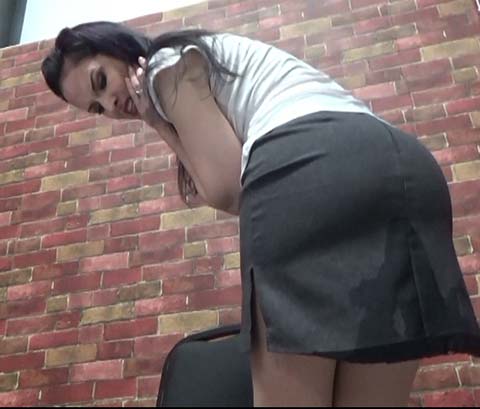 Filed under: Babes Peeing and Desperation and Female Desperation and Ineed2pee and Peeing and Pissing and Pissing In Overalls and Pissing In Pants and Pissing In Skirt and Pissing Pictures
Posted on 02.19.18
Comments: None


Tags: desperate female, Desperate To Pee, Female Desperation, Ineed2pee, ineed2pee Caroline Pierce, Ineed2pee Pictures, Jade Janzten Ineed2pee, Nikki Next Ineed2pee, Overalls Peeing, pants peeing, Peeing Pants, Peeing Pictures, Pissing In Pants, Pissing In Skirt, Skirt Peeing, wetting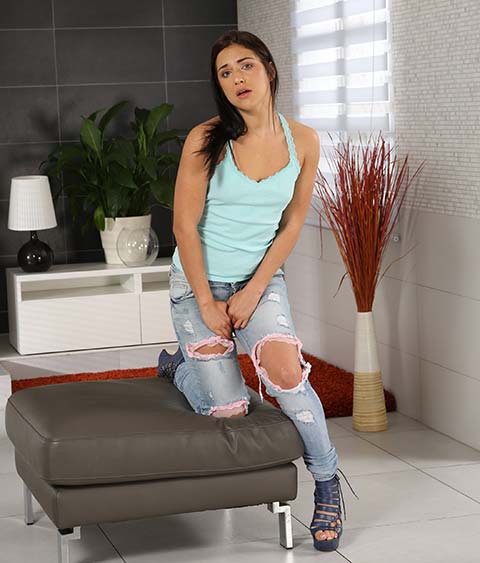 From Wet and Pissy we have the sexy Jessica Lincoln in a wet and sexy pissy video. We start off with her in her piss soaked jeans and finishes with her naked and dripping in piss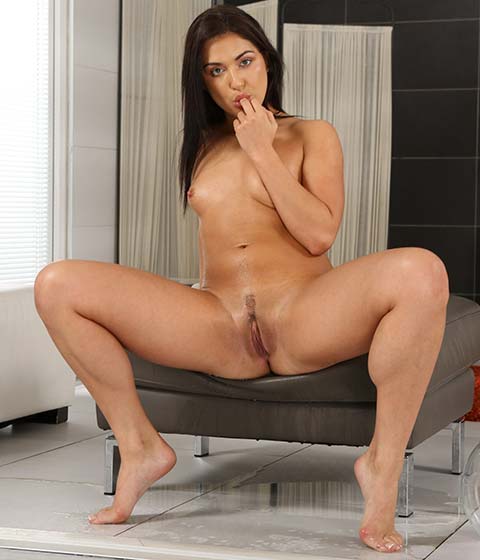 The story from Wet and Pissy Goes like this "Jessica Lincoln, a toned vixen with a very healthy pair of legs. She looks great in her jeans, with her aforementioned legs plumping them up. They don't really do justice for her ass though, but as she drops them down to her knees, we see that the goods are definitely there too. Of course it would be careless to forget to mention her captivating eyes and smile. Jessica starts of with some jean wetting to licking before she begins to really open up to pissing. Laying back on an ottoman, Jessica spreads her legs in the always arousing "v" shaped position. She lets out a couple of great spurts into the air with the camera zooming in as she puts in some extra effort to squeeze out as much as she can. After some action with a purple toy, Jessica takes a piss into a massive goblet. She has some great sustained streams here and she pours the contents into her mouth and lets it run off of her body. After some more action with her toy, Jessica is back on the ottoman pissing, this time with her face plunged into it and her ass appropriately up in the air. Again she manages some strong bursts, sometimes pissing onto the seat and then past it straight to the floor. Jessica wraps up with a winning finish, now standing with one leg tip-toed on the ottoman and the other on the floor. With a camera angle from below, Jessica lets another fine piss fly. The view is great as is the sound when her stream gets thicker and more powerful."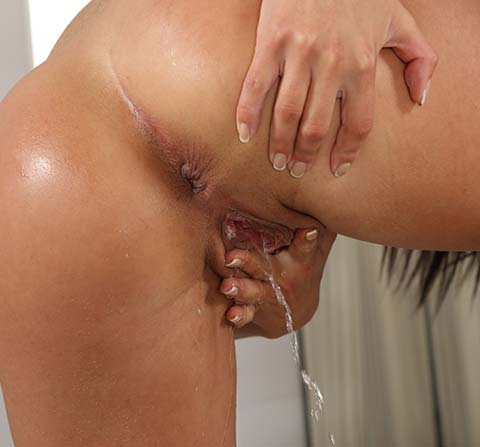 See Jessica Lincoln Pissing Here


Filed under: Babes Peeing and Drinking Piss and Jeans Peeing and Jeans Pissing and Movies and Peeing and Pissing and Pissing Movies and Pissing Videos and Self Pissing and Wet And Pissy
Posted on 02.15.18
Comments: None


Tags: Jessica Lincoln Wet and Pissy, Peeing Movies, Pissing Movie, Pissing Movies, Wet And Pissy, Wet And Pissy Movie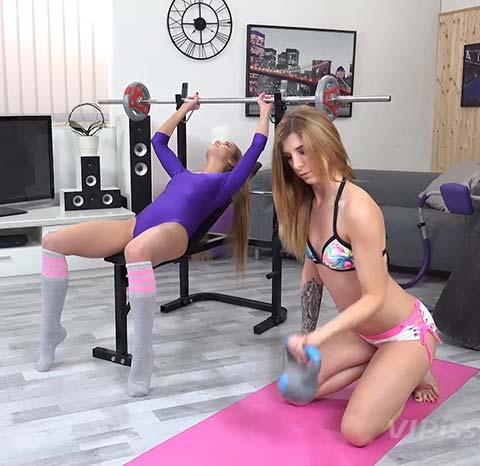 From Vipissy we have the wonderful Alexis Crystal and Barbara Sweet. We have had some great updates with Alexis Crystal in the past and if you have missed some of them check out Hot Lesbians Pissing And Playing and Threesome Pissing Play From Vipissy  She really is one hot pisser.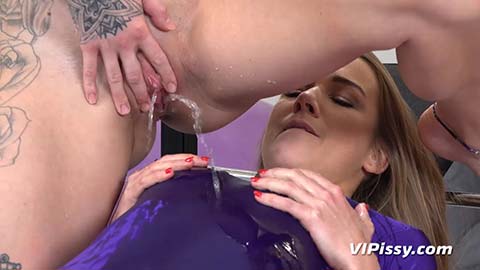 Cute best friends Alexis Crystal and Barbara Sweet are in the gym working out when Alexis tries to lift some weights that are a little heavy for her. She looks to get some help from Barbara but these girls decide that they can have a lot more fun in the gym than exercising! Alexis helps Barbara out of her shorts and then lays back so that Barbara can spray her golden piss all over her leotard. Horny Barbara licks her way up Alexis' body all the way to her mouth before these pissing lesbians kiss. She helps Alexis out of her pee drenched outfit and then using the weights bench they enjoy licking each others pussies at the same time. Suddenly, Alexis fires a stream of her piss out towards Barbara's mouth, giving her a taste of piss drinking and some of her juices even hit her own face! Alexis kneels up and enjoys some fingering then aims another stream of her warm piss into Barbara's mouth! Alexis soon returns the favour and licks Barbara's pussy then to give each other even more pleasure they take turns sharing a purple vibrator. Finally after getting hold of a glass vase, both girls fill it up with their pee and pour it into their mouths, ending the perfect pissing porn session!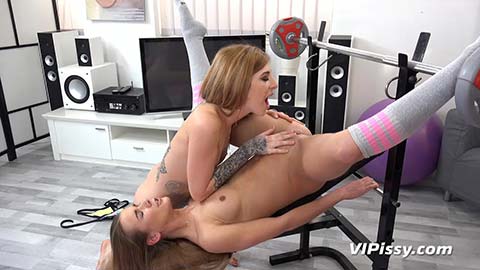 See The Lesbian Pissing Movie Here


Filed under: Babes Peeing and Lesbians Peeing and Movies and Peeing and Pissed On and Pissing and Pissing Movies and Pissing Videos and ViPissy
Posted on 02.09.18
Comments: None


Tags: Alexis Crystal Vipissy, Barbara Sweet Vipissy, Lesbian Pissing Video, Lesbians Peeing, Peeing Movies, Pissing Movie, Pissing Movies, ViPissy, Vipissy Movie
From Real Wetting AKA Audrey's Wetting Site we have the wonderful Audrey. We don't get that many updates staring the owner of the site but when we do we are very lucky. We join Audrey at the beach, she is doing some stretches and really enjoying the view.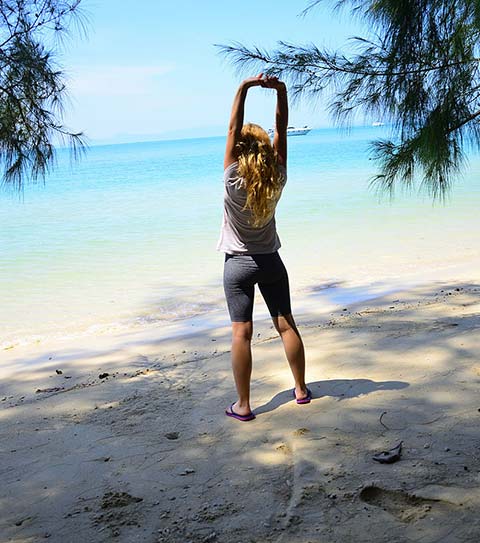 Audrey keeps on stretching and as she does she is showing of her wonderful body. She is starting to feel the need to pee and the more she is there the more she needs to pee. She looks around and sees that there is no one around and has a very dirty idea.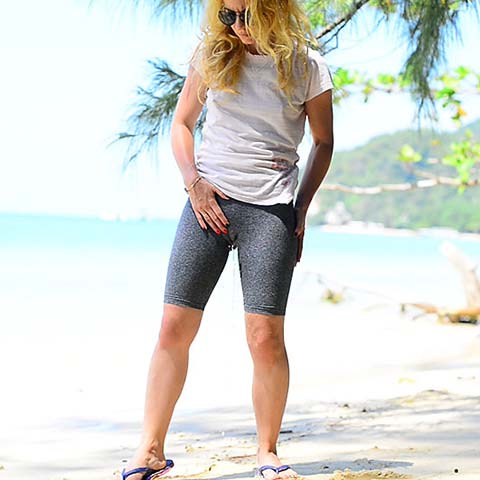 As she is standing on the beach with a lovely view behind her she starts to pee in her shorts. The crotch goes dark and then as she starts to pee more. There are pee rivers running down her legs and soaking into the sand. The grey of her shorts is really showing off the great piss patch that she is making. When she finishes pissing in her shorts she turns around and shows off her big wet batch. A super sexy shorts wetting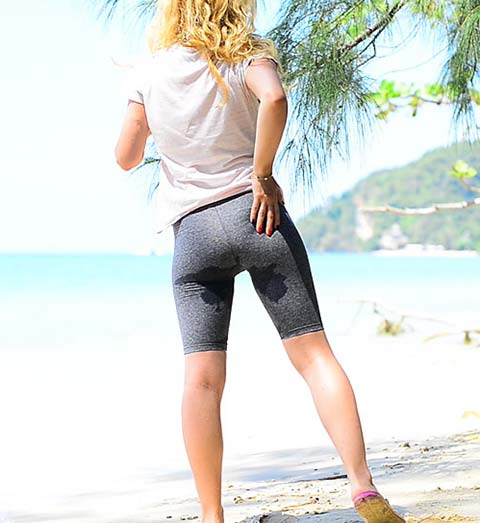 See Audrey Peeing In Her Shorts Here


Filed under: Audreys Wetting Site and Babes Peeing and Outdoor Pissing and Peeing and Pissing and Pissing In Shorts and Pissing Outdoor and Pissing Pictures and Real Wetting
Posted on 01.25.18
Comments: 1 Comment


Tags: Audrey Real Wetting, Audrey's Wetting Site, Audreys Wetting Site, Beach Pee, Outdoor Pissing, Peeing At The Beach, Pissing In Shorts, Real Wetting, shorts peeing, Shorts Pissing, wetting