From Wet In Public we have these two movies. Public jeans peeing and pants peeing in public. Wet in public is one great site and they have some great jeans peeing movies. We have had a few of them here at Pissblog before, Public Jeans Pissing From Wet In Pubic has to be one of my favorites she is just so brazen in the movie. Jeans Peeing On A Public Street was a great jeans peeing movie too. If you haven't checked out Wet In Public yet you really should give it a try.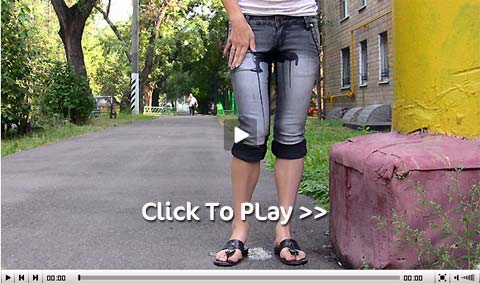 The first Wet In Public movie is a public jeans peeing they are shirt jeans and you can see as she is walking down the path she needs to pee quite badly. She stops and with her legs clenched together she looks around, she is going to pee, she is so desperate but there are just to many people. She walks forward a little till she stops by a pole. She is so desperate now, she needs to pee and then it happens the first drips of pee escape from her bulging bladder and her jeans start to get darker and darker. Now she has started peeing in her jeans she can't stop her jeans are getting soaked and her pee is running down her legs and into a puddle at her feet. She is lucky that there is no one to see her shame and then someone walks by. What a mess and how embarrassing she has been seen in pissed in jeans.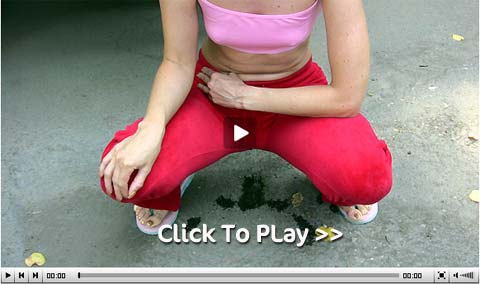 The next Wet In Public movie is a public pants peeing movie. She is walking down the street in her crop top and her tight pants. These pants are great they are hugging her pussy and you can see that she has a camel toe already. She is desperate to pee and  looks like she is nervous. What is a girl to do when she is desperate to pee and there are no toilets around? She stands behind the truck and then starts to pee a few drips come out and then she squats down and starts to pee in her pants and on the ground. This is such a sexy public pants wetting you can make out her breasts through her top she is not wearing a bra and her pants are showing all her curves. She finishes peeing and people start to walk by, how embarrassing. I wonder if they know what she has just peed in her pants in public?
See Public Pants Peeing Movie Here