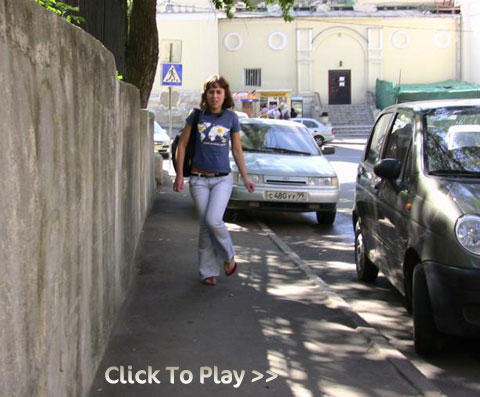 From Wet In Public comes this public jeans wetting movie and this time it really is public. The full wet in public movie lasts for 12 minutes but we join the action as she is walking down the street desperate to pee and about to explode. She has been looking for a place to pee for ages and hasn't found on so she has no choice but to pee in her jeans. She stands still and is about to release her desperate bladder but someone is coming she has to stop and then it is clear but no she has to stop again I bet this time she already has started wetting in her jeans he walks back and lets him pass you can see how full her bladder is its bulging.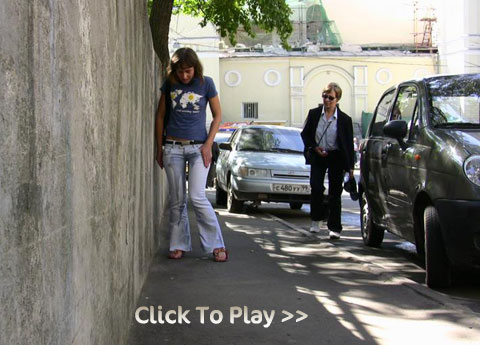 He passes too and now she is ready, she starts to pee in her jeans. Look at how soaked they are getting and just then while she is peeing in her jeans a lady walks by and sees what she is doing how embarrassing peeing in your jeans in the street while being watched. Her shame doesn't end there as she is still jeans peeing two more people walk past her from behind, they must know what she is doing too there will be a big piss patch down her legs and you can see her pee puddle still growing.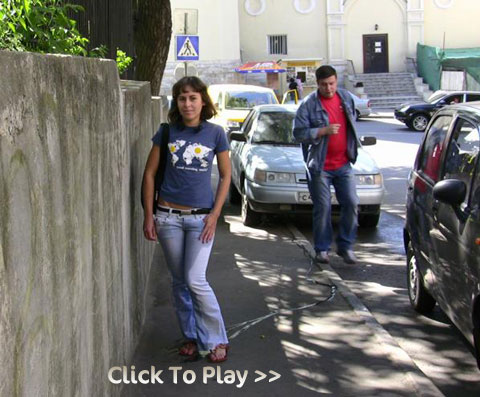 She has finished peeing in her jeans they are soaked the light denim shows of the lovely dark pee stain so well. People keep on walking past her they all know what she has done how embarrassing. This Wet In Public movie really does remind me of the old Public Piss Girl movies where everyone knows what they are doing. She finally decides its time to walk away so many people have seen that she has pissed in her jeans and when she leaves you can see her piss soaked legs. A great public jeans peeing from Wet In Public.

Watch The Public Jeans Peeing Here


Filed under: Caught Pissing and Jeans Peeing and Jeans Pissing and Movies and Outdoor Pissing and Peeing and Pissing and Pissing In Pants and Pissing Movies and Pissing Outdoor and Pissing Videos and Public Pissing and Wet In Public
Posted on 11.29.10
Comments: 2 Comments


Tags: Caught Peeing, Caught Pissing, Jeans Pee, Jeans Peeing, Outdoor Pissing, pants peeing, Wet In Public
Here we have Natalia X from Wetting Her Panties she is in her skirt and desperate to pee she has he hands jammed between her legs and her skirt is helping her hold on. I do love Wetting Her Panties they have such great knicker wettings and Natalia X is one hot panty peeing model. We have had Natalia X before at PissBlog you can see her in Knicker Wetting With Wettingherpanties Natalia X and Natalia X Pissing In Her Tight Panties. She looks so cute playing around in her skirt and tight top. I love how she is flashing her panties and look how they are hugging her pussy. This reminds me of a Antonia Stokes post that we had a long time ago Panty Peeing From Wetting Her Panties she was having so much fun flashing her panties before peeing.
Natalia X looks so sexy and as she lifts her skirt for one last time we see her panties and then she starts to pee look at the first drops how sexy and her panties have moved to the side so we can see one of her pussy lips as she is peeing in her panties. She looks so relieved to be peeing in her panties it looks like she really was so desperate to pee she stops peeing in her panties and then starts again. I wonder if she is loving g the feeling of her desperation and bursting bladder before she starts to wet her knickers again?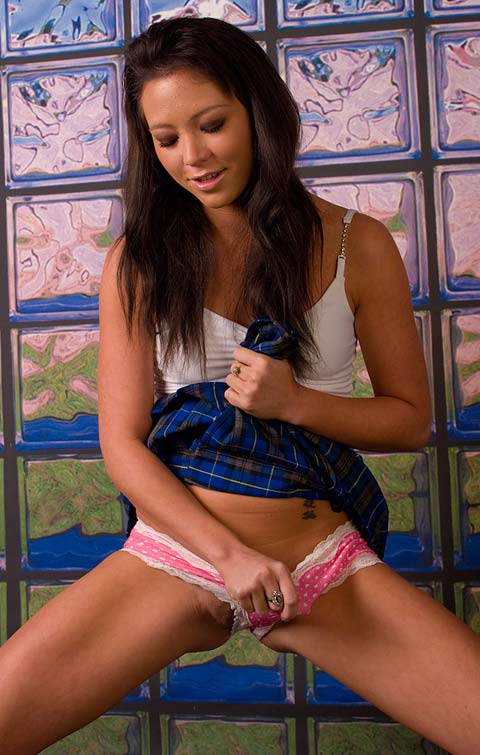 She really is exploding pee into her panties and her french knickers will be getting wetter and wetter, It's a pity we don't get to see if she is standing in her puddle of pee in bare feet enjoying the warmth. I think it is so sexy to watch panty peeing while seeing a pussy lips the best of both worlds, wet panties and a pissing pussy. She finishes peeing in her panties and pulls them down to show her smooth pussy. it's a pity she is still not dripping pee but a lovely sight of Natalia X's pussy all smooth and I bet a bit moist too. Another great panty peeing set from Wetting Her Panties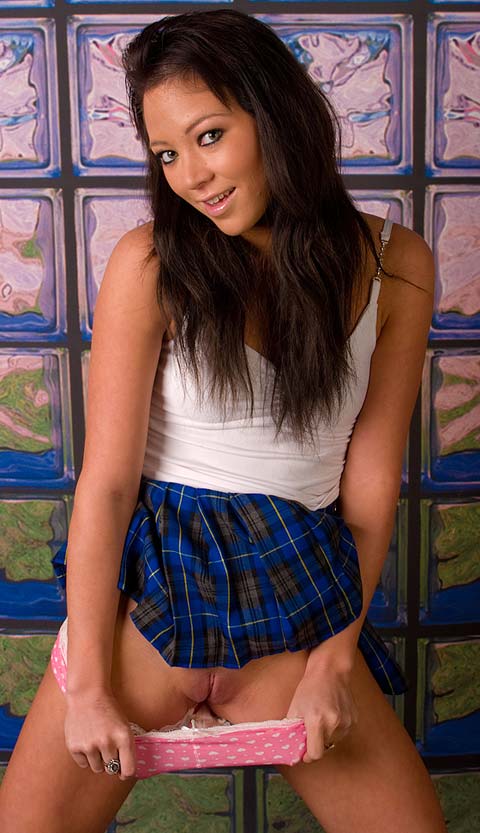 See Natalia X Peeing In French Knickers Here

Visit Wetting Her Panties Click Here


Filed under: Babes Peeing and Knicker Wetting and Panty Pee and Peeing and Pissing and Pissing In Skirt and wettingherpanties
Posted on 11.26.10
Comments: 6 Comments


Tags: Knicker Wetting, Natalia X, Panty Pee, Panty Peeing, Pissing Panty, Skirt Peeing, wetting, wettingherpanties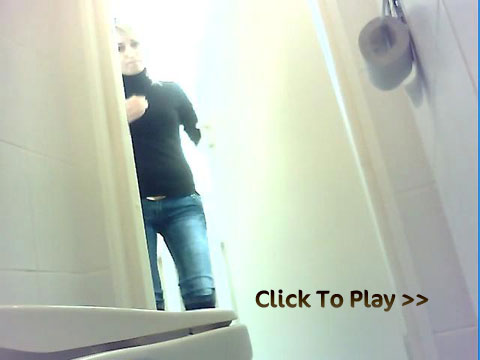 From Pisshunters comes this hidden cam in the toilet movie. I realized we hadn't had has a Pisshunters hidden toilet cam for a while and I know a lot of you love watching these toilet movies more than the voyeur peeing outdoors. She comes in her jeans and her hand over her mouth I wonder if the toilet smells I would be surprised female toilets are always better than male ones but who knows. She is wearing a G-string too she drops her pants and starts to pee. I really do love watching Pisshunters voyeur peeing movies.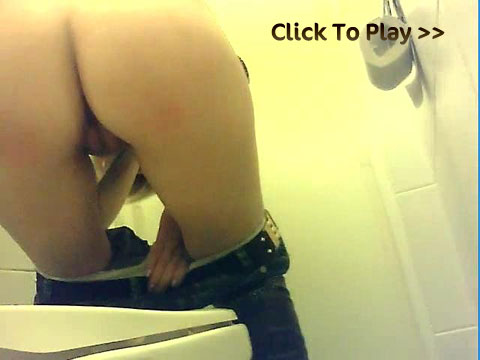 She starts to pee and we get a great shot of her pissing pussy on this hidden toilet camera some of the Pisshunters hidden toilet cam movies seem to be on the wrong angle but this is great. She has such a cute bottom and pissing pussy. She must have been full she starts pissing and then seems to finish quickly but then starts again and stops and starts. It is always great to watch Pisshunters hidden pissing movies as you get to see what chicks really do in the toilet. I really does seem that she is trying to drip dry her pussy it is just great this is one long pee and what a view.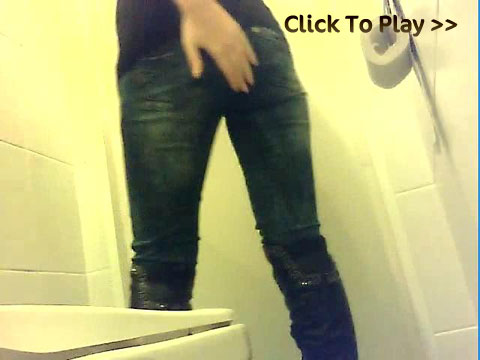 She is finally empty she is even using toilet paper and it looks like a lot. Lots of these hidden toilet cam movies have the chick just shaking and then pulling up their pants at least this chick won't have a wet g string. Once again another great Pisshunters hidden cam movie.  I really do love watching them and if you haven't seen the previous hidden toilet cam movies you can see them in the Hidden Cam Category Enjoy this hidden toilet cam movie from Pisshunters.

See The Hidden Toilet Cam Movie Here


Filed under: Caught Pissing and Hidden Toilet Cam and Movies and Peeing and PissHunters and Pissing and Voyeur Peeing
Posted on 11.23.10
Comments: None


Tags: Hidden Toilet Cam, Peeing Voyeur, Piss Hunters, Pissing Movie, Voyeur Pissing
From House Of Taboo comes this great lesbian peeing movie. We haven't has a House Of Taboo post for quite a while and hope everyone will enjoy it. We start this pissing movie off and her lesbian mistress is releasing her from her restraints I guess that she doesn't want them to get wet with piss. Look at how hard the slaves nipples are she really is enjoying this and I bet she knows that she is about to be pissed on too. Her mistress takes her position and is ready.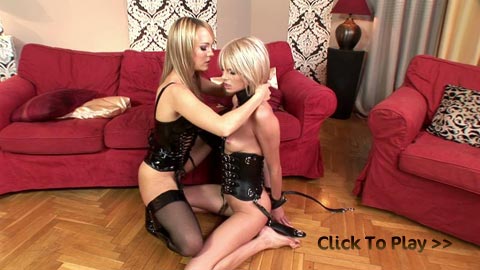 She starts to pee on her lesbian slave look at how sexy this is as piss is just splashing over the slave, lesbian peeing what more could one want well? I guess you could have lesbian panty peeing and hopefully I can find that another day. She keeps peeing on her lesbian slaves stomach and look at how soaked she is getting she is sitting in the warm pee puddle too.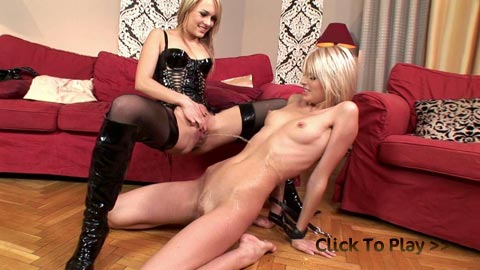 She finishes pissing and her lesbian slave is just soaked in pee. The slave still looks so turned on her nipples are still hard she has loved being peed on and I bet she is eagerly awaiting her next job. With no toilet paper around her mistress makes her suck her pissy pussy dry such great lesbian peeing and a dirty mess to. I hope you enjoy this House Of Taboo movie and enjoy watching the lesbian being pissed on. House of Taboo really do have some great pissing movies.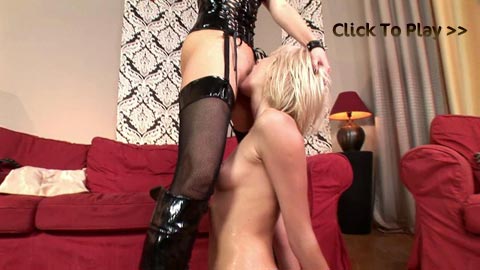 Filed under: Babes Peeing and Drinking Piss and House Of Taboo and Lesbians Peeing and Movies and Peeing and Pissed On and Pissing and Pissing Movies and Pissing Videos
Posted on 11.20.10
Comments: 4 Comments


Tags: House Of Taboo, Lesbian Slave, Lesbians Peeing, Pissing Movie
Here we have a new model from Real Wetting. While Real Wetting mainly starts off with some great female desperation and then we get to the wetting this time it's different. We have Antonia standing at the window looking out in her denim skirt. She looks so lovely and what a great find for real wetting with this new hottie. If you look at her bladder side on it looks full maybe she is a little desperate after all.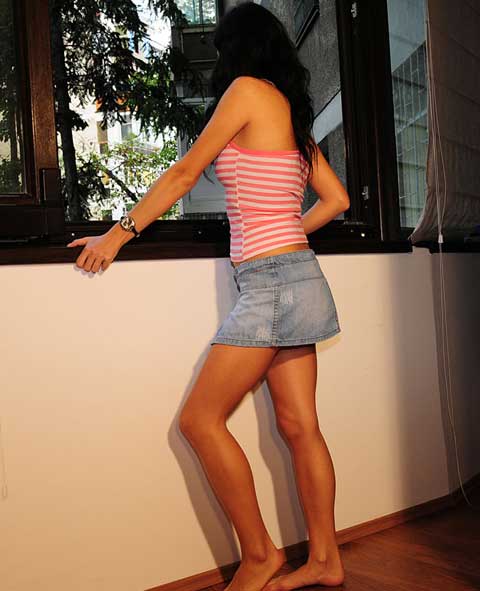 Antonia turns around lifts her skirt and puts her hand on her panty covered crotch suck sexy knickers too. She starts to piss in her panties, look at that stream it is coming out so powerfully the splashing on the floor must be great and she keeps putting her hand over her pissing pussy she must love the warmth as it floods through her panties. Knicker wetting like this is so sexy I always do enjoy a deliberate panty peeing. Look at her pee drips down her legs too this is great for a new panty wetting model I didn't expect such a great show.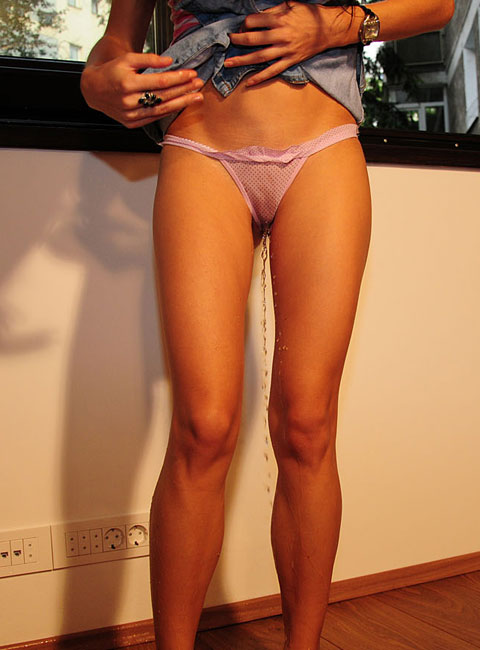 She keeps on peeing in her panties till she is empty, you can see her bladder even looks smaller. She has her panties so tight against her pussy they are soaked and still dripping too. I think if you look closely at her piss soaked crotch that you can just make out her pussy. Something else about this knicker wetting from Real Wetting is, that usually Real Wetting have pantyhose as well a pure panty pissing just great.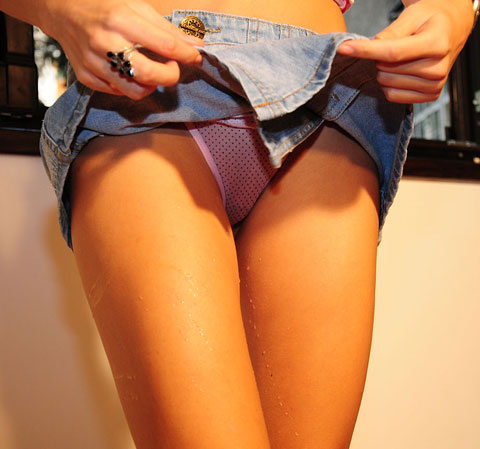 Filed under: Audreys Wetting Site and Knicker Wetting and Panty Pee and Peeing and Pissing and Pissing In Skirt and Real Wetting
Posted on 11.17.10
Comments: None


Tags: Antonia Real Wetting, Audrey's Wetting Site, Knicker Wetting, Panty Peeing, Real Wetting, Skirt Peeing