From Wet And Pissy we have three peeing movies. We start off with Mary Jane, she is in her panties sitting on the sink and playing with her pussy through her panties. She keeps on rubbing her pussy and then starts to pee in her panties, her piss explodes in her panties and the fabric goes dark green she pulls her wet panties aside and we get to see her pussy as it shoots out pee. She stops peeing and goes back to rubbing her pissy wet pussy through her panties they, are soaked. She squirts some of the pee out and rubs herself again. She is getting so hot she pulls off her top and then off come her piss soaked knickers till she is nude and starts to play with a vibrator pressing it against her piss soaked pussy. A great Wet And Pissy Movie see Mary Jane peeing her panties here.
The next Wet and Pissy movie that we have stars Kitty, she is nude and has drinking glasses around her. There is no waiting in this peeing movie and she starts s pissing over the glasses trying to fill them she splashes her pee all over the glasses and then finishes and starts to rub her pussy. She picks up a glass that is full of her pee and starts to play with it, she rubs it over her breasts and plays with the puddle of piss that she has made a lovely pissing movie. See Kitty pissing Here.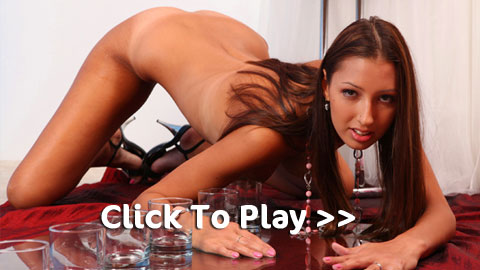 The Last Wet and Pissy movie stars Nicole she is in the bathroom just in her panties she starts to rub her pussy she pulls her panties tight against her crotch and gives herself a wonderful camel toe. Her pussy lips are hanging out on both sides and she keeps playing with them and rubbing her pussy.  She pulls down her panties exposing her pussy. The next shot we have is her in the bath spraying her piss her pee is shooting out and there are splashes all over her legs she is soaked in her pee. She finishes peeing and pours soap over herself. See Nicole peeing in the bath.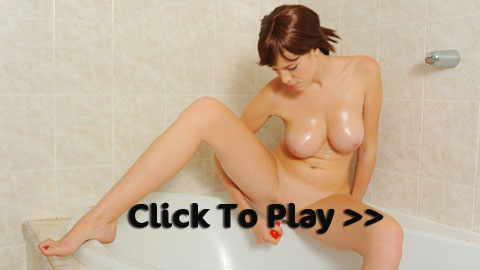 Filed under: Knicker Wetting and Movies and Panty Pee and Peeing and Pissing and Pissing Movies and Wet And Pissy
Posted on 03.21.13
Comments: 3 Comments


Tags: Kitty Wet And Pissy, Knicker Wetting, Mary Jane Wet And Pissy, Nicole Wet And Pissy, Panty Peeing, Pissing, Pissing Movie, vagina peeing, Wet And Pissy
Something a little different today here at Piss Blog we have Idoia from Magic Erotica. We have two hot picture sets to enjoy. The first set of pissing pictures has her dressed as a nurse she starts off pissing in a bowl and it really is a nice piss. She has great piss flaps and this pee is nice and yellow. Idoia is one dirty girl too when she has finished pissing in the bowel she then gets out her shaving cream lathers herself up and shaves her hairy pussy. This must have turned her on as she then gets a dildo and starts doing herself a great set of peeing and playing photos.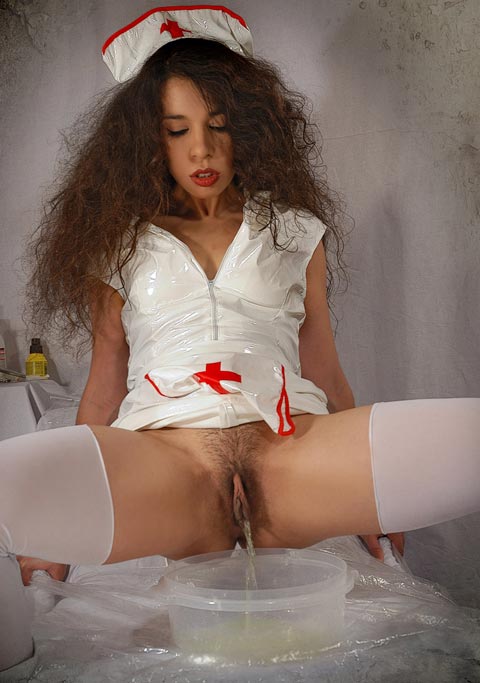 The next set we have is with her dressed as a school girl and a sexy school girl she is. She has no panties on and her shaved pussy is on show she squats down and starts to piss. Her pussy lips really are big and in this set of pissing pictures she has opened them so that we get a great view. When she starts to piss she has such a lovely strong stream and wouldn't you love to feel her hot piss as it is gushing out of her pussy I know I would.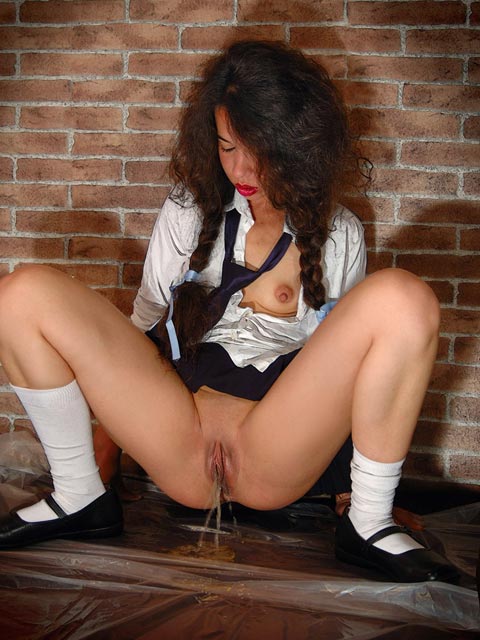 Visit Magic Erotica Click Here





Filed under: Babes Peeing and Hairy Pussy Pissing and Peeing and Pissing
Posted on 02.27.11
Comments: 4 Comments


Tags: Hairy Pussy Pissing, Idoia Magic Erotica, Pissing, Pissing Pussy, Uniform pee
From Pisshunters comes this great voyeur peeing movie. A blond staggers into the camera shot she must be a little drunk and she needs to pee. When she hitches her skirt up and is about to pull her pantyhose and panties down I did think that she was going to fall back in the bushes but no she recovers. She pulls down her panties and pantyhose and she does need to pee badly before she has even squatted properly she is pissing in the dirt this is one powerful piss too.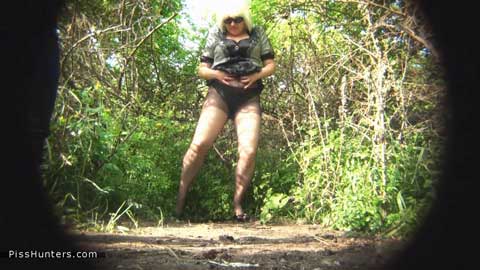 She is squatting and pissing and it is one big piss. We have a great view from the Piss Hunter's cameras. I do love this voyeur pissing there is something so naughty seeing hicks pissing in public. She keeps pissing and her strong pee stream keeps splashing in the dirt. This really is one powerful piss she must have been so full it's a pity she didn't start to pee in her panties and pantyhose. She is still pissing, this is one long Pisshunters voyeur peeing movie and if you are watching her pee stream it is now splashing over her shoes she is totally unaware as she is soaking her shoe and pantyhose covered foot. What a warm mess she is making.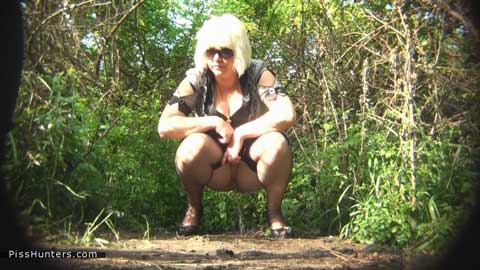 The piss stream starts to dwindle and then it starts up again. For a minute it looks like she is going to pull her panties and pantyhose up while she is still pissing but no, her stream turns into little drips. She pulls her panties up and then her pantyhose, she has a pad in her panties so I'm betting that will be soaking up lots of her pee. Another great voyeur peeing movie from Pisshunters.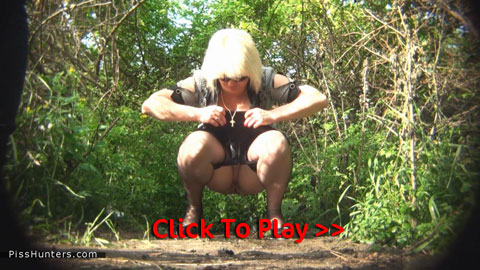 Watch The Blonde Caught Pissing Here


Filed under: Caught Pissing and Movies and Outdoor Pissing and Peeing and PissHunters and Pissing and Pissing Movies and Pissing Outdoor and Public Pissing and Voyeur Peeing
Posted on 02.15.11
Comments: 9 Comments


Tags: Caught Peeing, PissHunters, Pissing, Pissing In Public, Pissing Movie, Voyeur Peeing, Voyeur Pissing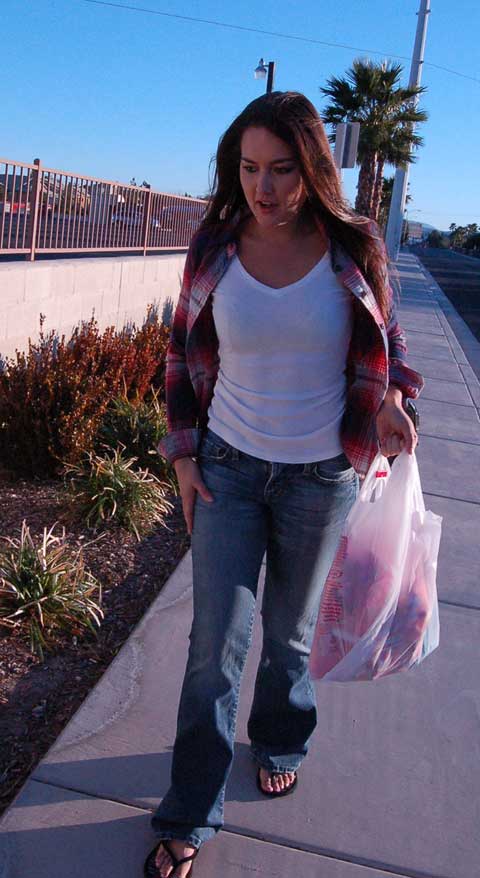 Jeans Pissing in the street with Selene from ineed2pee. Ineed2pee has had some great female desperation and jeans wetting movies and it is always great when the female desperation star is hot and Selene really is she is out walking and desperate to pee she does the female desperation hop and then there is the female desperation walk trying to keep her legs as close together as she can so as not to loose control. Ineed2pee does female desperation so well and in this female desperation and jeans wetting you and see the point that Selene just can't hold on any longer and she starts to pee her jeans in the street.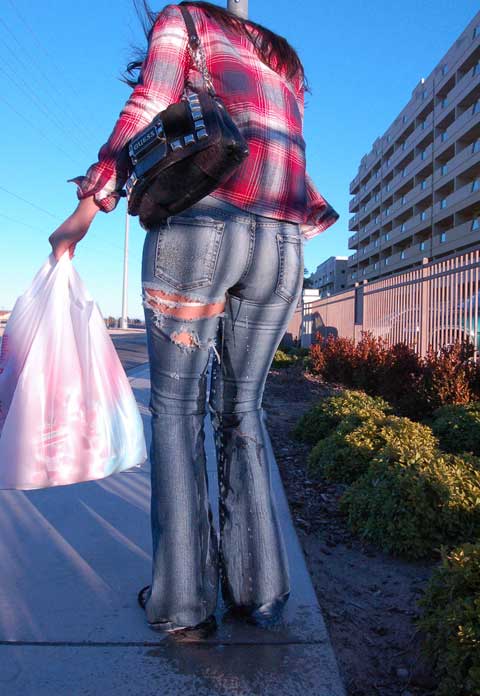 When she starts to pee in her jeans she just cant stop and no matter what she does all she can do is stand there as her bladder gives in and she is pissing herself in the street. Selene really is lucky that no one is around to see her jeans wetting shame. Look at how it is running down her legs like a river anyone who sees her will know she has pissed in her jeans. A great finish to a great ineed2pee female desperation and jeans wetting movie and you can see the pictures from this movie.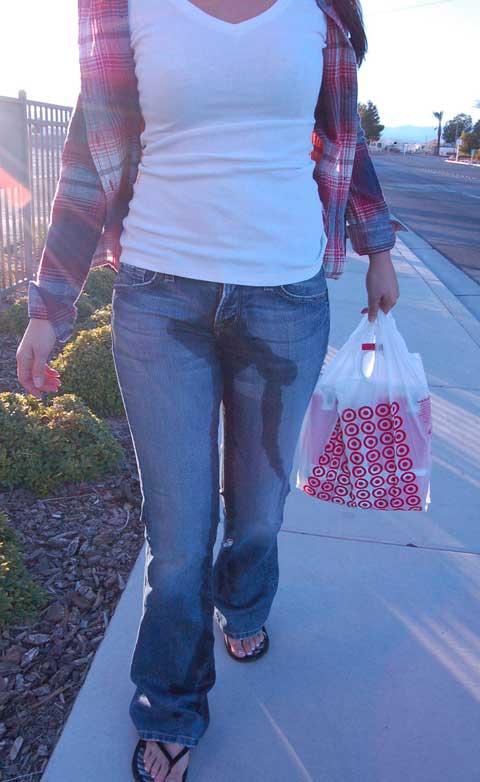 The blurb from ineed2pee goes like this "Meet new girl Selene walking home in super skintight blue jeans that hug her butt just perfectly. She needs to stop every so often because that's how much she needs to pee! Nice public jeans wetting with huge puddle under her feet."

See The Jeans Wetting Pictures Here


Filed under: Desperation and Female Desperation and Ineed2pee and Jeans Peeing and Jeans Pissing and Peeing and Pissing
Posted on 03.30.10
Comments: 4 Comments


Tags: Desperate To Pee, Female Desperation, Ineed2pee, ineed2pee Selene, Jeans Peeing, Pissing
From the house of taboo we have these taped and pissing pictures. A hot blonde has her wrists tapes to a clothes rack. Her panties are on and pulled to the side and she has a bowl below her. These really are sexy pictures from the house of taboo; a blond in panties about to piss is always great. This blonde hottie then releases her bulging bladder and her pee flows from her pussy into the bowl and what a great stream it is. I am amazed that she doesn't get more pee on the floor than she does such great pissing control. The close up pissing picture with the piss spraying from her pussy and running down to her bottom is so sexy she even has piss on her pantyhose and I bet her white panties arte soaking some of her hot pee up too.

See These Taped Up & Pissing Pictures Click here

Visit The House Of Taboo Click here


Filed under: House Of Taboo and Peeing and Pissing
Posted on 01.13.10
Comments: 1 Comment


Tags: blonde peeing, bound pissing, House Of Taboo, Pissing
Just one black chick pissing if you click on it you get the bigger size I find it difficult to find black chicks pissing so to find this is great. What a big piss stream it is just great I wish I had more from this piss set as her inner thighs are wet and I am guessing with piss so I guess it's a big piss look at the piss running down her ass crack too wonderful enjoy the black chick piss


Filed under: Black Pissing and Peeing and Pissing
Posted on 08.08.08
Comments: 26 Comments


Tags: Black Chick Pissing, Pissing
Well its not a street but this chick is pissing anyway. Here she is by the river and sneakily peeing a puddle you have to wonder how many people are around that can see here. she is quite brazen about the piss but also trying to hide what she is doing. Street piss has some great outdoor pissing sets and this is lovely at the street piss website they have lots of pissing movies but I have always liked the pissing photos. The piss puddle that she has made is big and shows how much piss her bulging bladder was holding. I see another puddle behind her I wonder if it is another piss puddle enjoy these street piss photos

Filed under: Outdoor Pissing and Peeing and Pissing and Pissing Outdoor and Public Pissing and Street Piss
Posted on 07.15.08
Comments: 1 Comment


Tags: Pissing, Public Peeing, Street Pee