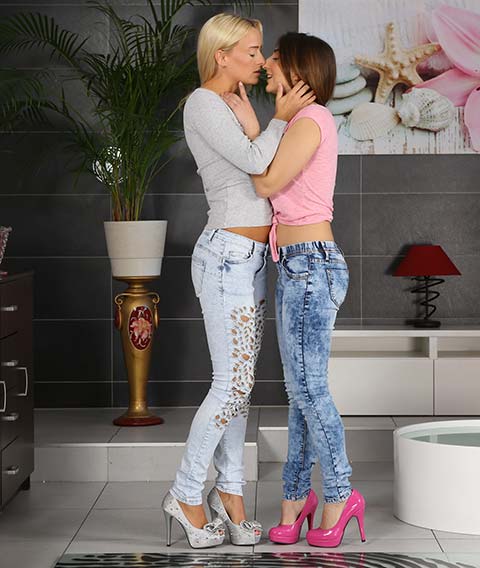 From Vipissy we have the very sexy Jimena and Victoria, these are two very sexy ladies and wet with they are even better. We start off with them in their jeans and horny. They start to kiss and are getting right into it. Jimena in her tight jeans sits and Victoria follows her and is on her knees. They are both in their tight jeans and then Jimena starts to pee. She is peeing into her skin tight jeans and starting to make a great big piss puddle, Victoria joins her in pissing to they are now both pissing in their jeans and there is piss running everywhere They finish peeing and what a sight these two are in their piss soaked jeans sitting in the piss puddle.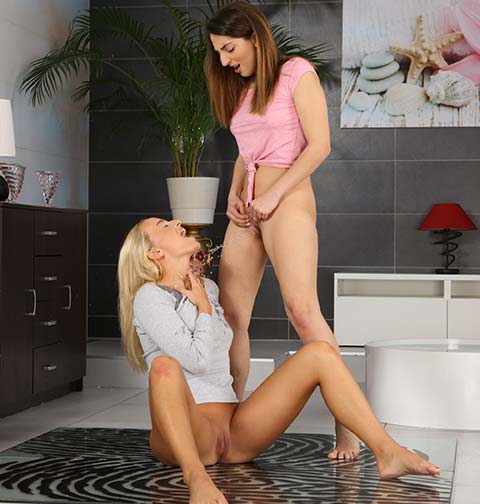 They are both so horny now and they strip of the sopping denim and then Jimena stands up and pees straight into Victoria's mouth. Piss is splashing down her throat and she has pee overflowing and running down her body. Her grey top is soaked and clinging to her breasts and when Jimena finishes peeing on her she starts to lick and suck the piss from Victoria's body. Jimena still slightly dry lies down and gets sprayed in Victoria's piss till she is soaked too.

See Jimena And Victoria Peeing Here


Filed under: Babes Peeing and Drinking Piss and Jeans Peeing and Jeans Pissing and Lesbians Peeing and Peeing and Pissed On and Pissing and Pissing Pictures and ViPissy
Posted on 05.23.17
Comments: 3 Comments


Tags: Jeans Pee, Jeans Peeing, Jimena Vipissy, Lesbians Peeing, Piss Drinking, Pissing, Victoria Pure Vipissy, ViPissy, wetting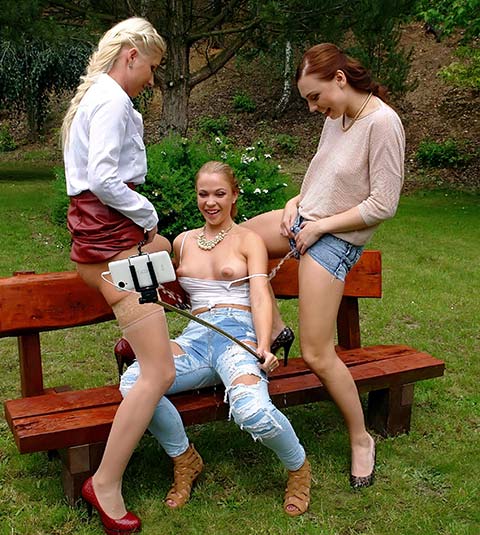 From Tainster we have three great lesbian piss sets. This is the first time we have any pissing action from this site and this is a great way to start. We start off with three hotties out in the grass they are taking selfies with each other until they start to get hot and horny. They start kissing and then pull down the top of one of them and the other two starts to pee on her. She has two piss streams splashing all over her it is just so hot to see. Two of them then lay on the ground and the sexy blond pisses on them both till they are dripping. They play together and then the redhead pisses all over herself. This is a great lesbian piss and they are having so much fun soaked in piss. See The Lesbian Piss Here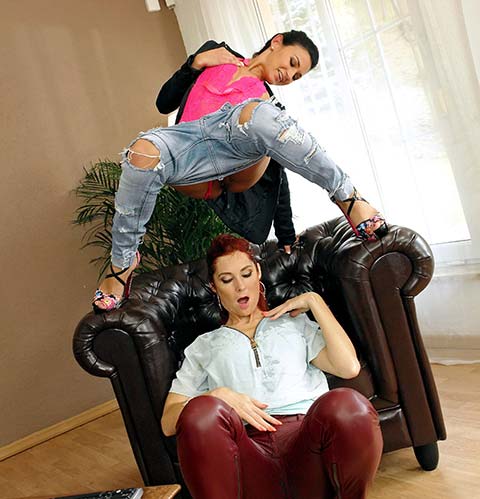 Next up we have a lesbian couple indoors, they are checking out something on the computer but are so horny they starts to kiss and then their pants come down and they are both fingering each other to an orgasm. No sooner do they finish that they both need to pee. The brunette gets above the redhead with her pussy exposed and starts to piss, she is spraying piss all over the redhead and when she finishes her hair is clinging to her face and she is in a puddle of piss. Soaked in piss sher gets up and now it is her turn to pee on her lesbian lover. She stands on the couch and sprays her with piss. This is a great wet pissing lesbian set and you can see it here.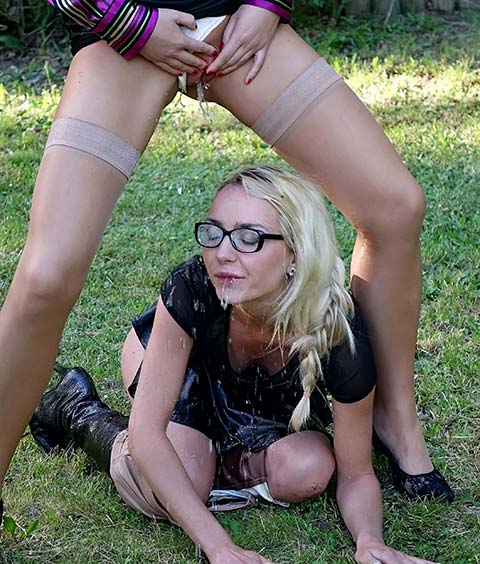 The last set starts with two lesbians making out on the couch till they are horny and there bladders are full. They go outside and the brunette gets on the ground and gets sprayed with pee, just look how turned on she looks with pee running everywhere. She stands up and the blond gets on the ground. She lifts her piss soaked skirt and aim her dripping vagina at her and starts to piss. She is soaking the blond and then she starts to drink the pee straight from the source. A really wonderful piss scene. See The outdoor pissing lesbian here


Filed under: Babes Peeing and Drinking Piss and Lesbians Peeing and Outdoor Pissing and Peeing and Pissed On and Pissing and Pissing Pictures and Tainster
Posted on 01.22.17
Comments: 1 Comment


Tags: Lesbians Peeing, Peeing, Piss Drinking, Pissing, soaked in piss, Tainster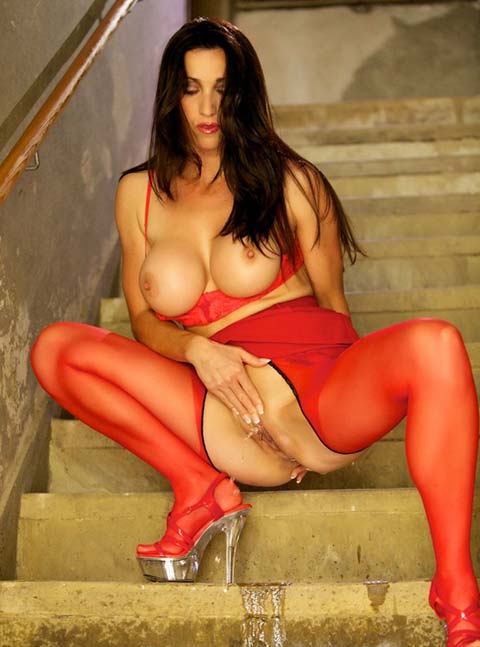 Its been a long time since we have a post featuring the sexy Miss Hybrid. Miss Hybrid Really is one sexy woman and to see her pee is just wonderful it is just a pity that peeing is a small focus to her wonderful website. First up we have her in her red lingerie on the stairs we have had the same location in Miss Hybrid Peeing Again. Today to start she poses and shows off her lovely shaved pussy, she stands there and starts to piss her piss stream is golden and her pussy has a wonderful sparkle as she is pissing. By the time she finishes peeing the stairs are soaked. See Miss Hybrid Peeing On The Stairs Here.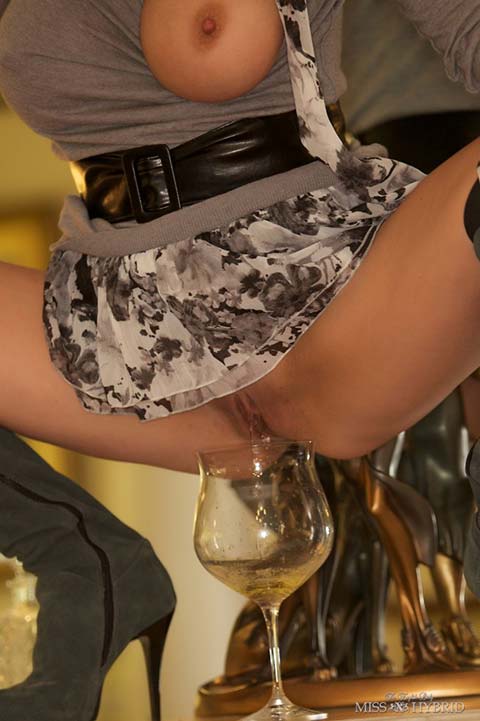 Next up we have her inside and posing in a short skirt, she bends over and flashes her panties she really is being cheeky. She strips her panties off and flashes her pussy and then when we are thirsty she squats over a glass and starts to pee. Her pee is lovely and golden and I bet some would love to drink her golden nectar. See Miss Hybrid Filling A Glass With Pee Here.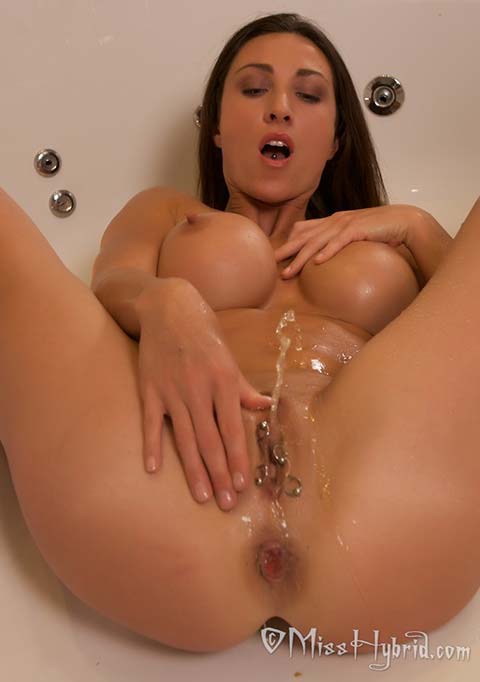 Last up we have Miss Hybrid in the bath and who wouldn't want to play with her in the bathroom she really does look so playful and her breasts are wonderful. After giving us a strip show she holds her crotch, squats down in the bath and releases her bladder. Her piss sprays out and splashes in the bath and on herself, her beautifully tanned body is glistening in her piss, what a wonderful position she is in. See Miss Hybrid Peeing In The Bath Here.
Visit Miss Hybrid's Website Here




Filed under: Miss Hybrid and Peeing and Pissing
Posted on 08.30.14
Comments: 6 Comments


Tags: Lingerie Pee, Miss Hybrid, Peeing Pictures, Pissing, Pissing In Bath, Pissing In Glass
From Wet and Pissy we have the very sexy Victoria Daniels. We have had some great pissing movies from Wet and Pissy staring hot peeing ladies, check out Whitney Conroy Making A Piss Movie and Kattie Gold Pissing From Wet and Pissy for a couple that you may have missed. Today we have Victoria Daniels. This is the first time that she has been on Wet and Pissy but you wouldn't know she really does enjoy herself.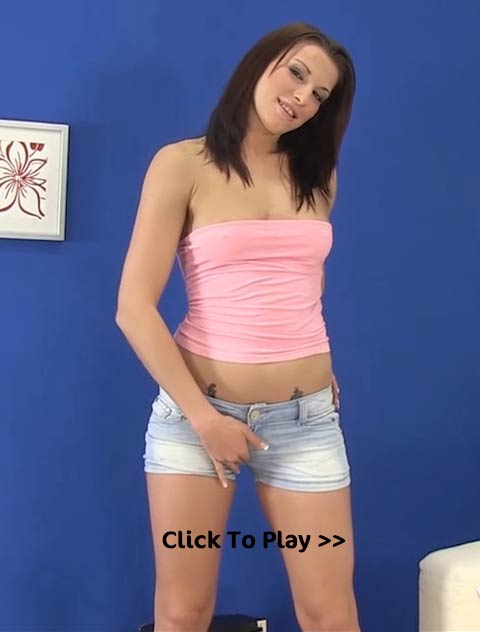 At Wet and Pissy this was written about Victoria Daniels peeing movie "It was easy to see that Victoria was having a great time peeing for us. She smiles while her tight faded shorts restrict her stream as it trickles down her leg. Once they come off, she slightly bends her knees to pee from a standing position onto the table and then into a bowl. Positioned against the sofa with her head and shoulders on the floor, she pees towards her face. A slight flatulent mishap breaks her concentration as she bursts out laughing. She then pees from a bent over position before using a speculum to fine tune her stream. Finally, Victoria rests her head on her shorts and raises her ass in the air to pee one last time, a fitting conclusion for this fun loving girl."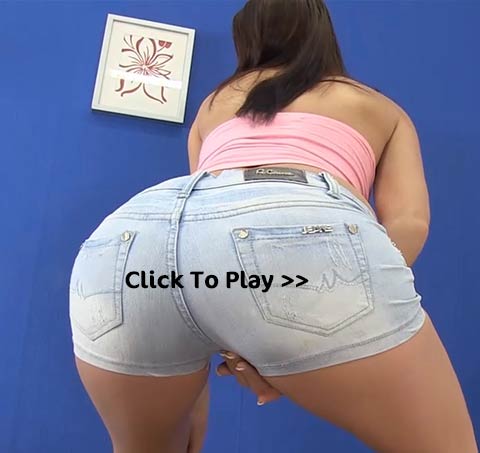 This is one great pissing movie, the only sad thing that I thought was we didn't get to see her pee in her shorts in this trailer. The full movie that is just under 30 minutes she fully soak her shorts before peeing everywhere, even pissing on her own face. A wonderful shoot from Wet And Pissy.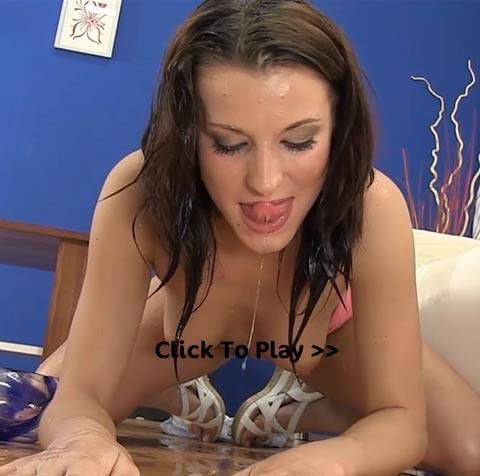 See Victoria Daniels Peeing Here


Filed under: Babes Peeing and Movies and Peeing and Pissing and Pissing Movies and Pissing Videos and Self Pissing and Wet And Pissy
Posted on 01.04.14
Comments: None


Tags: Piss Movie, Pissing, Pissing Movie, Pissing On Herself, shaved pussy peeing, soaked in piss, Victoria Daniels Wet And Pissy, Wet And Pissy
From Pisshunters we have this great voyeur pissing movie. We have had a number of these voyeur peeing movies before and if you want to check them out have a look at the Voyeur peeing category. Today we have a mature woman, we start with her giving her hand bag to someone and then she hikes her skirt up giving us a great view of her panties and pantyhose before turning around and pulling them both down and squatting with her pussy on show.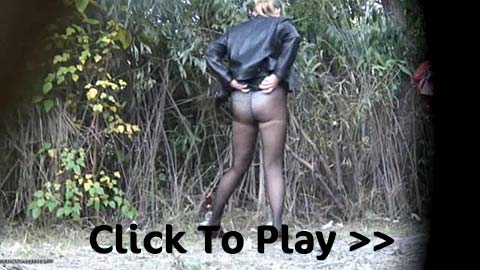 We are perfectly lined up in this Pisshunters voyeur peeing movie. She starts to pee and looks a little relived, her bladder must have been holding on a long time as there is no big piss stream there is just a little flow. It looks like a leg gets in the way so the camera has to shift to keep the pissing pussy in view.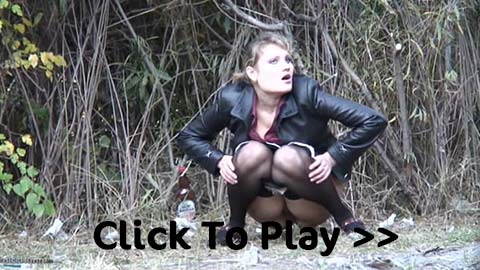 We have nearly lost the wonderful view of her pissing vagina but the camera manages to move and zoom in and we can see that she is still trickling piss out. This is one of the longest pees we have had from Pisshunters and she keeps on pissing her bladder just doesn't want to release it all at once. She keeps peeing and it looks like she is trying to squirt every last drop out. When she has released her last dribbles of pee she pulls up her panties and then her pantyhose and we are done. Another great Pisshunters peeing movie.
See The Blonde Caught Peeing Here


Filed under: Caught Pissing and Movies and Outdoor Pissing and Peeing and PissHunters and Pissing and Pissing Movies and Pissing Outdoor and Pissing Videos and Public Pissing and Voyeur Peeing
Posted on 10.08.13
Comments: None


Tags: Caught Peeing, Caught Pissing, Outdoor Pissing, PissHunters, Pissing, Pissing Movie, Voyeur Peeing, Voyeur Pissing
From Wet And Pissy we have three peeing movies. We start off with Mary Jane, she is in her panties sitting on the sink and playing with her pussy through her panties. She keeps on rubbing her pussy and then starts to pee in her panties, her piss explodes in her panties and the fabric goes dark green she pulls her wet panties aside and we get to see her pussy as it shoots out pee. She stops peeing and goes back to rubbing her pissy wet pussy through her panties they, are soaked. She squirts some of the pee out and rubs herself again. She is getting so hot she pulls off her top and then off come her piss soaked knickers till she is nude and starts to play with a vibrator pressing it against her piss soaked pussy. A great Wet And Pissy Movie see Mary Jane peeing her panties here.
The next Wet and Pissy movie that we have stars Kitty, she is nude and has drinking glasses around her. There is no waiting in this peeing movie and she starts s pissing over the glasses trying to fill them she splashes her pee all over the glasses and then finishes and starts to rub her pussy. She picks up a glass that is full of her pee and starts to play with it, she rubs it over her breasts and plays with the puddle of piss that she has made a lovely pissing movie. See Kitty pissing Here.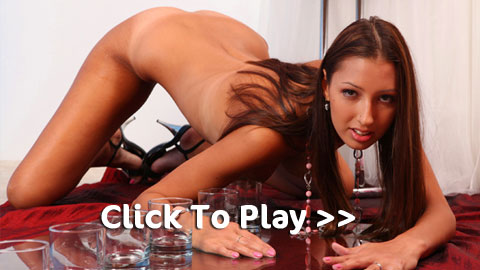 The Last Wet and Pissy movie stars Nicole she is in the bathroom just in her panties she starts to rub her pussy she pulls her panties tight against her crotch and gives herself a wonderful camel toe. Her pussy lips are hanging out on both sides and she keeps playing with them and rubbing her pussy.  She pulls down her panties exposing her pussy. The next shot we have is her in the bath spraying her piss her pee is shooting out and there are splashes all over her legs she is soaked in her pee. She finishes peeing and pours soap over herself. See Nicole peeing in the bath.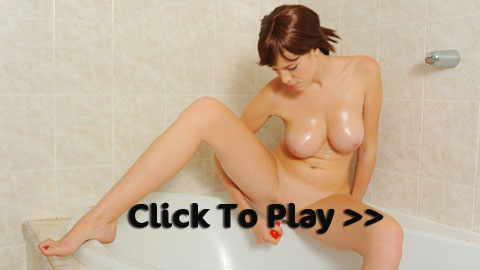 Filed under: Knicker Wetting and Movies and Panty Pee and Peeing and Pissing and Pissing Movies and Pissing Videos and Wet And Pissy
Posted on 03.21.13
Comments: 3 Comments


Tags: Kitty Wet And Pissy, Knicker Wetting, Mary Jane Wet And Pissy, Nicole Wet And Pissy, Panty Peeing, Pissing, Pissing Movie, vagina peeing, Wet And Pissy