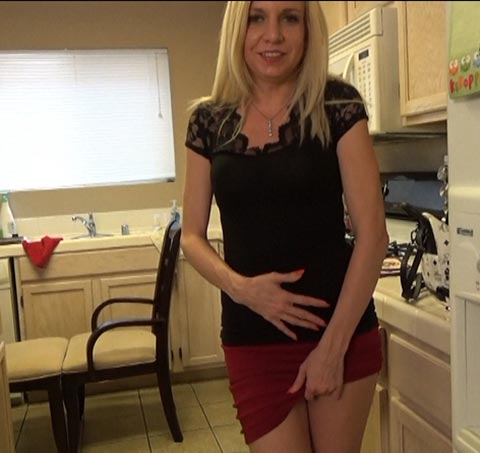 From Inee2pee we have the sexy Jessica. We have had Jessica desperate and peeing for us previously when she was desperate to pee in the classroom. I just loved how she was teased by her students after she pissed herself in Ineed2pee Female Desperation And Wetting. Today she is in a tight red mini skirt and a black top. She is standing in the kitchen and is so desperate to pee. Jessica trying to hold her pee in and has her hand jammed against her crotch. She is busting to pee and lifts her skirt up, we get to see her white panties and she was hoping that this would take some of the pressure off her bladder but it hasn't worked. She is so busting to pee she starts to walk to the toilet and when she gets there her bladder nearly explodes she is holding on to her pee just.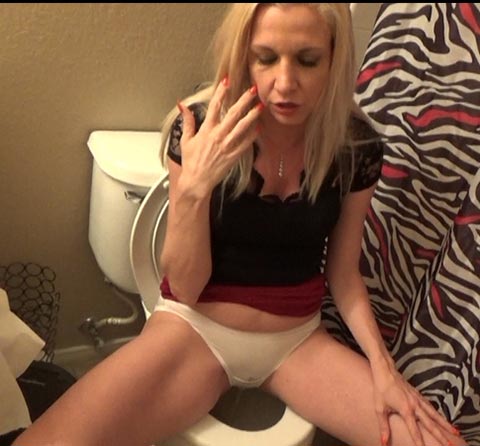 She lifts the lid of the toilet up and then she nearly loses control and pees in her white panties. She cant stop her piss she has no time to pull her white panties down. She sits on the toilet with her panties still on and starts to pee herself. Her pee explodes into her panties and there is a wonderful piss patch growing as her stream of piss flows through the panties.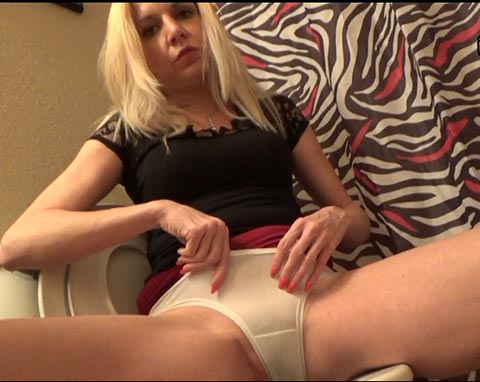 She is really soaking her panties, her bladder was so full and as she finishes pissing in her panties on the toilet she leans back a little and with her pee soaked panties tight against her pussy she looks wonderful. She stands up and her panties are dripping piss she has pee running down her legs and we can just make out a pissy pussy lip. A great real female desperation and panty wetting from Ineed2pee
See Jessica Desperate And Pissing Here

Filed under: Desperation and Female Desperation and Ineed2pee and Knicker Wetting and Panty Pee and Peeing and Pissing and Pissing Pictures
Posted on 10.02.17
Comments: None


Tags: Desperate To Pee, Female Desperation, Ineed2pee, Jessica Ineed2pee, Knicker Wetting, Panty Pee, Panty Peeing, Pissing Panties, wetting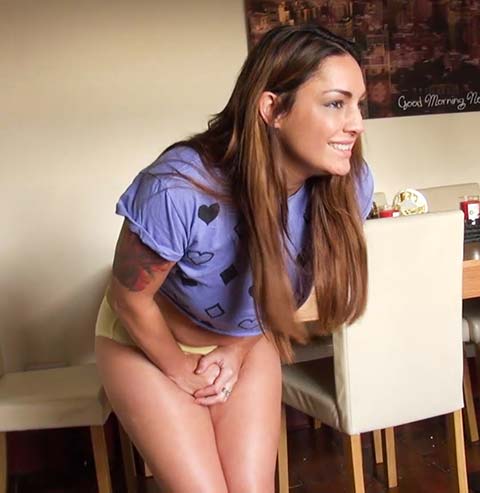 From Wetting Her Panties we have a new model Molly and she is just lovely. I do like a bigger girl peeing her panties and here we have a very sexy one desperate for us. If you have missed out on some of the previous female desperation and wetting posts from Wetting Her Panties here at Pissblog check out the Wetting Her Panties category here. Today Molly comes into the kitchen and she is desperate to pee. She is in a short top showing her sexy belly and yellow panties. From the moment we see her we can tell that she is really desperate to pee. She stops, bends down, her bladder is about to explode. She jambs her hands into her crotch and is smiling, I bet she has starts to leak pee into her panties already.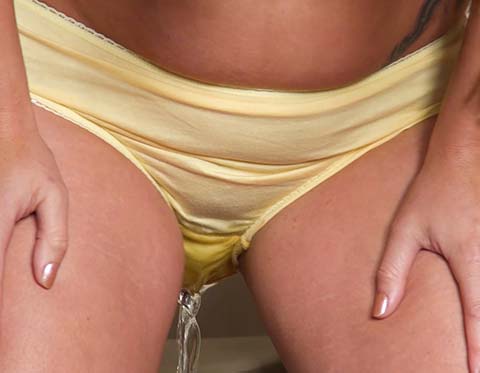 With her facing away from us we can see her yellow panties sagging with the weight of her pee. When she finally finishes pissing her panties her legs are streaked in piss drops and her feet are absolutely soaked. She turns around and pulls her piss soaked panties tight against her pussy and we can make out her wet pussy lips. To finish off, she turns back around and bends over showing us her piss soaked panties encasing her bottom and it glistens with pee drops. A wonderful panty piss, I really do hope that we see more of Molly in the future.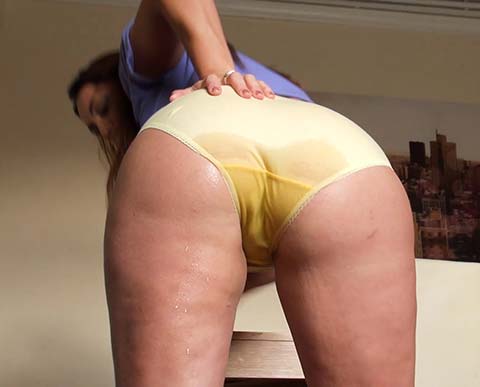 See Molly Piss Her Panties Here


Filed under: Babes Peeing and Desperation and Female Desperation and Knicker Wetting and Panty Pee and Peeing and Pissing and Pissing Pictures and wettingherpanties
Posted on 12.19.16
Comments: 2 Comments


Tags: Desperate To Pee, Female Desperation, Knicker Wetting, Molly Wetting Her Panties, Panty Pee, Panty Peeing, Panty pissing, Pissing Panties, Pissing Panty, wetting, wettingherpanties
From HD Wetting we have the lovely Carly. She is in her panties and lying on the bed and horny. Carly really gets into the scenes that she is in, if you can remember Lesbian Panty Peeing on The Bed I just loved how after Sosha finished peeing Carly got in there fingering and licking Sosha there was no messing about. Today she is on her own, Carly starts out rubbing her pussy through her white panties, she is getting more and more turned on and starts to finger herself.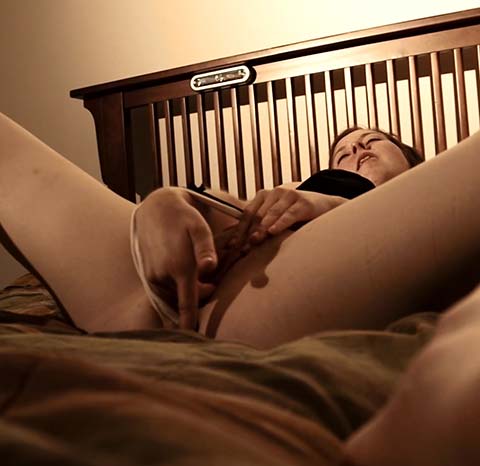 Carly is fingering herself under her panties, she is getting quicker and quicker she stops she then rubs her pussy a couple of times and starts to pee. Her pee starts to soak into her panties and we can see as her pee patch grows until her panties are glistening and her pee stream seems to be pushing them out. Just look at the wonderful soaked crotch.

Carly keeps on peeing, her pee streams are exploding out the sides of her panties and soaking into the bed. The warm pee puddle in her bed that she is lying in is getting bigger and bigger. She rubs her piss soaked panties as she is finishing peeing, just imagine the wonderful warm dampness that her piss soaked panties would give off. She finishes peeing and as she lies in her pee soaked bed starts to rub her pussy through her wet panties till she cums. A super sexy scene from HD Wetting.

See Carly Peeing And Masturbating Here


Filed under: HD Wetting and Knicker Wetting and Panty Pee and Peeing and Pissing and Pissing In Bed
Posted on 06.18.14
Comments: 5 Comments


Tags: Bedwetting, Carly HD Wetting, HD Wetting, Knicker Wetting, Panty Pee, Panty Peeing, peeing masterbation, Pissing In Bed, Pissing Panties
Here we have some great female desperation and wet pissed in panties pictures. Poor Candi is in the city and she gets desperate to pee she tries to hold on but she is just to desperate to pee and she ends up peeing in her panties we have seen the female desperation and peeing movie of this from ineed2pee in a previous female desperation and panty peeing post here but I find the pissed in panties photos great she was so desperate that she peed in her panties in the street but it looks like she has kept her wet and messy panties on as she has walked into her room that is just so sexy she must love the feeling of wet pissed in cotton between her legs and I would guess that some of the pee would still be running down her legs in little drips. It really is quite a wonderful thought
See these Female desperation and panty peeing photos here
If you missed the female desperation and panty peeing movie you can see it in this female desperation post Here

Filed under: Desperation and Female Desperation and Ineed2pee and Knicker Wetting and Panty Pee and Peeing and Pissing In Skirt
Posted on 02.04.09
Comments: 1 Comment


Tags: Female Desperation, Ineed2pee, Ineed2pee Candi, Panty Peeing, Pissing Panties