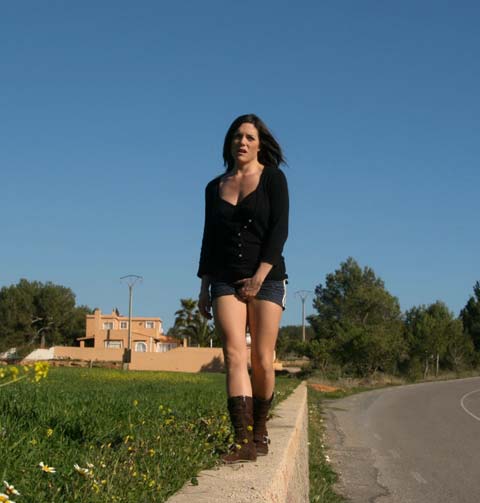 From Needapee we have these outdoor pissing pictures with Rebekah Dee. I do love it when Rebekah Dee is out in public and peeing we have had a few great sets here at Piss Blog not to mention the great sneaky peeing movies. If you have missed any you can always check out the Needapee category that has movies and pictures with Rebekah Dee and her friends. In these outdoor peeing pictures Rebekah Dee is on the wall desperate to pee she sits down and gets her shorts off and then opens her legs and lets flow with her lovely golden stream.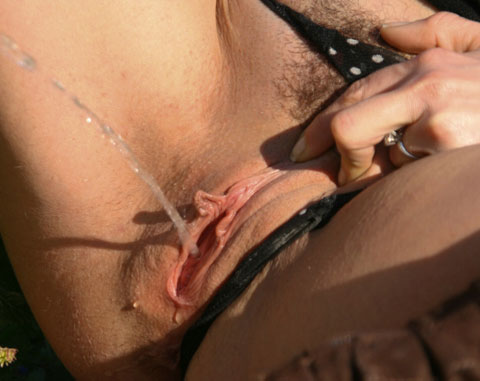 Rebekah Dee has written this about the pictures at Needapee "Spring has finally sprung and we are well on our way to summertime – yay! No more winter wear and much more flesh flashing opportunities are on their way! Whilst I was away last week making arrangements for my summer stint in Ibiza, I took full advantage of the beautiful spring day on my way to the airport and took these naughty shots of me sneaking a pee on the roadside. I had to keep stopping because of all the cars and just as I finished a few pedestrians wandered past! I pulled my jumper down so they couldn't see I was naked from the waist down and waited for them to pass before cheekily pulling my shorts back up and continuing on my merry way. It certainly put a spring in my step to think that they very nearly caught me with my pants down! Check out the beautiful colours in these shots, the green grass no doubt helped by my little 'sprinkling'!"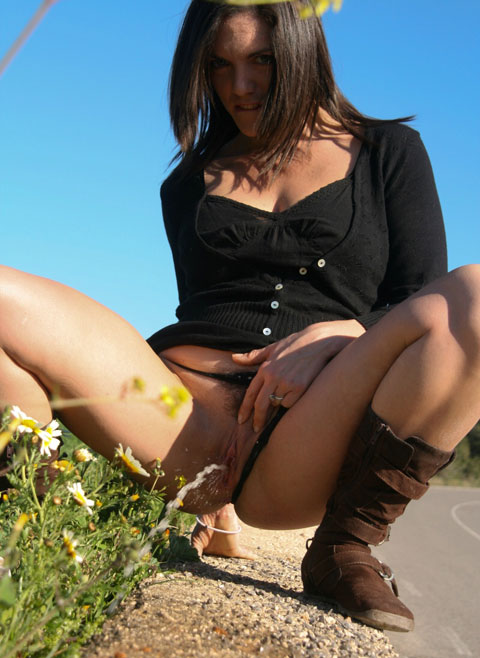 Rebekah Dee really is a great pisser and she is just so sexy I love these close up shots of her pissing the piss stream looks so sexy and you can even see her piss hole. I do wish the site would have more photo,. don't get me wrong I love the Needapee movies but there is something great about pissing pictures too. Yet another wonderful piss from Rebekah Dee.
See The Outdoor Peeing Pictures Here