From Vipissy we have two sexy blond ladies Alexis Crystal and Foxies. I do love the wonderful pissing that Vipissy puts on and when we have hot ladies drinking each other's piss what could be better. We have had many Lesbian scenes from Vipissy in the past and if you have missed some check out Lesbian Pissing From Vipissy, Vipissy Peeing Lesbians, Megan Rain And Gina Gerson From Vipissy and Vipissy Lesbian Pissing Movie. Today we start off with these two hotties in there jeans. They strip out of them and then soak each other including in piss drinking from the source and licking from their bodies.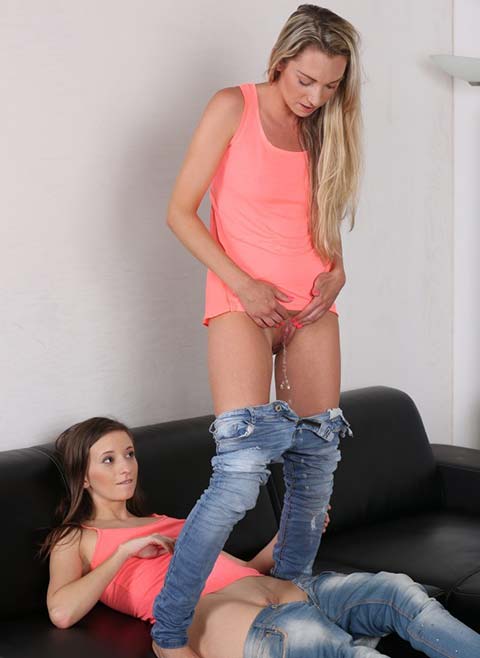 Over at Vipissy this has been written about the scene "Foxies is relaxing on the couch when Alexis walks up to her with a thought in mind. She mentions to Foxies that she needs to pee so she asks her friend to sit still. Shoes and all, Alexis climbs onto the couch and drops her pants to her knees. She hooks her knees together and spreads her feet apart and drops a piss shower over Foxies' knees. Now it's Foxies' turn. Alexis is a feisty one, and she wants to make sure that Foxies gets the moment just right for her. After helping her prepare, she tightens her legs together to capture some piss in her feminine V junction. But Alexis is not a bossy type, more of a flirty suggester, and she allows Foxies to do her own thing as she leaves her ass open to whatever Foxies will do. The girls lick it up, 69 style and then Foxies drops to the floor with a toy spreading her open. Alexis makes it look effortless, aiming for Foxies' gap before letting go and spraying her friend's face. Alexis is just about ready to pee again, but this time it takes a little more work to get things going. Foxies gives her a full hand insertion from behind all the way up to her wrist. After Foxies pees on her, Alexis is ready to go one more time. She hovers above the couch with her body facing upwards landing a nice stream on her friend."

Wet jeans, piss soaked hair and wet bodies what more could we ask from a Lesbian pissing movie and with the pictures we have the Vipissy trailer for the movie. Another hot and wet lesbian pee that will keep you coming back for more lesbian pee sex. See the Vipssy movie trailer here

See The Vipissy Pictures Click Here


Filed under: Babes Peeing and Lesbians Peeing and Movies and Peeing and Pissed On and Pissing and Pissing Movies and Pissing Videos and ViPissy
Posted on 08.24.15
Comments: 2 Comments


Tags: Alexis Crystal Vipissy, Foxies Vipissy, Lesbians Peeing, Piss Drinking, Pissing Movie, ViPissy, Vipissy Movie
2 Comments »
I just KNEW the next post would be VIPissy, there seems to be a rotation from the same handful of producers (HD Wetting, PissJapan, Real Wetting, Wetting Her Panties, VIPissy) and these guys hadn't been posted in the last few updates. I wonder if I can guess whose next.

Comment by Sophie — August 24, 2015 @ 5:46 am

I love these 2 young girls

Comment by Francois — August 30, 2015 @ 3:21 am
RSS feed for comments on this post.
Leave a comment