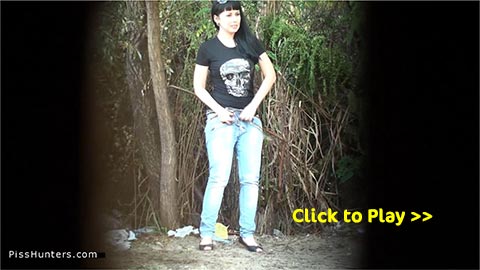 From Pisshunters we have this great voyeur peeing movie. Pisshunters have brought us some great movies from there hidden piss cameras and there is something wonderful being a voyeur as ladies are peeing. If you have missed some of the previous voyeur peeing movies from Pisshunters check out Nerdy Looking Lady Caught Pissing, Pisshunters Voyeur Peeing Movie, Pissing In The Bushes From Pisshunters, Caught Peeing Outdoors, and Three Ladies Caught Pissing. Today we have a slightly chubby chick she walks into the hidden camera range and stands trying to undo her pants, she has a few to many buttons at least she is not to desperate to pee. She undoes the bottoms and then pulls her jeans and red panties down.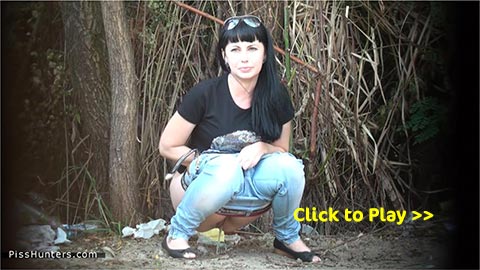 She has squatted down and then she just waits looking very relaxed and then starts to pee in the dirt. Her pee stream flows out perfectly. We have seen in some of the Pisshunters voyeur movies that the pee stream sprays everywhere including down the legs and the bum crack this is starting of a much more dignified outdoor pee.
She is peeing in the dirt, she shifts around a couple of times no doubt trying to stop herself making a pissing mess. We are getting a good angle of her pissing vagina which is great too. She finishes peeing and while there are still pee drips coming out she stands up and pulls up her panties. She will have a lovely damp pee patch in her crotch, she pulls up her jeans and once again struggles with her buttons she does them all up and off she goes with a damp pissy crotch.