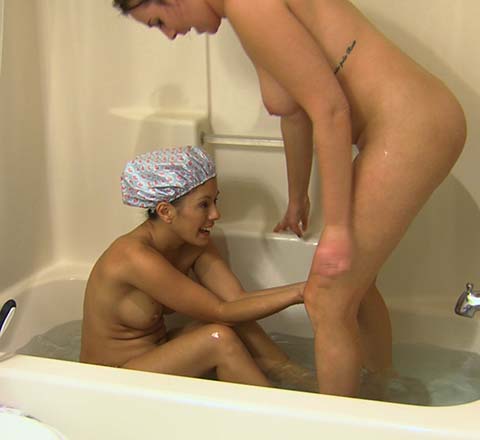 Today we have some great peeing action from HD wetting. We start off with the lovely Nikko and Alisha. We have had these two hotties previously in Pissing On Nikko Alisha And Nikko From HD Wetting Alisha And Nikko Bondage Pee Movie and HD Wetting Lesbian Panty Pee. Today they are in the bath tub, they are nude and making out. Alisha stands up and showing her shaved pussy she starts to piss. We get a great shot of her pissing pussy splashing the camera and then she gets back into the bath and continues making out with Nikko. See Alisha Pissing In The Bath Here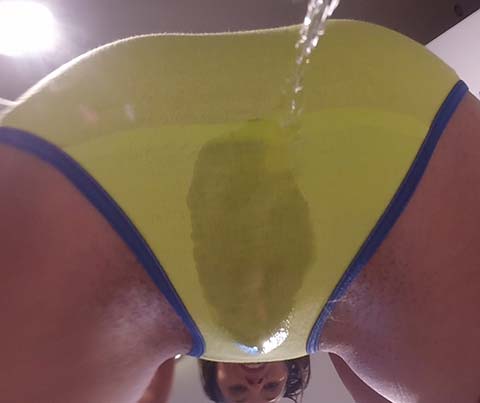 Next up we have Nikko topless and in yellow panties. She is desperate to pee and has a plan, she has laid out a camera and still wearing her panties she squats over it and starts to pee on the floor. pee drips appear in the yellow fabric and then the little pee drips turn into a flood and she has piss splashing all over the camera. A great point of view piss. It really is as if she is peeing on us. See Nikko Peeing Over The Camera Here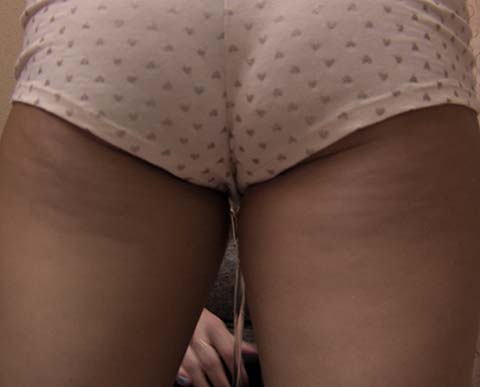 Last up Nikko is desperate to pee but Alisha is on the toilet. She pleads for her to finish but as we know Alisha is vindictive and makes Nikko pee in her shorts in front of her. We get to see as Nikko starts to piss and she has pee flowing through the crotch and then it is splashing on the floor and soaking her feet a nice shorts pee from HD Wetting. See Nikko Peeing Her Shorts Here


Filed under: HD Wetting and Knicker Wetting and Lesbians Peeing and Panty Pee and Peeing and Pissing and Pissing In Shorts
Posted on 05.07.16
Comments: 1 Comment


Tags: Alisha HD Wetting, HD Wetting, Knicker Wetting, Nikko HD Wetting, Panty Pee, Panty Peeing, shaved pussy peeing, Shorts Pissing, wetting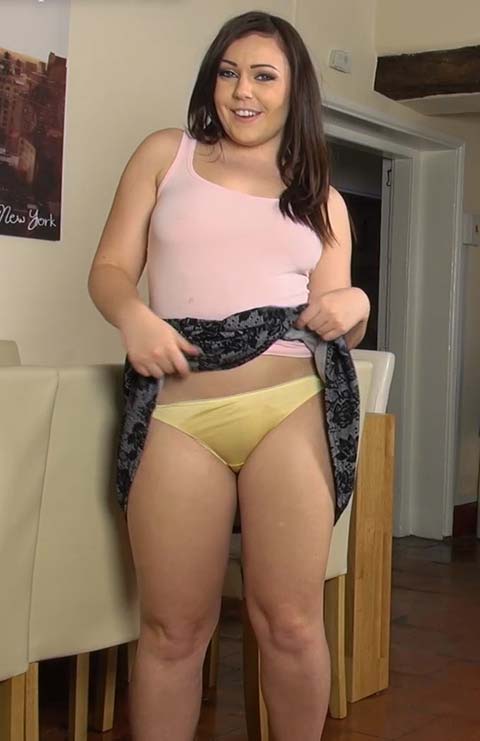 From Wetting Her Panties we have the wonderful Kacie. We have had some great posts with this hottie in the past and if you have missed them check out Pissing In Her Denim Shorts Knicker Wetting With Kacie Kacie From Wetting Her Panties Knicker Wetting and Kacie Peeing In Her Jeans. Today it is a little different she is in a skirt and a slightly see through top. When she lifts up her skirt to show her panties they are already wet. In the Wetting Her Panties movie she tells us that she was shopping and so desperate to pee that she lost control and peed in her knickers. She has kept her piss soaked panties on to give us a treat. You can make out the old damp pee patch in her panties and they are also giving her a great camel toe.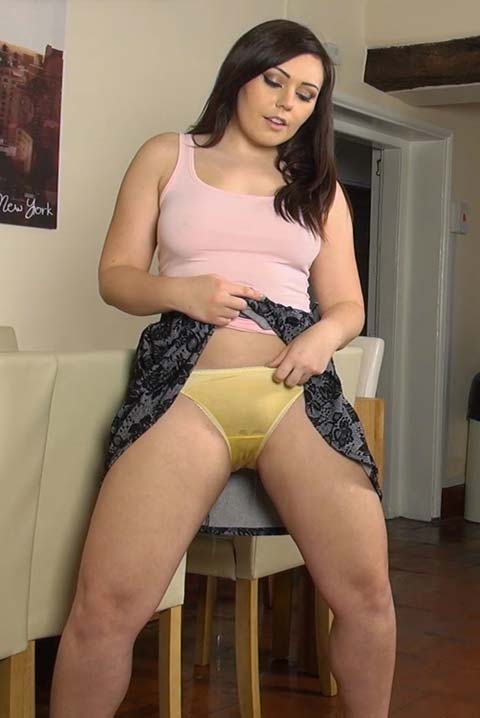 She stands there and then starts to pee. We get to see the first drips of pee soak into the cotton but the pee patch as she is peeing is not so pronounced as her panties are already wet. As her knickers are piss soaked as she is peeing her panties are already going a little see through and we can make out her pussy. The piss is running down her legs and she really does look she is enjoying herself as she pisses in her panties.

Kacie is really soaking her panties in piss and the cotton is getting more and more soaked. Her piss is splashing on the floor and pooling at her feet. Heer panties are now nearly fully soaked. She finishes peeing in her panties and they are dripping wet she turns around and leans over and what a wonderful sight. Her panties are clinging to her bottom what a kinky panty pisser. It's a pity we never get to see her pull her panties down to show us her pissy pussy. A great panty re wetting from Wetting Her Panties.

See Kacie Peeing Her Panties Here

Visit Wetting Her Panties Click Here


Filed under: Knicker Wetting and Panty Pee and Peeing and Pissing and Pissing In Skirt and wettingherpanties
Posted on 04.21.16
Comments: 1 Comment


Tags: Knicker Wetting, Panty Pee, Panty Peeing, Pissing Panty, Skirt Peeing, wetting, wettingherpanties
From HD Wetting we have the lovely Sosha and sexy Alisha back for some more lesbian pee play. We start off with Sosha dressed as a nurse and Nikko on the bed it is Sosha's last appointment of the day and she has been busting to pee for ages. As she is listing to Nikko she is getting more and more desperate she crosses her legs trying to hold her pee in but is to desperate and loses control peeing in her white stockings. As she is peeing the piss streams down her stockings making the pee stain so vivid she looks so sexy a pissy wet mess. Nikko is not happy her nurse has pissed herself she tells Sosha that she will tell her superior. Sosha standing in her piss soaked pantyhose and pleads for her not to. Nikko has one demand that Sosha in her piss soaked nurses uniform give her head till she cums. A super stocking wetting and lesbian licking movie. See Sosha Piss Herself Here.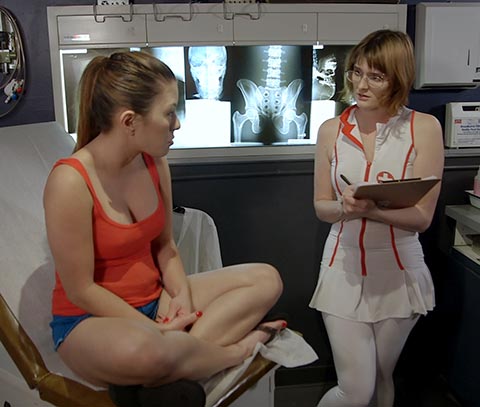 Next up we have Sosha bound and in her underwear Nikko has a spanking implement and proceeds to spank her. Sosha is so desperate that the shock as she is getting spanked is to much and she loses control and pees in her panties. As Sosha is peeing the piss is running down her legs and soaking onto the floor. Nikko pleased with herself and now horny unties Sosha and licks her out till she cums. See Sosha bound and pissing here.
Last up we have Nikko bound naked and desperate to pee we can see her bulging bladder and then Sosha starts to tease her. Sosha is tickling and prodding Sosha's bladder taking great pleasure in tormenting the desperate Nikko. Nikko is trying as hard as she can to hold on but her bladder is to full and she loses control and starts  pissing. She has pee running down her legs and her feet are getting wetter and wetter .A great bound nude pissing. See Nikko Piss Here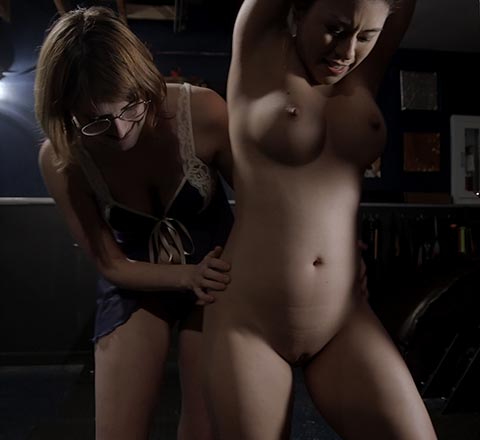 Filed under: HD Wetting and Knicker Wetting and Lesbians Peeing and Panty Pee and Pantyhose Pissing and Peeing and Pissing and Pissing In Leggings and Pissing In Tights
Posted on 03.15.16
Comments: None


Tags: bound pissing, HD Wetting, Knicker Wetting, Lesbians Peeing, Nikko HD Wetting, Nude Peeing, Panty Pee, Panty Peeing, Sosha HD Wetting, Uniform pee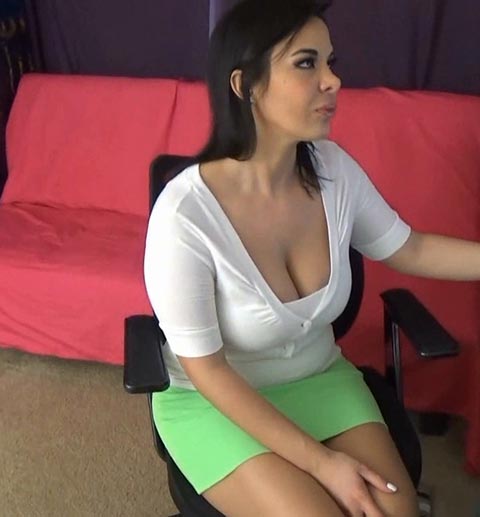 From Ineed2pee we have the lovely Kenna Valentina. Ineed2pe has to be the master of female desperation the ladies are always so full before they explode. Today we start with one of the best female desperation models that they have Kenna, she is even into watersports in her home life. It is a shame though as it seems this will be the last ever movie that she will make for Ineed2pee. While it may be the last it is a wonderful one to go out on. Kenna is on a conference call and is desperate to pee. She is in a short skirt and a tight top and is so desperate to pee. I do enjoy Kenna's movies she is so boobie and I always hope as she is bouncing around one pops out.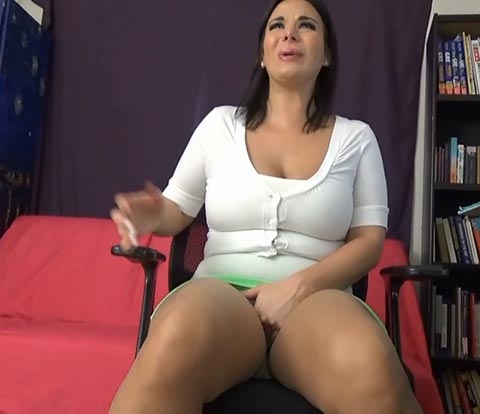 Kenna is talking away but the call is going on for longer than she thought and she is getting more and more desperate. She re arranges herself trying to take pressure of her bladder and then tightly presses her legs together before grabbing her crotch. Her legs are shaking a little she really needs to pee now.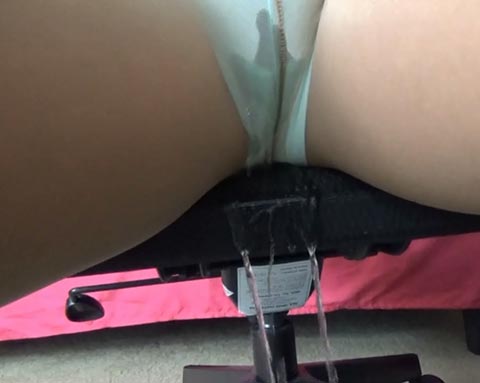 She is struggling to hold on but she is to desperate her bladder is hurting and then she starts to piss. She is still sitting her legs are open and we can see the pee as it starts to flow into her panties. It is gushing out like a river, it is even soaking in to the chair. The stream stops and then starts again with another river of piss. Her panties are soaked and the fabric is shiny a super sexy wetting. She finishes peeing and is one piss soaked mess. A great female desperation and wetting movie for her to finish at ineed2pee.

See Kenna Desperate And Peeing Here

Visit Ineed2pee Click Here


Filed under: Babes Peeing and Desperation and Female Desperation and Ineed2pee and Knicker Wetting and Panty Pee and Pantyhose Pissing and Peeing and Pissing and Pissing In Skirt and Pissing In Tights
Posted on 03.06.16
Comments: 4 Comments


Tags: Female Desperation, Ineed2pee, Ineed2pee Kenna, Knicker Wetting, Panty Pee, Panty Peeing, Pissing In Skirt, Skirt Peeing, wetting