From Ineed2pee we have three great female desperation and wetting sets. We start off today with Jessica. Ineed2pee has written this about the scene "I love this classroom set up. It only really looks like a classroom pointing this way but if you point the camera to where the students sit, you can see that there's a kitchen in the back. Jessica does a fantastic job of the subtle desperation with the fist clenching & shakey legs! The wetting is also quite realistic where she pees a little bit & then manages to hold it but when the other kids all chime in to make fun of her, she starts wetting fully! Super awesome humiliating wetting fun! The kids were really mean while they made fun of her, even afterwards she was like "you guys are horrible!" I'll be shooting a lot more of Jessica in the future so if there's any scenarios you'd like to see, just let me know! " A great female desperation scene. See Jessica pissing herself here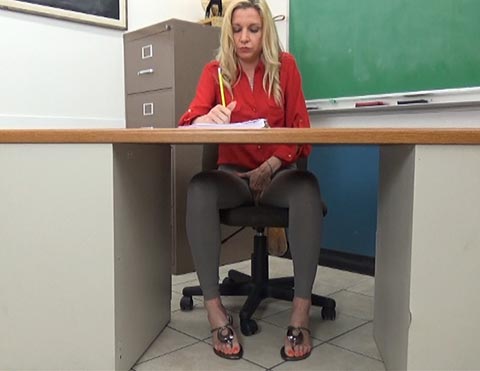 Next up from Ineed2pee we have a brand new model Milani. The story goes "Milani is a local Vegas girl who'd never been on film before & wanted to give this a try! I like her natural look & curvy ass & was nervous about her having issues her first time peeing her pants but it turned out ridiculously super awesome! Her "acting" was great & you'll see in the BTS that she wasn't really even acting at all! She had to go so badly & didn't tell me earlier because she was too shy! But you can see how much yellow (you can see how yellow it is on the floor) pee comes out & how much pours out of her shoes too!! Her ethnicity is black Dominican Republic. If you like her, let me know so we can see more of her peeing her pants! "A great jeans wetting see Milani desperate and jeans peeing here.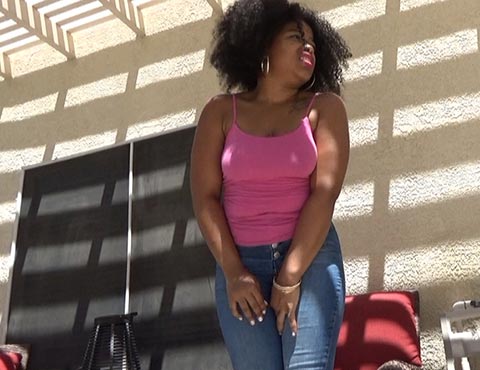 Last up we have Sarah B in her first wetting for Ineed2pee. She is in a slinky dress, high heels and full cut satin panties. She is so desperate to pee and we get some wonderful crotch grabbing shots. She keeps on holding till her bladder says no and she starts to leak. Her leaking pee turns into a torrent and she floods her panties and even has pee soaking her high heals. It is a sexy look when she finishes pissing herself and we get so see her piss soaked satin panties See Sarah B Desperate And Peeing Here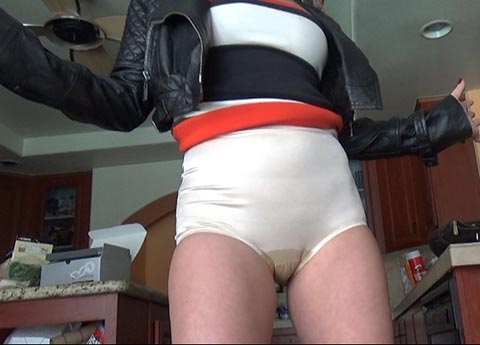 Filed under: Desperation and Dress Peeing and Female Desperation and Ineed2pee and Jeans Peeing and Jeans Pissing and Knicker Wetting and Panty Pee and Peeing and Pissing and Pissing In Leggings and Pissing In Pants
Posted on 07.08.16
Comments: 1 Comment


Tags: Desperate To Pee, Female Desperation, Ineed2pee, Jeans Pee, Jeans Peeing, Jessica Ineed2pee, Knicker Wetting, Milani ineed2pee, pants peeing, Panty Pee, Panty Peeing, Pissing Leggings, Pissing Movie, Sarah B Ineed2pee, Skirt Peeing, wetting
From Wetting Her Panties we have the wonderful Carmel Coxxx. Carmel Coxxx is in yellow panties and a lose top with no bra underneath. She is in her bedroom and desperate to pee, she is grabbing her crotch and as she does her small breasts are jiggling around. She grabs her crotch again and then squats down on the floor. Her yellow panties are tightly encasing her pussy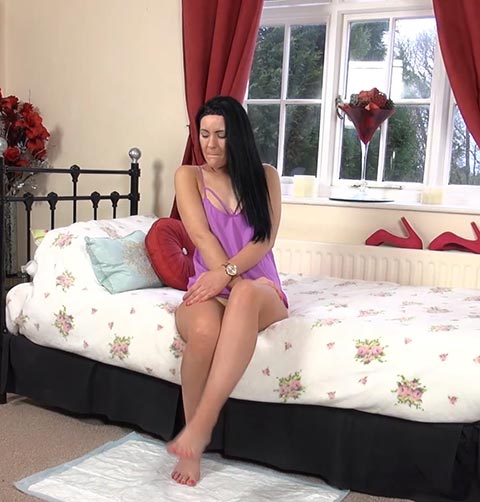 She is squatting on the ground and she lets the first drips of pee flow. As the piss soaks into her panties she rubs her crotch. Her pee patch is slowly growing and she really is enjoying herself as she pees in her panties and rubs her pissy panties again.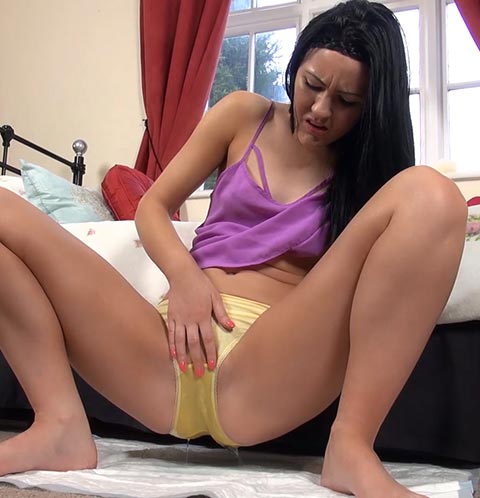 She is now soaking her yellow panties in piss. The piss is exploding out and we can just make out her pissy pussy. She keeps on pissing and then when she finishes she spreads her legs wide and rubs her breasts. She is wonderfully turned on after pissing in her panties. The outline of her pussy is showing and she looks so content sitting in her piss puddle. A wonderful panty pissing from Wetting Her Panties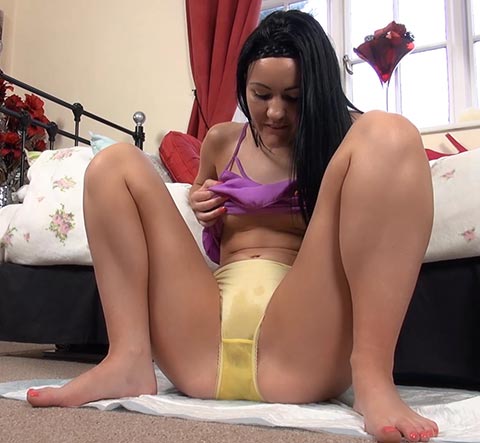 See Carmel Coxxx Panty pissing here


Filed under: Knicker Wetting and Panty Pee and Peeing and Pissing and wettingherpanties
Posted on 06.24.16
Comments: 1 Comment


Tags: Carmel Coxxx Wetting Her Panties, Knicker Wetting, pants peeing, Panty Pee, Panty Peeing, wetting, wettingherpanties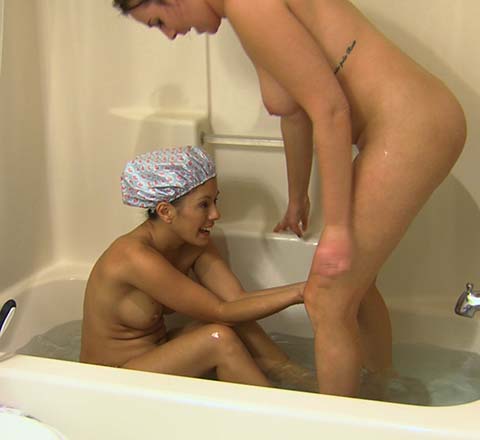 Today we have some great peeing action from HD wetting. We start off with the lovely Nikko and Alisha. We have had these two hotties previously in Pissing On Nikko Alisha And Nikko From HD Wetting Alisha And Nikko Bondage Pee Movie and HD Wetting Lesbian Panty Pee. Today they are in the bath tub, they are nude and making out. Alisha stands up and showing her shaved pussy she starts to piss. We get a great shot of her pissing pussy splashing the camera and then she gets back into the bath and continues making out with Nikko. See Alisha Pissing In The Bath Here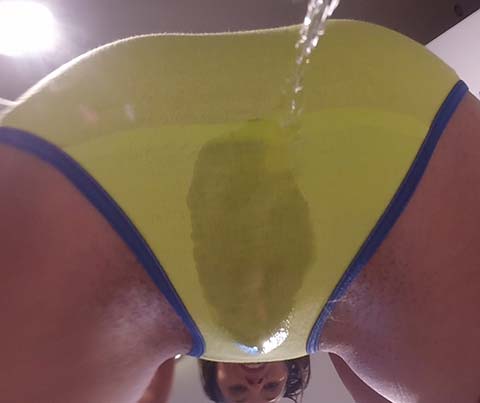 Next up we have Nikko topless and in yellow panties. She is desperate to pee and has a plan, she has laid out a camera and still wearing her panties she squats over it and starts to pee on the floor. pee drips appear in the yellow fabric and then the little pee drips turn into a flood and she has piss splashing all over the camera. A great point of view piss. It really is as if she is peeing on us. See Nikko Peeing Over The Camera Here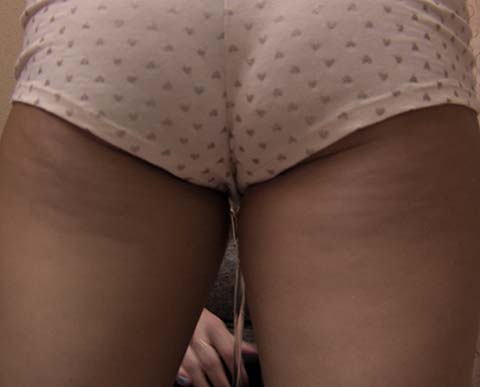 Last up Nikko is desperate to pee but Alisha is on the toilet. She pleads for her to finish but as we know Alisha is vindictive and makes Nikko pee in her shorts in front of her. We get to see as Nikko starts to piss and she has pee flowing through the crotch and then it is splashing on the floor and soaking her feet a nice shorts pee from HD Wetting. See Nikko Peeing Her Shorts Here


Filed under: HD Wetting and Knicker Wetting and Lesbians Peeing and Panty Pee and Peeing and Pissing and Pissing In Shorts
Posted on 05.07.16
Comments: 1 Comment


Tags: Alisha HD Wetting, HD Wetting, Knicker Wetting, Nikko HD Wetting, Panty Pee, Panty Peeing, shaved pussy peeing, Shorts Pissing, wetting