This is desperation scene is really sexy. Candi is really desperate and wetting on the street with cars passing her. It reminds me of the old Japanese desperation and wetting movies the stream of pee that flows through her panties and onto the ground is stunning. This is really a hot movie right from the start we only join the action with this clip where Candi stops and you can see little drops of pee hit the pavement right up until she finishes wetting and is standing with her skirt over her very wet panties and stockings. The full movie at Ineed2pee is 10 minutes and it does not let you down. Once again Ineed2pee has got the right mix of female desperation and accidental wetting. The producers of I need to pee really have the desperate to pee scene done well. I was watching another desperation movie from the site today. It was Michelle in the scene called desperate to go. Well Michelle really was and the pee starts flowing uncontrollably out of her tight shorts just great.
This is the story from Ineed2pee that goes with the movie
You and the lovely Candi, yes, she's wearing a floral dress with a sweater, sheer nylon pantyhose and a nice cotton full back panty, and even better, she's super desperate to use the toilets so she needs to stop every few steps, bend over and cross her legs gently. She ducks into a very busy downtown alley and tries to look frantically for a place to pull down her panties & pantyhose but its too busy with cars & people going back & forth. Soon enough her overly full bladder can't take it anymore…
Enjoy Candi Desperate And Peeing
To See More From Ineed2pee Click The Banner Below


Filed under: Desperation and Female Desperation and Ineed2pee and Knicker Wetting and Outdoor Pissing and Peeing and Pissing and Public Pissing
Posted on 09.26.07
Comments: 5 Comments

Just a quick post today as a follow on from the last wet post. I noticed a while back I posted a pissing in pants set that I know is real so for those that missed this desperation and pants peeing action Click here to see it. I really do love the expression on Candi's face. I have to admit that she is one of my favorite desperation stars from Ineed2pee she really does have the sweet look and of course the wonderful pee pee dance when she is so desperate to go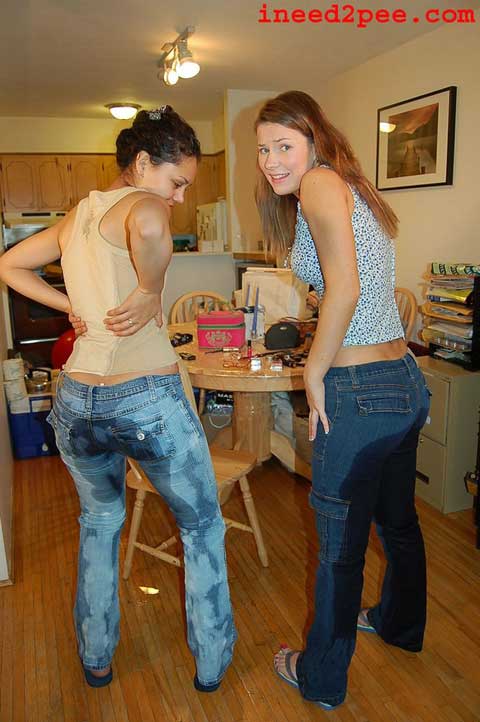 Filed under: Desperation and Ineed2pee and Knicker Wetting and Peeing and Pissing In Pants
Posted on 09.24.07
Comments: None

Well I for one love the sight of a hot chick wetting the bed and here is the lovely Sheila from ineed2pee peeing in her bed. The story from ineed2pee goes like this "It seems like college girl Sheila has a bedwetting problem that she never told her roommates about. That would explain why there's a lingering faint smell of pee in her dorm room. It seems like she dreams when she needs to pee as we can see her tossing and turning before she presses her hand against her crotch. Soon after that we can see the damp patch show up on her crotch and slowly spread down her grey athletic pants, the liquid pooling under her butt."
She has fully soaked her sheets, mattress and her panties. Such nice white pissed in knickers they are. I love when the pee makes the panties see-through


Filed under: Bed Wetting and Ineed2pee and Peeing and Pissing
Posted on 09.11.07
Comments: 4 Comments

Female desperation has never been done so well. This old ineed2pee trailer proves how good ineed2pee is at real desperation scenes. It starts with 2 ladies desperate to pee and trying to get inside. They are going fine till one starts to tickle the other the laughter starts and how much pee is squirted into her knickers?
The next scene is of poor Marla desperate and at the toilet door but it is locked. There is nothing for her to do but accept that the pee is starting to flow into her jeans Marla from ineed2pee has to be one of my favorite peeing stars
What a mean boss this poor office worker was so desperate to piss she squats down and starts peeing in her panties. There is also a scene where the lady looks so desperate that she is in actual pain we don't see how much piss flows out of her but i am guessing it was a lot.
Enjoy The Desperation Scenes From Ineed2pee


Filed under: Desperation and Female Desperation and Ineed2pee and Knicker Wetting and Outdoor Pissing and Peeing and Pissing and Pissing In Pants
Posted on 09.03.07
Comments: 5 Comments

This a hot set with white pants flooded in hot piss. this is the background to the story from ineed2pee and these photos continue on where the story leaves off.
"The girls are hanging out in Michelle's backyard talking about how Mandy won a free spa certificate at their work today. They girls want to share the free certificate since they're such good friends but Michelle has a great idea that they should have a pee holding contest to see who gets it, since they both obviously need to pee so badly. Well, the contest starts and Michelle's bladder is so full she can't hold it anymore!! The rain falling hard doesn't help the girls either. You can see streams of hot pee streaming straight through Michelle's skin tight jeans and splashing all over the ground below!"


I have never seen a site do pee holding contests, female desperation, knickers wetting, spandex peeing and pants peeing as well as Ineed2pee the models are really desperate to pee and the seem to start wetting uncontrollably many times. Take a look at the sample movie by clicking here to see what Ineed2pee Is all about.
Enjoy The Pissed In Pants From Ineed2pee


Filed under: Desperation and Female Desperation and Ineed2pee and Pissing In Pants
Posted on 08.27.07
Comments: 4 Comments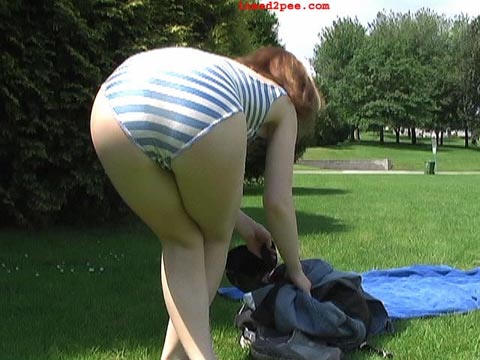 This is a sexy movie from ineed2pee. Alice is so desperate to pee that she pisses in her swimsuit. The hissing her hot pee makes as it comes out of her vagina is great. She actually looks like she has lost control and its not going to plan. This aspect is what makes ineed2pee such a great site the ladies really do get so desperate before they pee. I love seeing the pee unexpectedly escape and create little wet patches you don't quite know how the pee scene will turn out.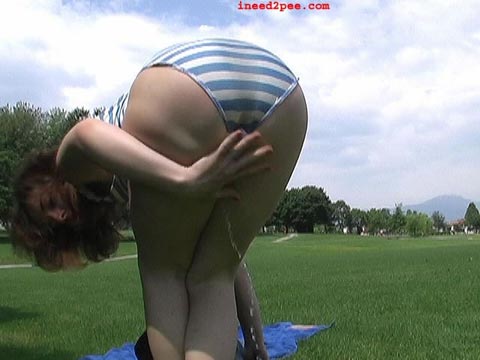 This is the story that was written about the video on the ineed2pee website
It's your first date with this lovely lady, Alice, whom you've communicated with via email on an online dating site. It's a very casual date, just a sunbathe at a public park close by, to chat & get to know each other. She looks amazing in her striped swimsuit as you make casual talk to get to know each other better. Alice seems very fidgety & shy; you realise after she casually asks where the bathrooms are that she must need to pee! You lie & tell her that you have no clue where the bathroom is, even though you know there are some behind the crop of trees close by, but they cannot be seen from where you are sitting. Alice is trying not to look embarrassed or desperate & wanting to make a good impression on you, since it's obvious she likes your company. Finally she suggests we go back to your place or her place not too far off. As she stands up to get her things, she's crossing her legs tightly & bouncing up & down. You're standing behind her gathering your things. You notice that her legs are shaking, crossing & uncrossing when all of a sudden a huge stream of pee pours out of her bathing suit!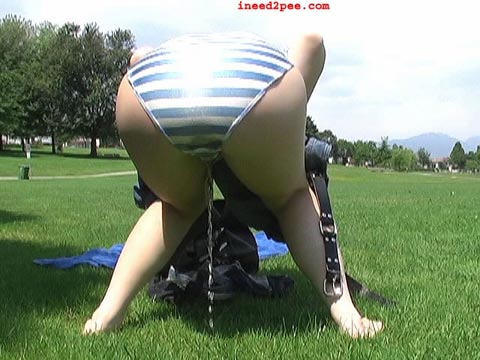 If only the ladies in my local park would get desperate enough to wet themselves in their swimsuits
Enjoy Alice Pissing In Her Swimsuit


Filed under: Desperation and Ineed2pee and Peeing and Pissing and Swimsuit Peeing
Posted on 08.17.07
Comments: 15 Comments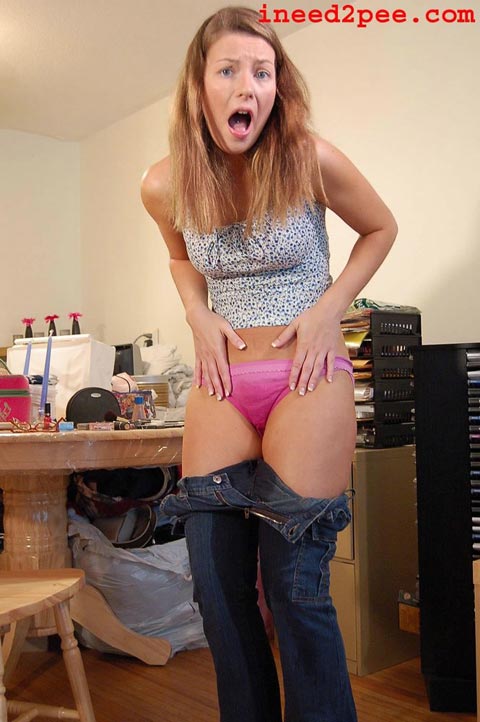 This is great two Ineed2pee models Candi And Marla desperate & peeing in their jeans and knickers female desperation is so hot (This is how the desperation story goes)
Candi makes extra money as a make up artist based out of her place. Today is a busy day for her, one client left already & Marla just arrived to get her make up done to attend a wedding & she's in a rush! Marla rushes in and acts like a Bitch towards Candi, hurrying her. Candi tries to hold on in her tight stretch jeans but her bladder is too full and some of it starts leaking out, making a nice wet spot in the front! Marla starts laughing at Candi too soon ……. See More Click Here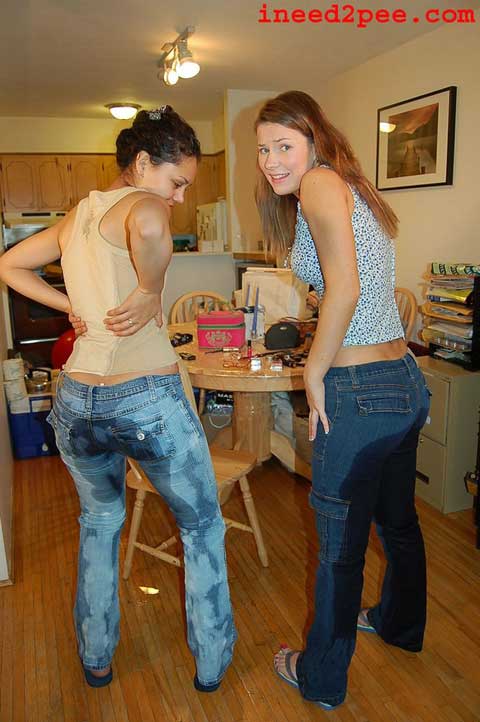 Filed under: Desperation and Ineed2pee and Knicker Wetting and Peeing and Pissing In Pants
Posted on 08.02.07
Comments: 1 Comment