From VIPissy we have some more great pissing movies. We have had the pictures and short pissing trailers of a couple of them but now we have longer, bigger and better. We start off with Whitney Conroy and Paula Shy aka Christy Charming. We have had the pictures in Sexy Lesbian Peeing From Vipissy but today we get to see more. This has to be one of my favourite lesbian pissing movies, these two love piss they drink it suck it and well just get soaked. Wet hot nude lesbians what more could you ask for in a lesbian pissing movie. See Whitney and Paula in the lesbian pee movie here.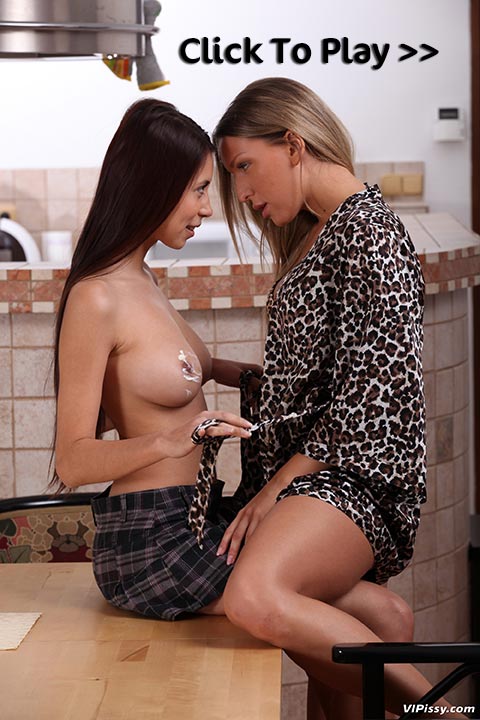 Next up we have Zena Little. We haven't had the photos or movie here before and it is a shame, this is one hot couple piss. Zena is one sexy lady and this is a great piss movie Zena starts out reading a book, her boyfriend comes over and starts to pee on her. He soaks her top and then she starts to drink his piss. After finishing her piss, he licks her out while she pisses on herself and then well it turns into a very wet hardcore pissing movie. She loves piss and has such a good time in this couple piss movie. See Zena Little's Pissing Movie Here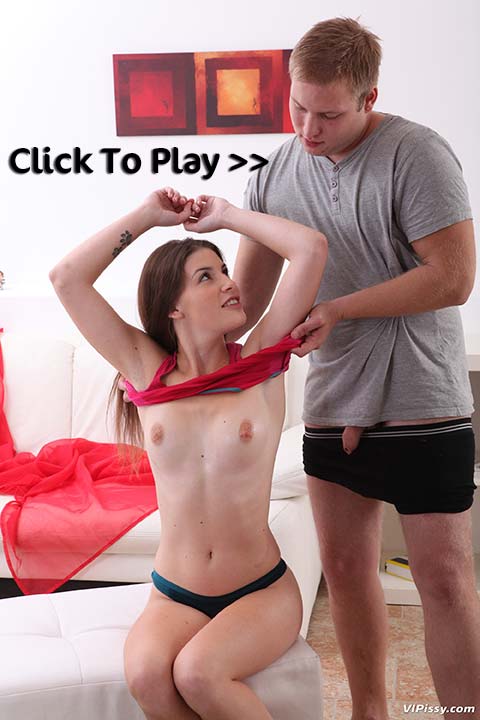 Last up we have hairy lesbian piss. We had the pictures and trailer in Lesbians Peeing from Vipissy and now we have the lesbian pissing movie. Once again this is one hot lesbian pee with the added bonus of a hairy pussy. There is something wonderful about seeing pee drops caught in the bush and in this pissing movie Loreen is all to happy to lick them off. Once again these two love piss and the movie is one wet and hot experience. See the hairy lesbian pee movie here.


Filed under: Babes Peeing and Drinking Piss and Hairy Pussy Pissing and Lesbians Peeing and Movies and Peeing and Pissed On and Pissing and Pissing In Vagina and Pissing Movies and Pissing Videos and Self Pissing and ViPissy
Posted on 06.28.14
Comments: 1 Comment


Tags: Beth Vipissy, Hairy Pussy Pissing, Lesbians Peeing, Loreen Vipissy, Paula Shy Vipissy, Piss Drinking, Pissing Movie, Pissing Movies, ViPissy, Vipissy Movie, Whitney Conroy Vipissy, Zena Little Vipissy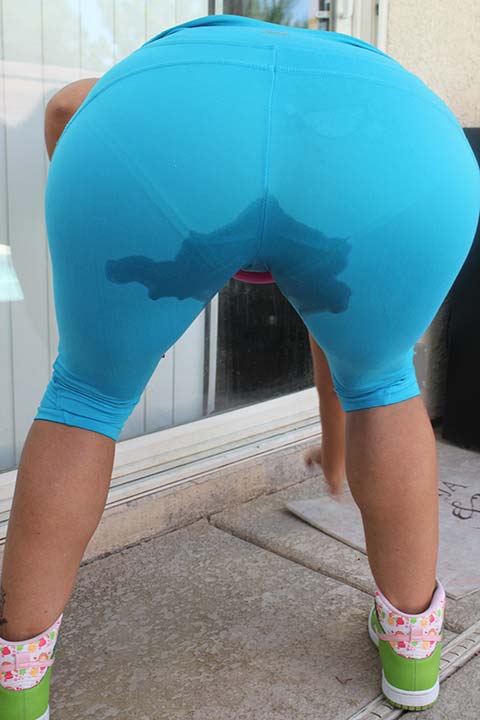 From Ineed2pee we have some wonderful female desperation and wetting. Ineed2pee has to be the best female desperation website around, not only are the models super sexy they get truly desperate before they lose control. Today we starts off with Christina. The story from Ineed2pee goes like this "She is an older milf in her 40's but she still looks good, especially for the older ineed2pee fans. She's got a great way of talking & doing the pee pee desperation dance. So you may notice she's holding cup of water in one of the edits. She actually got pee shy right after the first teeny dribble. So we waited and she decided that drinking more water would help the situation. Well while in mid-drink she started peeing her pants & still holding this cup of water! This is a first; peeing while in the middle of drinking more water. This one may not have been a HUGE gusher but I can promise that her next one will be a BIG ONE!" It is a wonderful sight to see her dark pee stain in her spandex pants. See Christina pissing her leggings here.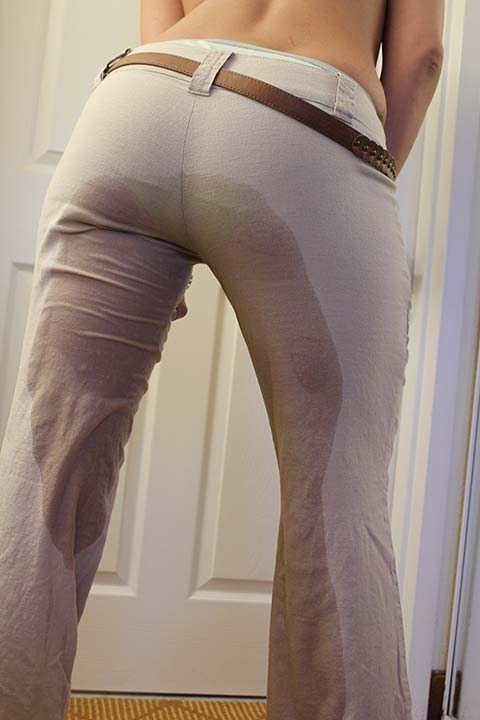 Next up we have Briella, the story goes "Briella was late for her ineed2pee shoot and I kept giving her different outfits to try on but I wasn't happy with most of them, little did she know that I was delaying it on purpose to watch her grow more & more desperate! She was grabbing her crotch so tightly at times & BEGGING me to hurry up and let her pee. Apparently she's been holding it for quite some time & drank so much water to get ready for our shoot just now! She's begging & doing the pee pee dance so sexily when she gasps & stops in her tracks as she loses bladder control and pisses her pants all the way down, soaking them totally. Her pee shows up very well on the light denim material. Very cute behind the scenes bit as well." See Briella topless and peeing in her pants here.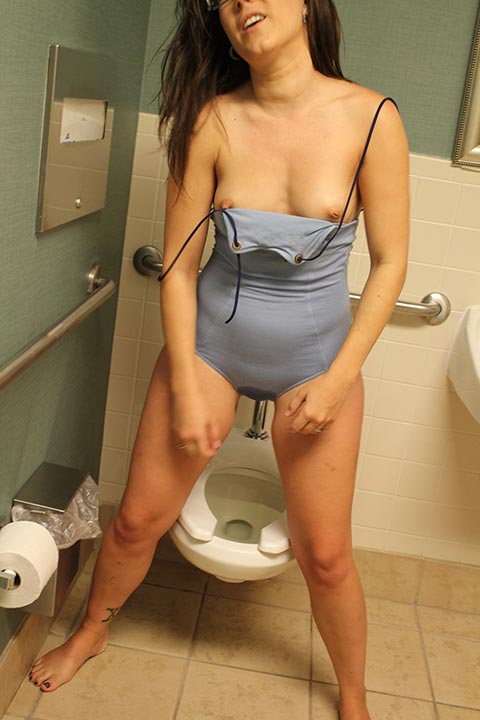 Last up we have Sinn Sage, and what a wonderful female desperation and wetting it is. I love seeing chicks in leotards desperate and peeing. They always have such a struggle to get them off in time, it's just a pity that there are not many leotard peeing movies around. Today Sinn sage is desperate to pee she makes it to the toilet hobbling but she can't get undressed fast enough .She gets her shorts down but she is just to desperate and has to pee in her leotards over the toilet. What a wonderful sight, she is soaked in piss with her lovely breast showing. See Sinn Sage Peeing In Her leotards here.




Filed under: Desperation and Female Desperation and Ineed2pee and Peeing and Pissing and Pissing In Leggings and Pissing In Pants
Posted on 06.24.14
Comments: 12 Comments


Tags: Briella Jaden Ineed2pee, Christina Ineed2pee, Desperate To Pee, Female Desperation, Leotard Peeing, pants peeing, Pissing In Leggings, Pissing In Pants, Pissing Leggings, Sinn Sage Ineed2pee, Spandex, Topless Panty Pee
A pissing story that I came across


Sophie snuggled further into the duvet. Next to her Emma was cradling a mug of hot chocolate as if it was a newborn child. They could hear Paul snoring upstairs. This wasn't quite the raucous recreation of a childhood sleepover they'd planned.

Sophie had suggested it the week before. A chance to have a giggle and pretend to be young again. Wear their old nighties, gossip about the people they fancied, watch bad movies. It meant Emma's partner being booted out of the way of course but that wasn't the end of the world.

Emma had finished work and come home quite excited. She'd sent Paul upstairs, promising him a reward if he left them to it for the night, like a well trained dog he did as he was told. She'd opened a bottle of wine, filled a bowl with the sweets from their childhood, sherbet, dolly mixture, cola bottles, that kind of thing. Finally she dug out the nightie she'd last worn a fair few years before. It was shimmery, with some kind of sewn in sparkly glitter of the type she'd thought so cool as a teenager. She'd grown taller since then though as when she put it on it barely skimmed her bottom. When she thought about it she wasn't sure it had covered much more when she last wore it.

Emma had agreed after their last sleepover before college that they'd keep their nighties locked away until the next sleepover. Neither of them knew it would be such a long time, nearly ten years later. But better late than never she supposed.

Emma decided against wearing underwear, maybe she'd flash Sophie, just for a laugh. A spark inside her of a distant memory almost came to the surface but it disappeared when the doorbell rang.

"Hi!"

They exchanged hugs and Sophie came inside, wearing a long dressing gown. "I got a few looks driving over here," she laughed as they made their way through to the living room.

The sofa bed had been pulled out and piled high with cushions and blankets. Emma popped the wine cork and they settled in to watch the first of several incredibly cheesy films. As the second bottle dropped empty onto the carpet Sophie sighed happily. She was enjoying herself. This was exactly like the old days.

"Let's play the game we used to play," Emma suggested.

"Which one?"

"See which of us can go the longest without going to the bathroom."

"That's not fair. You always won that, and anyway I need to go now."

"Me too, that should make it more even. I'm going to make a hot chocolate. To keep it fair I think you should have one too."

She stood up and Sophie was able to take a long look at her friend's legs. She raised her eyebrows when she realised Emma was wearing nothing under her nightie. She was all for recreating their youth but didn't she have any shame? Although she couldn't talk really, under her dressing gown she was naked, still nervous about revealing this in case Emma didn't feel the same as she did about the two of them, the years in between yearning for her friend, never knowing if she remembered the drunken things they did together as teenagers.

Sophie sipped her hot chocolate, feeling the aching in her tummy grow stronger. She wouldn't last much longer before she'd have to go pee. Emma sat beside her staring at the TV, wriggling in her seat.

By the time the credits rolled Sophie felt enormous, her tummy bloated and her legs clamped together, she knew she had to go.

Standing up, she looked at Emma who seemed just as uncomfortable. "You win," she began. "I have to pee."

"Can't you last any longer?" Emma sounded smug, as if she'd known things would turn out this way.

"Don't sound so pleased with yourself. I'm going to the bathroom."

"Sorry, I meant to say, the toilet's being fixed. I've been going outside."

Sophie was shocked. "What? I'm not weeing in your garden. What if the neighbours see?"

"Fine, you'll have to wet yourself then."

"Don't tempt me, I'll do it on your carpet."

"You wouldn't dare!"

"Watch me."

Sophie tugged at her dressing gown cord, it fell away to reveal her nudity. Emma gawped at her friend, her huge breasts, the nipples erect in the sudden cold, her slightly bulging tummy, the tiny strip of pubic hair and her long slender legs. She hadn't seen her naked in years and here she was standing there with no shame at all.

Sophie squatted down on the carpet, daring Emma to stop her. Emma just watched, calling her bluff, knowing she'd never go through with this. Her eyes opened wider as Sophie actually began pissing on her floor. She couldn't believe it.

"That feels so much better," Sophie sighed, feeling the relief immediately as strong smelling piss gushed from her down into the thick carpet at her feet. She could feel the warmth on her toes and splashing her thighs as it poured from her. Emma was gobsmacked but at the same time it was making her all the more desperate to go.

"You filthy bitch," she laughed. "This'll teach you."

She walked over to where Sophie was crouching down and lifted her nightie, pointing her shaved pussy straight at Emma's face.

"What are you do…?" Sophie began but stopped as a jet of piss flew from Emma and hit her straight in the mouth. She gagged at the heat of it but swallowed involuntarily, feeling the spark inside her growing stronger. A steady flow splashed down her chin, trickling over her boobs and falling to the floor. For some reason she laughed, enjoying their stupid drunken moment together.

Sophie finished peeing first and leant forward, angling her face to catch the last spurts coming out of her friend. She swallowed hard and blinked the sting of urine out of her eyes. For a moment they looked at each other, then Sophie grabbed Emma's hips and pulled her down to the floor. They lay together, oblivious to the squelching of the carpet under them as frantically they kissed, tongues probing each other's mouths, hands sliding over each other's bodies.

Sophie broke the kiss off first, laying Emma on her back and diving between her legs. With no warning she suddenly pushed two fingers straight up inside her friend, amazed at how wet she was already, wanting nothing but to make her friend come, memories of their friendship bubbling up inside her and suddenly completely in love.

Emma spread her legs wider, feeling a tongue on her clit and grinding her hips to help the movement, moaning loudly as she lay there, shocked at the suddenness of it all but feeling this was just right somehow. She looked up and was shocked to see Paul standing in the doorway, he must have heard her moaning. He was naked, holding his erect penis in his hand and slowly stroking it up and down.

Paul put a finger to his lips and tiptoed to behind Sophie, kneeling behind her, staring at her pert bottom sticking up into the air as, oblivious to his presence, she continued playing with Emma's soaking wet pussy. Paul watched for a moment more, then unable to contain himself, he pushed his hard cock straight up Sophie's pussy. She went rigid for a second, trying to work out what the hell was happening, then realised who it was and calmed down once more. He'd heard them then, lucky he didn't seem to mind what could technically count as an affair.

Paul began to fuck Sophie, each thrust pushing his cock further inside her, feeling her tight moistness against the head of his cock with each shove of his hips. Sophie's face was being banged back and forth into Emma's pussy, harder and faster, making her groan loudly into Emma's crotch.

Emma was too far gone to care about him staring at her as she felt her clit begin to tingle uncontrollably. She knew her orgasm wasn't far away now and all she wanted was for it to take control of her body. Sophie seemed to know what was happening as she began to finger fuck her harder, gently biting her clit one last time before sucking it into her mouth.

Emma screamed. "You're making me come, fucking hell, it feels so good…" She drifted off as the orgasm she'd yearned for took over, making her jerk and shake on the floor, her pussy twitching like made round Sophie's fingers.

Paul nearly lost it at that point but slowed down just enough to keep from orgasming. He began to pick up speed when Sophie slid forwards suddenly, off the end of his cock. She turned and with a single swift movement, pushed him onto his back.

Paul lay back, wondering why the carpet was damp under his body. He was distracted by Sophie lowering herself onto his cock, letting him slide all the way up inside her in less than a second. She moaned and began riding him as Emma watched, her breathing still some way from returning to normal. She wanted to move, wanted to kiss Sophie, to thank her, to cuddle up to her, but instead she could only watch as Sophie rode her partner, her boobs bouncing wildly up and down as she fucked his cock, using him to bring herself to climax. She had a hand between her legs, rubbing it against her clit, masturbating herself to get there quicker.

Paul couldn't hold it in any longer, he grabbed Sophie's hips and ground her down onto him as he thrust his hips upwards, spunk shooting up into Sophie's pussy, filling her up as his cock jerked spontaneously. He collapsed back, panting as Sophie continued to ride his still hard cock, chasing her own orgasm. At last she too screamed out loud, a climax stronger than any she'd felt before raced through her as she turned to glance at Emma, their eyes locking as she came.

The three of them lay still for some time, drifting off to sleep, naked on the carpet. Paul awoke first, sliding out from under Sophie and tiptoeing back to the bedroom.

Emma awoke next and climbed into the sofa bed, half coaxing, half dragging Sophie in alongside her. They fell asleep again, this time in each other's arms, not waking until long after the sun had risen the next day.

Sophie was up first, wondering just what had happened the night before. She was naked, had she taken her nightie off? Why was she aching so much between the legs? Had she had a naughty dream? She glanced at Emma, still fast asleep beside her and wondered.

A minute later Emma stretched and yawning, blinking her eyes open and seeing Sophie staring back at her.

"Good morning," she muttered, her mouth feeling dry and rough after the wine filled evening they'd had.

"Good morning," Sophie relied, "though I'm not sure what happened last night. Can you remember any of it?"

Emma just smiled, then got up and walked away to the bathroom, Sophie staring at her naked bottom as she left the room, wondering if maybe her dream had happened after all.


Filed under: Piss Stories
Posted on 06.21.14
Comments: None


Tags: pee story, pissing story
From HD Wetting we have the lovely Carly. She is in her panties and lying on the bed and horny. Carly really gets into the scenes that she is in, if you can remember Lesbian Panty Peeing on The Bed I just loved how after Sosha finished peeing Carly got in there fingering and licking Sosha there was no messing about. Today she is on her own, Carly starts out rubbing her pussy through her white panties, she is getting more and more turned on and starts to finger herself.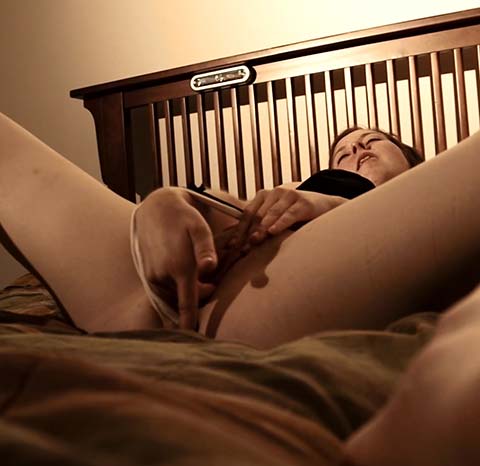 Carly is fingering herself under her panties, she is getting quicker and quicker she stops she then rubs her pussy a couple of times and starts to pee. Her pee starts to soak into her panties and we can see as her pee patch grows until her panties are glistening and her pee stream seems to be pushing them out. Just look at the wonderful soaked crotch.

Carly keeps on peeing, her pee streams are exploding out the sides of her panties and soaking into the bed. The warm pee puddle in her bed that she is lying in is getting bigger and bigger. She rubs her piss soaked panties as she is finishing peeing, just imagine the wonderful warm dampness that her piss soaked panties would give off. She finishes peeing and as she lies in her pee soaked bed starts to rub her pussy through her wet panties till she cums. A super sexy scene from HD Wetting.

See Carly Peeing And Masturbating Here


Filed under: HD Wetting and Knicker Wetting and Panty Pee and Peeing and Pissing and Pissing In Bed
Posted on 06.18.14
Comments: 5 Comments


Tags: Bedwetting, Carly HD Wetting, HD Wetting, Knicker Wetting, Panty Pee, Panty Peeing, peeing masterbation, Pissing In Bed, Pissing Panties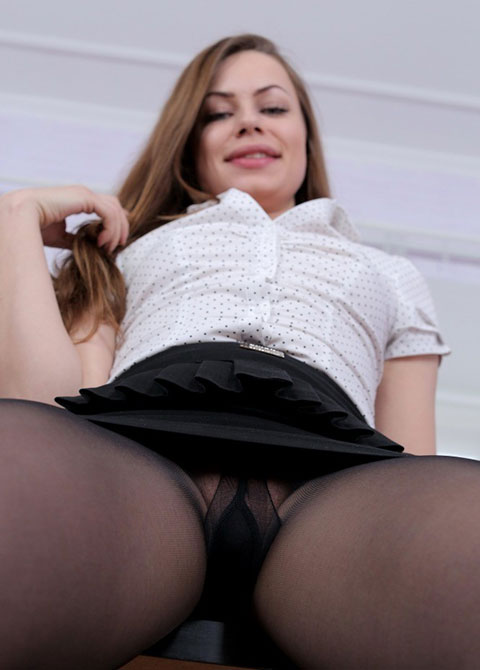 From Wet And Pissy we have a great pantyhose wetting. We don't seem to get pure pantyhose pissing that often so today I feel it is a treat. Today we have Sasha she is dressed as a secretory in a white shirt, skirt and black pantyhose. She is looking so sexy and she opens her legs and we get to see her pantyhose covered crotch, it is a beautiful sight. She is not wearing panties so we can see her smooth pussy too. She gets on the desk and as she is kneeling she starts to pee in her pantyhose.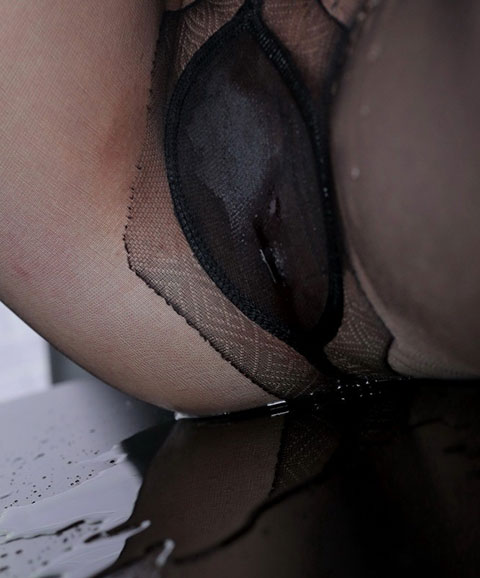 Sasha has started to pee in her pantyhose, her pee is soaking into the nylon fabric and running down her legs. The sight of her pantyhose getting shiny with piss is wonderful. She keeps peeing and is soaking her desk too. She is soaked in her piss, she sits in her piss puddle her pantyhose shine and she opens her legs so we can see her wet pissy pussy. A super sexy pantyhose pee.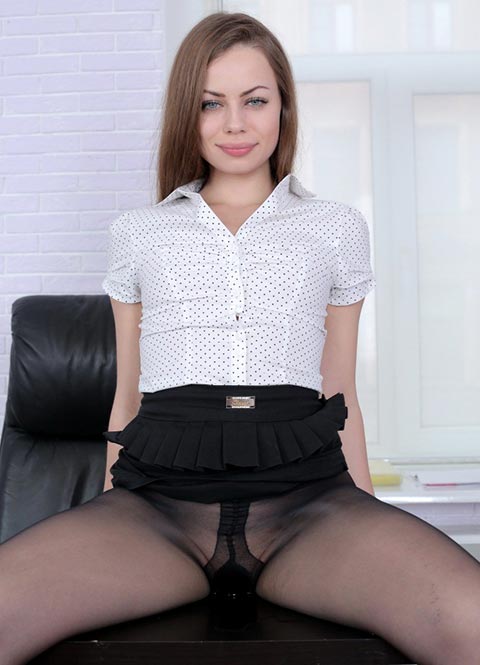 She is sitting in her piss puddle, her legs are open and we can make out her pissy pussy and then she starts to pee again. What a wonderful sight as the flood of pee soaks the gusset of her pantyhose what a wonderful feeling it must be to be sitting in her piss puddle. A great pantyhose peeing from Wet And Pissy.

See Sasha Peeing in Her Pantyhose Here

Read A Wet And Pissy Website Review Here

Visit Wet And Pissy Click Here





Filed under: Babes Peeing and Pantyhose Pissing and Peeing and Pissing and Pissing In Skirt and Pissing In Tights and Wet And Pissy
Posted on 06.15.14
Comments: 3 Comments


Tags: pantyhose peeing, Pantyhose Pissing, Pissing In Skirt, Sasha Wet And Pissy, Skirt Peeing, Wet And Pissy, wetting
From Pisshunters we have this great voyeur peeing movie. It's been a while since we has a Pisshunters movie here so I hope you all like. Pisshunters have brought us some wonderful peeing movies in the past and if you have missed them check out Blonde Caught Pissing Outdoors, Brunette Caught Peeing Again, Redhead Peeing In The Piss Pit and Brunette Caught Pissing Outdoors. There is such a wonderful array of body types and locations that everyone should be happy at Pisshunters. Today we have a lovely blonde she walks into the shot and stands there all we can see is her tight jeans and boots but then she starts to unbutton them and pull them down.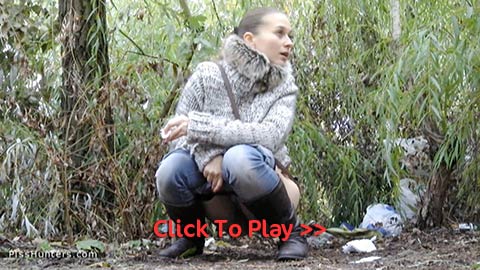 She pulls her jeans down and squats in the dirt we get to see her pussy and she looks cute. She then starts to pee and looks around if anyone can see her she doesn't spot us. She keeps on peeing and her pee is spraying out and splashing on the dirt, she moves a little to stop her piss soaking her boots.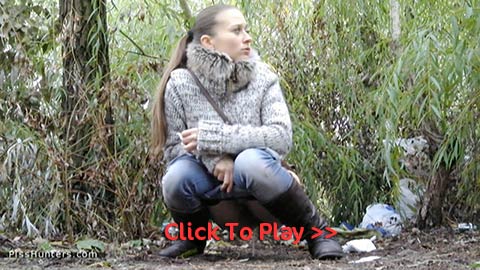 She keeps on pissing and as she does she is talking to a friend, she has a lovely piss stream and her bladder must have been full. She finishes peeing and has some toilet paper to wipe her dripping pussy. There will be no damp panties for her today, she pulls up her pantyhose and jeans and then she is off a great voyeur peeing from Pisshunters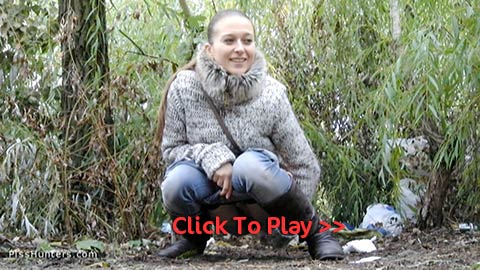 See The Voyeur Peeing Movie Here


Filed under: Caught Pissing and Movies and Outdoor Pissing and Peeing and PissHunters and Pissing and Pissing Movies and Pissing Outdoor and Pissing Videos and Voyeur Peeing
Posted on 06.12.14
Comments: 1 Comment


Tags: Peeing Voyeur, PissHunters, Pissing Movie, Pissing Outdoors, Voyeur Peeing, Voyeur Pissing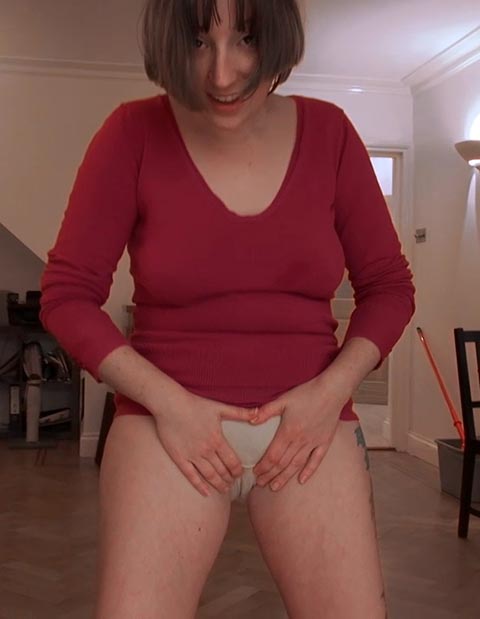 From Wetting Her Panties we have the wonderful Pippa Piddleton in her panties and looking lovely. We have had her before in Outdoor Panty Peeing With Pippa where she pisses in her panties on the street. Today she is in her panties and talking to the camera, she presses her panties tightly to her pussy and then starts to pee. A little trickle of pee soaks through her panties and then it starts to gush and the crotch of her panties are soaked.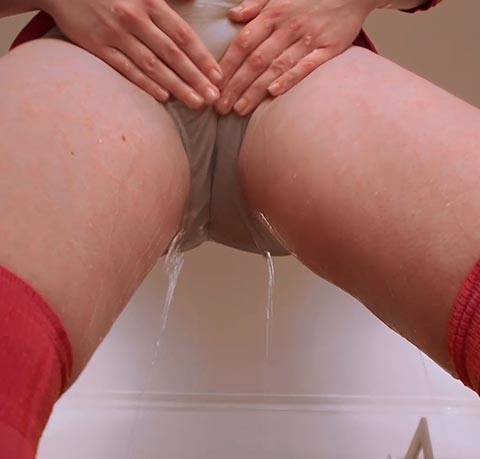 Pippa is pissing in her panties and as she is doing so she starts to rub her panty covered crotch. With ever rub her piss starts to splash everywhere. She has piss running down her legs her hands are soaked and her piss soaked panties are nearly see through this is one wonderful panty pee.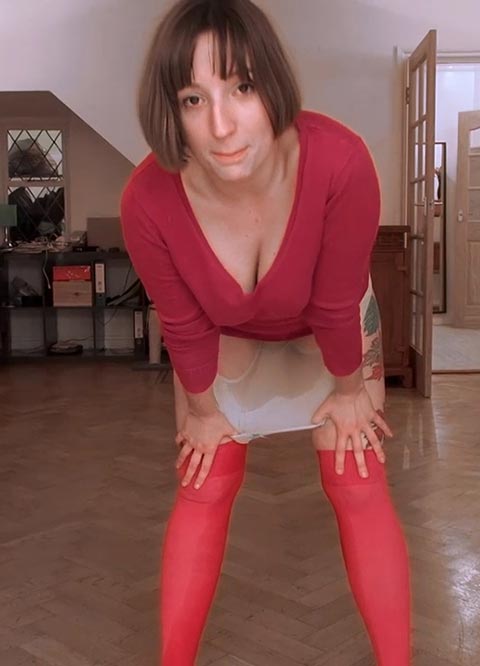 She keeps on pissing and she is getting more and more soaked in her piss, her legs are glistening and even her top has pee on it. Pippa is a wonderful wetter, she really does seem to enjoy panty pissing. She finishes peeing and still talking to the camera pulls her piss soaked panties down so we can see her pissy pussy she then bends over and we get a wonderful cleavage shot. A great panty pee with Pippa.


Filed under: Knicker Wetting and Panty Pee and Peeing and Pissing and wettingherpanties
Posted on 06.09.14
Comments: 5 Comments


Tags: Knicker Wetting, Panty Pee, Panty Peeing, Pippa Piddleton Wetting Her Panties, wettingherpanties