Something a little different today here at Piss Blog we have Idoia from Magic Erotica. We have two hot picture sets to enjoy. The first set of pissing pictures has her dressed as a nurse she starts off pissing in a bowl and it really is a nice piss. She has great piss flaps and this pee is nice and yellow. Idoia is one dirty girl too when she has finished pissing in the bowel she then gets out her shaving cream lathers herself up and shaves her hairy pussy. This must have turned her on as she then gets a dildo and starts doing herself a great set of peeing and playing photos.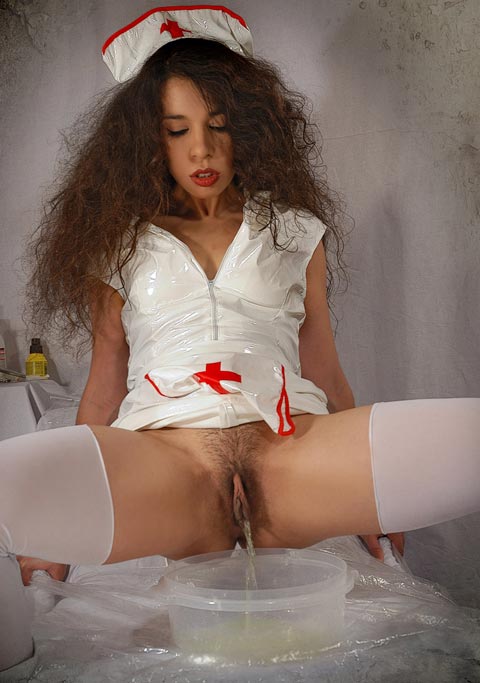 The next set we have is with her dressed as a school girl and a sexy school girl she is. She has no panties on and her shaved pussy is on show she squats down and starts to piss. Her pussy lips really are big and in this set of pissing pictures she has opened them so that we get a great view. When she starts to piss she has such a lovely strong stream and wouldn't you love to feel her hot piss as it is gushing out of her pussy I know I would.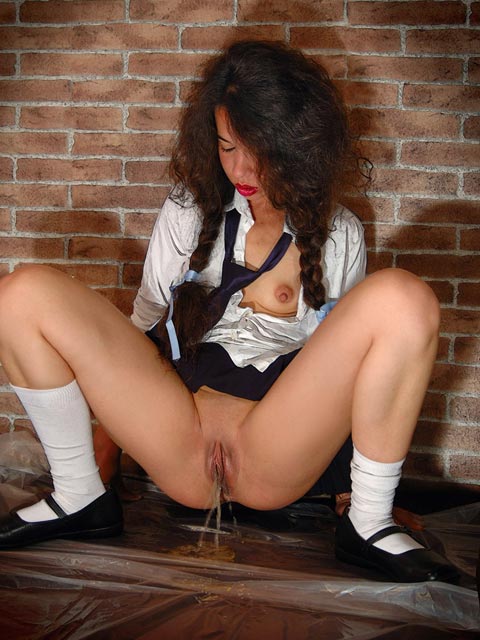 Visit Magic Erotica Click Here





Filed under: Babes Peeing and Hairy Pussy Pissing and Peeing and Pissing
Posted on 02.27.11
Comments: 5 Comments


Tags: Hairy Pussy Pissing, Idoia Magic Erotica, Pissing, Pissing Pussy, Uniform pee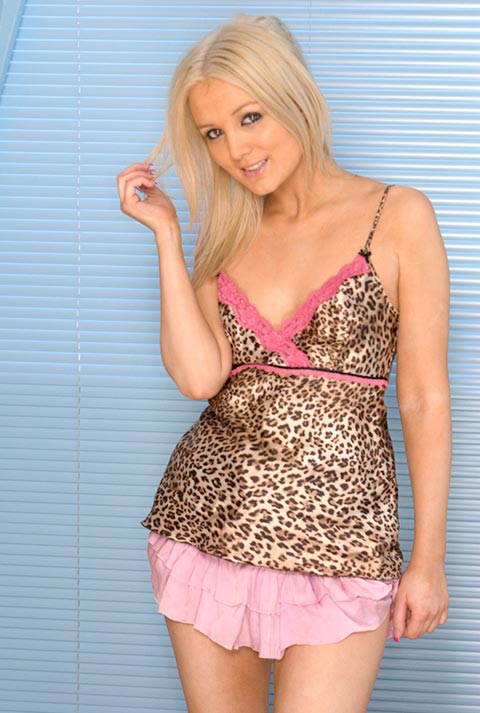 From Wetting Her Panties we have Fay X. The last post we had with Fay x she was in her pantyhose you can see it here Pantyhose And Panty Peeing With Fay X. This time there are no pantyhose just a cute pair of knickers under her short skirt. She really is one of the hottest panty peeing models Wetting Her Panties has and I so love watching her soaking her knickers at any opportunity. She lifts up her skit and we get to see her lacy panties that give us a lovely little view of her shaved vagina too.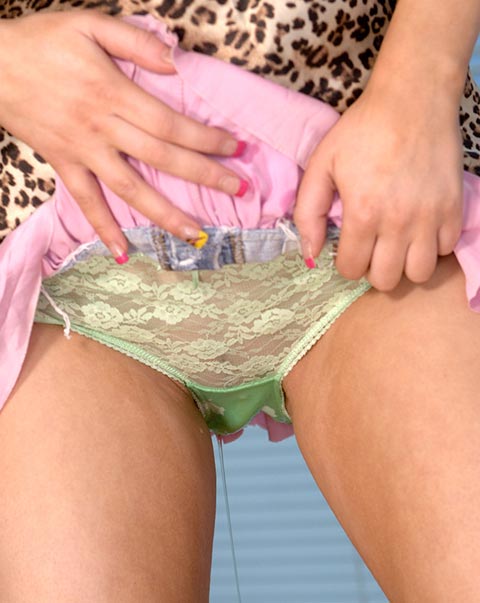 Fay X is showing us her lacy panties and then she starts to pee in them. It's been a long time that I have seen sexy knickers like this being pissed in and I don't think we have ever had a post here with them. She is peeing into her panties and you can see the crotch of the panties turning dark and starting to drip she then grabs her crotch while she is peeing. I bet she is enjoying the lovely warmth encasing her pussy and wants it to last that much longer.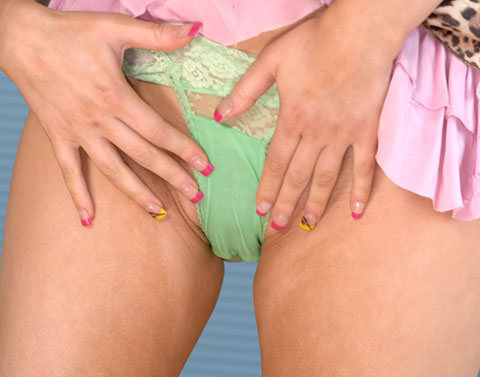 She then turns around and we get to see her cute little bum and her dark pee patch, these knickers are great they really are soaking up her pee and giving us a lovely show. She then grabs her crotch from behind she must still be loving the soaked fabric of her panties encasing her crotch to do it again. What a lovely panty pee. I could watch Fay X peeing in her knickers for hours and then to see the last photo where she is pulling her panties tightly over her crotch giving us a lovley pissy camel toe well what more is there to say.

See Fay X Peeing In Her Panties Here


Filed under: Babes Peeing and Knicker Wetting and Panty Pee and Peeing and Pissing and Pissing In Skirt and wettingherpanties
Posted on 02.24.11
Comments: 8 Comments


Tags: Fay X, Knicker Wetting, Panty Pee, Panty Peeing, Skirt Peeing, wettingherpanties
From Ineed2pee we have this great female desperation and jeans wetting. Staring Caroline Pierce a new ineed2pee model. Caroline Pierce comes home and starts to tell you how desperate she is. This is a new style from ineed2pee and its quite fun. What we have here is the jeans wetting photos that have gone with this female desperation movie. She is in her jeans and desperate to pee she has been describing just how desperate she is and how much she has been drinking she is getting more and more desperate while we watch. She just can't hold on that much longer, she is trying so hard and  telling you just how desperate she is.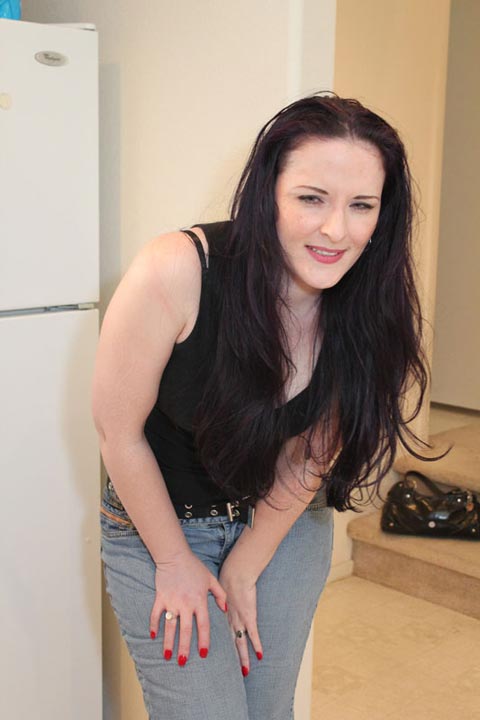 This is what ineed2pee has written about this female desperation movie "Meet your new girlfriend Caroline Pierce, as she rushes home with a very full bursting bladder, telling you about how she almost pissed her tight jeans in the car on the way home. She's doing the pee pee dance & pressing her crotch already. She tells you that she remembered the last time you guys were driving & she wet her panties a little bit before FINALLY making it the bathroom to pee & how much it turned you on & what great sex you had afterwards. She can tell already that you've got a boner in your pants so she encourages you to take it out & play with yourself as you watch her keep holding it! What a dream cum true for you, especially with her curvy round ass & describing the desperation in detail. All of a sudden she gasps & you know it's coming out already!"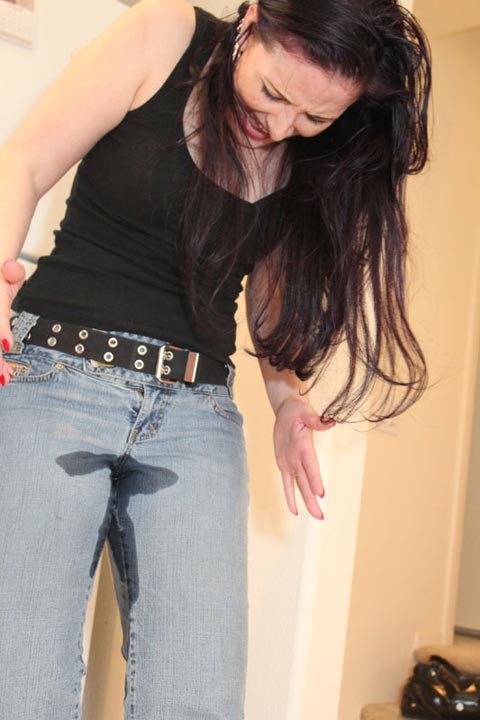 She just can't hold on any longer and she starts to pee in her jeans the female desperation building up to this moment has been great and now we get to see her bladder explode and hot pee soak her jeans she is really making a great mess. She knows we are watching too and as she is peeing in her jeans she is describing just how she is feeling, she is a little disgusted that she has peed in her jeans but she really does know we are loving it. What a great piss patch in her jeans she really has made a mess. She then pulls down the piss soaked jeans to show her wet panties too. A fun female desperation and jeans wetting from ineed2pee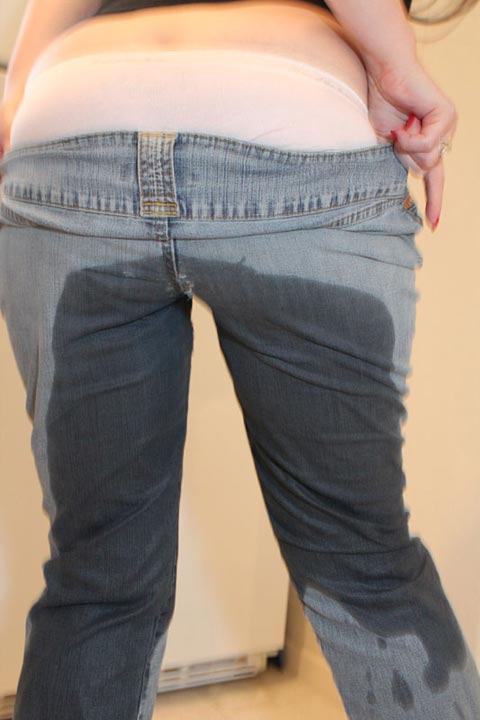 See The Female Desperation And Jeans Peeing Pictures

Filed under: Desperation and Female Desperation and Ineed2pee and Jeans Peeing and Jeans Pissing and Peeing and Pissing
Posted on 02.21.11
Comments: 2 Comments


Tags: Desperate To Pee, Female Desperation, Ineed2pee, ineed2pee Caroline Pierce, Jeans Peeing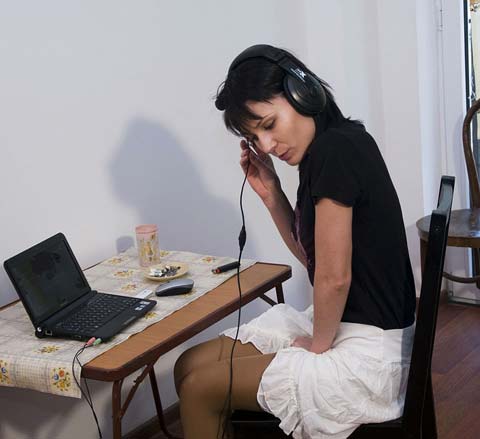 From Real Wetting comes these female desperation and wetting photos of Alice. We all know how much Alice loves female desperation and this time is no different. Alice is in her room listing to music she really needs to pee but is holding on, she is even using her hand to hold it in You can see how forcefully she is pushing that hand into her crotch she is getting closer and closer to exploding. I really do love female desperation watching as they get more and more desperate then the female desperation dance  and if we are lucky the goose bumps like we saw with Tabitha in Female Desperation With Tabitha.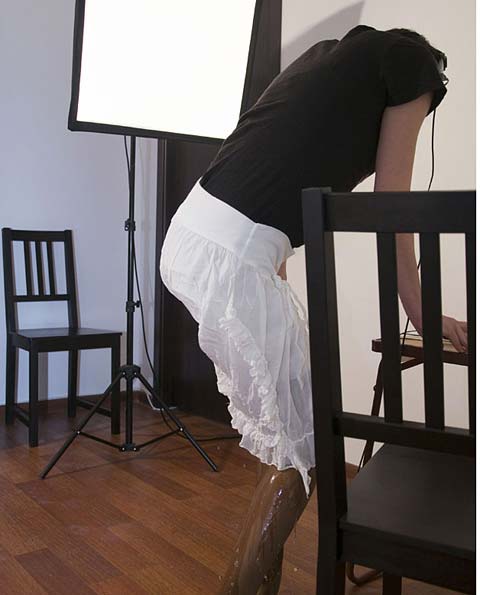 Alice is trying to hold on forever but her desperation is getting to great she stands up and this relives some pressure on her bulging bladder but it's not really enough she gets that female desperation wave and bend down to stop it but she has lost control, you can see a few drops of pee falling to the floor she really is to desperate and that little accident has opened the flood gates and she is peeing in her pantyhose. She really is making a lovely pissy mess of her pantyhose and I bet the splashing sound as her piss hits the floor is wonderful.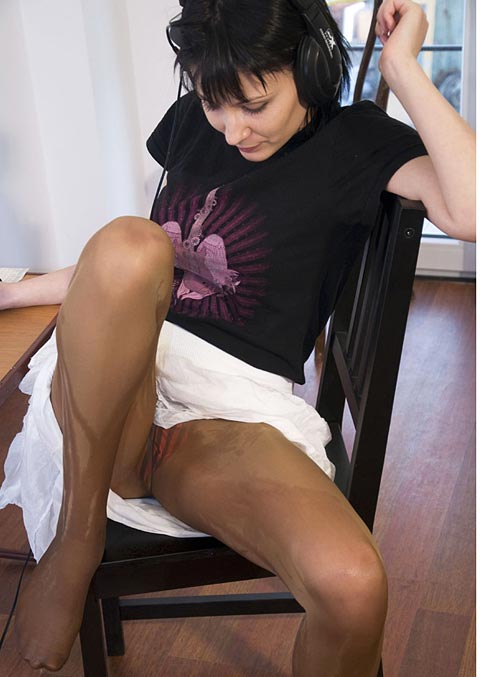 Alice is soaking herself and the floor, the only shame in these female desperation and peeing pictures is that her skirt isn't soaked too she has peed a little in it but not as much as one could hope. Alice finishes peeing in her pantyhose and stands in her pee puddle she must be loving the warmth on her feet. She really is a pissy mess and to top it off she then sits down in her piss soaked pantyhose. I bet now she has a wet skirt she has her legs open and we get to see her piss soaked panties too. This really is a lovely Skirt and pantyhose peeing.

See Alice Peeing In Her Skirt And Pantyhose

Visit Real Wetting Click Here


Filed under: Audreys Wetting Site and Desperation and Female Desperation and Pantyhose Pissing and Peeing and Pissing and Pissing In Skirt and Real Wetting
Posted on 02.18.11
Comments: 1 Comment


Tags: Alice Realwetting, Audrey's Wetting Site, Desperate To Pee, Female Desperation, pantyhose peeing, Real Wetting, Skirt Peeing
From Pisshunters comes this great voyeur peeing movie. A blond staggers into the camera shot she must be a little drunk and she needs to pee. When she hitches her skirt up and is about to pull her pantyhose and panties down I did think that she was going to fall back in the bushes but no she recovers. She pulls down her panties and pantyhose and she does need to pee badly before she has even squatted properly she is pissing in the dirt this is one powerful piss too.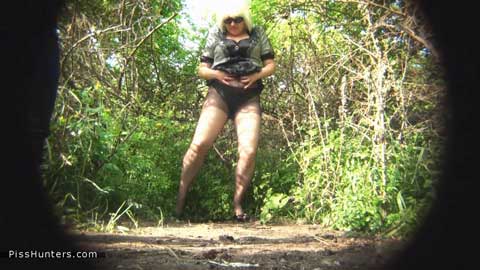 She is squatting and pissing and it is one big piss. We have a great view from the Piss Hunter's cameras. I do love this voyeur pissing there is something so naughty seeing hicks pissing in public. She keeps pissing and her strong pee stream keeps splashing in the dirt. This really is one powerful piss she must have been so full it's a pity she didn't start to pee in her panties and pantyhose. She is still pissing, this is one long Pisshunters voyeur peeing movie and if you are watching her pee stream it is now splashing over her shoes she is totally unaware as she is soaking her shoe and pantyhose covered foot. What a warm mess she is making.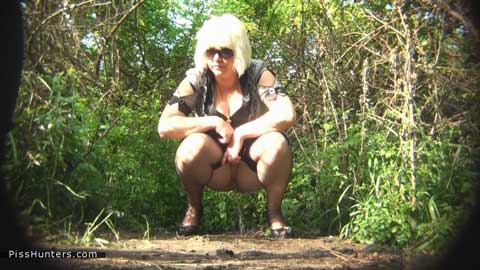 The piss stream starts to dwindle and then it starts up again. For a minute it looks like she is going to pull her panties and pantyhose up while she is still pissing but no, her stream turns into little drips. She pulls her panties up and then her pantyhose, she has a pad in her panties so I'm betting that will be soaking up lots of her pee. Another great voyeur peeing movie from Pisshunters.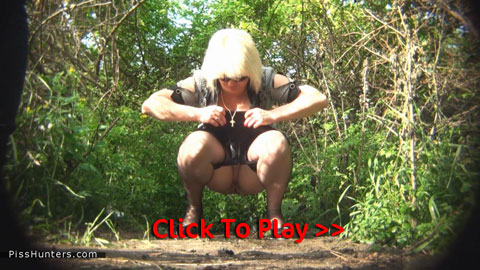 Watch The Blonde Caught Pissing Here


Filed under: Caught Pissing and Movies and Outdoor Pissing and Peeing and PissHunters and Pissing and Pissing Movies and Pissing Outdoor and Pissing Videos and Public Pissing and Voyeur Peeing
Posted on 02.15.11
Comments: 9 Comments


Tags: Caught Peeing, PissHunters, Pissing, Pissing In Public, Pissing Movie, Voyeur Peeing, Voyeur Pissing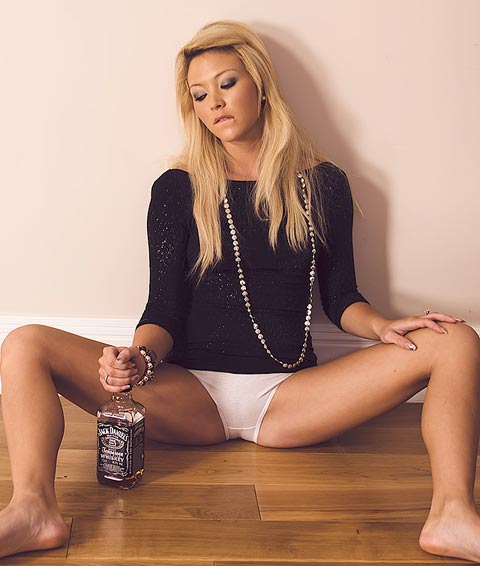 From Wetting Her Panties comes these panty peeing pictures with Natalia X. She has been drinking bourbon as the story goes and is a little drunk she doesn't realizes that she has to pee and sits down leaning against the wall. Her dress has hitched up and she is showing of her white panties that are tightly encasing her crotch. Natalia X has to be one of my favorite wetting her panties models she really does seem to enjoy peeing in her panties. This time she is sitting against the wall her skirt is hitched up and her legs are wide open what a great view we are getting of her crotch.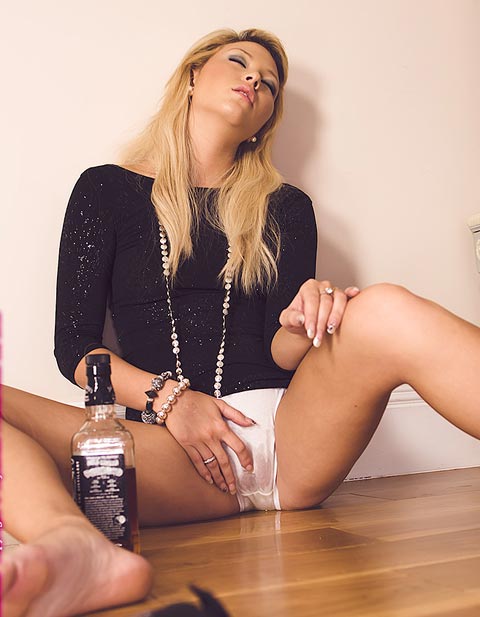 She is sitting their quite happily showing her knickers and then she starts to pee in her panties you can see the first dark patch of pee as it makes its way out and then the small trickle turns into a gush and she is soaking her panties in pee. Peeing in white panties like this is always great and this time is no different they are going see through. She keeps peeing and her panties are getting more and more soggy. Her pee puddle is getting even better her bottom must be so warm and soaked too.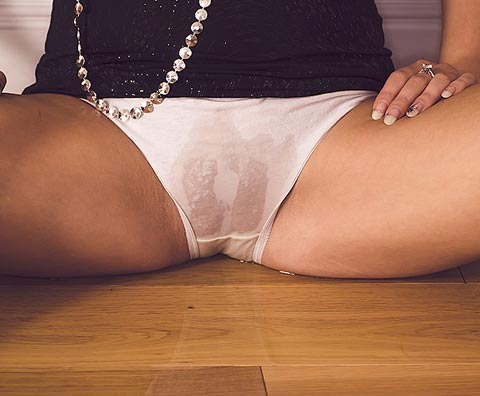 She really has soaked her panties and you can see her pussy through her pissed in knickers what a great sight especially as she is still sitting in  her pee puddle. What a messy lady when she gets up she is going to be dripping piss I bet it will run down her legs like little rivers. Another wonderful Wetting Her Panties knicker wetting staring Natalia X.

See the Panty Peeing Photos Here


Filed under: Knicker Wetting and Panty Pee and Peeing and Pissing and wettingherpanties
Posted on 02.11.11
Comments: 16 Comments


Tags: Knicker Wetting, Natalia X, Panty Peeing, wettingherpanties
Here we have Arianna from Ineed2pee we have had posts with her before in the Female Desperation Movie With Arianna Post. This time she is in her jeans in the garden and as you can see from her previous female desperation movie she loves the desperation feeling. She has been holding on for quite a while and the tight jeans have been pressing into her bursting bladder giving her more and more urgency. I love ineed2pee and there great female desperation, you know its not fake the ladies can't be that good at acting. If you missed Female Desperation With Tabitha the last post we had from ineed2pee you will be able to see what I mean.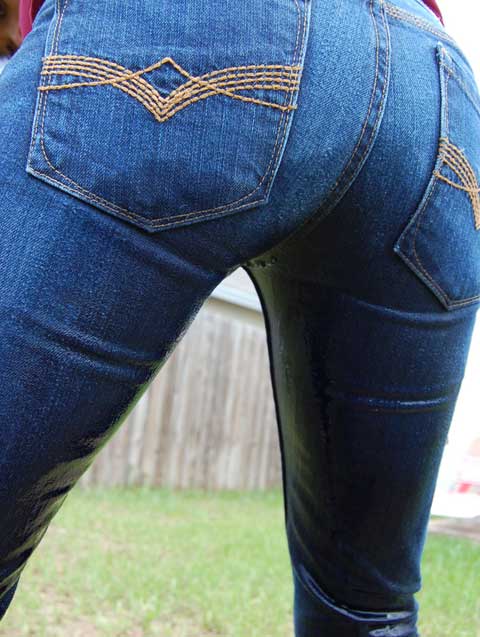 Arianna is peeing in her jeans from desperation and she must have been so desperate to pee as she is soaking her jeans. They are so soaked they are dripping and have that lovely sheen over the denim I love seeing piss soaked jeans. She also haves made a lovely piss puddle which she is standing in . I bet her feet are lovely and warn as well. She finishes peeing in her jeans and opens the fly, look how lovely she looks in her piss soaked jeans the piss stain is great. We then get to see the first sight if her piss soaked knickers.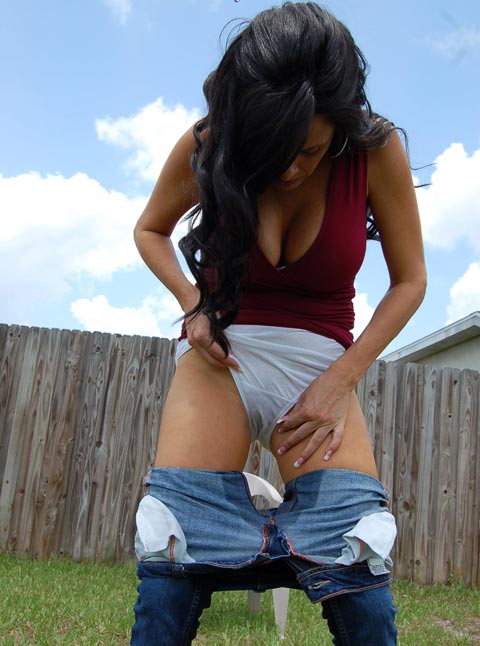 She pulls down her pee soaked jeans and shows off her wet knickers when she bends over and we get to see her bottom and the lovely pee stain covering her crotch. Just look at the wet knickers they want to stick to her pussy so we get a pissy camel toe but the fabric is just too soaked for that. She really did wear the best knickers they have soaked up so much of her pee. Once again ineed2pee have proved that they are one of the best female desperation and wetting sites on the internet.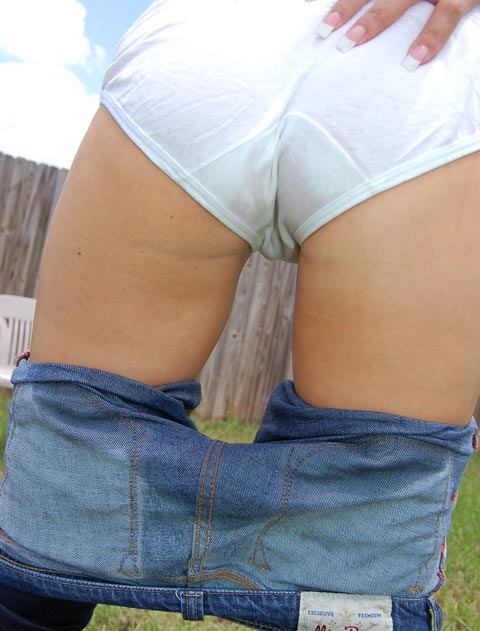 See Arianna Peeing in her Jeans Here


Filed under: Ineed2pee and Jeans Peeing and Jeans Pissing and Knicker Wetting and Panty Pee and Peeing and Pissing
Posted on 02.08.11
Comments: 5 Comments


Tags: Ineed2pee, ineed2pee Arianna, Jeans Peeing, Knicker Wetting, Panty Peeing