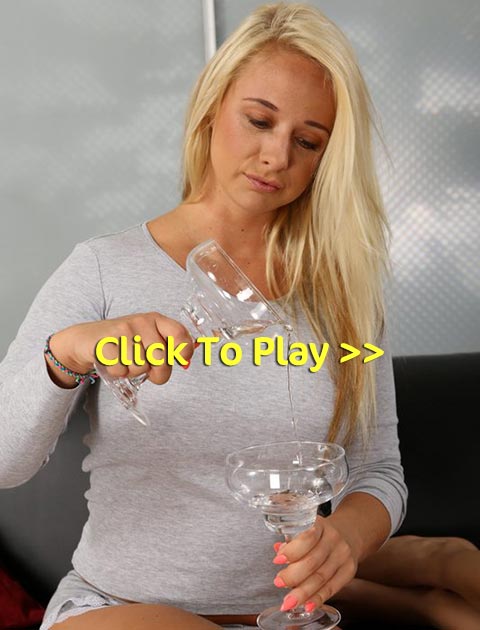 Lesbian peeing from Vipissy with a movie and pictures. Francys Belle and Lilith join us in the lesbian pissing party from Vipissy. Lilith is one sexy blond and Francys Belle is so cute. We join these two lovely lesbians in the lounge Francys Belle is sleeping and Lilith has found her. She is horny and starts to play with water by pouring it between glasses to see if she will pee in her panties. Francys Belle doesn't pee her panties but she wakes up and is busting to pee. Lilith is an obliging toilet and has Francys Belle pee through her panties and onto her face. Her blond hair is getting soaked and she is drinking some of the pee too.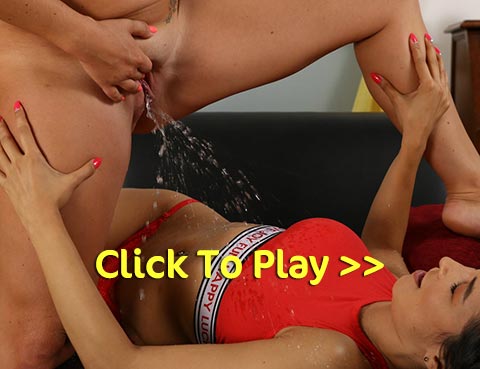 Francys Belle Finishes peeing all over Lilith and she is soaked. Her clothes are clinging to her curvy body and she now needs to pee too. She strips her pee soaked clothes off and stands above Francys Belle. She pees over her tits and body, she is really soaking her. Her nipples go hard under the wet fabric. They starts to make out and then Francys Belle pees again.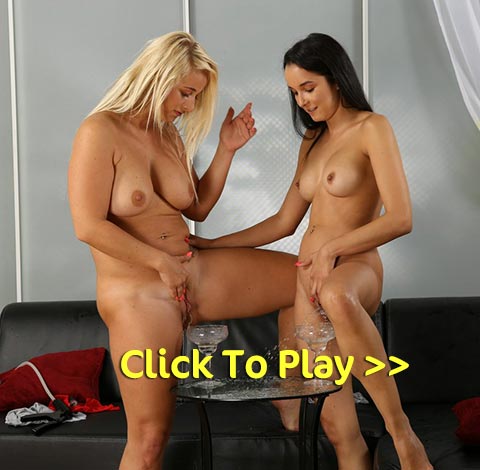 They are both soaked in piss and so horny. They grab a dildo and start to pump each other till they are cuming. They can't get enough and they need more pee. Francys Belle pees on Lilith and we then have Lilith on her back and peeing like a drinking fountain. Francys Belle takes a drink of her golden goodness and they then finish up licking pee of the table with hair dripping in piss. A great lesbian piss from Vipissy

See Francys Belle And Lility Peeing Here


Filed under: Babes Peeing and Drinking Piss and Movies and Peeing and Pissed On and Pissing and Pissing Movies and ViPissy
Posted on 09.20.17
Comments: None


Tags: blonde peeing, brunette pissing, Francys Belle Vipissy, Lesbians Peeing, Lilith Vipissy, Piss Drinking, shaved pussy peeing, ViPissy, Vipissy Movie, Vipissy Pictures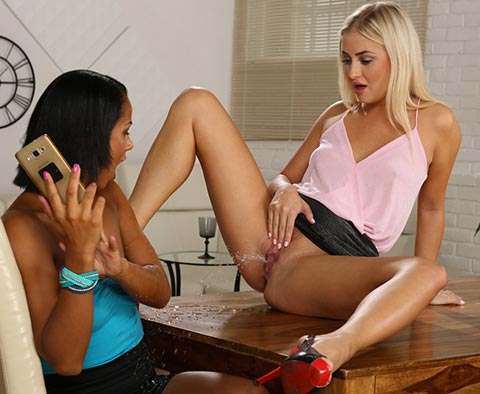 From Vipissy we have a wonderful wet lesbian piss from Vipissy. Today we have both the pissing pictures and a short movie of this lesbian pee from Vipissy. Cayla & Isabella Chrystin star in this scene and we join them as Isabella Chrystin is on the phone and Cayla walks in horny. She tries to distract Isabella Chrystin but she is having none of it. With nothing else to do Cayla gets on the table lifts her skirt to show her pussy and then starts to pee. Her piss is spraying out of her pussy and soaking Isabella Chrystins top. This has got her attention and she is gives up on the phone call to enjoy being sprayed in piss.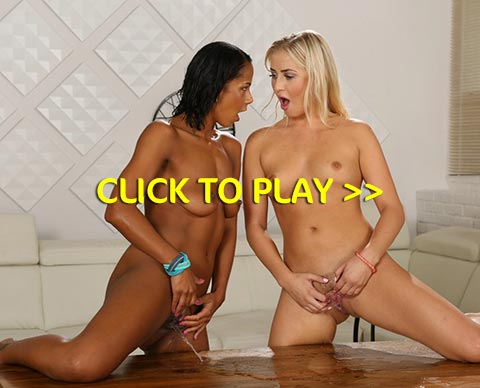 Cayla finishes pissing over Isabella Chrystin and then she lays down and Isabella starts to give her head. They are both so turned on and Isabella Chrystin squats beside Cayla and then releases her piss all over her. Her top and skirt are soaked and her skin is shining in wet warmth. She has piss dripping down off her body and they strip off their piss soaked clothes till they are both nude and wet with piss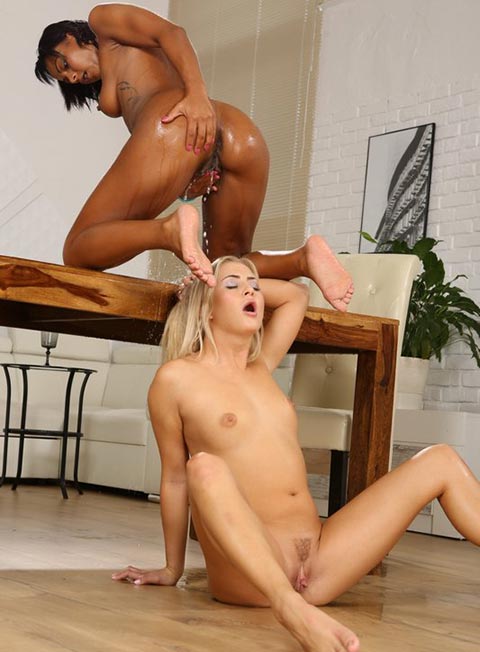 The fun hasn't finished yet Isabella Chrystin lies back and Cayla is over her in a sixty nine position when she starts to piss giving Isabella a face full of pee, she is loving it and is soaked. It is then her turn to soak Cayla in piss, they are so wet and horny it is great. They finish off pissing on the table together the piss streams are beautiful as they hit the table. This has to be one of the best and wettest Vipissy updates that we have had in a while these two really do enjoy the pee play.

See Cayla And Isabella Chrystin Pissing


Filed under: Babes Peeing and Drinking Piss and Lesbians Peeing and Movies and Peeing and Pissed On and Pissing and Pissing Movies and ViPissy
Posted on 08.15.17
Comments: None


Tags: Cayla Vipissy, Isabella Chrystin Vipissy, Lesbians Peeing, Piss Drinking, Pissing Movie, ViPissy, Vipissy Movie, Vipissy Pictures
From Vipissy We have three wonderful lesbian peeing sets. Vipissy really is the best pissing site for hot lesbian peeing action. We have had some dripping wet posts before with Dido Angel & Alexa Tomas Lesbian Pissing Antonia Sainz & Morgan Lesbian Pee Vipissy Blond Lesbian Pissing Vipissy and Very Wet Lesbian Pissing. Today we start off with the lovely Sweet Cat and Violette. These two blonds are dressed in sexy lingerie and they start to kiss and play with some wiped cream and then the pissing starts. Violette starts to pee on Sweet Cat's body and the cream is mixing with the warm pee making a wonderful mess. She then licks her pussy and all the pee from it. It is now time for Sweet Cat to pee on Violette and she soaks her while she is still wearing her lingerie, it is dripping wet when the piss flow stops. we then get to watch as they lick each other to orgasm and then Sweet Cat drinks piss from Violette's pussy. A super wet lesbian scene. See Sweet Cat and Violette Pissing Here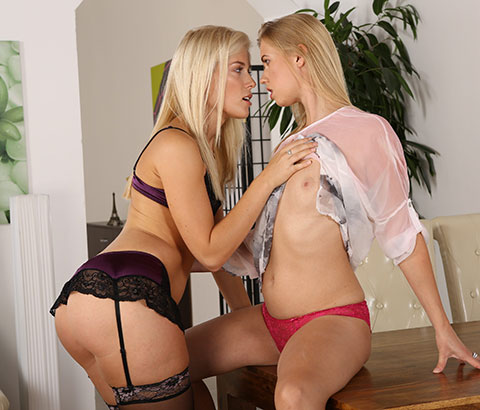 Next up we have Dafne & Oprah. They are playing chees and then Dafne exposes her pussy and pisses on the board oprah licks up the piss like a good girl and the wonderful lesbian piss fun starts. Oprah then pisses all over Dafne they then have some hot pissy pussy licking till it is time for some more piss drinking. This really is a wonderful wet lesbian scene. See Dafne & Oprah peeing here.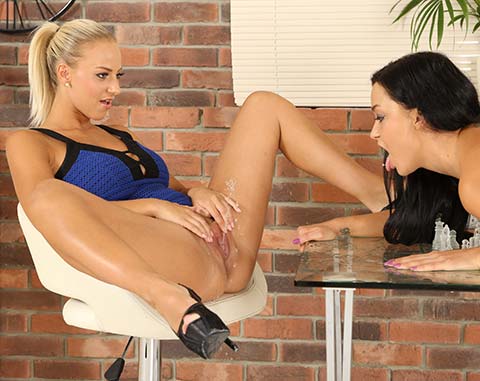 Last up we have Foxie T and Morgan in cosplay outfits  Mogan is dressed as a swat officer and has cat woman Foxie T arrested. Instead of taking her to jail she has been taken to the bedroom where she is pissed on. She is soaked in piss and her catwoman costume is soaked Morgan now horny drinks Foxies piss and they lick and play till they are both soaked in the warm nectar. This really is a fun Lesbian Cosplay pissing. See Foxie T and Morgan Pissing Here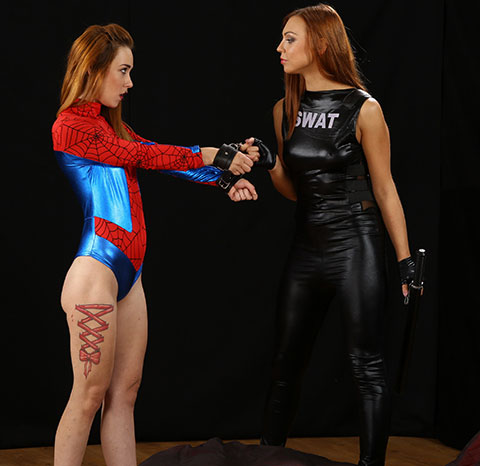 Filed under: Drinking Piss and Lesbians Peeing and Peeing and Pissed On and Pissing and ViPissy
Posted on 10.16.16
Comments: 1 Comment


Tags: Cosplay Pissing, Dafne Vipissy, Foxie T Vipissy, Lesbians Peeing, Morgan Vipissy, Oprah Vipissy, Piss Drinking, Pissing Pussy, Sweet Cat Vipissy, Violette Vipissy, ViPissy, Vipissy Pictures