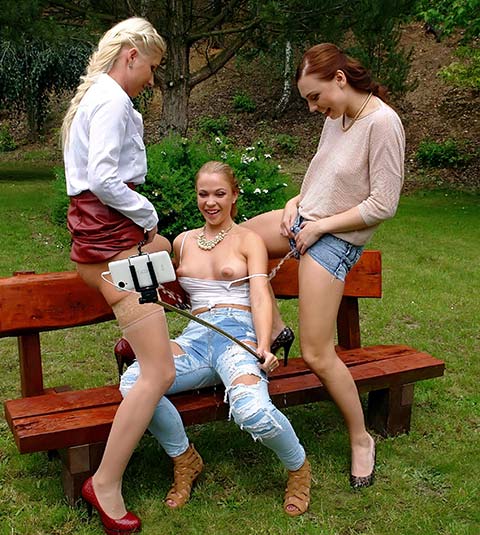 From Tainster we have three great lesbian piss sets. This is the first time we have any pissing action from this site and this is a great way to start. We start off with three hotties out in the grass they are taking selfies with each other until they start to get hot and horny. They start kissing and then pull down the top of one of them and the other two starts to pee on her. She has two piss streams splashing all over her it is just so hot to see. Two of them then lay on the ground and the sexy blond pisses on them both till they are dripping. They play together and then the redhead pisses all over herself. This is a great lesbian piss and they are having so much fun soaked in piss. See The Lesbian Piss Here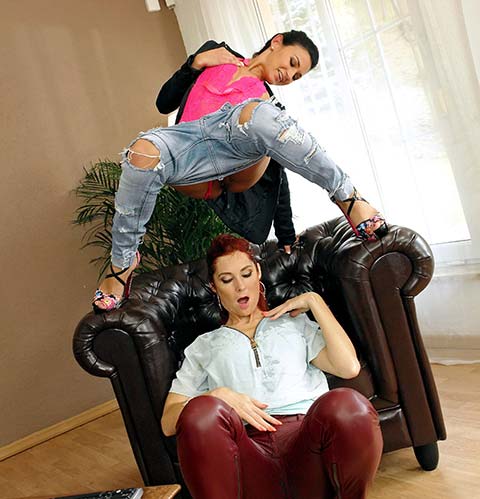 Next up we have a lesbian couple indoors, they are checking out something on the computer but are so horny they starts to kiss and then their pants come down and they are both fingering each other to an orgasm. No sooner do they finish that they both need to pee. The brunette gets above the redhead with her pussy exposed and starts to piss, she is spraying piss all over the redhead and when she finishes her hair is clinging to her face and she is in a puddle of piss. Soaked in piss sher gets up and now it is her turn to pee on her lesbian lover. She stands on the couch and sprays her with piss. This is a great wet pissing lesbian set and you can see it here.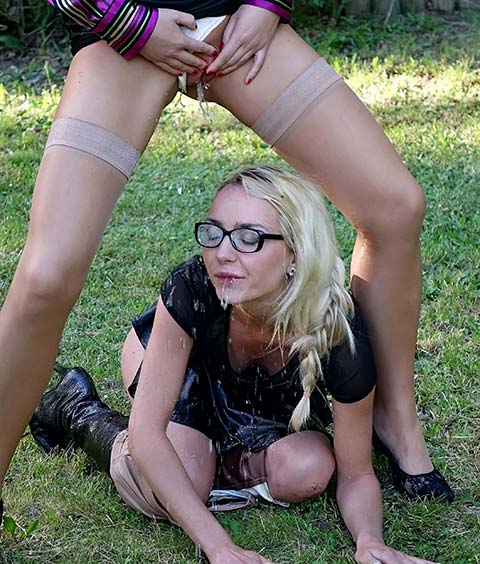 The last set starts with two lesbians making out on the couch till they are horny and there bladders are full. They go outside and the brunette gets on the ground and gets sprayed with pee, just look how turned on she looks with pee running everywhere. She stands up and the blond gets on the ground. She lifts her piss soaked skirt and aim her dripping vagina at her and starts to piss. She is soaking the blond and then she starts to drink the pee straight from the source. A really wonderful piss scene. See The outdoor pissing lesbian here


Filed under: Babes Peeing and Drinking Piss and Lesbians Peeing and Outdoor Pissing and Peeing and Pissed On and Pissing and Pissing Pictures and Tainster
Posted on 01.22.17
Comments: 1 Comment


Tags: Lesbians Peeing, Peeing, Piss Drinking, Pissing, soaked in piss, Tainster
From FTV Girls we have the lovely Roxanna. This is the first time that we have had a peeing lady from FTV Girls and today we start off with a great big pee. We join Roxanna just off the street and she has been playing around she lifts up her top to show her small breasts and then she squats down. Look how lovely she looks. She lifts up her dress and exposes her pussy. She squats and smiles before starting to pee.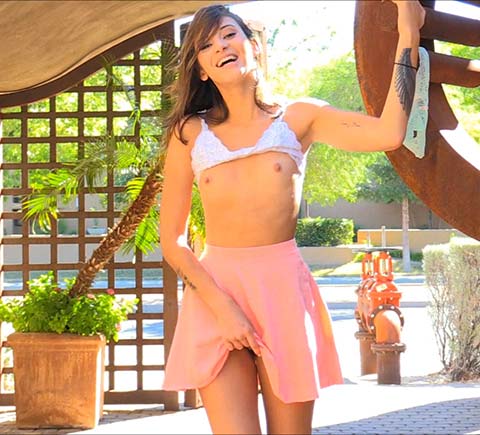 She starts to piss and the first drops flow out and then it turns into a big stream her pussy is exploding piss and it is splashing on the ground and creating a wonderful piss puddle.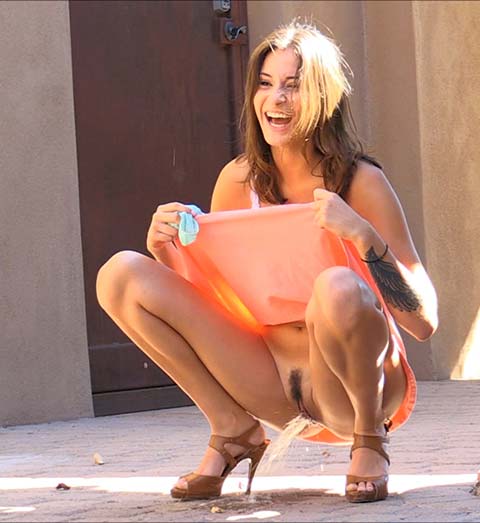 She keeps on pissing and it realty is a gusher. Just think how fast she would soaked jeans and panties with a stream this big. She keeps peeing and the hair on her pussy is catching her piss drips. The stream slows and then stops and she shakes herself a little. There are some drips of piss running down one bum cheek and her shoes have a few pee splashes too. Just look how happy she is now she has had a big piss.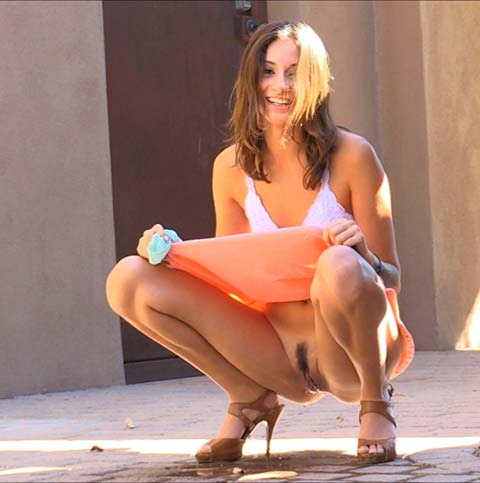 Filed under: Babes Peeing and FTV Girls and Hairy Pussy Pissing and Outdoor Pissing and Peeing and Pissing and Pissing Outdoor and Pissing Pictures and Public Pissing
Posted on 12.22.16
Comments: None


Tags: FTV Girls, Outdoor Pissing, Peeing, Pissing Outdoor, Pissing Pussy, Roxanna FTV Girls
From Pisshunters we have this great caught pissing picture. This chick seems a bit desperate when she enters the camera and it is great the hidden camera from Pisshunters caught her. She quickly pulls her jeans down and then falls backwards she has had to torch the piss soaked ground but her falling has given us a great view of her shaved pussy. We have had a Pisshunter movie in this location before you can see the movie in the Great Pisshunters Voyeur Pissing Movie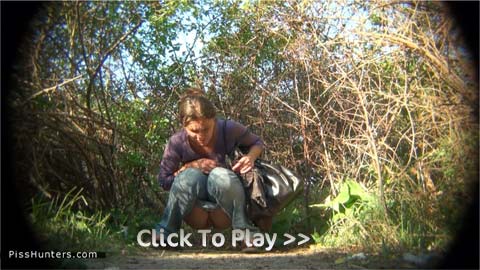 She sets herself back into the squat and she is ready to pee she is even looking at her own pussy as she starts to piss for the Pisshunter hidden camera when she starts she really does release a strong piss stream from her shaved pussy. She keeps on pissing she really must have been full and I bet the pee puddle in the dirt is great. I really do love watching these voyeur pissing movies from Pisshunters.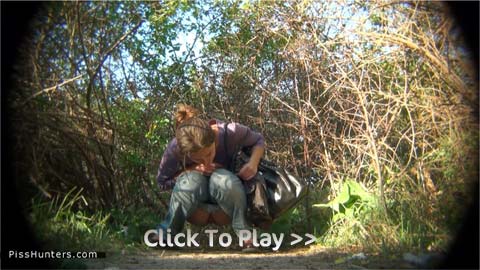 She has finished pissing and it looked like she was going to get a tissue from her bag to wipe her pissy pussy but she was just rearranging it so she can stand up. She grapes her panties and jeans and pulls them up. We don't get a spurt of piss in her panties like the last Pisshunter movie we had but I bet she is a little damp in the crotch. Another wonderful Pisshunters voyeur pissing movie.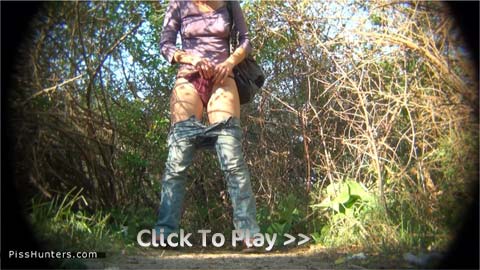 See This Pisshunters Movie Here


Filed under: Caught Pissing and Movies and Outdoor Pissing and Peeing and PissHunters and Pissing and Pissing Movies and Pissing Outdoor and Pissing Videos and Public Pissing and Voyeur Peeing
Posted on 11.05.10
Comments: 1 Comment


Tags: Caught Peeing, Peeing, PissHunters, Pissing Movie, Voyeur Peeing
This is a different style of voyeur pissing movie than I have posted this is from one of Pisshunters hidden toilet cameras. Pisshunters have some great pissing voyeur outdoors but they also specialise in hidden toilet cams. I think it is great that we can see the inside of a female toilet and watch the piss action as they are unaware that they are being filmed while the are pissing. This chick struggled to pee im not sure if she was so desperate to pee that she couldn't release her golden liquid or if she was passing the toilet and thought she may have a piss either way we are spying and see he peeing . I think it is great movie she doesn't wipe her pussy after pissing once again just a shake and the piss drips can fall off and up come the pants. Pisshunters has shown many times that when the Pisshunters cameras are filing the chicks don't wipe
This is a nice piss spy movie from Pisshunters. Pisshunters have such a huge amount of voyeur videos that you would be crazy not to visit Pisshunters and check what they have to offer
Click Here To See The Piss Hunters Movie


Filed under: Caught Pissing and Peeing and PissHunters and Pissing and Pissing Movies and Pissing Videos and Voyeur Peeing
Posted on 07.22.08
Comments: 9 Comments


Tags: Peeing, Peeing Voyeur