From Wetting Her Panties we have the lovely Adreena. It has been a long time since she was peeing at Wetting Her Panties and it's been over three years since we have had a wetting post with her. Her previous posts were great and if you want to revisit them check out Knicker Wetting From Wetting Her Panties and Peeing In Her Shorts From Desperation. Today we have her with more tattoos and longer hair. She is in a denim mini skirt and desperate to pee. Her bladder is bulging, she grabs her crotch but she is to full and let's out a little drip of pee.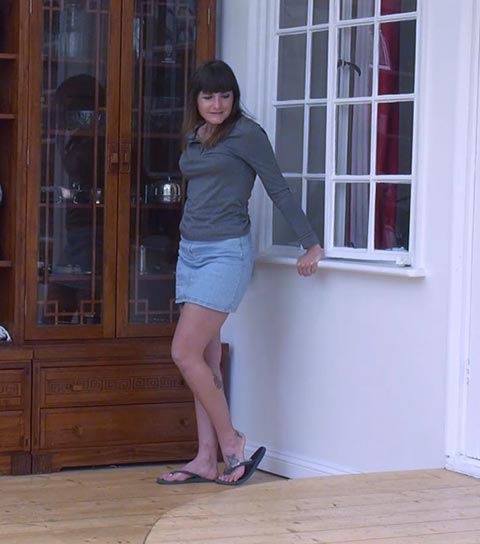 She has nearly lost control. She has squirt a little pee drip but is holding on. She lifts her skirt up and we get to see her panties tightly encasing her pussy. She can't hold on and starts to pee in her panties. I do love it when we have panties tightly encasing the pussy there is more chance of getting a pissy camel toe. Adreena starts to pee in her panties. The grey panties explode with piss and she has a lovely piss stream flowing between her legs.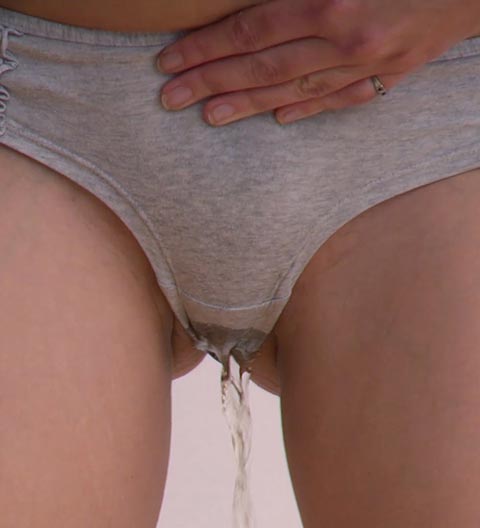 Adreena stops her piss flow, her panties are soaked and dripping and then she turns around bends over a little and starts to pee in her knickers again. This is great, we are getting a double panty pee. All we need now is someone to catch her in mid piss flow and give her a spanking for peeing in her panties. Super sexy knicker wetting from Wetting Her Panties.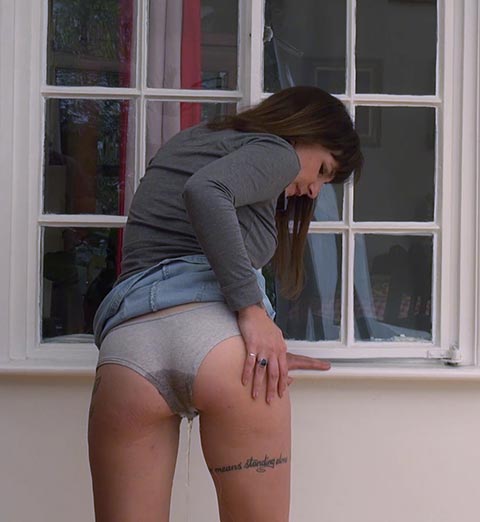 Filed under: Knicker Wetting and Panty Pee and Peeing and Pissing and Pissing In Skirt and wettingherpanties
Posted on 10.22.15
Comments: 3 Comments


Tags: Adreena WettingHerPanties, Knicker Wetting, Panty Pee, Panty Peeing, Pissing In Skirt, Skirt Peeing, wetting, wettingherpanties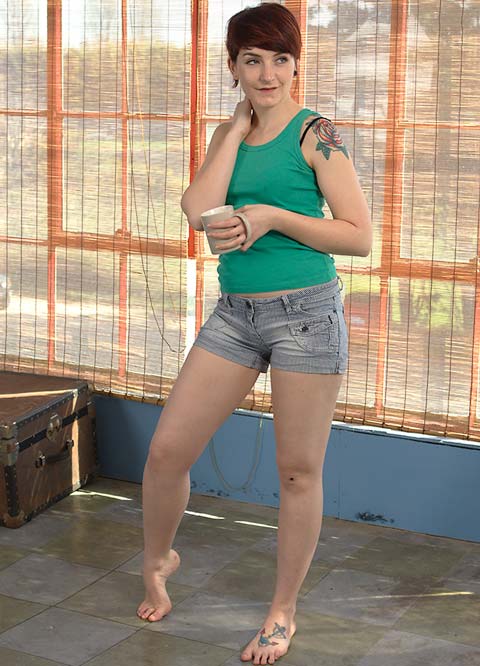 From Wetting Her Panties we have Adreena, We have had her peeing in her panties before in Knicker Wetting From Wetting Her Panties. Today she is in her shorts and is desperate to pee. Adreena has been drinking coffee and this has made her so desperate to pee, just look at her bladder, you can see that it is full and she really needs to pee. There is no time to run to the bathroom, she is just to desperate, she bends over and has her hand in her crotch trying to hold on, boy is she desperate. I just love it when you can see the Wetting Her Panties ladies with bulging bladders you just know that when the explode they will make such a mess.
Adreena is to desperate to pee and can't hold on any longer, she stands and starts to pee in her shorts, they are so tight and soak up her piss instantly and then it starts to run down her legs she is in bare feet to. As she is peeing in her shorts her piss is splashing on the ground and she is standing in it, her toes are soaked and look at her legs they are shining. She turns around and we get to see her piss soaked shorts from behind, she grabs her wet bum and is still pissing, this is wonderful she was so desperate to pee and now she is soaking her shorts, her legs and her feet.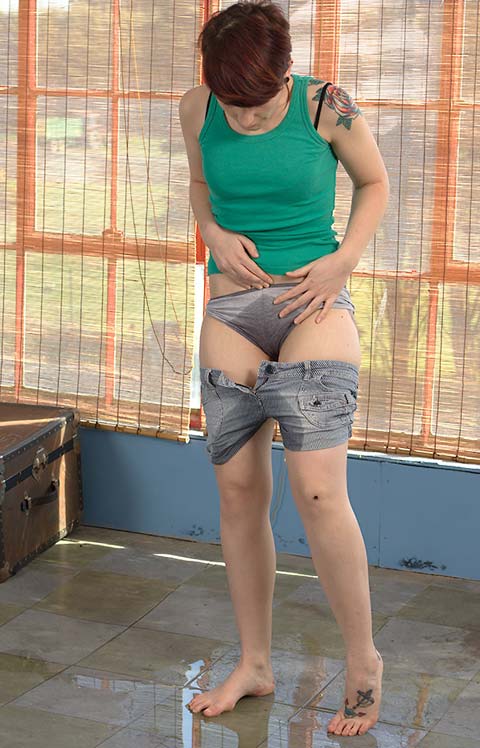 Adreena has peed in her jeans from desperation, her tight shorts are soaked and she is standing in her mess, wow does she look sexy standing in her pissed in shorts and then she starts to take them own. What a wonderful sight and we get to see her pissed in knickers that are dripping, she then pulls them down too. This really is a wonderful shorts peeing set of photos from Wetting Her Panties and we even get to see piss soaked panties at the end too.

See Adreena Peeing In Her Shorts Here

Visit Wetting Her Panties Click Here





Filed under: Desperation and Female Desperation and Peeing and Pissing and Pissing In Shorts and wettingherpanties
Posted on 06.22.12
Comments: 5 Comments


Tags: Adreena WettingHerPanties, Desperate To Pee, Female Desperation, Pissing In Shorts, Shorts Pissing, wettingherpanties
From Wettingherpanties we have Adreena she has a top on and panties her panties are nice and tight over her pussy. I have always liked seeing a pair of knickers encasing a pussy like this there the idea of touching the smooth fabric and feeling a soft vagina as well. Adreena is standing there and then she starts to pee in her panties. The first drops that burst through the fabric look great.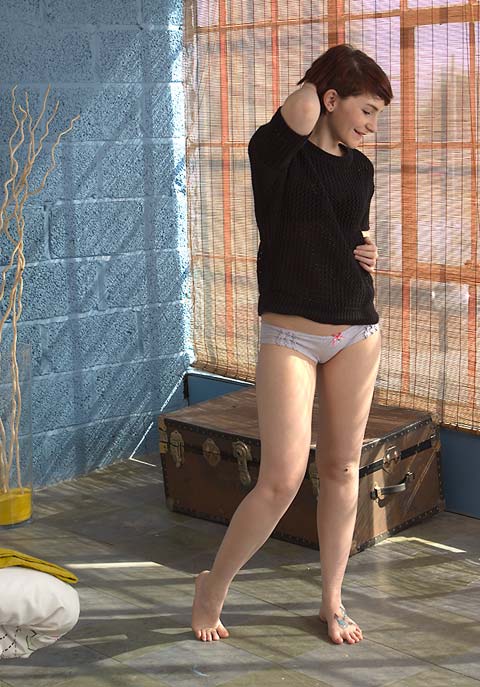 Adreena has started peeing in her panties and what started as a small dribble is now turning into a lovely river her panties are getting soaked. She is knicker wetting and her knickers are getting darker and darker this really is great thigh panties and a lovely stream of pee flowing through.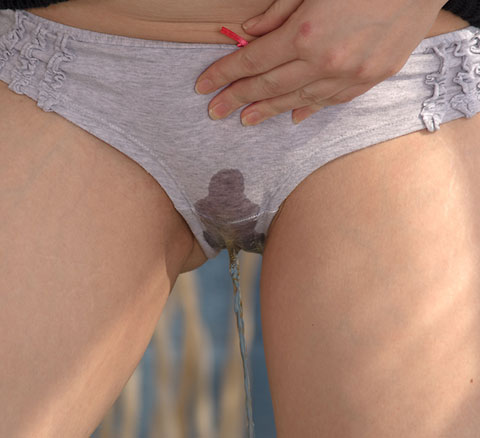 Adreena Is peeing in her panties and her pee is soaking her legs and feet too she is standing in a pee puddle I bet her feet are lovely and warm and she keeps peeing this really is one great knicker wetting from wetting her panties the sounds of her pee splashing on the floor must be great too. Adreena finishes peeing as stands in her panties you can see the soaked fabric and if you look closely you can make out the outline of her piss soaked vagina.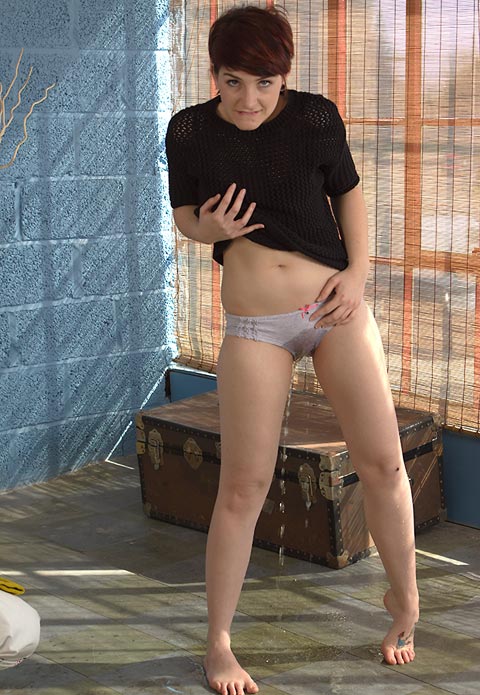 See Adreena Peeing In Her Panties

Visit Wetting Her Panties Click Here






Filed under: Knicker Wetting and Panty Pee and Peeing and Pissing and wettingherpanties
Posted on 12.03.11
Comments: 3 Comments


Tags: Adreena WettingHerPanties, Knicker Wetting, Panty Pee, Panty Peeing, wettingherpanties