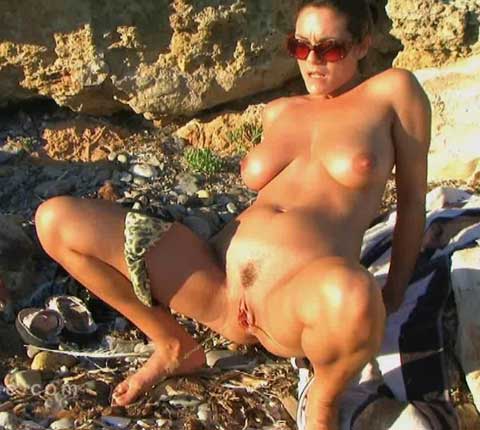 Here we have Rebekah Dee from Needapee, three screen shot sets from her sexy pissing movies. The first one we have is her at the beach. We have had a couple of other sets of Rebekah Dee at the beach peeing. Sneaky Beach Peeing With Rebekah Dee and  Pissing At The Beach From Needapee This time she is laying on her town enjoying the sun she needs to pee but doesn't want to move to much she pulls down her bikini and lets loose with her bulging bladder. At Needapee Rebekah Dee has written this about the movie "I'm an avid reader, I love a good book and what's more – when a book is good I find it hard to put it down. Besides, I'm hardly likely to let something as trivial as the call of nature disrupt a good reading session. Even more so when I'm relaxing in the on a beach bathed in the glow of the autumn sun. I squirm and wriggle, I bounce my crossed legs until I can wait no more. Oh my! I think someone is watching me, is that you? "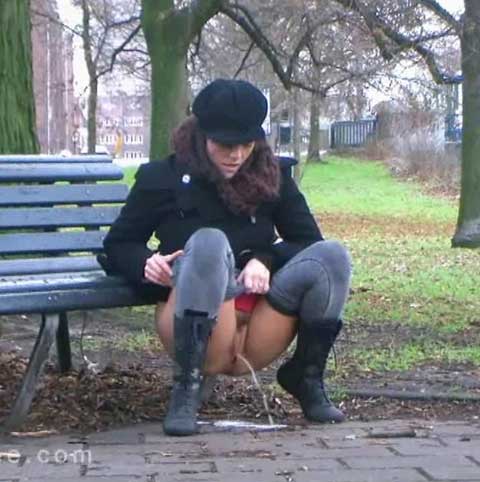 The next set we have is from her Amsterdam peeing movie. She really is one great sneaky peeing model. By the canal in Amsterdam she is sitting in the seat and when there is a lull of people she pulls down her pants and squats a great sneaky public peeing. Rebekah Dee wrote this about here sneaky pee "You really enjoyed my daring canal pee adventure in Amsterdam a few weeks ago so here is another. The canals of Amsterdam can be so deceiving, you may think you're alone a clear to pee when all of a sudden a bicycle will speed past and you're mid-pee. This of course makes matters very exciting, especially when it is cold and you're wearing lots of layers. but I know you like to see me in tricky situations so sit back and enjoy!"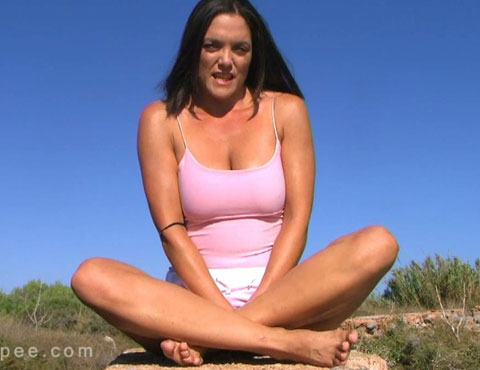 The last set we have is great Rebekah Dee is desperate to pee by the swamp she is sitting on a wall and is jamming her hand to stop herself peeing this really is one great movie and the pictures don't do it justice. She pulls down her panties and then holds her crotch in desperation before she starts peeing. Rebekah wrote this about it "On a hot sweltering day I can't resist the sight of a mosquito infected swamp! It's located within eye-shot of an apartment block though and I can hear some people on the near-by beach. I squirm and wriggle for a few minutes because I know you like to see a girl in distress. The height from where I pee means I produce a delicious yellow arc of pee into the swamp, let's just hope I also take of few of those pesky mosquitoes out!"

See The Photos Set 1, Set 2, And Set3


Filed under: Babes Peeing and Needapee and Outdoor Pissing and Peeing and Pissing and Pissing Outdoor and Public Pissing and Rebekah Dee
Posted on 05.23.11
Comments: 5 Comments


Tags: Needapee, Outdoor Pissing, Pissing In Public, Pissing Pussy, Rebekah Dee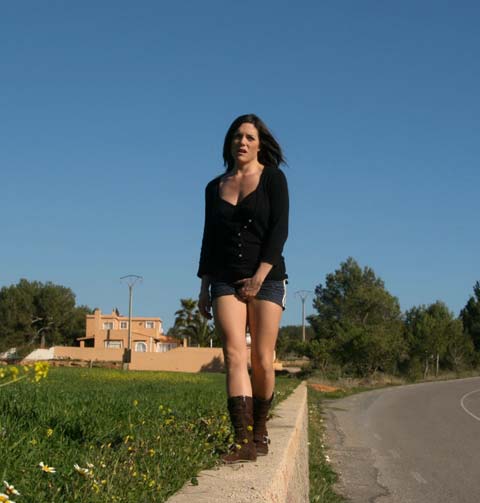 From Needapee we have these outdoor pissing pictures with Rebekah Dee. I do love it when Rebekah Dee is out in public and peeing we have had a few great sets here at Piss Blog not to mention the great sneaky peeing movies. If you have missed any you can always check out the Needapee category that has movies and pictures with Rebekah Dee and her friends. In these outdoor peeing pictures Rebekah Dee is on the wall desperate to pee she sits down and gets her shorts off and then opens her legs and lets flow with her lovely golden stream.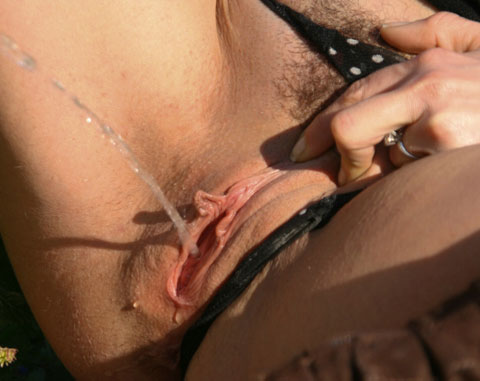 Rebekah Dee has written this about the pictures at Needapee "Spring has finally sprung and we are well on our way to summertime – yay! No more winter wear and much more flesh flashing opportunities are on their way! Whilst I was away last week making arrangements for my summer stint in Ibiza, I took full advantage of the beautiful spring day on my way to the airport and took these naughty shots of me sneaking a pee on the roadside. I had to keep stopping because of all the cars and just as I finished a few pedestrians wandered past! I pulled my jumper down so they couldn't see I was naked from the waist down and waited for them to pass before cheekily pulling my shorts back up and continuing on my merry way. It certainly put a spring in my step to think that they very nearly caught me with my pants down! Check out the beautiful colours in these shots, the green grass no doubt helped by my little 'sprinkling'!"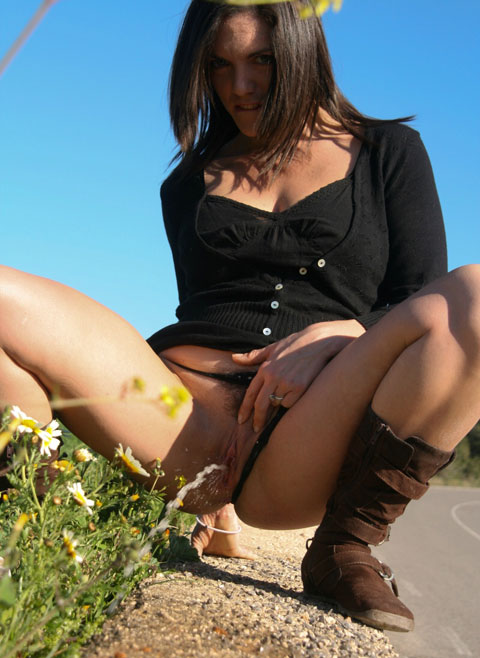 Rebekah Dee really is a great pisser and she is just so sexy I love these close up shots of her pissing the piss stream looks so sexy and you can even see her piss hole. I do wish the site would have more photo,. don't get me wrong I love the Needapee movies but there is something great about pissing pictures too. Yet another wonderful piss from Rebekah Dee.
See The Outdoor Peeing Pictures Here

Filed under: Babes Peeing and Needapee and Outdoor Pissing and Peeing and Pissing and Pissing Outdoor and Rebekah Dee
Posted on 04.23.11
Comments: 2 Comments


Tags: Needapee, Outdoor Pissing, Pissing Pussy, Rebekah Dee
We have haven't had a post of Rebekah Dee from Needapee for a while so here we have some great photos of her at the beach and peeing. She really is one sexy model and I do love how she seems to love peeing everywhere. If you missed her beach peeing movie you must see it in the Sneaky Beach Peeing With Rebekah Dee post. In these peeing pictures from Rebekah Dee she is walking down the stairs to the beach she looks so desperate and sexy just look at her holding her bikini covered crotch. She keeps walking down the stairs and then sits down and pulls her bikini across exposing her lovely pussy.
Rebekah Dee from Needapee has written this about these peeing at the beach pictures" Oh I do like to pee beside the seaside public pee and living and working in Spain during the summer I get plenty of opportunity!  Many of the beaches and coves in Ibiza are pretty quiet and don't have toilet facilities anyway so it's the perfect excuse for me to indulge in some naughty al fresco peeing (like I need an excuse!)  I was actually shooting photographs by the sea on this day and the sea was a little rough and crashing up and over the little jetty I was sitting on. Whether it was the sound of the water or the fact that I was sitting on a wet jetty I don't know but I felt the sudden urge to relieve my bladder and told the cameraman to keep shooting whilst I carried on with my business.  There wasn't anyone around at least not within walking distance although a few nudist sunbathers on the opposite side of the cove may have wondered what was going on if they happened to be looking in my direction and squinting very hard!  So with no one to offend and the sea was on hand to wash away any evidence…..this is what happened:" Im not sure the relevance but it added it anyway.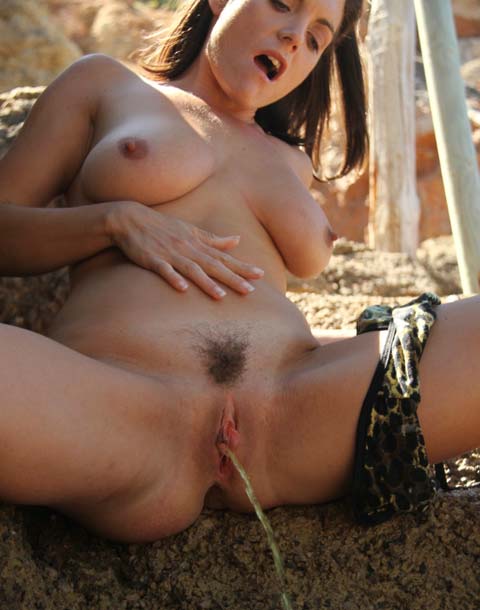 Rebekah Dee pulls off one leg of her bikini leans back and starts to pee and what a lovely stream it is it has a wonderful yellow color to it and as she is peeing she then takes her bikini to off so we can get the spectacular view of her peeing while fully naked. Rebekah Dee must be enjoying this even her nipples are hard. Just imagine ho great it would have been to be walking down these steps right at this moment she is pissing and naked. She finishes of peeing and then walks back up the path naked. A wonderful set of peeing pictures from Rebekah Dee of Needapee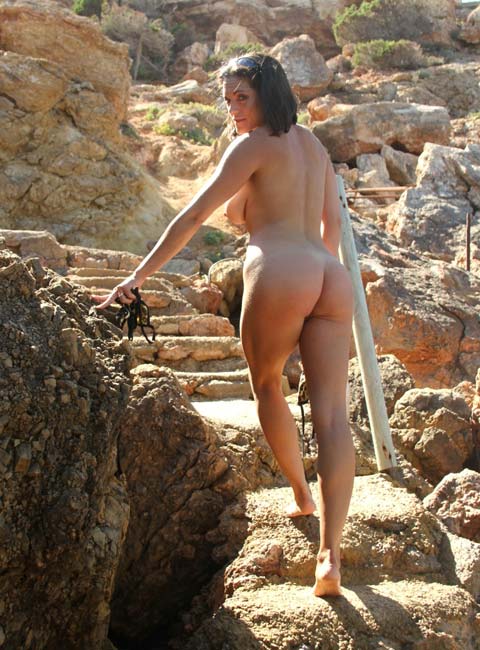 See The Beach Peeing Photos Here


Filed under: Babes Peeing and Hairy Pussy Pissing and Needapee and Outdoor Pissing and Peeing and Pissing and Pissing Outdoor and Rebekah Dee
Posted on 04.02.11
Comments: 8 Comments


Tags: Bikini Peeing, Hairy Pussy Pissing, Needapee, Outdoor Pissing, Pissing In Public, Rebekah Dee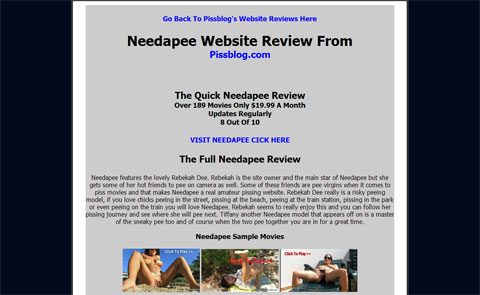 Needapee features the lovely Rebekah Dee. Rebekah is the site owner and the main star of Needapee but she gets some of her hot friends to pee on camera as well. Some of these friends are pee virgins when it comes to piss movies and that makes Needapee a real amateur pissing website. Rebekah Dee really is a risky peeing model, if you love chicks peeing in the street, pissing at the beach, peeing at the train station, pissing in the park or even peeing on the train you will love Needapee……..


Filed under: Needapee and Website Reviews
Posted on 03.10.11
Comments: None


Tags: Needapee
Here we have Rebekah Dee from Needapee. She is in the sun getting a tan topless but she really needs to pee you can see how desperate she is, just look at her hand jammed in her crotch. Rebekah Dee always looks so sexy when she is desperate she really does seem to love that wonderful desperation feel. She lies back and gets herself ready to pee I love how she is still holding her crotch I'm betting its damp already. She moves her bikini to the side and opens her pussy she is ready to pee in the sun.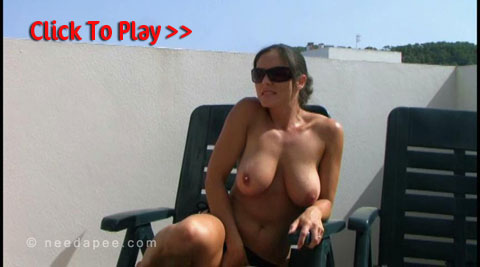 She has pulled her bikini to the side and has opened her pink pussy ready to pee. She starts peeing and the first squirt splashes on her leg I bet that felt wonderful for her, all warm and wet. I do love watching Rebekah Dee peeing like this, seeing her pee arch is just lovely and I bet some of you would like to get a nice warm mouthful too. If you love her pee arch and missed Sneaky Beach Peeing With Rebekah Dee that is one movie worth watching, see it here. Rebekah Dee finishes peeing and we are left with the lovely sight of her pissy wet pussy all juicy and waiting.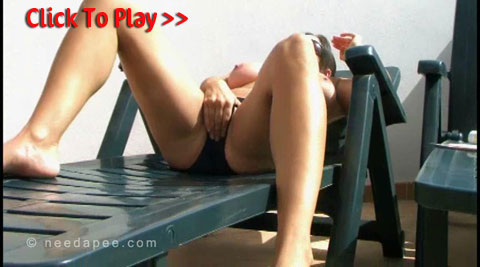 Rebekah Dee has written this about the movie ""Once I'm comfortably settled in my sun lounger I don't want to move. I like my drinks to be brought to me and I only get up if I REALLY have to. So when I wanted to pee it wasn't just for pleasure that I took a pee exactly where I lay. Reclined in my lounger, I pull my panties to the side and create a pretty golden arch that glistens in the midday sun! Another wonderful peeing movie with Rebekah Dee from Needapee. This movie is reduced quality than what you get at Needapee the original size is 1280 x 720 and the full length is 7 mins. Download the full version Here

Watch Rebekah Dee Peeing In The Sun


Filed under: Babes Peeing and Movies and Needapee and Outdoor Pissing and Peeing and Pissing and Pissing Movies and Pissing Outdoor and Pissing Videos and Rebekah Dee
Posted on 01.12.11
Comments: 6 Comments


Tags: Needapee, Outdoor Pissing, Pissing Movie, Pissing Pussy, Rebekah Dee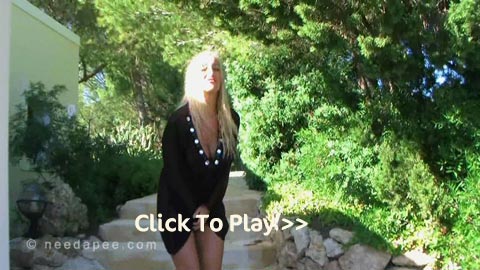 Here we have Tiffany from Needapee as you all must know I just love it when Tiffany is staring at Needapee, with Rebekah Dee their pissing antics are just great. If you have missed them you can check out Tiffany And Needapee Back Together and Tiffany From Needapee Pissing In public. This time we have Tiffany very very desperate to pee. Tiffany runs onto the screen desperate holding her crotch she then sits down and starts to piss there is something about watching her pissing pussy that is just great and after she has finished she sits there her legs open with her pissy wet pussy. She must be drying it as Rebekah Dee was in the movie Sneaky Beach Peeing With Rebekah Dee.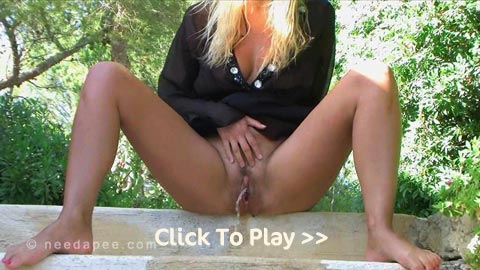 Rebekah Dee wrote this about the movie over at Needapee "Recently on holiday Tiffany was staying at a remote villa and found herself involved in a desperate situation. After an enjoyable afternoon at the beach Tiffany was overcome with a pee sensation on her journey back to her accommodation. Upon arrival she was hopping around as her partner fought with the unfamiliar property keys. With no time to spare Tiffany had no option but to seek sweet relief on the step by the villa."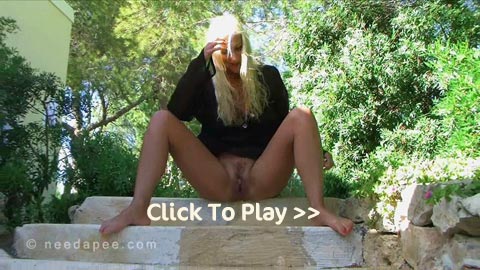 I just love it that Tiffany is back and let's hope the future is going to give us pissing duos with Rebekah Dee and Tiffany as when they get together there is so much desperation and pissing fun. This is one great Needapee movie and watching Tiffany piss like this is great she must love pissing on camera, if you look closely after she has finished her vagina is open we wonder what she will be doing after.
Watch Tiffany Desperate And Peeing Here

Filed under: Babes Peeing and Desperation and Movies and Needapee and Outdoor Pissing and Peeing and Pissing and Pissing Movies and Pissing Outdoor and Pissing Videos
Posted on 11.02.10
Comments: 1 Comment


Tags: Desperate To Pee, Needapee, Pissing Outdoors, Pissing Pussy, Tiffany Needapee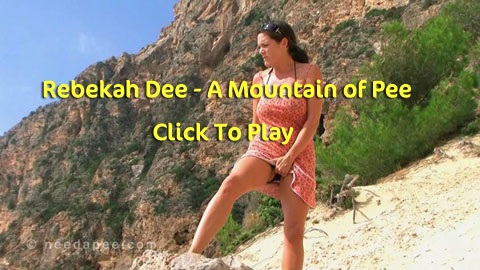 Here we have Rebekah Dee from Needapee Peeing outdoors. I find Rebekah Dee so sexy and when she is peeing, she is just gorgeous. In this Needapee movie she is on a hill and desperate to pee she climbs out onto a rock pulls down her panties. With her legs open wide she starts to pee on the sand below. When Rebekah Dee pees it always looks so sexy and I just love how she shows her big pee arch in so many of her movies.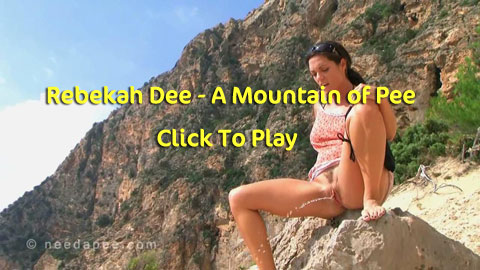 Rebekah Dee wrote this at Needapee about this peeing movie "Remember how it was as a kid when you were having so much fun that you almost pee your pants? Such as when you're running down a big hill so steep that you only just stop yourself! The dune that I am having fun on must be the biggest and steepest this side of the Sahara desert. A huge boulder saves the day though where I slip my panties around my ankles so I can pee sweet relief into the warm summer air!"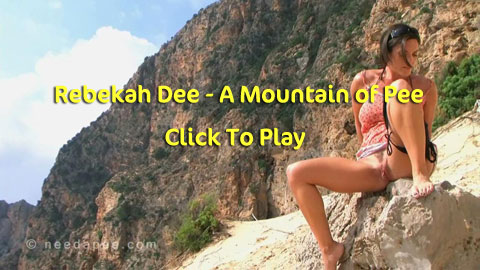 The angle she is peeing on is wonderful imagine standing there and watching as her pee is squirting out of her pussy it looks good enough to touch. How great would it be to put your hand against her peeing pussy and feel the warmth of her pee against your hand? She finishes peeing and lets the sun dry her pissy pussy a little and then removes herself from her rocky perch.  Such a great peeing movie from Needapee once again.

See Rebekah Dee Peeing On A Mountain





Filed under: Babes Peeing and Movies and Needapee and Outdoor Pissing and Peeing and Pissing and Pissing Movies and Pissing Outdoor and Pissing Videos and Rebekah Dee
Posted on 10.15.10
Comments: 4 Comments


Tags: Needapee, Outdoor Pissing, Pissing Movie, Rebekah Dee