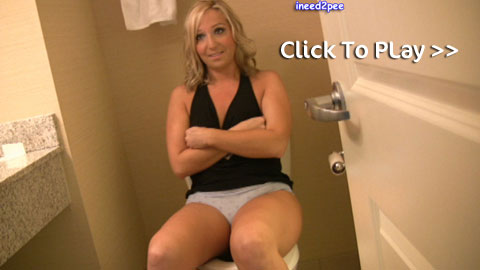 We continue on with the Ineed2pee movie that was posted here Bed Wetting And Panty Peeing. Lily Anna has just finished peeing in her panties over the toilet and is not pleased but she is going to get her revenge. It seems that Bella is desperate to pee. Lily Anna after being made to pee in her bed is not going to let Bella use the toilet and sitting on the toilet in her pissed in panties she really does look sexy. It's a shame the Bella just doesn't go and sit on her and start to pee in her panties and pantyhose soaking Lily Anna but alas this does not happen.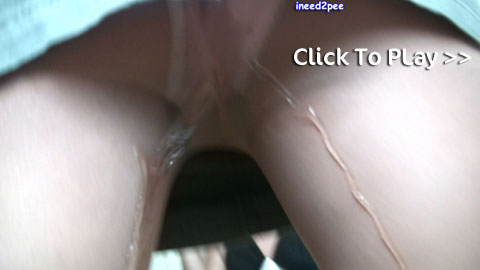 Bella is getting more and more desperate and is getting annoyed with Lily Anna. Lily Anna then gets off the toilet and starts to tickle Bella. I really do love it when you get to see a hottie in pissed in panties tickling someone else trying to get them to pee themselves. Bella really looks like she is not going to get away with making Lily Anne peeing in the bed and Lily Anna keeps on tickling the now desperate Bella. The only way this will stop is if Bella pees in her panties and pantyhose. She knows it and we know it too.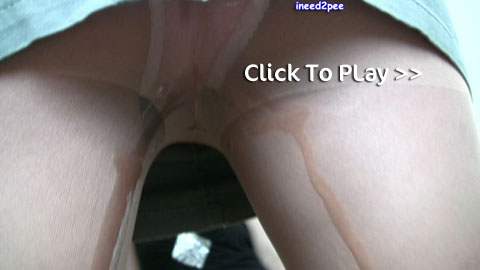 Bella just can't hold on and starts to pee in her panties and pantyhose. Her pink panties are getting so soaked and the pee is running down her legs making little pee rivers you can her piss splashing on the carpet too. This is one great panty and pantyhose peeing she is soaking herself and when she finishes peeing in her pantyhose she is still dripping when you look at her feet you can see pee still running over them. Imagine how great it would be to rub you hand up her pee soaked legs to feel her warm dripping crotch. Ineed2pee really has done it again.

See Bella Peeing In Her Panties


Filed under: Ineed2pee and Knicker Wetting and Movies and Panty Pee and Pantyhose Pissing and Peeing and Pissing
Posted on 12.31.10
Comments: 1 Comment


Tags: Bella Ineed2pee, Ineed2pee, ineed2pee Bella, ineed2pee Lilyanna, Knicker Wetting, Panty Peeing, pantyhose peeing, Pissing Movie, wetting
From Wet In Public comes this awesome public jeans pissing. The 2nd last Wet In Public Post Jeans Peeing On A Public Street has this same chick pissing her jeans on a public street. This time she is in the park and needing a pee she is so full just look at her bulging bladder her jeans are fitting perfectly too. She walks into the park and stops to look around. She really does look desperate this time. She looks around and finds a good spot behind some people sitting in the seat. I just love how her crotch is being encased in these jeans it looks like she nearly has a camel toe too.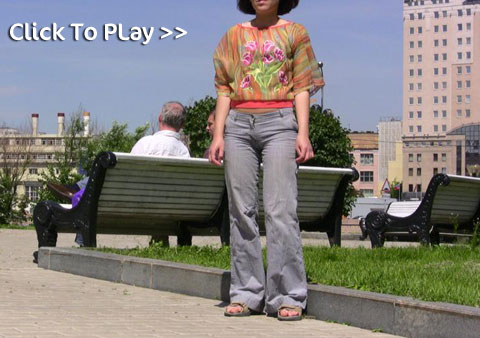 She is standing in her jeans desperate to pee she looks so sweet and innocent and then she starts to pee in her pants and wow look how her piss has exploded her jeans are instantly soaking she must have been full. Her piss is running down her legs in little rivers and she is soaking wet. This has to be one of the best public jeans peeing movie I have seen for an long time. The glistening as she is soaking her pants is just wonderful.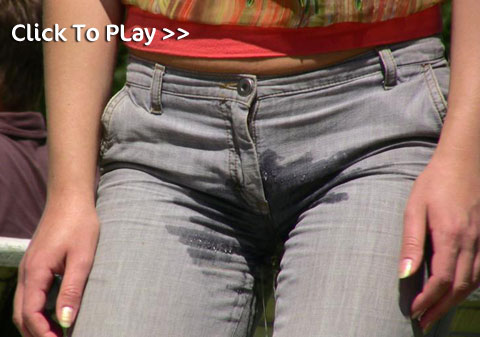 There is no way that anyone won't be able to tell she has pissed in her jeans, just look at them. She finishes her jeans peeing in public and walks away and now we get the other great view, her piss soaked back. And what a tell tale jeans wetting pee patch. How great would it to have been in the park and seen her peeing in her jeans like this. Such a spectacular wetting you would have to follow her top see people's reaction as she is walking by in her piss soaked jeans. A great Wet In Public public jeans peeing movie
Watch The Public Jeans Pissing Movie Here


Filed under: Jeans Peeing and Jeans Pissing and Movies and Outdoor Pissing and Peeing and Pissing and Pissing Movies and Public Pissing and Wet In Public
Posted on 12.28.10
Comments: 2 Comments


Tags: Jeans Peeing, Pissing In Public, Pissing Movie, Wet In Public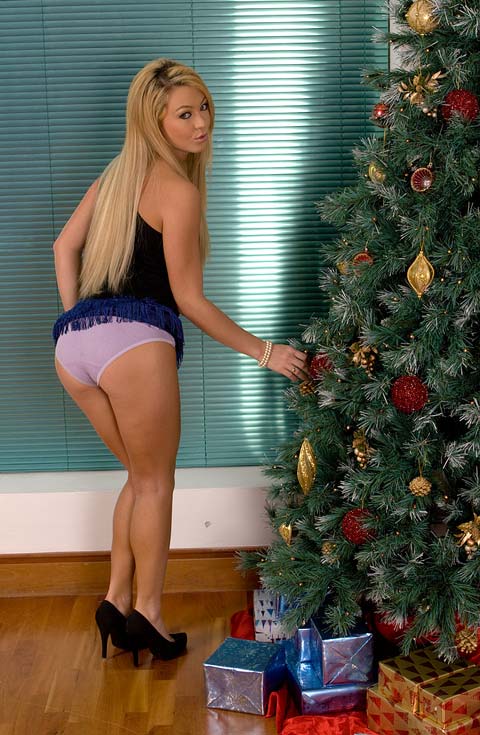 Wishing all Piss Blog readers a very Merry Christmas. Today we have Natalia X from Wetting Her Panties. She is playing around in her short skirt she keeps lifting it up flashing us. I do love it when we get flashes of knickers pulled tightly over the crotch and Natalia X from wetting her panties always makes panties sexy. She keeps flashing her panties and then bends over beside the Christmas tree. Who wouldn't want to wake up and find Natalia X under the Christmas tree full and ready to pee in her panties?
She squats down and then leans back so we get a great look of her lovely panty covered crotch and then she releases and we get the first damp pee patch she looks like she is loving it the more she pees in her panties the more pee that is running down to her bum crack. Her panties are getting such a great soaking and I love the change in color she turns around and starts to pee again she really is pissing herself.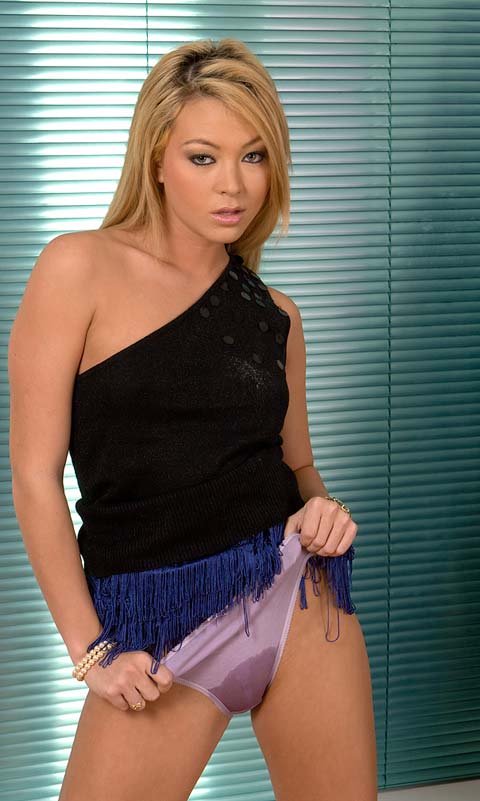 See Natalia X Peeing Her Panties Here


Filed under: Knicker Wetting and Panty Pee and Peeing and Pissing and wettingherpanties
Posted on 12.25.10
Comments: 5 Comments


Tags: Knicker Wetting, Natalia X, Panty Peeing, wetting, wettingherpanties
Here we have Dee from Real Wetting at a job interview and very desperate to pee. She doesn't want to run to the bathroom as she may miss her turn but she is so desperate to pee, she has her legs crossed and is trying so hard to keep from wetting herself. You can see all the female desperation signs, she is fidgeting and bouncing her legs she really isn't going to last long her desperation will overwhelm her soon and I bet that her skirt is not helping the growing pressure in her bladder female desperation like this is just great.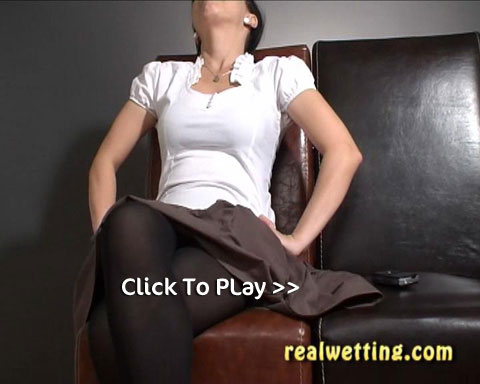 Dee jambs her hand in her crotch, this is it, she is just to desperate to hold on and she has even managed to rip her pantyhose showing her panties. Her legs are up and what a great view but poor desperate Dee she is about to explode and then it happens the first trickle of pee flowing through her panties into her ripped pantyhose and soaking her skirt. I'm surprised she held on so long she is letting out such a small trickle her bladder must be in agony and then the flow get bigger and she really is soaking herself.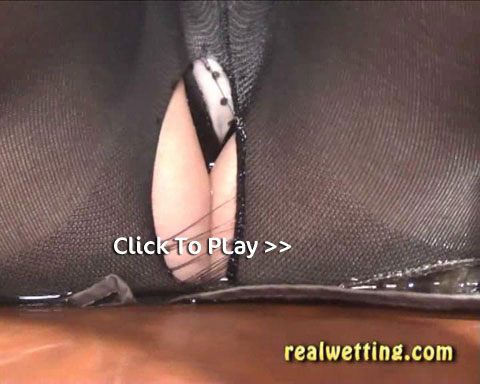 She finishes peeing stands up and look at how soaked her skirt is it is dripping pee there is such a mess and her seat is soaked too. She then pulls her skirt up a little and she is rubbing her piss soaked pantyhose too she is one pissy mess. She then sits back down in her piss soaked skirt. She still needs to pee and stands up, takes off her skirt, pulls sown her pantyhose and starts to pee in her panties. This is wonderful a real panty peeing after the skirt and pantyhose wetting. I just love seeing her piss running down her legs she is soaked. This has to be one of the best real wetting movies, it has it all female desperation, pantyhose peeing and knicker wetting what more could you ask for?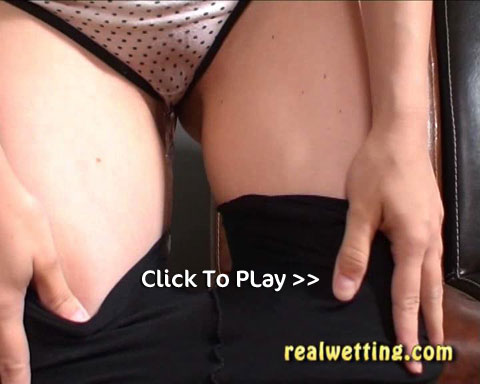 Watch Dee Desperate And Wetting Here


Filed under: Audrey's Wetting Site and Desperation and Female Desperation and Knicker Wetting and Movies and Panty Pee and Pantyhose Pissing and Peeing and Pissing and Pissing In Skirt and Pissing In Tights and Pissing Movies and Real Wetting
Posted on 12.22.10
Comments: 8 Comments


Tags: Dee Real Wetting, Desperate To Pee, Female Desperation, Knicker Wetting, Panty Peeing, pantyhose peeing, Pissing In Skirt, Pissing Movie, Real Wetting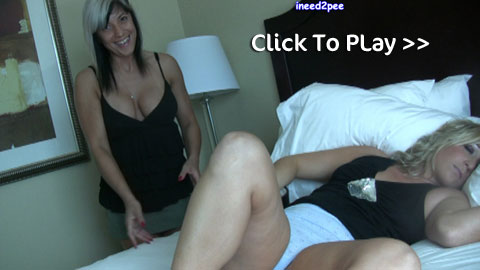 From Ineed2pee comes this bed wetting and pantyhose peeing movie. We have had the pictures posted here before you can see them here Bed Wetting And Knicker Wetting Ineed2pee. I really do love this movie it has it all bed wetting and panty peeing. Lily Anna is asleep and her friend Bella thinks it would be great to play a prank on her she has got an ice bucket full of water and put her hand in it to see if she is going to pee in her panties and the bed. Bella looks so sexy on the bed with her legs open and her blue panties giving her a camel toe. There is something so sexy about bed wetting an I don't think we get enough. Ineed2pee has had a few and one of the best is Ineed2pee Bed Wetting Movie.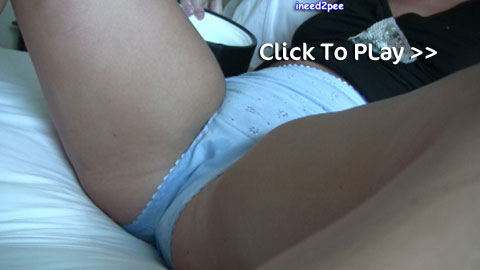 Lily Anna starts to pee in her panties the hand in the water trick worked and now she is soaking her panties and bed. You don't get to see the pee explode in the front of her crotch it is all soaking underneath her. When she wakes up she is so shocked that she is wetting the bed and then she gets on her knees and you can see how soaked she is. Her pissed in blue panties really do show up the pee patch so well and she is a mess. It is a shame that the bed soaked so much pee up I have always thought it nice to see them lying in their pee puddle.

Lily Anna still needs to pee despite peeing in the bed. Still in her pissed in knickers she runs to the toilet and sits down with her piss soaked panties still on. She starts to pee in her panties over the toilet such a mess and she really looks great in her pee soaked panties that are clinging to her pussy. Ineed2pee really do have some greet movies and they are so varied from jeans peeing to bed wetting. If you haven't checked out their website yet it really is a must if you are a female desperation lover.

Watch Lilly Anna Wet The Bed Here





Filed under: Bed Wetting and Ineed2pee and Knicker Wetting and Movies and Panty Pee and Peeing and Pissing and Pissing In Bed and Pissing Movies
Posted on 12.19.10
Comments: 4 Comments


Tags: Bedwetting, Bella Ineed2pee, ineed2pee Lilyanna, Knicker Wetting, Panty Peeing, Pissing Movie, Wetting The Bed
From Wet In Public comes this public pants peeing with Olga the lovely blond that we have seen before in Jeans Peeing In Public, Shorts Peeing In Public Movie and Skirt And Panty Peeing Movie From Wet In Public. She really is one sexy pants wetter and in this Wet In Public movie it is no different she is standing in the park waiting till all the people have moved on so she can pee in her pants. She looks great in her tight white pants and I'm surprised more people are not checking her out. Her pants look so thin that they may go see-through when she pees in them.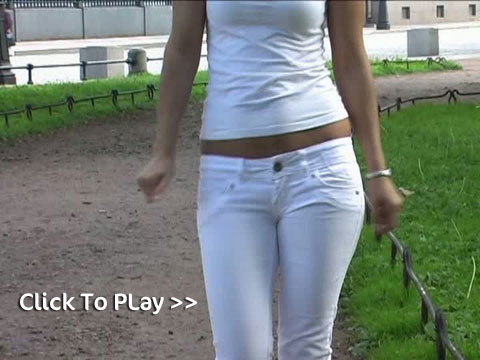 The coast is clear for her and she starts to pee in her pants we don't have a great crotch view as she is peeing but there may be to many people around what we do have is a lovely view of her pee running down her legs and onto her feet. Her shoes are soaked I bet she will have to buy another pair after all the pee that is on them. she finishes peeing and does a twirl so we can see the mess she has made of herself I love it when she turns away from us and we get to see how soaked the back of her pants really are.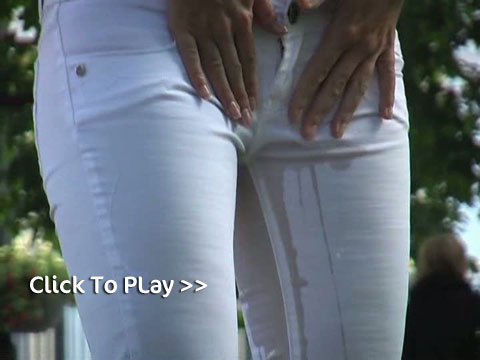 Pissed in pants that have nearly gone see through this really is one great Wet In Public Movie and looking at her pissed in pants imagine how nice it would be to feel her warm and wet pants she may even need a little smack on her piss soaked bottom foe peeing in public. This is one hottie that I would love to watch walking around in her piss soaked pants. Thank you Wet In Public.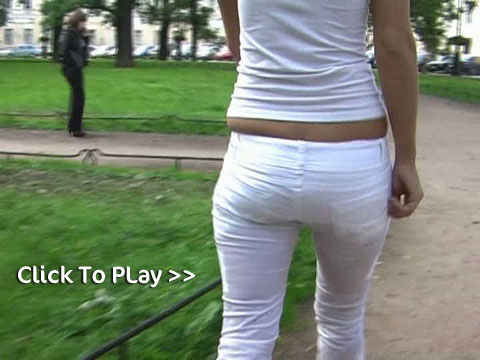 Watch Olga Peeing In Her Pants Here


Filed under: Babes Peeing and Movies and Outdoor Pissing and Peeing and Pissing and Pissing In Pants and Pissing Movies and Pissing Outdoor and Public Pissing and Wet In Public
Posted on 12.16.10
Comments: None


Tags: blonde peeing, pants peeing, Pissing Movie, Public Peeing, Wet In Public, wetting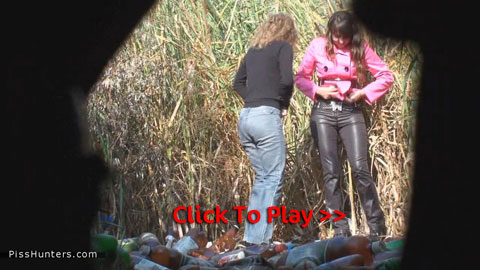 From Pisshunters comes this great voyeur peeing movie. We have had a few form from this hidden camera location and there always seems to be a group peeing. This time we have two chicks entering the Pisshunters hidden cam zone. They look a little shy that someone may be watching them but that doesn't stop them squatting down. The chick in leather pants seems to need to pee more badly. She squats and starts peeing and she really does look great in all her leather and what a pretty smile too.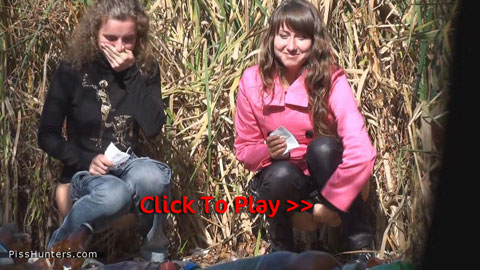 It seem that today this Pisshunter location smells the curly haired chick seems to be gagging and that may be why she is not pissing straight away she really doesn't seem to be able to stand the piss smell and I bet when she starts peeing the smell gets worse. I love Pisshunters movies as you always get to see peeing ladies doing what they do, not knowing we are watching. The curly one is great to watch in this situation just seeing her reaction to the smell is funny.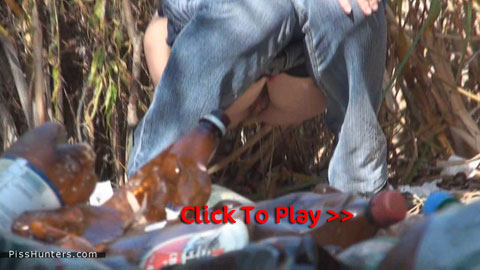 Watch The Two Chicks Pissing Here


Filed under: Caught Pissing and Hairy Pussy Pissing and Movies and Peeing and PissHunters and Pissing and Pissing Movies and Pissing Outdoor and Voyeur Peeing
Posted on 12.13.10
Comments: None


Tags: Caught Peeing, Caught Pissing, Peeing Voyeur, PissHunters, Voyeur Peeing, Voyeur Pissing
Something different today, from UK Flashers comes these two public pissing movies. In the first one we are in the park with Isabel. She is showing her tits and has her thick knickers on, the knickers are so thick and seeing her like this with skirt hitched up her big breasts and thick blue knickers is just so sexy. She is in public too what can really be better well the quality I know but apart from that this is great. She is squatting with her panties on this is going to be a great panty pee.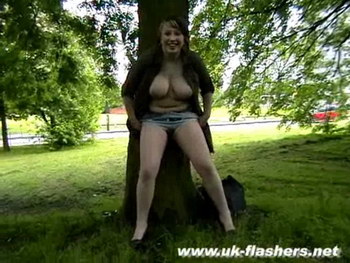 She starts peeing and what a river she really has just let go and she is soaking her thick blue panties. Look at her piss flooding everywhere this is one great panty peeing in public and her panties are so soaked. She finishes peeing in her pantries and then pulls them down look how heavy they are a nice thick panty pee. It's great seeing her with her big breasts bouncing around well whet more is there to say. Isabel then pulls her pissed in knickers down and wipes her wet pussy with her soaked panties.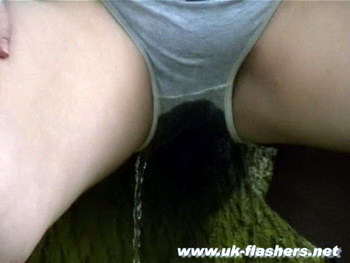 The next UK Flashers movie we have stars Dolly, the quality of this is a lot better. Dolly is in the bushes she has no panties on and has spread her pussy wide open she starts to pee and what a great piss it is. Pissing in the grass in public with her pussy spread wide open. she is spraying piss every where and it is even splashing over her legs what a mess. Dolly is one great pissing model as she is still dripping she wipes her legs and pussy. She would look great in a public knicker wetting movie, maybe next time.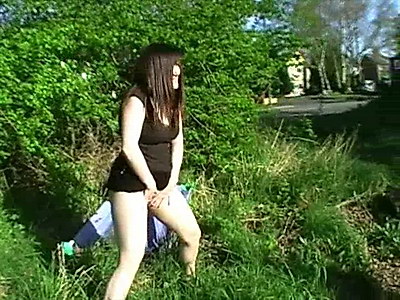 See Isabel Peeing In Her Panties Here

Watch Dolly Pissing In The Grass Here


Filed under: Knicker Wetting and Movies and Outdoor Pissing and Panty Pee and Peeing and Pissing and Pissing Movies and Pissing Outdoor and Public Pissing and UK Flashers
Posted on 12.10.10
Comments: 4 Comments


Tags: Knicker Wetting, Outdoor Pissing, Panty Peeing, Pissing Movie, UK Flashers
A lesbian peeing story for all to enjoy

Amber was sitting on the subway train going into the city. All seats were taken and some passengers were standing.

Amber saw a young business woman, about 30 years old, standing about eight feet away facing in Amber's direction. What a stunning woman, thought Amber. She was dressed in a dark gray suit that couldn't hide the shapely body beneath it.

I hope I still look that good when I'm 30, Amber thought proudly. Amber was eighteen and a senior in high school. She was familiar with shapely bodies because she was blessed with one. She knew she turned heads when she walked down the street.

The woman looked directly at Amber and smiled. Suddenly she noticed water running down the woman's long, nylon clad legs.

"What the hell," Amber muttered.

A big wet spot began appearing on the front of the woman's skirt. Amber looked up at the woman's face. She was staring at Amber with glazed eyes.

My god, she's pissing in her pants. Piss was running down into her high heel shoes. She saw the woman's body go tense, then shudder wickedly. She then smiled at Amber and moved towards the door as the train came to a stop.

Amber was totally stunned. She had never seen anything like that in her life. Her whole body felt flush as a wave of sexual excitement swept over her.

My god, she thought. The whole scene took less than 10 seconds but it fully aroused me.

She didn't understand. I'm not bi or a lesbian, she thought. Why did it excite me so much.?

That evening while doing her homework she couldn't get the incident out of her mind. She felt aroused again.

She closed the door to her bedroom and lay across her bed. She brought her hand up under her skirt.

"UGHHHHHH," she moaned as her fingers found the lips of her pussy. Her panties were soaked.

The shapely woman and the piss running down her leg was the image in her mind.

"ARGGGGGGGGG," she groaned as she immediately felt an orgasm sweep over her.

Jesus, that was quick, she thought as she went to the bathroom to clean herself up.

Two days later Amber was on the same train. She couldn't believe it. There was the woman again, as stunning as the first time she had seen her.

She was further away this time but their eyes made contact. Amber watched excitedly to see if she would get a replay of their last meeting.

Suddenly the train was coming into the station and was slowing down. The woman was moving down the aisle towards her. As she walked by Amber she held her hand out as to give her something. Amber held out her hand and felt something placed into her palm. The woman was gone.

Amber looked at the object. It was a 3 ounce, clear glass vial, filled with a yellowish liquid.

Amber gasped. The woman had given her some of her piss. The depravity of it almost overwhelmed her. Her panties were immediately soaked.

That night in her room she sat at her desk and examined the vial. She pulled out the cork and put it to her nose.

"Ohhh goddd," she moaned as her hand slipped under her skirt.

She started slowly at first, rubbing her pussy as she sniffed the aroma from the vial. Her fingers slipped under her panties and inserted into her swollen cunt.

Now her hips were thrusting to meet her plunging fingers. She felt an orgasm welling up inside of her. Her climax was near.

"UGHHHHHHHHHHHHHHHHH," she moaned as she brought the vial to her lips and poured the contents into her mouth. Her body shook from the intense orgasm racking her body. The piss was now running down her throat.

"ARGHHHHHHHHHHHHHHHH," she cried out as her cunt juices flowed down onto the chair. She couldn't believe she had done something so lewd and perverse but the very taste of the warm piss brought her waves of pleasure.

Amber rode the subway for a month but never saw the woman of her dreams. She had given up of ever seeing her again.

Friday night she was leading cheers at her schools football game when she noticed the woman setting in the stands.

She couldn't believe it. The woman looked at Amber and smiled. Amber smiled nervously back at her.

The game was over and Amber had lost the woman in the crowd. As she walked towards the parking lot with the other cheerleaders she felt someone touch her arm. It was her.

"Hello," she said quietly.

"Hi," said Amber.

"Can I talk to you for a minute?" she asked timidly.

"Sure," answered Amber hesitantly.

"Can we walk over by the school building?" she asked as she took Amber gently by the arm.

Amber was feeling very apprehensive. She was thrilled to see the woman but this personal contact somehow made everything feel different.

The school building was dark and empty. The lights around it were dim. The woman guided Amber towards a small niche in the building where the trash cans were usually kept. Tonight the niche was empty.

She stopped, turned an faced Amber. She leaned forward and whispered in her ear. "I've thought about you many times over the last month. My name is Sarah. Did you like the my gift?" she asked.

"Yes," Amber said barely audible.

The woman kissed Amber on the cheek. She whispered again in her ear. "I'm glad you liked it little girl. I've brought you more."

With that she pulled Amber's lips to hers. Her tongue darted into Amber's mouth as she kissed her passionately.

Amber felt the woman firmly pushing her head down. Amber's resistance was slight. Her mind was whirling with anticipation. She felt her bare knee's on the pavement but hardly noticed the pain.

She watched as Sarah slowly raised her skirt and exposed her pantiless pussy. Now she was gently, but firmly pulling Amber's head up between her spreading legs. The scent of the woman was overwhelming.

She felt her lips touch Sarah's pussy. The insanity of this passed thru her mind for a moment. A wicked passion swept over her body. She knew what was coming as she allowed her mouth to open and cover the pink, moist cunt.

She felt Sarah's body strain to bring her yellow liquid up and out of her body.

Amber felt the hot liquid fill her mouth. She savored the taste of the golden juice, swallowing quickly as her mouth filled again and again. The piss was now flowing down her throat with hardly enough time to swallow. She was choking but managed to gulp and keep it down.

"So much, So much," she gurgled as her mouth was overrun by the piss that was now soaking her tight sweater.

The piss finally subsided. Amber thirstily licked Sarah's cunt lips trying to clean her every crease.

It was then she felt Sarah's body begin to quake. Sarah's hands were now pulling Amber's face forcibly into her pussy.

Sarah was cumming. Amber went wild lapping up thick spurts of cum into her piss soaked mouth.

They were there for several minutes as Amber cleaned Sarah's pussy, legs and shoes with her tongue and mouth.

She felt Sarah pulling her to her feet. Sarah's tongue was cleansing Amber's face, occasionally dipping her tongue between her lips.

She again whispered in Amber's ear. 'You have anything for me?"she hissed.

"Yes," Amber lisped, the thick piss/cum juices still coating the inside of her mouth.

She felt Sarah's body lowering itself in front of her while lifting her skirt. Now Sarah's mouth was pressing against her panty covered pussy.

"UGHHHHHHHHHHHH," she heard herself moan as the woman's warm lips encircling her swollen cunt.

She began to strain. "UMMMMMMMMMM," It came. The yellow urine was streaming out of her with such force Sarah's mouth filled, refilled, and refilled again. The young business woman was hungrily swallowing all she could. It was too much. Amber heard the gurgling coming from between her legs.

The cheerleader was going to cum. Sarah, anticipating this, now began licking Amber's pussy feverishly, even while the piss was splashing in her eyes and face and drenching her blouse. Sarah felt her nipples hardened as the warm piss run down on her tits filling the cups of her bra.

Amber's body stiffened, then began trembling uncontrollably. "I'MMMMM CUMMMIINNNNGGGGGGG."

Her panties were filling with her cum. Sarah continued sucking, the cum being filtered through Amber's panties. She cleansed Amber's thighs, then returning to suck the little slut's panties of all the cum and piss she could wring out of them with her mouth.

Amber's orgasm subsided. Sarah stood, her hair and face covered with cum and piss. Her pissed soaked bra shown clearly through the urine soaked blouse. She pulled Amber's mouth to hers. The cheerleaders mouth opened willingly to accept the mixture oozing from Sarah's lips. Amber's body was still shuddering from the mini orgasms she welcomed so shamelessly.

And as suddenly as she appeared, the young business woman pulled away from Amber and disappeared into the dark. Amber called out to her but the woman was gone.

Amber lifted her short little skirt, her fingers sinking into her drenched, aching pussy, and vigorously brought herself to another wave of pleasure. She knew, and accepted, she would never be the same again.



Filed under: Piss Stories
Posted on 12.08.10
Comments: 6 Comments


Tags: Piss Stories, pissing story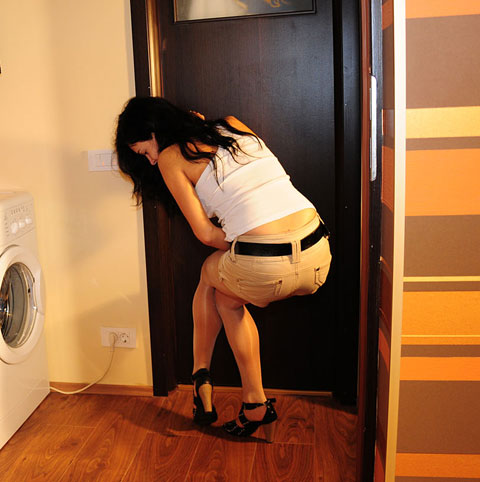 We return with more from Antonia from Real Wetting, she is the great new female desperation and wetting model they have. This time she is in her pantyhose with shorts and is desperate to pee she is trying to make it to the bathroom before she loses control, look how she has everything crossed she really needs to pee. Is she going to make it or will her desperate bladder give in and make her wet herself. I do love Real Wetting and the female desperation you know that these hotties really need to pee. Its great watching them struggle to hold on, a good female desperation movie is wonderful but when you know the outcome it can be even better.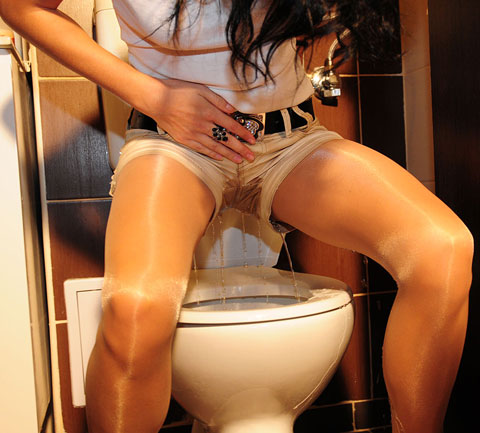 Antonia makes it to the bathroom but she was just to desperate to pee, as she is still holding her crotch she squats over the toilet and her bladder explodes she is peeing in her panty hose and shorts. Look at the mess she is making she really was full and she is soaking everything thing toilet is getting splashed and she has pee running down her pantyhose encased legs and her shorts are just dripping the poor thing she will have a great big mess to clean up.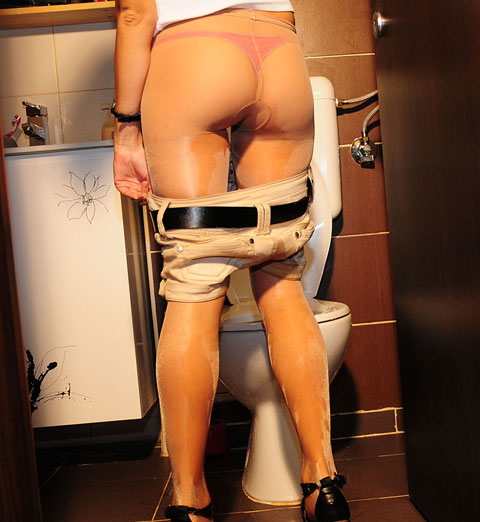 Antonia has peed in her shorts and pantyhose and you can see the mess she has made of herself. Her piss soaked pantyhose have rivers of pee that have run down her legs. She finishes peeing in her shorts and unzips them we can now see her pissed in panties too. She really is one piss soaked lady and what a great feeling it would be to feel her wet pantyhose and warm crotch. Antonia then turns around and we can see the lovely mess she has made. She has such a cute bum and with pee stains it's even better a great female desperation and wetting scene from Real Wetting

See Antonia Peeing In Her Shorts And Pantyhose


Filed under: Audrey's Wetting Site and Desperation and Female Desperation and Pantyhose Pissing and Peeing and Pissing and Pissing In Shorts and Real Wetting
Posted on 12.05.10
Comments: 5 Comments


Tags: Antonia Real Wetting, Audrey's Wetting Site, Desperate To Pee, Female Desperation, pantyhose peeing, Shorts Pissing