I do love Rebekah Dee from Needapee and when she is pissing outdoors you know it is going to be good. This is a Needapee pissing movie that i have posted previously but I was watching it again and thought it was so sexy that it should go back to the front page. This Needapee pissing movie is great as it has female desperation and also a lovely piss spray from Rebekah Dees lovely pussy. It would be great to come out to the field for training and find he there spraying a great big spray of piss in the air.
The story about this Needapee movie goes like this "With the early summer sunshine in its full glory today I went out to indulge in some exhibitionism fun. Desperate to pee I visited a park that runs alongside a busy railway line. Waiting in anticipation for a train my uncomfortable desperation grew. As a train finally passed I pulled my panties to the side and gave the commuters a real treat as I gushed my pee into the summer air for all to see!" To be a passenger would have been great it would have made the train journey memorable
See this great Pissing movie from Needapee Here


Filed under: Desperation and Female Desperation and Movies and Needapee and Outdoor Pissing and Peeing and Pissing and Pissing Movies and Pissing Outdoor and Public Pissing and Rebekah Dee
Posted on 09.29.09
Comments: 1 Comment


Tags: Desperate To Pee, Desperation, Female Desperation, Needapee, Pissing Outdoors, Public Peeing, Rebekah Dee
As you know I do love panty peeing and this panty peeing movie from wetting her panties is great. We start and Clair is in the class room playing with her pussy through her panties and she is giving it a great rub and then we see the first spots of pee. Her bladder gives in  and releases the little dark pee spots turn into a great big piss stream. The pee just flows through the fabric as she keeps rubbing her now soaked panties and wet pussy. This is wonderful i just love it when the panties get all messy with piss and in this wetting her panties panty pissing movie the panties once again make a great pissy camel toe just like in the last wetting her panties movie HERE. Look at how soaked in piss the panties are and Clair is just loving this, wow panty peeing at its best.  When that panty clings to the pussy don't you just want to have a feel of her wet panties too? A wonderful wetting her panties panty peeing movie
Don't forget wetting her panties has a weekly live webcam show if you CLICK HERE you can see who will be performing this week
Watch The panty peeing movie HERE


Filed under: Knicker Wetting and Movies and Panty Pee and Peeing and Pissing and Pissing Movies and wettingherpanties
Posted on 09.26.09
Comments: 7 Comments


Tags: Knicker Wetting, Panty Peeing, Pissing Movie, wettingherpanties
I was looking around real wetting today and wow they have had some great updates lately if you love tights and pantyhose peeing these pissing movies will be right up your wetting ally. Real wetting also have a new wetting model Dee and she looks like she will be a great wetting addition to all the lovely wetting accidents that take place. If you haven't visited real wetting now would be the time some very hot updates
Dee is seeking a new job as an Manager Assistant She had to leave her old job as an Realestate Agent she was wasting a lot of time on trips home or ended up spending the whole day in pissed clothing. Dee decided she need to try something else, she went to an interview for the manager assistant job, she was waiting for 1 hour and she never went to the bathroom that day. A disaster waiting to happen. She burts in her panties and pantyhose nylons wetting herself. Oh … and she torn her pantyhose trying to hold on to her pussy and not piss herself too soon in the shooting.
Real wetting Click Here To Visit


Filed under: Audrey's Wetting Site and Pantyhose Pissing and Peeing and Pissing and Pissing In Leggings and Pissing In Tights and Real Wetting
Posted on 09.24.09
Comments: 1 Comment


Tags: Alice Realwetting, Audrey's Wetting Site, pantyhose peeing, Real Wetting, Tights Peeing
Here we have a female desperation skirt and panty pissing movie from ineed2pee staring Janessa. Janessa is loving the feeling of holding her bladder till it will burst and she goes through all the female desperation phases till she just cant hold on any longer. Her pee starts to flow and it really does make a wonderful sound as it hit the floor. This is the story about this female desperation movie from ineed2pee Janessa is folding clothes in the laundry room and realizes her bladder is quite full. She just loves the feeling and actually waited for all her roommates to leave so she could experience holding it until it bursts and until she pees her pants! She loves the feeling of being all wet with warm piss and especially the smell. She had a lot to drink today to get ready for this moment; she hasn't been able to go to the washroom either. Finally she can't hold it back any longer and her high heels and skirt get completely soaken wet. Oh no, her roommates are already back she better hurry and clean up before they catch her
See Janessa Desperate And Peeing Her Panties
See More From Ineed2pee Click Here

Filed under: Desperation and Female Desperation and Ineed2pee and Knicker Wetting and Movies and Panty Pee and Peeing and Pissing In Skirt and Pissing Movies
Posted on 09.19.09
Comments: 2 Comments


Tags: Female Desperation, ineed2pee Janessa, Ineed2pee Movie, Knicker Wetting, Panty Peeing, Pissing In Skirt
Voyeur pissing with a hidden camera in the toilet doesn't get more interesting than this Pisshunters movie. In the last Pisshunters post HERE we had the chick pissing scratching her vagina and then smelling her hand. In this hidden camera pissing from Pisshunters we have a chick come into the toilet and get ready to piss, she then gets some toilet paper and it looks like she will be covering the seat with it, but no, she is just getting ready for when she finishes she drops her pants and then squats but not content with just squatting she spreads her butt cheeks wide I'm not sure if she is doing this to keep pee from running down her legs or what is going on but the Pisshunters hidden camera catches it and it really is great to watch she then finishes of and wipes before leaving  a great Pisshunters movie
Read a Pisshunter Website Review Here


Filed under: Caught Pissing and Hidden Toilet Cam and Movies and Peeing and PissHunters and Pissing and Pissing Movies and Voyeur Peeing
Posted on 09.12.09
Comments: 4 Comments


Tags: Hidden Toilet Cam, PissHunters, Voyeur Peeing
I got an email to say that I hadn't posted a piss story for a while and that was really missed, so here is one hot lesbian piss story I came across.

"Hey Pissie!" Heather was smiling at me, poking her head out her door, which was three down from mine. "Come here."

"What?" I asked, smiling myself just because she was, and as I got closer I could hear giggling and talking.

"Shhhh…Come on, close the door!" Heather practically dragged me into the room by the dress I was wearing, just a plain summer dress, thin cotton and pretty casual. It was nice for school and I was just coming back from the library.

"Hey!" Suzy waved at me and Carla was there as well, two other dorm girls, both of them smiling and giggling.

"What's going on?" I asked.

"Here, have some of this!" Heather pressed a red plastic cup in my hand.

"What is it?" I sniffed.

"Just drink it!" Carla grinned at me.

"Sit down, come on!" Suzy patted the thin carpet and I shrugged, being sort of confused right then.

"It's just vodka and orange juice." Heather said, sitting down and pulling me with her. "It's good."

So I drank some and it was okay, I guessed. It sorta made me choke a little at first cause I'd never had a drink before, like an alcoholic drink. So this was really new to me and I told them about it. So of course they were giving me a hard time, just a little fun teasing, and we were all drinking.

Heather was 19, like me, and sort of the athletic type, you know? Maybe 5'4″ and small bodied, like smallish breasts and narrow hips, but still kind of sexy, especially since she was wearing a blue sports bra and really tight blue shorts, those nylon kind that fit like a second skin.

Suzy and Carla could have been sisters, both of them with black hair and brown eyes, about the same height too, a bit taller than me. Suzy had nice breasts and wide hips, sort of a healthy woman without being fat or anything. Just healthy and she'd grown up on a farm, which explained it I guess. She loved horses and stuff like that. She just wore red gym pants and a white t-shirt.

Carla had great tits, and she was showing them off in this barely-a-top thing, like a tie-dyed bib, if you can imagine that, and it just hugged her tits, nothing else, with thin long straps tied around her neck and behind her back. It was sorta hard not to look at it, and if you didn't then you were probably looking at her pierced belly button, which had a little gold ring through it. That was cute. And further down Carla just had black bikini underwear, or maybe it really was the bottom half of a swimsuit, I couldn't tell, but I could see the bump of her clit, the outline of her pussy lips as she sat there with her legs crossed Indian style. Those bottoms were nice and tight.

It was seriously strange and even if I hadn't been drinking, I'd have still felt kind of drunk, just from sitting so close to those three girls, who were all like straight out of my adolescent lesbian fantasies. I just felt hot all over, and I smiled and giggled and listened to them talk.

Mostly they were talking about sex too. Not right away, but after about 3 drinks and 40 minutes, maybe an hour, it was all talk about sex. Like how big their boyfriend's cocks were, or weren't as the case may be. How much they missed them, blah blah…I just listened because obviously I didn't have much of an opinion about it anyway. But at least talk changes, you know, other subjects come up so it was okay.

I'll admit I was pretty horny, I mean sitting with those three girls like that, I couldn't help it. And I think they could tell, since of course they knew I was a lesbian and they'd invited me to their little party and everything. I just didn't know if this was some kind of teasing thing, like they just wanted me there so they could laugh about me later, or if it was completely innocent, or…

"So how come your name is Pissie, anyway?" Carla asked me, changing the subject from Suzy's horse riding adventures as a child to something completely different in the blink of an eye.

"Oh, um…" I giggled, taking another swallow of my vodka drink. "Uh, I just like it." I shrugged. "Pissie…um, yeah. It was sort of a nickname growing up."

"Like what? Did you pee your panties in kindergarten or something?" Heather laughed.

"No, uh-uh." I shook my head. "It was just teasing, but I liked it."

"Liked it why?" Suzy made a little face. "It would kinda piss me off."

"Well…" I bobbled my head a little, feeling pretty buzzed. "Ah, never mind." I laughed.

"Never mind what?" Carla was mixing herself another drink. "You gotta say now, what?"

"Nothing." I scrunched up my nose.

"We won't tell, come on." Heather grinned at me.

But I wouldn't say anything else. I knew I was drunk and so I was sorta a little more nervous than I usually was, but really loose too, so I was like on the verge of telling them all my secrets, but then I'd get scared and clam up tight. It was funny though, like I was sort of teasing them on purpose, except I wasn't.

"You guys ever play truth or dare?" Suzy asked us a bit later.

"No, but I saw the movie." Carla laughed. "It was pretty stupid."

"Yeah." Heather nodded.

"How about you, Pissie? You wanna play?" Suzy looked at me.

"Sure, I guess." I shrugged. "How does it work?"

"You pick somebody and ask if they want truth or dare. If they say truth you ask them something…"

"You have to tell the truth too." Carla nodded seriously.

"…and if they say dare, then they have to do what you say." Suzy finished.

"Or else what?" I asked with a giggle.

"Or else we'll figure something out!" Heather laughed and she looked really buzzed.

"Okay." I took another drink, blinking at my cup and telling myself I needed to slow down.

"Who goes first?" Carla asked.

"Let Pissie go first." Suzy suggested and I guess they all agreed that was okay cause they were looking at me.

"What?" I asked.

"Ask someone." Heather giggled.

"Ummmm…okay." I nodded. "You then, uh Truth or Dare? Right?"

"Truth." Heather nodded back at me.

"Oh." I laughed, cause I didn't have any idea what I supposed to ask. "Have you ever kissed a girl?"

"Yeah, good question." Suzy rubbed my leg briefly. "You know how to play." And I blushed a little at that.

"A real kiss too." Carla giggled, "Your mom don't count."

"Yeah." I agreed. "A real kiss with a girl, have you?"

Heather smiled kind of looking up with her eyes for a second. "Yeah, I kissed a girl. My best friend when I was fourteen."

"A real one?" I asked.

"Yeah, sort of. Like as real as it can be for a couple kids." She laughed.

"Cool." I nodded, not sure what else to say.

"So my turn now, right?" Heather looked around and we nodded. "Okay um, Carla, Truth or Dare?"

"Truth." Carla smiled.

"Have you ever really kissed a girl?" Heather giggled.

"You can't ask the same question!" Carla rolled her eyes.

"Yeah I can." Heather looked at me and Suzy. "Right?"

I just shrugged, not knowing, but Suzy said it was legal, so Carla had to accept it.

"Nope. I've never kissed another girl." She smiled. "Except my mom." And we all laughed.

"But you'd try it, huh?" Heather asked her.

"I'm not saying." Carla shrugged. "Okay, Suzy, truth or dare?"

"Uh, dare." Suzy grinned. "You were gonna ask me too, huh?"

Carla just laughed. "Okay, so I dare you to kiss Pissie."

"You can't dare me to do that!" Suzy stared at Carla.

"What?" I asked, still trying to figure out if I'd heard the girl right.

"Yeah, you can only dare her to kiss you, not someone else." Heather nodded, being the expert. "Unless it's okay with Pissie, I mean."

So then they looked at me and I giggled. "What, it's up to me?"

"You don't have to do it." Heather said, but I was looking at Suzy, trying to figure out if she'd be mad or anything if I said yes. She wasn't helping me though, she was just sitting there.

"Uh, well yeah. I don't mind." I finally said, feeling my face getting red, but only because I was pretty excited about it actually, not embarrassed.

"There you go!" Carla grinned at Suzy.

"Fine, okay." Suzy nodded and she leaned over, because we were all pretty close, and I felt her hand on the back of my head and I saw her pretty face getting closer and I just closed my eyes.

I felt her soft lips first and I shivered, just a little and then she was kissing me harder, like a real kiss. I felt her tongue as well, and it surprised me, but I opened my mouth for it. She was kissing me, my first real kiss ever, and I reached out blindly to touch her shoulder, moaning softly as I felt her tongue wriggling inside my mouth. I thought I was gonna cum, I swear, right there just kissing her.

And then it was over and I moaned a little, very softly as Suzy pulled away, licking her lips and smiling at me.

"Shit." Heather breathed.

We all giggled and Suzy blushed a little and I was like…Mmmm, I could do that again, but I didn't say anything.

"How was that?" Suzy asked Carla and the other girl just nodded. "My go? Okay, Pissie, truth or dare?"

I cleared my throat, wondering if I picked dare if I'd get another kiss, but I decided to catch my breath, cause my heart was rushing. "Truth."

"Kay." Suzy thought about it for a second. "What's the real reason you like being called Pissie?"

The girls all looked at me.

"The real one too, like the secret one." Suzy grinned at me, like there had to be a secret and she knew it.

"Uh…" I looked down for a second.

"Don't lie!" Heather laughed.

I glanced at her. "…I like um…I like it because…" I swallowed hard and I was nervous, a little, and maybe the reason I never was before was cause I never had any real friends. I thought I had some now, or I was starting to, and I didn't want to lose them.

"Come on…" Carla giggled.

"I like piss." I said, nodding and shrugging and looking down all at the same time.

"What does that mean?" Suzy laughed.

"I mean I like pee, I don't know. I like playing with it, sort of."

"Playing with pee?" Heather made a face. "What like yours? Or somebody else's?"

"Well, just mine so far, but yeah somebody else would be okay." I laughed at myself.

"No way." Carla shook her head.

"Yeah." I looked at her. "Really."

"You ever like…Drink it?" Suzy looked at me, and I thought maybe she was worried cause she'd just kissed me.

"Yeah." I said softly. "I do that."

"God." Carla sat up straight. "So like if I peed in this cup…" She drained her drink. "…You'd drink it?"

"Uh…" I licked my lips. "…do you want me to?"

We all looked at Carla now and she realized she'd kind of talked herself into a corner.

"Yeah." She laughed. "Okay." She got up on her knees, untying the strings of her bikini panties.

"Oh, don't pee on my floor!" Heather protested with a groan.

"This is so weird!" Suzy was grinning and shaking her head.

"I'll be careful, jeeze." Carla shook her head and then I saw her pussy, the long pink sheath of her clit and her slit below that, with thick ruddy pussy lips. It was beautiful and shaved smooth too, nice and soft and hairless like mine.

She brought her cup close to her pussy, using her right hand to spread her pussy lips and then she started peeing, squeezing her tummy so it came out in a slow gentle golden stream. I was so ready to rub my pussy right then, but I didn't. I stopped myself somehow, staring at this beautiful girl pissing two feet away from me, into a cup so I could drink it.

She filled it about halfway, maybe 6 ounces or something and we all looked at it for a second before she gave it to me. I paused, just for a second and then I brought it to my lips, reaching down with my left had to press it against my pussy, needing to feel something there. I drank it slowly, savoring the smell, the thin bitter taste, slightly salty, a little acid-like, but so yummy as it went down my throat. I drank all of it and looked around, licking my lips.

"God that is so gross!" Heather giggled nervously.

"That's kinda cool." Suzy said, she'd been watching me close, they all had.

"It's good." I giggled.

"I got more." Carla laughed. "You want it?"

"Yeah but…" I hesitated. "Do we have to use a cup? I mean, I could um…I can just drink it from you, if you want."

"No way, not here." Heather was shaking her head.

"Really?" Carla stared at me.

"Yeah." I nodded. "I can um, you know, make sure you're clean and stuff."

"She wants to eat you out." Suzy giggled.

"You want to suck my pussy?" Carla smiled at me, rubbing her clit a little.

"Oh yeah." I breathed.

"Not here, this is too weird now." Heather was freaking out a little.

"You guys wanna go to my room?" Suzy asked us. "I mean, I want to watch, if that's okay."

"Okay with me." Carla shrugged.

"Me too." I giggled and we left Heather, who was kind of confused I think, wondering why we were all leaving her room all of a sudden. And of course how I'd ended up drinking a glass of Carla's piss in front of her, I was pretty sure she hadn't expected that.

"I've never done this." Carla laughed, locking her door. Suzy flopped down on the bed and I just sort of stood there.

"Me neither." I laughed. "Really."

"I thought you're a lez?" Suzy said.

"Yeah I am." I shrugged. "But I never had a girlfriend."

"But you still wanna suck my pussy, right?" Carla asked me.

"Well, yeah." I laughed. "Do you want to lick mine?"

"Ummm…" Carla sort of blinked at that. "I don't know, um maybe. You do me first okay?"

"Yeah, okay." I smiled happily, even though this was pretty strange. I mean none of us had done this before, and I think Carla just wanted to get eaten, even if it was another girl doing it, that would be okay. But she probably didn't want to do me, since she wasn't gay or even bisexual.

Suzy was possibly interested, I got that feeling from her strong, and that's why she was there. She wanted to see me doing it and probably do it with me, but maybe she had to think about it some too, I wasn't sure. Or she could have even been queer, for all I knew. She said she'd had a boyfriend, but hadn't talked much about him. Not like Carla and Heather had talked about theirs.

"You wanna pee first, right?" I asked Carla and I was taking off my clothes.

"Yeah." She nodded, watching me and finally taking off her bottoms again. She left her top on though, like maybe she didn't want to get totally naked with another girl, as if that meant anything.

"Here, let me use your towel." I grabbed one of Carla's towels that was draped on her desk chair, folding it into a large thick square for me head to rest on.

I just laid down on my back, smiling and inviting Carla to put her pussy on my mouth. I'd never tasted another girl before, but I'd been dreaming of it since forever, since I first understood that two girls could make love that way, and this was it for me. The very best moment of my life up to that point.

My leg were towards the bed, and I spread them, rubbing my pink wet pussy and giving Suzy a nice view of it too. I was going to cum soon, I could feel it starting, and really it had started a long time ago, back in Heather's room.

Carla moved to straddle my face, she was facing the bed too, so her tight little anus was right over my nose and I could smell her. She was all girl too, I mean she smelled so good. I could smell her pissy cunt and sweaty ass, even the soft musk of her excitement, because she was feeling it, I could tell. I just starting pushing my tongue up to get my first real taste when there was a soft knocking on the door.

We all froze, holding our breath.

"Fuck." Carla breathed, and then she asked in a loud voice. "Who is it?"

"It's me…Heather."

"Heather?" Suzy giggled and got up, going to the door and opening it just a little, enough so they could see each other.

"Let me in, I wanna watch too." Heather was saying.

"I thought you didn't want to." Suzy said, holding the door almost closed.

"I changed my mind, come on." Heather pushed a little and Suzy laughed, letting the girl in and locking the door behind her.

"Shit, she's doing it?" Heather giggled, staring at me.

"Shhh…Just sit down, did you bring the vodka?" Suzy asked, as they both got on the bed.

"Okay…" Carla smiled down at me, bringing her pussy back to my mouth. "I'm gonna pee first, right? Then you can clean me up."

"Yeah." I nodded slightly, stroking my pussy.

I opened my mouth and Carla pulled her lips apart for me, so she could piss directly onto my tongue and I felt it hot and delicious, even better than before and I was swallowing quickly. I lifted my head, keeping the steady stream of urine between my lips until I could press my mouth to Carla's body, sealing my lips against her flesh.

I was swallowing as fast as I could and not spilling any of it as Carla was peeing nice and slow for me. I worked my tongue a little, washing it in her piss and even tickling the soft tissue around her piss hole so that Carla moaned softly and lowered herself against me harder. That was really good because I didn't have to keep my head up, I just relaxed, rubbing my cunt and humping my hand as my ass came off the carpet.

I was cumming then, while I was drinking the last of Carla's pee, I clenched my thighs tight, moaning loudly and swallowing and then tonguing the shit out of Carla's cunt as she was grinding her dripping wet pussy on my mouth.

"Yeah, Pissie…lick it…suck my pussy…get all my piss…"

Carla was moaning too and playing with her tits as she rode my mouth. Her hips moved around in a slow circle and she'd rock herself as I tried to concentrate on mouthing the girl's cunt. I was cumming nice though and I'd never licked another girl, so I was kinda trying to figure it all out as I went along. Carla didn't seem to mind much at all, and she loved talking dirty while she fucked my face.

"Fuck it you slut…piss slut…suck my pussy…fuck it with your tongue…yeah fuck…make me cum…oh shit I wanna cum…cum…"

I just licked and sucked every part of her that my mouth could reach, bringing up my hands to hold Carla's smooth thighs, digging my fingers into her as I ate my very first pussy to orgasm. She was cumming good suddenly, grinding my face so hard I thought she'd break my nose, really, but she didn't. I could taste her cum too, it was strong and oily and so good like pop rocks on my tongue. I almost creamed again, just drinking those juices, letting her cum mix with her piss in my tummy.

"Oh fuck that was good…you suck pussy nice…" Carla was hot and sweating and laughing as she lifted her soft wet cunt from my face. I gasped at the cool fresh air, smiling and licking my lips. I felt bruised and sore and my tongue seemed a little swollen, tired even, but I didn't mind.

As soon as Carla was off me, even before I could start to sit up, Suzy was there. She pushed her own hairy little hole on my mouth and told me to open up because she had to piss bad.

I didn't know she'd even gotten undressed, but she had. I wasn't complaining either as I opened my mouth and Suzy just let loose. It wasn't a slow gentle stream with her, it was a lot, a serious flood and I swallowed as quick as possible, enjoying the way she tasted a lot stronger than Carla had. Still though, Suzy's pee ran all over my face and into my hair, down my neck. It soaked into the towel and I thought I'd drank a gallon of it, especially when she put her pissing cunt right on my mouth, so that her pee overflowed me easily, squirting out of my lips as I pressed them against her soft skin.

It was Suzy's room anyway though, so she could do whatever she wanted, and I guess she wanted to make a mess. And I got a real nice surprise when she leaned over, so that she was laying on top of me, and her mouth went right for pussy. I was eating her out like crazy then, feeling another girl's mouth on my pussy for the first time in my life.

I came before she did, needless to say, and she was sucking my hard little clit good. I just tried to do whatever I felt her doing and that seemed to work because within a minute or so Suzy was right there with me, her hot wet cunt quivering as she pressed her thighs to my ears and came hard.

I must have cum three times, like really serious ones, and Suzy came twice for sure before she'd had enough and got off me slowly. We were both panting like dogs, like bitches in heat on a hot day and I lay there giggling up at her.

"I gotta pee too." Heather told us, and she was a little shy, but I smiled at her, licking my lips and nodding.

"It's okay, piss in my mouth." I told her and I was already completely soaked. I couldn't have looked very sexy with my face all red and wet, my hair matted to my face and neck, soaked with Suzy's urine. But Carla and Suzy were urging her to do it, and she wanted to.

Heather had a pretty pussy too, lightly covered with soft brown hair, and I licked it, even before she started peeing, and then I just opened wide as she squatted over my face. Her pee came out slowly at first and I drank it easily, but then she really started letting it go and the hot stream was washing over my lips as I closed my mouth to swallow, then I'd open wide for more. I drank a lot and got even wetter, if that were possible and it was like being in heaven for me.

I ate her out too, working Heather's cunt happily until she had a good cum, grinding her pussy on my mouth and moaning loud. Really loud, so that Carla and Suzy were trying to tell her to be quiet, but that wasn't happening. Probably every girl in the dorm heard Heather as she had her second orgasm and that was fine with me. Maybe I could drink even more if they came to see what was going on. But that was just drunk horny talk, I knew, and I told my fogged brain to shut up and be happy.

"You're our piss slut now." Carla was telling me a little later, as I sat there all covered with piss and catching my breath. Suzy was smiling at me and Heather was getting dressed.

"Piss slut?" I giggled and rubbed my tummy, which felt really bloated.

"Yeah." Suzy nodded. "Anytime we gotta pee, we're just going to find you."

"Oh." I laughed at that.

"No, seriously. Wherever we're at too, like here, or at the library, out in town…You have to drink our pee…" Carla said.

"And clean us up." Heather giggled, although she still looked a little shy about the whole thing.

"Ummm…What if…"

"Nope." Carla shook her head. "No what if's, that's the rule now. So don't lock your door at night, cause I have to go sometimes like at three in the morning."

Suzy laughed at her friend and rolled her eyes.

"Uh, okay." I smiled. "I guess." Thinking that didn't sound so bad and maybe college was gonna be okay after all, since I sorta had three girlfriends now.

I started getting up, reaching for my clothes and they looked at me.

"Where you going?" Heather asked.

"The bathroom." I giggled. "I have to go pee."


Filed under: Piss Stories
Posted on 09.10.09
Comments: 3 Comments


Tags: pissing story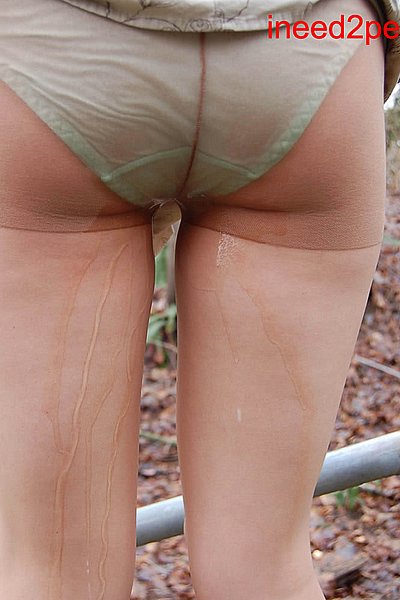 From This Ineed2pee Post a long time ago we have Janessa in the park on the way home from work she is in her skirt and pantyhose and very desperate to pee .this really is a great female desperation and pantyhose pissing movie from ineed2pee. I know a lot of people will have missed it so now you can see here at the front of the blog wonderful female desperation and peeing. The story goes "Isn't it great to have a delightful co-worker like Janessa to walk home with, especially one that is so prone to forgetting to use the toilets before leaving the office! She looks very sexy in her blazer, pumps and long floral skirt today; you notice right away that she is squirming like crazy and admits that she neglected to use the washroom earlier but can probably make it home. She needs to stop frequently to either cross her legs tight or grab her crotch through her skirt. You wonder what type of panties she is wearing underneath but you won't have to wonder for very long…" It really is one hot female desperation movie and all I can say is poor Janessa how embarrassing

See The Movie Click Here


Filed under: Desperation and Female Desperation and Ineed2pee and Knicker Wetting and Movies and Outdoor Pissing and Panty Pee and Pantyhose Pissing and Peeing and Pissing In Skirt and Pissing Movies
Posted on 09.07.09
Comments: 1 Comment


Tags: Female Desperation, ineed2pee Janessa, Pantyhose Pissing, Skirt Peeing
To continue on from  the Joe Pissing In Her Bed Post that you can read HERE, Joe not content with just pissing in her bed and panties while asleep now she is awake she is a little excited from her bedwetting experience she decides to pee in her panties some more so squatting on the bed she releases her bladder more and her hot pee flows through her panties and onto the sheets she really is making one lovely pee puddle in her bed but her pussy is getting a little excited now and she has to release it from her warm panties so she pulls the panties aside and lets her hot wet pussy pee freely onto the bed. It is a pity we can't see what happens next I bet it is hot
See These Pissing On The Bed Photos Here


Filed under: Bed Wetting and Knicker Wetting and Panty Pee and Peeing and wettingherpanties
Posted on 09.04.09
Comments: 3 Comments


Tags: Bed Wetting, Panty Peeing, Wetting The Bed, wettingherpanties
Here we have a lovely panty peeing movie starring Cate and Laurita This is from wettingherpanties and I notice it is the first wettingherpanties movie I have posted here. This is a really sexy panty peeing movie the first panty pee is through lacy panties and wow the stream is so forceful and the sound of her pee splashing on the ground is just so sexy the second panty peeing is lovely also when she starts to pee her panties they start to go see through and you can see her red vagina through them. This is a great wetting her panties movie and I know the quality on the movie is not great here but at wetting her panties it is much better.

You Can watch the wetting her panties movie Click Here


Filed under: Knicker Wetting and Movies and Panty Pee and Peeing and Pissing and Pissing Movies and wettingherpanties
Posted on 09.01.09
Comments: 4 Comments


Tags: Knicker Wetting, Panty Peeing, wettingherpanties